Restaurants
Review: Whidbey Island Bagel Factory
Filling a neighborhood niche in Mount Vernon
May 20, 2022 at 5:00 a.m.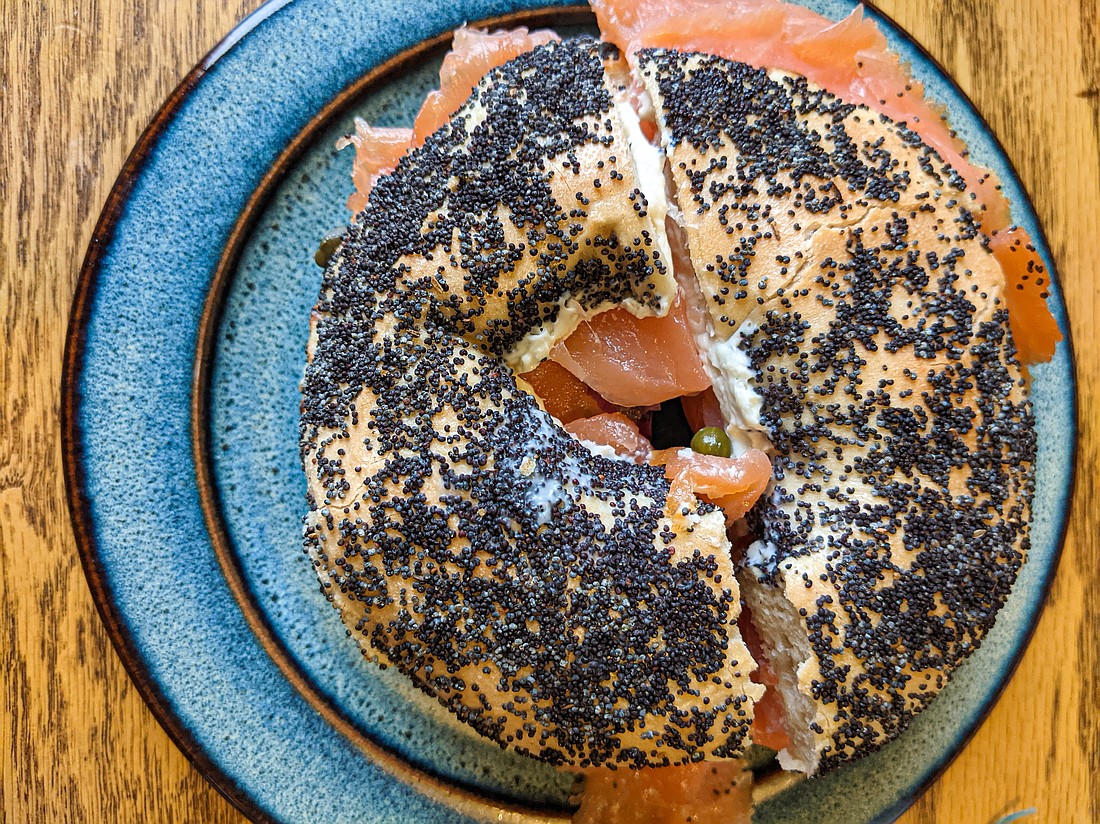 ---
---
In an ideal world, everyone would live within easy walking distance of a bagel bakery.
For years, though, I have had to drive to Bellingham for my bagel fix, so when the news came that Whidbey Island Bagel Factory was opening a new shop in the old COA location on the hill in Mount Vernon, there was much rejoicing in our household and in the neighborhood at large. Then, when the permitting and remodeling process proved to take over a year, the neighborhood became antsy.
"Anyone know when the bagel shop is opening?" was asked repeatedly on local social media. But they did, eventually, open, and since then I have seldom gone by the shop during open hours when there hasn't been a group of hopeful bagel buyers lined up outside.
Whidbey Island Bagel Factory is, obviously, based on Whidbey Island, with shops in Clinton and Oak Harbor, but they have made themselves right at home in Mount Vernon. The bakery is takeout only, but there is promise that someday soon there might be indoor service and a few tables for dining in. For now, there are windows along the sidewalk for orders and pickup, and the group of people waiting for their bagels generally try to disperse themselves within earshot of the pickup window, giving newcomers a chance to place their orders.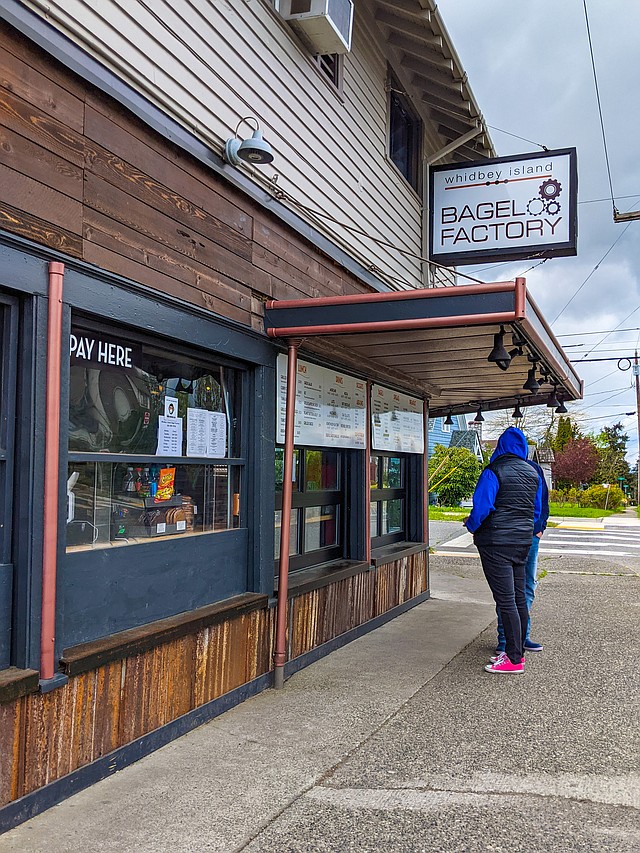 The bagels ($1.40 to $2.50) are advertised as New York style. I can't speak to their authenticity since I've never had a true New York bagel, but they are very good. A little softer and less chewy than the Bagelry bagels I'm used to, with a higher rise, but with a nice springiness as you bite into it. There are a lot of flavors to choose from — traditional plain, poppyseed, pumpernickel and everything, to black-olive-basil, jalapeño cheddar, blueberry or snickerdoodle.
The banh mi bagel, an interesting savory dough with fish sauce and cilantro, has recently been discontinued, as has the artichoke jalapeño that I particularly loved, but there are still plenty to choose from. If you're trying to eat healthy, the multigrain bagel is a painless way to do it. Made with spent grain from Meatheads Beer Works in Lake Stevens, it has a good flavor without being too dense. I like it with the Mark's Garden cream cheese, which is dotted with bits of vegetables and herbs, but the roasted onion cream cheese is also a thing of beauty.
Fruit bagels aren't usually my thing but I have tried the cranberry-orange bagel and it's actually fantastic. When a customer asked the cashier for their favorite bagel their unhesitating recommendation was the chocolate chip bagel, which I have not yet tried. If you do go for a sweet bagel, you can top it with Nutella, jam, peanut butter or honey butter.
Bagel breakfast sandwiches here ($5.50 to $9.25) have become a weekend tradition for us. It's hard to beat the breakfast lox sandwich, either on a plain bagel, a poppyseed or (my favorite) the rosemary-chive-sea salt. Loaded with cream cheese, capers and smoked fish, it's savory and delightfully salty.
The egg breakfast sandwiches are also satisfying, especially the ham, egg and cheese, or the corned beef with egg, Swiss cheese and grilled onions. However, I recently tried the pesto egg avocado sandwich and it may be a new favorite — pesto cream cheese melding with soft avocado to make a rich sauce for the egg, while tomato and raw red onion provide a fresh contrast.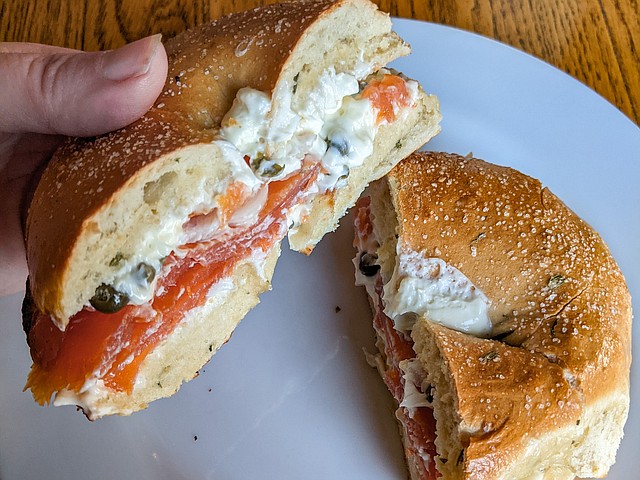 Lunch options ($3.95 to $9.25) are good too, although waiting until lunchtime to come here sometimes risks having them run out of bagels (this happened to us once and I'm still traumatized).
The Ruben is very good, as is the chicken curry, but I particularly like the lime-cilantro chicken sandwich. It can be a mess, but it's a delicious mess. The chicken is tender and dripping with seasonings, and the jalapeño cream cheese melts into it and squirts out into your hands. If they are out of chicken, which occurred recently, the turkey club is another solid option.
Thanks to the pandemic, the shop has had to deal with staffing shortages and supply chain issues, but they have done a great job of accommodating customer requests and keeping things going. The staff has had a pretty sharp learning curve, and they are kept hopping by a steady stream of customers, so it hasn't been uncommon to find something missing from an order. We just make sure to check our bag before we walk away, and mistakes are always fixed promptly.
On the whole, I have seldom seen a restaurant so enthusiastically welcomed into a community as the Whidbey Island Bagel Factory. Those of us who live in the neighborhood are guaranteed fans, but it's also worth a visit if you're just passing through.
Visit the Whidbey Island Bagel Factory from 6 a.m. to 3 p.m. Tuesday through Friday, and 7 a.m. to 3 p.m. Saturday and Sunday at 102 S. 10th St., Mount Vernon. Info: 360-899-9538 or on Facebook.