Environment
New report explores future of commercial finfish net pen aquaculture
Report commissioned after 2017 net pen collapse
May 13, 2022 at 5:30 a.m.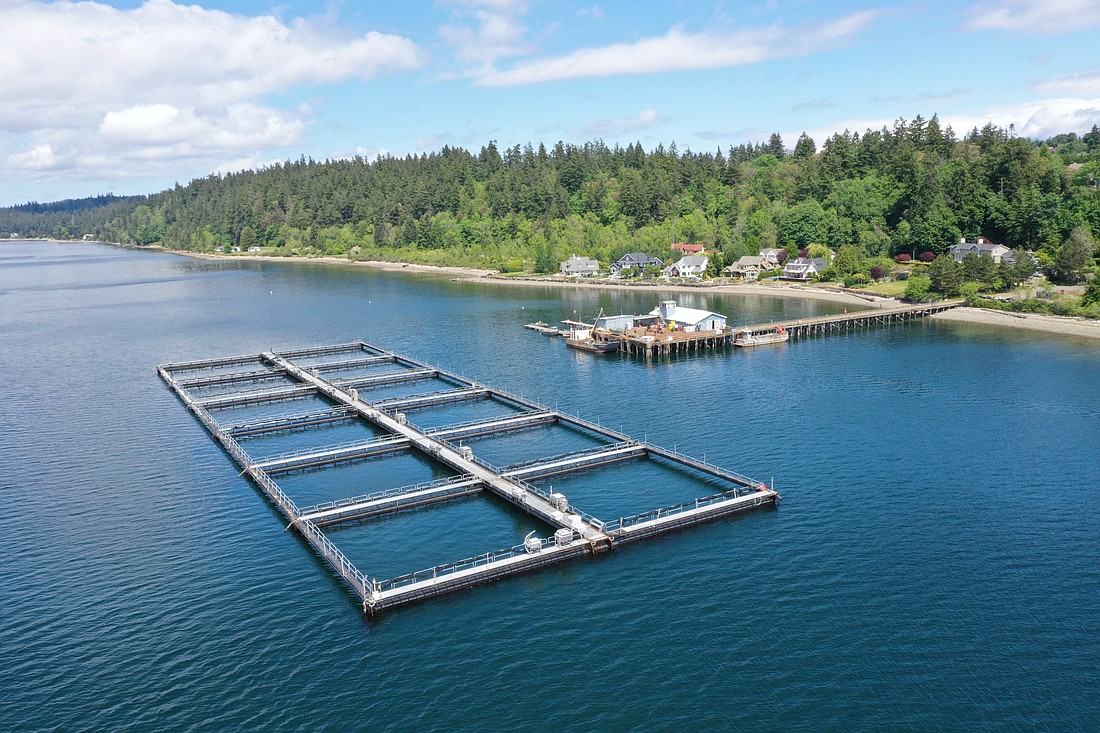 ---
---
A new report from several state agencies explores the future of commercial marine finfish net pen aquaculture in Puget Sound. 
The guidance report is the result of a multi-year effort to improve how commercial finfish net pens are managed in Puget Sound and is designed to help industry members and finfish farmers reduce fish escapes and impacts on habitat and environmental health. 
Net pens, often controversial in aquaculture, are cages in open water where fish are raised and harvested, and are considered a "high risk" fish farming system because of the possibility of pen failure, according to SeaChoice, a Canadian conservation organization. 
"Fish escapes are a reality of net pen aquaculture due to the dynamic and unpredictable nature of marine environments," the report detailed. "Preventing escapes must remain at the forefront of the priorities of net pen operators and regulators/land managers." 
The report calls for future net pen fishermen to consider "best practices" for environmental success, including site selection, structure design and construction, operations and maintenance. 
"Negative effects on water quality, sensitive fish and wildlife habitats, and aesthetics can be significantly reduced or avoided by careful site analysis," the report stated. "In Washington, a number of marine habitats hold particular ecological, economic and social value. Accordingly, these habitats have garnered significant attention and resources to ensure their long-term health and function." 
These sensitive marine habitats, including eelgrass and kelp beds, shellfish harvest areas, local estuaries and fish spawning areas, can be put at risk by the presence of net pens. 
"Various aspects of net pen aquaculture may potentially threaten the presence and sustainable ecological function of sensitive marine habitats in state waters," the report stated. "Deliberate, well-informed site selection for new marine finfish net pen facilities is critical for reducing the various impacts to natural resources that may occur."
The report was commissioned following the 2017 Cypress Island Atlantic salmon net pen failure in Skagit County, which triggered an investigation from the state's Department of Natural Resources (DNR). The net, which did not meet DNR's cleanliness standards, was owned by Cooke Aquaculture Pacific LLC, and when it failed, it released almost 300,000 Atlantic salmon into the waters near the Skagit River. 
DNR estimated between 243,000 and 263,000 fish escaped when the nets failed. The collapse was hailed as an environmental disaster at the time, and small numbers of Atlantic salmon were later found upstream in Puget Sound rivers, including the Skagit. Since the net pen failure in 2017, none of the salmon have been proven to have reproduced or established an ongoing population in Puget Sound. 
After the net failure, the state legislature passed EHB 2957, banning non-native marine fish species in open-water net pens. The bill also required state agencies to develop a new guidance document, which culminated in the new report. 
DNR, as well as several other state regulatory agencies, contributed to the report. 
The report comes on the heels of a biological opinion from the National Oceanic Atmospheric Administration. The February report found finfish farming does not harm local salmon populations, paving the way for future net pen operations. 
Despite regulatory agency approval and a recent Washington State Supreme Court decision upholding net pen permits, the pens remain contentious in Puget Sound. 
"American commercial fishing and marine finfish aquaculture cannot coexist," a 2018 letter to Congress signed by more than 100 members of the fishing industry stated. "Due to the extensive and well documented environmental harm caused by marine finfish aquaculture in the United States and elsewhere, this emerging industry should not be permitted."
The new report places much stricter guidelines on future finfish net pen projects, hoping to address some of the concerns with the once-unregulated net pens.