Restaurants
Review: Carnal
Haute cuisine without the commute
May 7, 2022 at 5:00 a.m.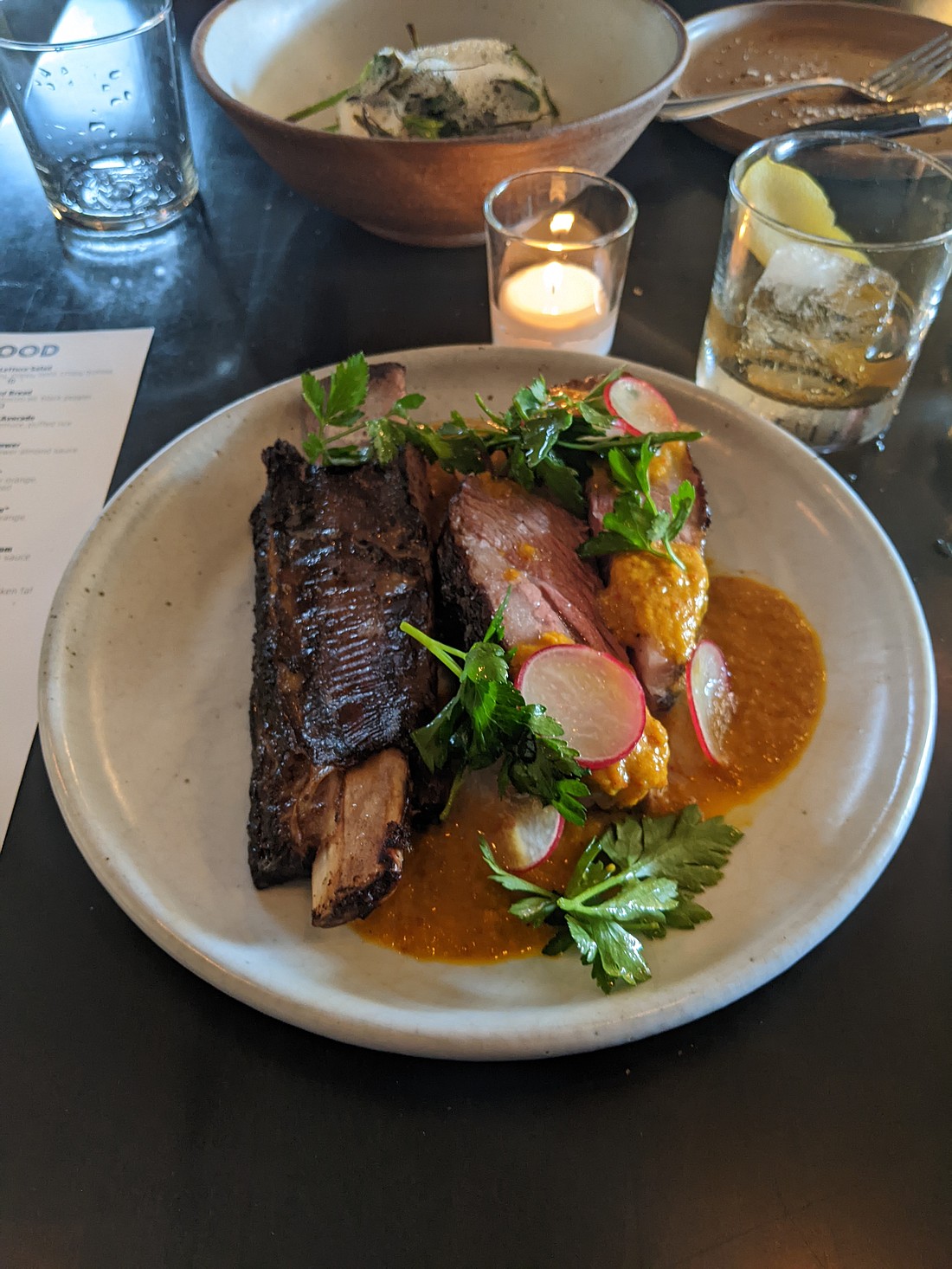 ---
---
A common gripe among foodies in Bellingham is a distinct lack of fine dining — or, rather, a lack of dining where a tucked-in shirt and blazer wouldn't draw confused looks. Carnal, on State Street, comes closer to that than most restaurants, while still retaining the casual air of any bar or brewery. Where Carnal distinguishes itself is in the creativity and breadth of its menu.
The interior is relatively spartan, all dark materials and brick. Natural light abounds, and a wood fireplace adds a touch of warmth to a space that might otherwise feel cold. That wood fireplace foreshadows the food to come. Tellingly, every place setting comes with a share plate — a nod to the shareable nature of the menu.
Upon being seated, a scan down the edgy cocktail list shows Carnal isn't afraid to go out on a limb with creative and alternative drinks. The Pax Romana ($12) — bourbon, barley, Cynar, Bénédictine, lemon, cardamom — is superb. Smoky and fruity, loaded with herbs and botanicals, the Italian influence is undeniable.
As a bourbon fan, I couldn't resist going for Another Hundred Barrels (a Broadway reference, if I'm not mistaken). Like a cross between a Manhattan and an Old Fashioned, it made me wish I'd taken a table outside. This is a cocktail to be enjoyed with the sun on your face.
For appetizers, we chose the fried cauliflower ($12) and the beef tartare ($17). Going for a forkful of the tartare first, the chopped steak is bound with sour orange, providing a superb acid bite. The uni foam is a truly delightful umami topping, and one I couldn't help eating on its own. Served atop grilled bread, brushed down with tallow, it's a truly balanced and deeply tasty starter.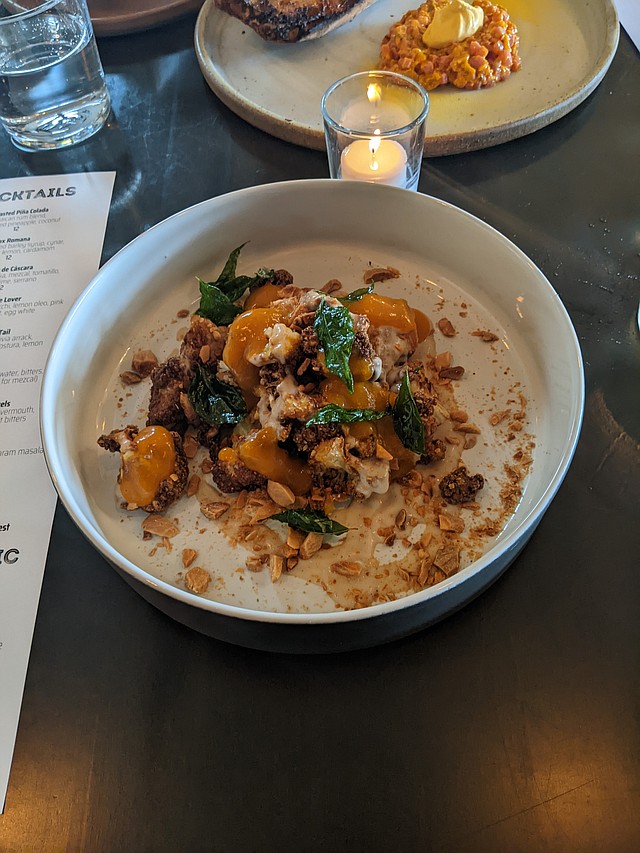 The fried cauliflower, topped with curried apricot and a cauliflower almond sauce, was … different. Not in a bad way — the curried apricot was tangy and smooth, the cauliflower almond sauce creamy and savory. I found myself wishing the cauliflower itself was more heavily spiced or seasoned. That said, I was happy with it. Cauliflower takes on the flavor of whatever it's served with, and those two sauces made for good company. Hint: give it a stir before you eat. And, in case any staff are reading this: I bet the curried apricot would go great on gelato.
On to the mains, starting with the butter-poached halibut ($32). Arriving in a bowl atop a smoked clam and fava bean sauce, this was incredibly delicate and tender, positively melting in my mouth. On its own, the halibut is a winner. Paired with the smoky sweet sauce, it's something to write home about. Bread on the side would have been appreciated, as a method to soak up that superb sauce and transfer it to your mouth more efficiently.
And, finally, the main course I've been thinking about since my visit to Carnal: the slow-cooked, bone-in, beef short rib ($34). To summarize: this was the best-prepared, best-tasting piece of meat I have ever had the pleasure to enjoy. It arrived with the bulk of the meat already sliced away from the bone, but the rib itself still played an important role: the centerpiece to this dish. Fire roasted and drizzled in a turmeric and mango puree, it took a lot of willpower to not grab it and gnaw on it like a caveman squatting over a campfire. 
I started by slicing away the crispy tendon and fat from the bone. All the fat was rendered beautifully and the tendon provided a jerky-like chew. Taking one of the enormous pieces of rib meat to my share plate, my knife slid through it. Every bite scarcely needed to be chewed, and the intense smokiness of the meat paired perfectly with the mango puree. Had every other thing I tried been unpleasant, I'd still come back for this short rib — and by the time of publication, I likely will have.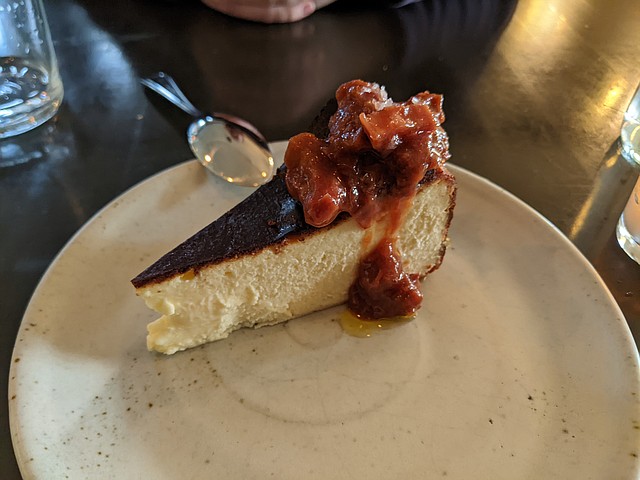 Thinking about the meal over a slice of superb basque cheesecake with a rhubarb compote ($9), I realized I feIt the way I do after dinner on a day trip to Vancouver or Seattle — enjoying the playground of a metropolitan area before returning to sleepy Bellingham.
Stepping back onto State Street was like striding 90 miles home. Coming out of a two-year stretch where most of us stayed close to home, Carnal fits the niche of luxury, haute cuisine without the commute. Is it for everyone? Probably not. If your idea of fine dining is a white tablecloth and a steak with mashed potatoes on the side, you might not find the menu at Carnal appealing. But if you want to try something adventurous and different, something roasted and experimental, or maybe the absolute best short rib, Carnal is your huckleberry.
Carnal is open from 4 p.m. to 9 p.m. Monday through Thursday; 4 p.m. to 10 p.m. Friday and Saturday; and 4 p.m. to 8 p.m. at 1234 N. State St. Info: eatcarnal.com 
A previous version of this story incorrectly referred to Carnal as Carne in a sentence referring to the restaurant's cocktail list. The story was updated to reflect this change on May 4, 2022 at 12:10 p.m. The Cascadia Daily News regrets the error.