Root-to-Leaf
Seasonal eating: Beet Tarte Tatin
Recipes to reduce food waste
May 5, 2022 at 5:00 a.m.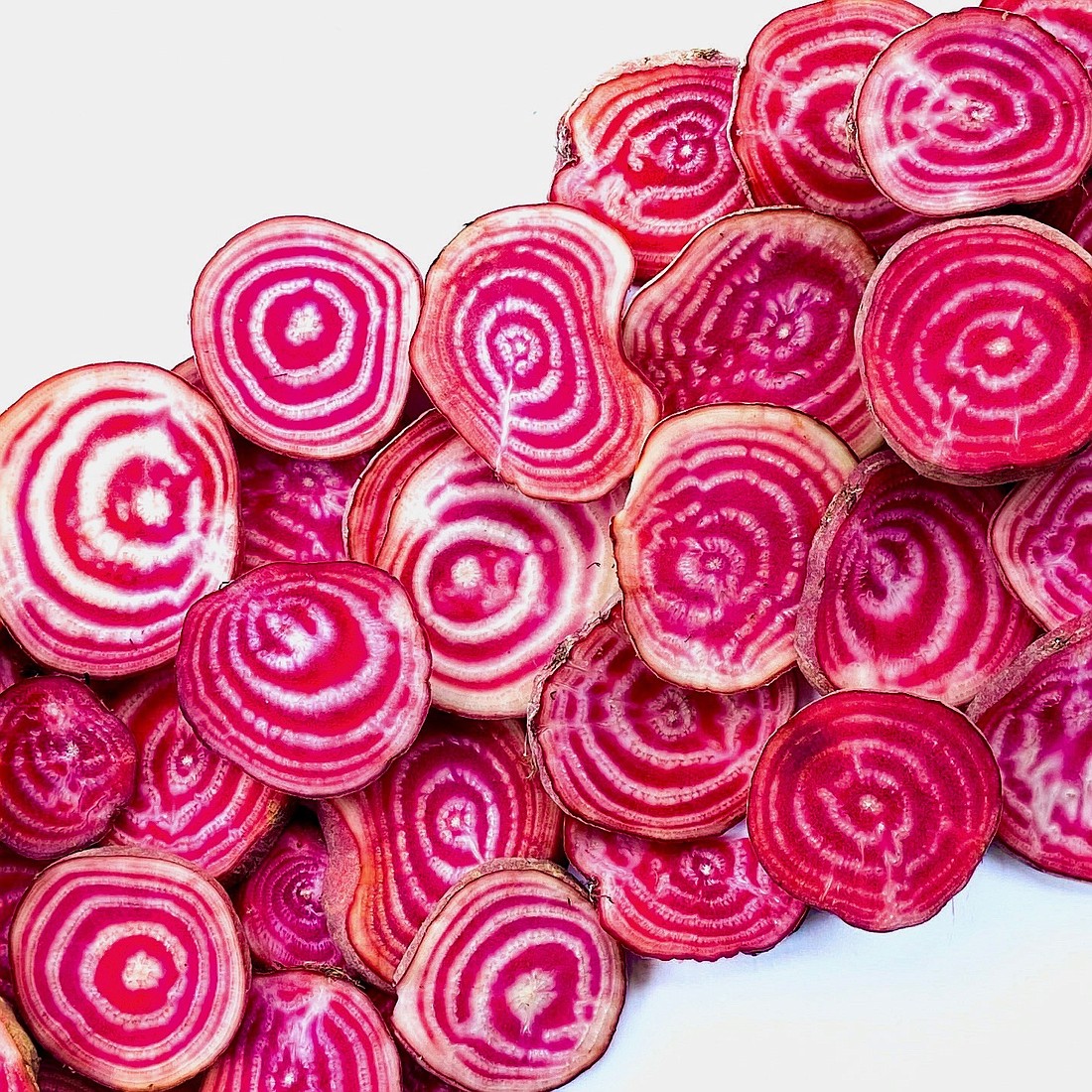 ---
---
This monthly column explores root-to-leaf cooking, which uses all edible parts of the plant, with a focus on ingredients grown and sold locally. Here we're celebrating Chioggia beets with tarte Tatin, a surprisingly simple recipe that uses puff pastry, caramel and beets for a sweet and savory dish. This recipe highlights the root and skin of the beet, and I share ideas for beet greens below.
This recipe showcases the stunning Chioggia beet, which has, improbably, concentric circles of pink and white flesh. Roasted whole, the beets become tender while retaining their colors. Once cooled, you can slip the skins from the beets with no effort at all. Reserve these skins to make the balsamic drizzle.
Tarte Tatin uses just four ingredients (plus salt and pepper), and makes for a showstopping presentation. While Chioggia beets are stunning in appearance and mild in flavor, golden beets and red beets also work beautifully in this recipe.
Black Pepper Caramel Beet Tarte Tatin with beet-infused balsamic drizzle
Chioggia Beet Tarte Tatin
Beets, about 1 1/2 pounds
1 sheet puff pastry
For caramel:
1/2 cup sugar
2 tablespoons butter
Preheat oven to 400 degrees. Scrub beets until clean. Wrap beets in aluminum foil and bake until tender, with some resistance when pierced with a paring knife. For smaller beets, begin checking after 30 minutes; larger beets take about 45 minutes to an hour.
Remove from oven; leave oven temperature at 400. Carefully unwrap beets and cool until easy to handle. Gently rub the skins with your hands to separate; reserve skins. Slice beets into 1/4-inch rounds.
Black Pepper Caramel
1/2 cup sugar
2 tbsp butter
Freshly cracked black pepper, 1/8 tsp or to taste
Salt, 1/8 tsp or to taste
While beets are roasting, make the caramel and defrost puff pastry at room temperature.
Sprinkle sugar in cast iron skillet or other nonstick, oven-proof skillet. Heat to medium-high. Let sugar begin to caramelize, undisturbed, for about 2 minutes, or until patches of sugar begin to melt. Swirl pan gently, then cook for another minute, swirling occasionally. If caramel begins to darken too quickly, turn off the heat and swirl until sugar is dissolved. Once the caramel reaches a bright copper color, immediately remove from heat and whisk in 2 tbsp butter. Whisk in black pepper and salt. Set aside.
Assemble the tarte: Roll out puff pastry about an inch larger in diameter than the skillet. Layer beets in caramel, starting from the outside and overlapping slightly. Continue in concentric circles until all beets are in the pan. Lay the puff pastry over beets, covering completely, and tuck any overhanging pastry into the sides of the pan. Cut one or two vent holes in the center of the pastry.
Move skillet to oven and bake for 25 to 30 minutes, until pastry is deeply golden brown and puffed. Remove from oven and cool for 30 minutes to allow juices and caramel to set.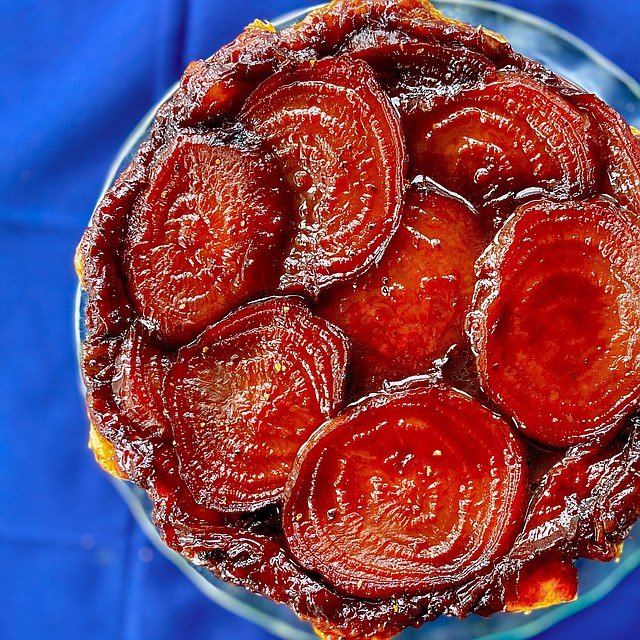 Run a knife along the outer edge of the skillet to gently release the tarte. Place a cutting board or dinner plate upside down on top of the skillet. In one quick motion, flip the skillet on top of the cutting board, inverting the tarte Tatin. The tarte will release from the skillet. Carefully lift the skillet from the pastry.
Let the tarte rest for another 10 minutes. Cut into wedges, and serve with balsamic drizzle and crème fraîche or whipped cream. For a sweet/savory tarte, crumble goat cheese over the warm tarte in lieu of whipped cream.
Balsamic Beet Skin Drizzle
Beet skins from roasted beets
1/4 cup balsamic vinegar
Place beet skins in a blender and add water just to cover. Blend until smooth. In a small saucepan, bring balsamic vinegar and beet skin liquid to a bare simmer. Let sauce reduce, stirring regularly to prevent buildup on the bottom of the pan, until a spatula run through the sauce leaves thick streaks on the bottom of the pan, about 8 to 10 minutes. Remove from heat.
Serve with tarte Tatin, drizzle over ice cream, or fold into whipped cream for a complex, tangy topping.
Wine Pairings
Tea time or hors d'oeuvres: Pair with Cabernet Franc or peppery red wines such as Tibouren or Sumoll
Brunch: Top tarte Tatin with crumbled goat cheese and serve with Sauvignon Blanc
Dessert: Top with whipped cream or crème fraîche and serve with Sauternes or sparkling wine
Other uses for beet skins: Blend into marinades or vinaigrettes. 
Simmer red beet skins into cream to make rosy whipped cream, or use in cream-based desserts — the beets aren't strong enough to change the flavor and will add a light blush hue.
Beet greens: I didn't include a specific recipe for beet greens because these are so versatile, and can be used in almost any recipe in place of chard, collard greens or kale in equal amounts.
Hannah Green's Root-to-Leaf column runs on the first Wednesday of every month.