Business
Deal struck: Nurses, St. Joe's reach tentative agreement
Demanding recognition for pandemic work, nurses get 6.25% raise
May 4, 2022 at 8:00 a.m.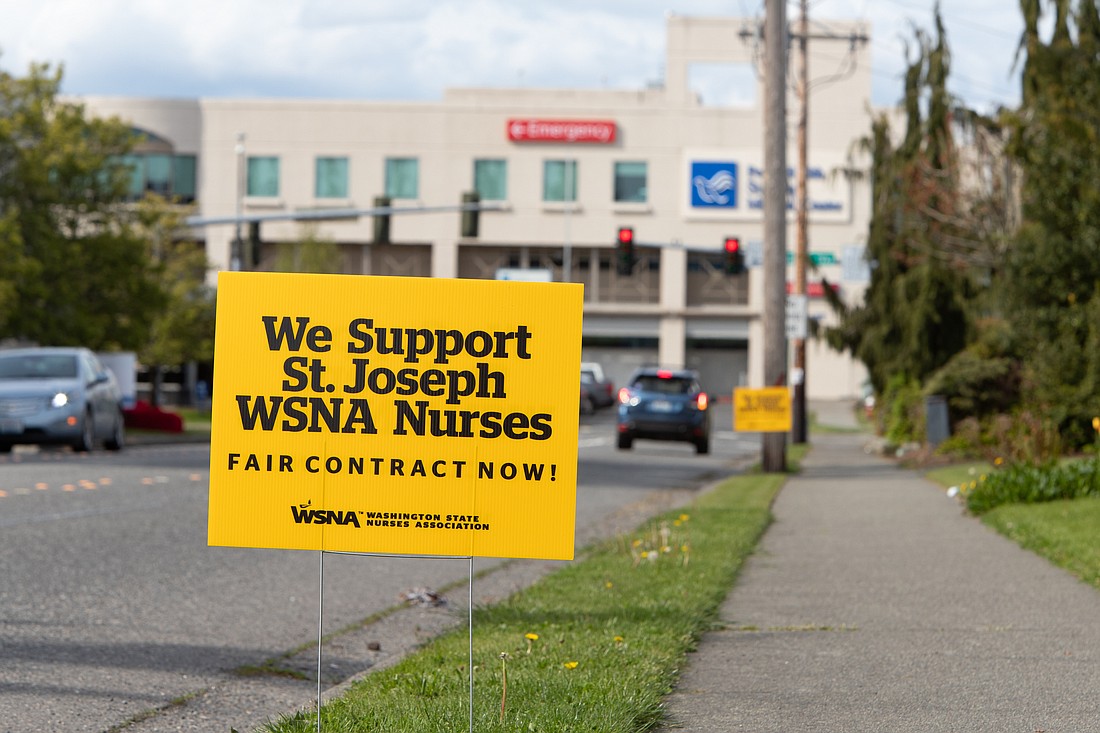 ---
---
Nurses at PeaceHealth St. Joseph Medical Center in Bellingham have reached a tentative agreement with the hospital on a new contract that includes significant wage increases. 
Highlights of the proposal, which are outlined on the Washington State Nurses Association website, include a 6.25% pay raise, retroactive to March 31. Nurses would get a 3.25% raise in 2023 and another 3% raise the following year. The tentative agreement also provides increased extra pay for nurses who are on call or take on additional duties.
To take effect, the agreement must be approved by the roughly 900 St. Joe's nurses who are WSNA members. 
The union and hospital management came to terms just four days before a scheduled "informational picket" nurses were planning for May 3 in front of the hospital. The nurses' union canceled the picket in anticipation of the May 10 vote of the full membership.
Nurses and the hospital needed 13 negotiation sessions to strike the tentative deal on a new contract that would replace one that expired on March 31.
"We believe the solidarity of the nurses at St. Joe's, demonstrated throughout negotiations, made a difference in reaching a fair deal," said Ruth Schubert, director of marketing and communications for WSNA.
"We can't really say how much of a difference the planned information picket made, but we are pleased that we reached a tentative agreement on Friday," she added.
A St. Joe's official expressed a similar sentiment about the outcome of Friday's talks.
"We are pleased to have reached a tentative agreement," said Beverly Mayhew, the hospital's senior director of marketing and communications. She declined to comment further on the negotiations.
Nurses' demands
Nurses at St. Joe's said they were dissatisfied with wages that compared unfavorably with those at other PeaceHealth hospitals along the Interstate 5 corridor, in southwest Washington and Oregon. They also said St. Joe's needed to do more to retain nurses in order to prevent staff shortages — a problem felt especially keenly during the COVID-19 pandemic.
"Nurses have been working lots of overtime," Schubert said. "It's really been quite grueling, and they worry about … their ability to give everyone the very best care they can when they're short-staffed."
Additionally, nurses said their efforts during the pandemic needed to be recognized in any new contract.
"Staff are burned out from the pandemic," Schubert said. "Those nurses who have been there all along don't feel they're getting the appreciation, monetary and otherwise, that they deserve for the work that they've done for the past two-plus years."
The WSNA rep said the tentative deal would bring St. Joe's nurses "a long way toward reaching some kind of parity with area hospitals." 
"We certainly hope that this will help the retention issue," Schubert added.
Rank and file nurses at St. Joe's will weigh in with their votes next week. The tentative agreement comes to the nurses with a recommended "yes" vote from their bargaining team, and it will require simple-majority approval among those who vote May 10.