Ron Judd
'What's the Deal With' ... us?
Answers to reader questions about Cascadia Daily News
March 16, 2022 at 5:40 a.m.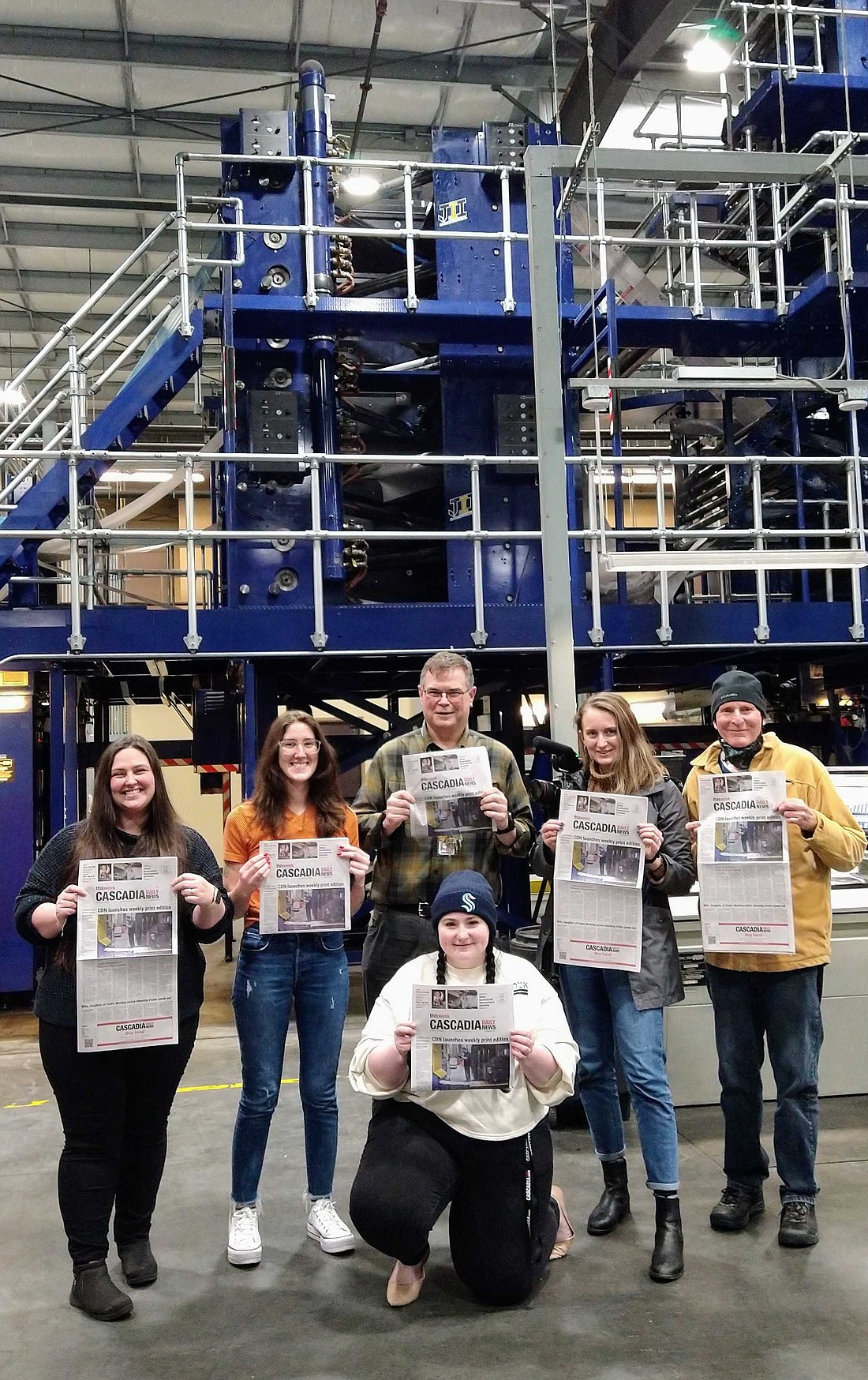 ---
---
During planning meetings for Cascadia Daily News this fall, it struck some of us that a regular news feature asking and succinctly answering a question about some fact of local life might be fun. Hence, "What's the Deal With (Blank)?", a feature found inside our print and online editions every Wednesday. 
It's proven popular, but it didn't occur to some of us until recently that those questions, which in the newsroom we call "WTDs," might be more often asked about us: "What's the Deal with Cascadia Daily News?" 
Many queries about our mission and purpose were addressed here in a column on CDN's birth date, Jan. 24. But others have bubbled up to the surface, intensifying March 2 with the launch of our print newspaper, which to many folks seem to have made us a "real" tangible news presence. Some people, in other words, are just noticing, and to each of those, we say welcome.
Roughly seven weeks after cascadiadaily.com went live, it seems a good time to address some of those late-arriving WTDs. To wit:
Q: What exactly is a "digital daily newspaper?"
A: It's our website, which is updated throughout the day, every day, with fresh news, sports, opinion, arts/entertainment content, and other enticing (we hope) material. We don't currently produce a separate email or other delivered version of a single day's new content, although that might be in the future cards if there's sufficient demand. We do currently send out a weekly email with our top stories, and our "Sunday Read" piece.
This presumably is one reason we often see letters or notes from readers asking, "Why don't you cover (insert favorite subject here)?" We're a small staff and can't cover everything, but often within hours a story has cycled off our home page and gone into the website's background. To see all of our stories in chronological order, simply click on the navigation bar title, "News," "Opinion," "Sports & Rec" and "Living." Or, just use the search bar at the top right of the page to search for a specific person or topic.
Q: How is the website content different from the printed paper?
A: Most, but not all, of the material in our print paper also appears on cascadiadaily.com (sometimes shortly after appearing in print). The same is not true in reverse; we don't have physical space in the printed paper for everything that appears on the website.
The printed paper is essentially a showcase space for our best stories from the previous week, along with breaking news, particularly in the News and Sports & Rec sections. 
Monthly subscribers will get all of it, via the printed paper (which can be mailed with a monthly subscription); the website, which in the future will require a subscription to access enterprise reporting; and our print replica "E-edition," an exact digital copy of the printed paper posted on our website every Wednesday morning. The latter option allows readers to see all our print content, including puzzles and other features, on digital platforms.
Q: Who decides what goes into CDN's news pages?
A: The newsroom team at Cascadia Daily News. As our Commitment to our Community has made clear since our inception, we're a privately owned and funded newsroom charged by our publisher with producing a newspaper free from commercial or political influences. We make our own news choices.
Our stories are a result of the experience and news-gathering acumen of our reporting staff, which works hard to stay abreast of local events through a broad range of sources. Many of these stories originate with you, our readers, who call us, write letters, send notes to newstips@cascadiadaily.com, or sidle up to one of us at a local (non-chain) coffee shop. 
Q: Who decides what goes into CDN's opinion page?
A: Short answer: As editor of that section, I do. But only after doing my best to stay sufficiently well-informed to develop what I consider to be reasonable opinions about a subject, from both inside and outside our newsroom. My bylined columns, of course, represent my own viewpoint, not that of the entire staff, nor the company.
I also take quite seriously the responsibility of presenting opposing viewpoints. As a publication that does not allow open, unmoderated commenting, we place extra emphasis on reader-submitted letters and commentaries. 
Q: Why do you waste time and space reporting on (insert least favorite subject here)?
A: Well, "waste" is in the eye of the beholder. Contrary to the expectations of some – and perhaps owing to the legacy of our company's previous publication – we are a daily news publication, not an alternative weekly newspaper. Not to disparage those; our coverage goals are simply broader, replicating the community-service role of a traditional print paper.
That's why we regularly cover, in addition to local government news and analysis, schools, sports, recreation, the arts, music, travel and the outdoors, opinion and a broad range of other subjects. In the very near term, we'll be adding additional staff to cover even more of those bases. The goal is to appeal to a wide-ranging subscriber base that ultimately will make our publication a healthy, self-sustaining community news source.
Q: Why don't all your stories delve into (insert favorite cause or beef here)?
A: See above response. Like most daily news publications, we consider thorough news coverage to be a process, judged by a range of stories over time. Not every story is a be-all, end-all treatise on a subject, and sorry, but not every story will address pet grievances of activists. Sometimes a brief update is simply that. 
We regularly produce shorter-take stories while simultaneously working on longer, more deeply reported treatments of the same subjects. The latter stories are labor-intensive and often involve records searches and other deeper-level reporting. We're confident research seeds planted in that fashion will bear fruit in the coming months. Stay tuned.
Q: Why don't your stories allow reader comments?
A: We've seen unmoderated comments at most other publications quickly devolve into platforms for abusive behavior and the intentional or accidental spread of misinformation. As a news publication seeking to ferret out truth to the best of our ability, that runs counter to our mission. We don't have the staff to monitor comments on stories, so we'd rather allow those discussions to play out somewhere besides our pages. 
As mentioned above, readers are encouraged to comment on our stories via a letter or guest commentary. Both processes require identity verification, which in our experience tends to encourage more thoughtful dialogue, and less vitriol.
Q: Where is your paper printed, and how is it distributed?
A: We print at Skagit Publishing in Mount Vernon. Newspapers are distributed on Wednesdays at a wide range of locations in Whatcom and Skagit Counties. For now, print papers are free, as well as access to our website.
Q: When will readers pay for website access and what content will be behind a "paywall?"
A: We're working through those plans now; readers will get plenty of advance warning about when our website will require a subscription to access much of our content. Some of our public-service journalism will remain free to all.
Executive Editor Ron Judd's column appears on Wednesdays. Reach him at ronjudd@cascadiadaily.com; Twitter: @roncjudd.