Growth & Development
Intalco restart hampered by federal statutes
BPA can't meet smelter needs alone
March 16, 2022 at 4:50 a.m.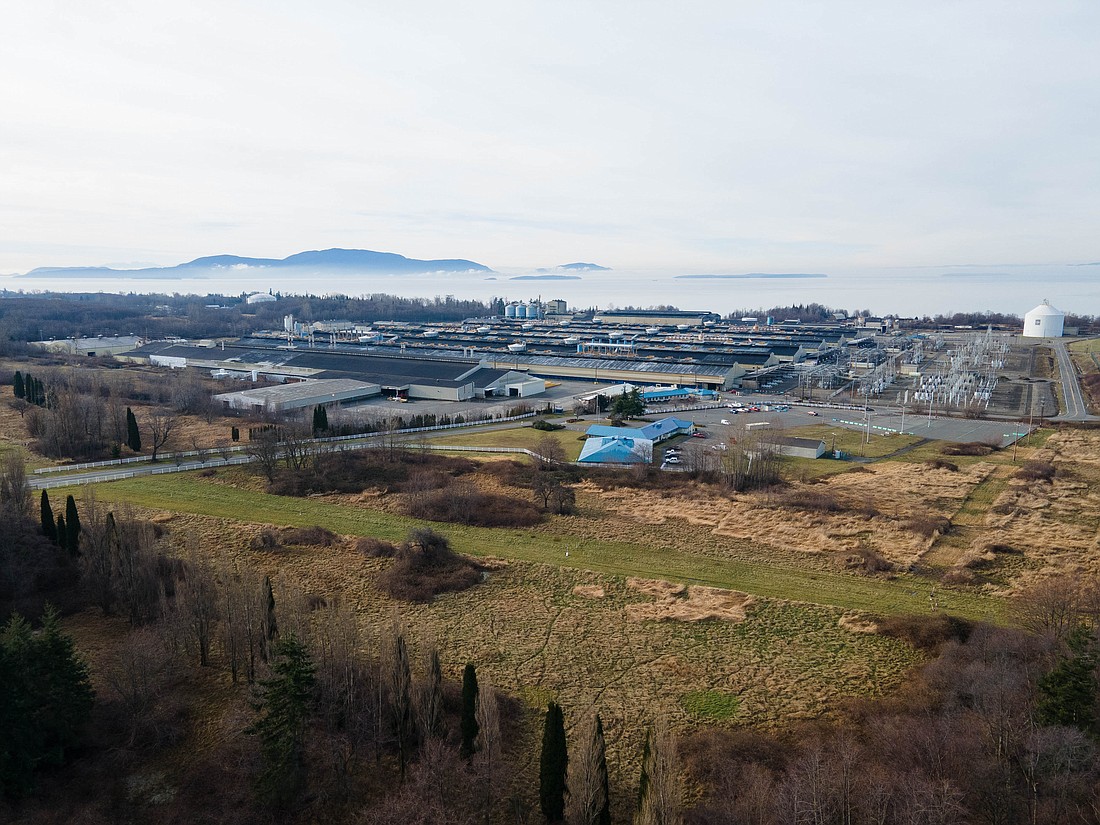 ---
---
Negotiations for the lynchpin power deal needed to reopen Ferndale's Intalco aluminum smelter are stagnant, with the Bonneville Power Administration saying it can't legally provide the massive amount of electricity requested to run the plant.
Despite $10 million in state funding and amped-up pressure from state and federal leaders to reopen the plant and restore 700 lost jobs, talks between Blue Wolf Capital LLC, the relaunch proponent, and the BPA, the likely electrical provider, have not produced a deal, which appears unlikely under the agency's legal mandates, agency officials say.
A spokesperson for BPA, a nonprofit federal power administration, said the agency can't meet the needs for power placed on the table by Blue Wolf. 
When the smelter closed its doors in 2020, it was using around 400 megawatts of electricity annually as a "Direct Service Industrial" customer, or DSI. DSI contracts allowed the plant to purchase power directly from BPA at below-market rates. 
Now, Blue Wolf wants the same from BPA, a deal the agency says it can't commit to legally because the new plant would be a new customer. 
"We can only serve existing DSI customers, and there is not an existing contract for Blue Wolf to assume," explained BPA media relations manager Maryam Habibi. "The Power Act states that BPA cannot sell power directly to new direct service industrial customers."
Because BPA is mandated by federal statutes, the company must follow U.S. codes, including code 839c(d)(2): "The Administrator shall not sell electric power, including reserves, directly to new direct service industrial customers."
And when Alcoa terminated its BPA contract in 2019, the plant lost DSI customer standing. 
"We understand the desire for getting this smelter up and running and bringing jobs back to the area, and we're supportive of that economic development for the region," Habibi said. "But we have to follow our laws and statutes." 
The power required to keep the smelter functional, 400 annual megawatts, is beyond the capacity of BPA, and significantly more than most facilities use, BPA says.
In order to meet the amount of power requested by Blue Wolf, BPA would need "much more firm power than what we have available to us right now," Habibi said.
A local economic development official said the agency has stuck to that stance in negotiations.
"From what I understand, BPA has offered [Blue Wolf] a much lower amount of power at a regular price, not a discounted price," explained Don Goldberg, director of economic development at the Port of Bellingham. "They did not offer them enough power anywhere close to opening up the facility."
Goldberg's department at the port represents commerce in Whatcom, so is closely involved in the Intalco sale, but is not part of the current negotiations. 
Even with U.S. laws keeping its hands tied, BPA has kept negotiating amid pressure from politicians, perhaps with the notion of being a partner in a larger energy scheme. 
"If [Blue Wolf] really are serious about pursuing this, then there might be something we can do to help," Habibi told Cascadia Daily News. "BPA has provided a potential offer for consideration."
Several other power providers in the region could work with Blue Wolf to purchase power, and BPA says they may be able to deliver a portion of the requested 400 megawatts. 
"There's simply no better use for the old saying, 'Robbing Peter to pay Paul.'" — Scott Simms, Public Power Council executive director
But the cost of that other power may be prohibitive. The price of energy by megawatt fluctuates, especially as inflation rates skyrocket, though Habibi says around $50/megawatt is a good estimate. 
Last September, electricity in the state of Washington clocked in around $97 per megawatt. 
Part of Blue Wolf's request involves a below-market rate of pay per megawatt. 
Larry Brown, the president of the Washington State Labor Council (WSLC), says Blue Wolf is looking to pay around $40 per megawatt. WSLC represents more than 550,000 union members across the state, and will represent the 700 union jobs at the smelter if it reopens. 
Per U.S. statutes, though, BPA can't go into debt to meet that request, meaning the costs would likely be passed on to other customers. 
"There's simply no better use for the old saying, 'Robbing Peter to pay Paul,'" Scott Simms, the executive director of the Public Power Council, told Cascadia Daily News.
"Blue Wolf's request for BPA's lowest-priced power would essentially create a subsidy to restart this defunct aluminum plant that would be paid for through cost increases to the region's existing businesses and citizens, many of which are located in some of the lowest-income communities in Washington and other Northwest states," he said.
The Public Power Council, an Oregon-based organization, represents more than 90 consumer-owned utilities that purchase more than 90% of BPA's output, including the City of Sumas and Whatcom County's first Public Utility District. 
Brown says Blue Wolf has conducted several legal reviews of the "constraints that are being claimed by BPA," and insists the company has found no legal restrictions barring BPA from committing to a new DSI contract at Intalco.
Lawmakers, meanwhile, continue to call the BPA the "last hurdle" to restarting smelter operations. 
"Ensuring a long-term supply of affordable electricity is the biggest challenge to re-starting operations at Intalco Works," wrote U.S. Rep. Rick Larsen, whose district includes Whatcom and Skagit. "I am hopeful BPA and the new ownership group can reach an agreement on the electricity rate BPA charges"
"My understanding is that the biggest hurdle left is the BPA agreement," said state rep. Sharon Shewmake, whose district includes Ferndale. "The electricity produced from hydropower will be lower carbon and able to potentially displace higher carbon aluminum."
BPA markets electricity from dozens of federal hydroelectric dams, making their energy much cleaner than other local energy providers.
Other local lawmakers remain enthusiastic about the possibility of a restart. 
"This is something we're cautiously optimistic about," said state Sen. Simon Sefzik, who represents Ferndale. "This would have a great ripple effect throughout the economy and for every job created at Intalco, it potentially creates about 2.5 elsewhere in the area." 
Support for the smelter is bipartisan. 
Shewmake said the $10 million allocated by the state would be sent to reduce a restarted smelter's emissions. But that money is only available for a limited time. If the money is not spent by June 30, 2025, the funds will not be reappropriated. 
Sefzik and other local plant boosters have added an additional political element: The possible role of a Ferndale smelter in replacing aluminum produced by foreign nations such as Russia, facing crippling trade sanctions because of its invasion and ongoing attempt to occupy Ukraine.
"This could actually offset all aluminum that was imported from Russia," said the Port of Bellingham's Goldberg. "These resources are extremely important, especially in a time of war."
Goldberg says U.S. aluminum, critical for the military, shipping, trade and commerce, has to come from somewhere. If it comes from Ferndale, the region will have more control over its environmental impact. 
In 2020, the United States imported about $19.1 billion worth of aluminum from 131 countries. Canada is the largest importer, supplying more than a third of total U.S. imported aluminum. Russia was the 7th-largest supplier, providing about 2.2% of the aluminum imports. 
Blue Wolf plans to begin operations "as soon as they secure the power contract," the labor council's Brown said. 
"They'll start hiring people right away," he told CDN. "We'd like to see it started as early as late April."
Negotiations between Alcoa, Blue Wolf and BPA are ongoing, though none of the parties could say when additional meetings might take place.