Local
Non-denominational group serves free dinners downtown
'We're not trying to convert people. We're just trying to feed people'
June 20, 2022 at 8:38 a.m.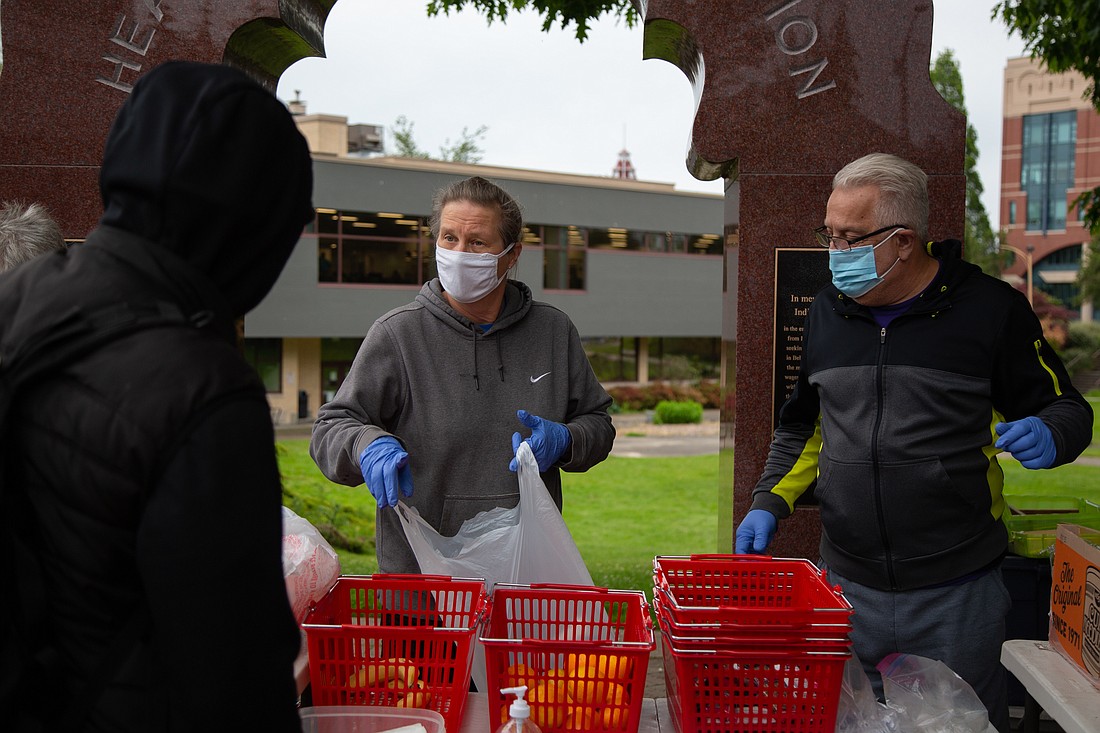 ---
---
Four nights a week at the corner of Lottie Street and Commercial Street, volunteers set up two folding tables and pile them full of food.  
About 50 people a night file down the line of tables, picking up sandwiches, granola bars, water and small household items, and thank the volunteers when they reach the end.
The volunteers are part of Coffee and Sandwiches Together, or CAST, a food outreach program that gives out free food to anyone who wants it four nights a week. CAST has operated for more than 20 years, and more than 80 locals are part of its vast volunteer team. 
CAST volunteers don't preach the gospel, and they don't ask any questions of patrons. They just hand out free food — no strings attached.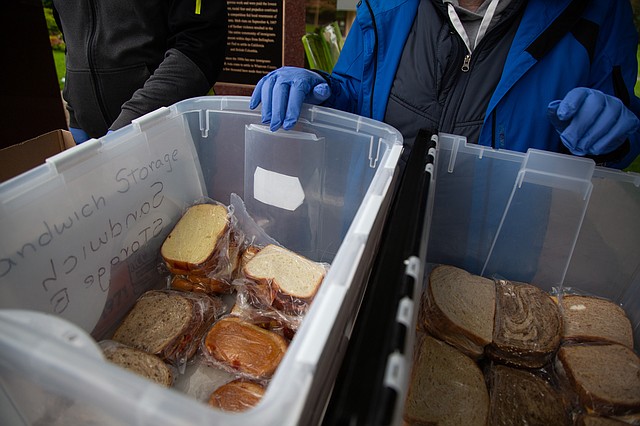 Frank McIntyre, CAST Board chair, has been involved for two decades. 
"For me, the main attractor was the simplicity of the agenda, which was, if you need food, here's some food," he said. "I thought that was really powerful and very simple." 
Bruce Bartee, 68, who has also been involved in CAST for 20 years, volunteers once a month. 
"We're not trying to convert people here," he said. "We're just trying to feed people." 
The agenda's simplicity is also appreciated by those who stop by the arch a few nights a week. 
After last Wednesday's dinner, Matthew S., 40, said he appreciated that CAST doesn't try "to preach the gospel." Emmanuel Feltaous, 47, called CAST "wonderful" because of the free food. 
"It's something you can actually count on," Matthew S. said. 
CAST's food purchasing is completely covered by donations and contributions from community members, McIntyre said. While it is affiliated with the Interfaith Coalition — a nonprofit helping people experiencing homelessness in Whatcom County — CAST is financially independent. 
In light of higher food costs due to inflation and other global pressures, McIntyre said CAST has reduced some of its variety of food. Diana Heiman, who is also on CAST's Board, said they hope to bring back more variety going forward. CAST is also trying to ramp up its fundraising efforts to deal with some of the financial pressures.  
However, McIntyre expects the program to stick around. 
McIntyre said CAST has been "extremely resilient" to various pressures over the years. As an example of the volunteers' dedication, he pointed to when an arsonist set fire to the Bellingham Ukrainian Evangelical Church in September 2021 where CAST stored its food. 
That fire happened on a Friday, and by Monday, "we were back out there on the street serving as though nothing had happened," McIntyre said. 
McIntyre and Bartee noted a slight shift in demographics over the years — Bartee said he's been seeing more young people recently. But CAST will serve anyone. 
"A good night for us is [when] at the end of the night where we don't have any food left because we've served it all up," McIntyre said. 
CAST serves from 6–7 p.m. on Monday, Wednesday, Thursday and Friday in front of the Arch of Healing and Reconciliation. To donate, visit interfaith-coalition.org/cast.