Visual Art
Build your own Art Walk
Not just for Friday nights
June 17, 2022 at 5:15 a.m.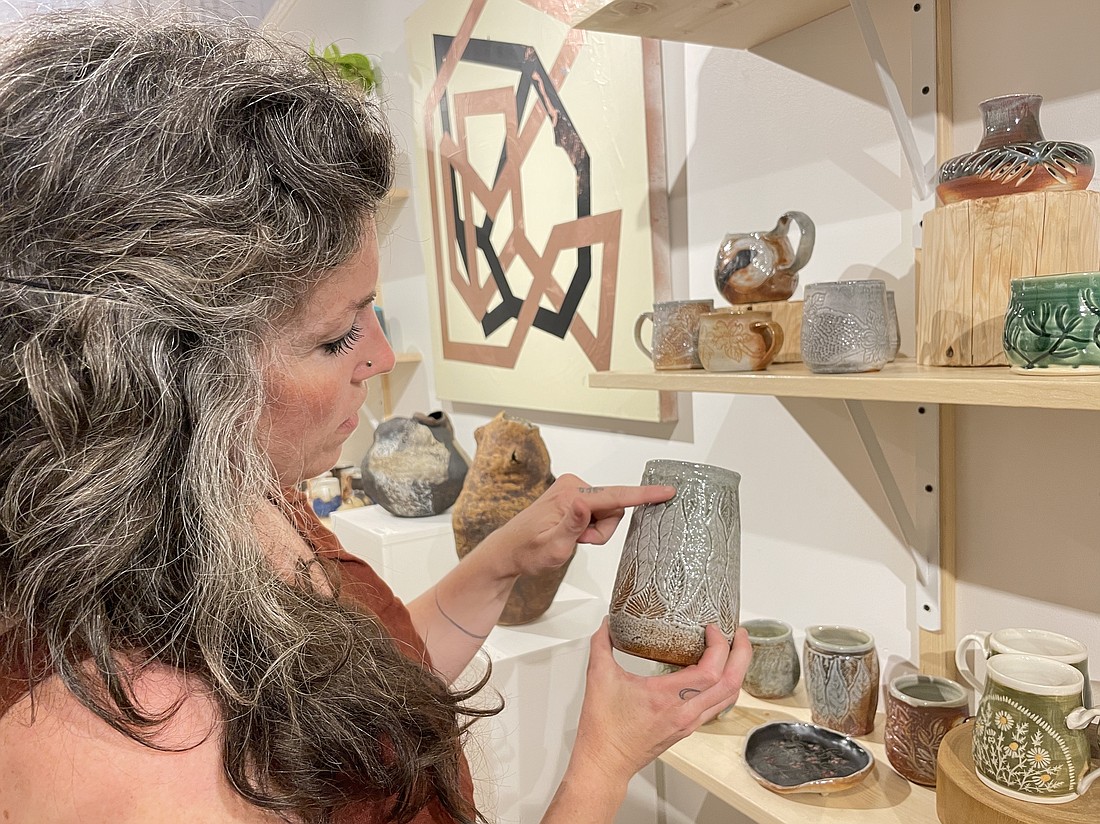 ---
---
I missed out on attending the June 3 First Friday Art Walk in Downtown Bellingham, but made up for it by embarking on my own art-focused meander the following Friday.
Using Downtown Bellingham Partnership's online map of the monthly event focused on highlighting galleries, studio spaces and businesses in the urban core, I pinpointed a few locales I'd never been to and set out.
My on-foot excursion began at Ayla and Ellora's Ceramic Studio. Located at the Ohio Street Work Studios at 112 Ohio St. — across the street from Bellingham High School — I entered through a garage door opened to let in the late-spring sun. The creative space was filled with ceramic works in progress on tables and tall shelves, a mid-sized electric kiln, a potter's wheel and various tools, glazes and paints. An adjoining gallery opening into the building's high-ceilinged atrium featured finished works.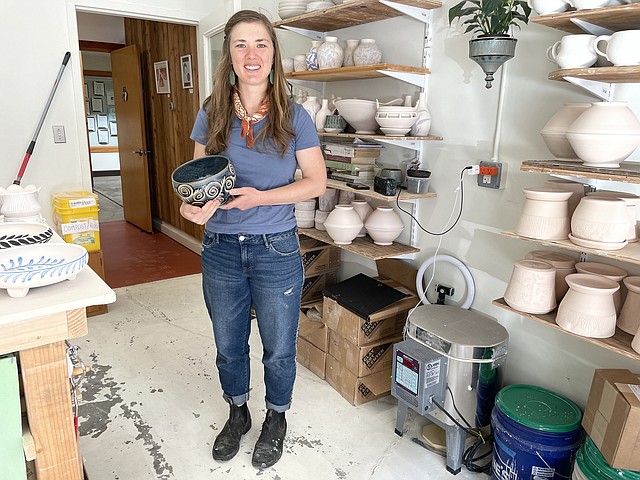 Ellora Duncan wasn't there that day, but Ayla Mullen was on hand to fill me in on how she and Duncan ended up at the studio. Mullen, 30, is a full-time ceramicist and Olympia native who recently relocated to Bellingham from Virginia, where she's been making pottery for the past 10 years. She's longtime friends with Duncan, who helps run City Sprouts Farm and has recently rekindled her love of pottery. (Duncan is also a watercolor painter, and her works are on the walls.)
Mullen said they'd been on a waiting list for a space in the building when the owner reached out to tell them they wanted more artists in residence. In January, Duncan and Mullen started moving their tools of the trade into the studio. By June, they were ready to share the space with the public and participate in their first Art Walk. Future Art Walks will feature guest artists and pop-up galleries in the atrium.
Starting this week, they'll also have open hours from 10 a.m. to 4 pm. every Thursday through Saturday, and anytime one or both of them are in the studio, it will most likely be available to visitors. When people stop by to peruse the pieces, they're welcome to ask questions about how piles of damp clay turn into lovely works of art.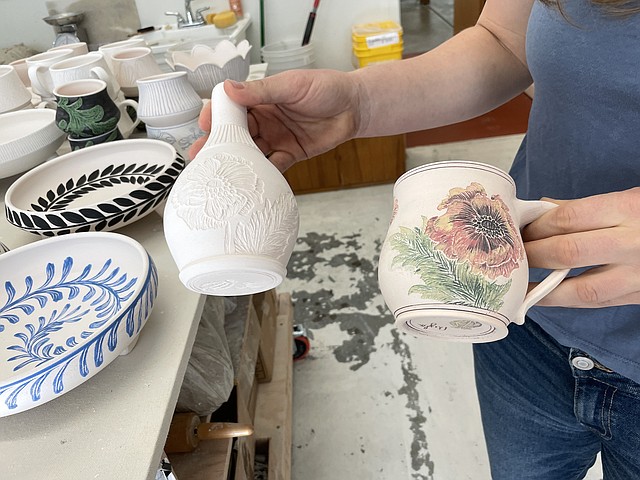 Although both Mullen and Duncan's finished mugs, plates, planters and vases are functional and can be microwaved and placed in the dishwasher, crucial steps must be taken to bring out their beauty.
"Ceramics is a really transformational process," Mullen said. "I do a lot of botanically-inspired stuff like carving poppies and adding a bunch of color to them. It's very time-consuming, but I really love the depth to it."
After my conversation with Mullen, I took a left on Cornwall Avenue for my next destination, Circa Pottery. I briefly stopped at the Bellingham Coin Shop to peruse the vintage metal benches and wagon wheels on display in front of the business (another Art Walk participant) and took note of many colorful murals bringing life to the alleyway entrance to Circa, located at 1319 Cornwall Ave.
Serendipitously, Duncan's pottery created mere blocks away can be found among those of the artists represented by Circa. Run by potters Erica Davidson and Brittany Schade, the new space features works by more than 20 local and regional ceramists, as well as monthly exhibits.
"We're walking the line between gallery space and retail," Davidson, 40, said about the business that hosted its grand opening during the May Art Walk. "It's been fun to see people excited about ceramics, supporting local artists and learning about the process of how different stuff is made."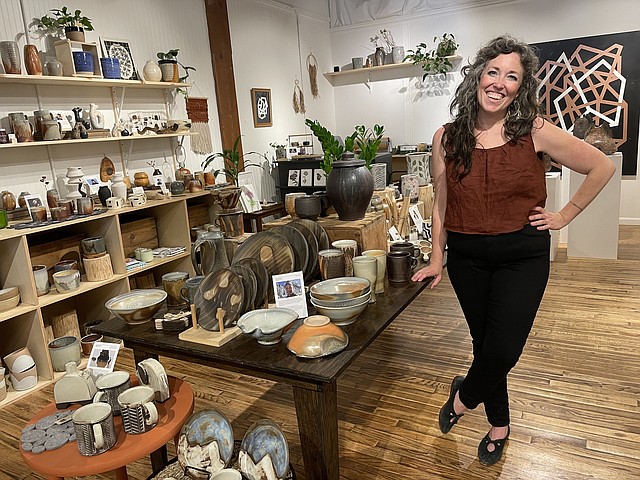 Although the space is on the small side, Davidson and Schade have made the most of it. Without making the tables and shelves feel crammed, not an inch of available space is wasted. The duo has even added items such as coffee, tea, cards, candles, wool wall hangings and paintings to the mix. On a small shelf under the front counter, I also spotted black-and-white stickers with catchy titles such as "Circa Pot Dealers Since 2022," "Hairy Potters" and "We Make a Mockery of Your Mom's Crockery."
Neither Davidson nor Schade do their pottery creation on site. Davidson has a membership to Burnish Clay Studio, so she creates and fires her work there — including making use of its soda kiln.
"It's a special type of firing where you throw baking soda into the kiln as it's firing," she said, pointing to an example of her work on one of the shelves. The vessel looked as if had been sprayed with fairy dust.
Although she loves being able to show and sell her own work, Davidson said one of the things she's loved about helping open Circa is reaching out to fellow creatives and asking if they want to sell their work at the new business.
"We have more artists coming in all the time," she said, but there's a conundrum. "We want to keep accepting more artists, and also we don't have very much space."
Brazen Shop + Studio, which fills the front part of the building housing Circa, used to have the same problem. It's why they moved from where Circa is now to the street-side locale, which gives co-owners Karen Blanquart, 43, and Allison Potts, 36, room to continue to grow. They also have a dedicated gallery space, making it easier to participate in the monthly Art Walks.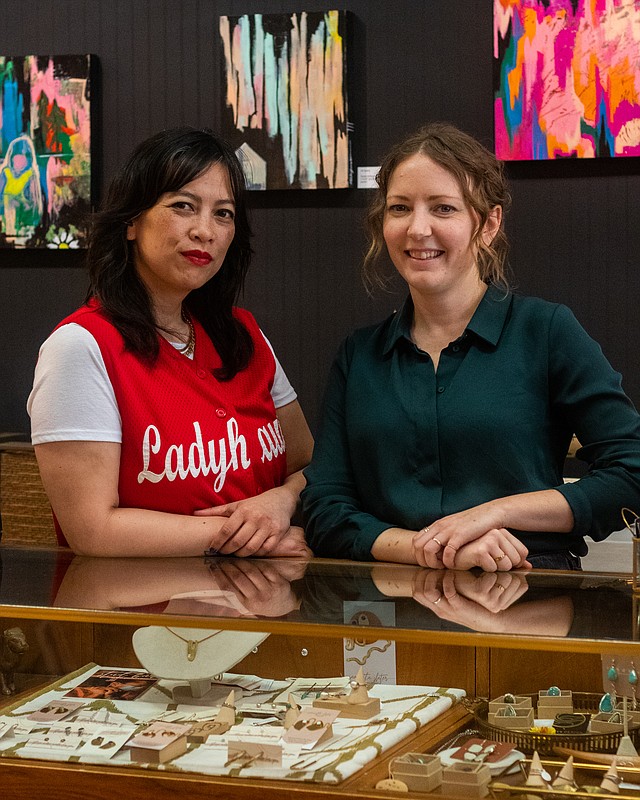 Blanquart is a painter and Potts is a jewelry maker and crafter, and they're both familiar with working with other creatives. Their website says they represent more than 80 artists and makers in the space, but they told me the number is more like 120.
Given that they started out with a handful of vendors just four years ago, I asked them what they're doing to draw enough customers to keep up with the flow of goods — from art to jewelry to pottery, reusable shopping bags, lamps made out of branches of wood, botanicals, stickers, woven baskets, kitschy keychains and far beyond. (Sharing space with them is Genny's Costume Closet, which sells vintage clothing.)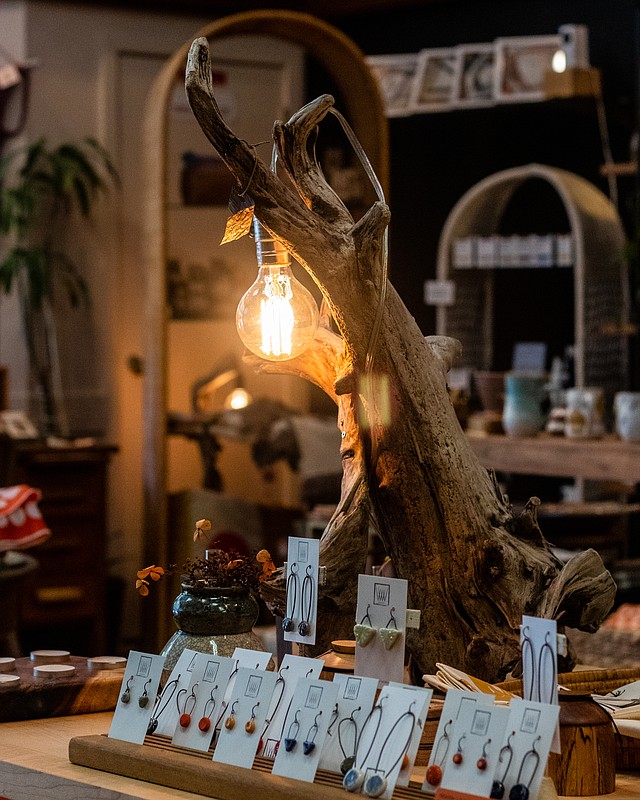 "We just like to have fun," Potts said. "We've really leaned into who we are in our space. This is who we are. This is our style, retro and vintage things."

"We feel this year we're coming into our own," Blanquart said. "We're glad we have customers that like the same things we do. We're not just selling things, we're selling things we want to share with our community."


To find out more about these venues and create your own Art Walk, go to downtownbellingham.com/art-walk.