Environment
Climate re-leaf: one man's quest to plant trees in Whatcom
Meet the guerrilla planter of Bellingham
January 23, 2022 at 1:15 p.m.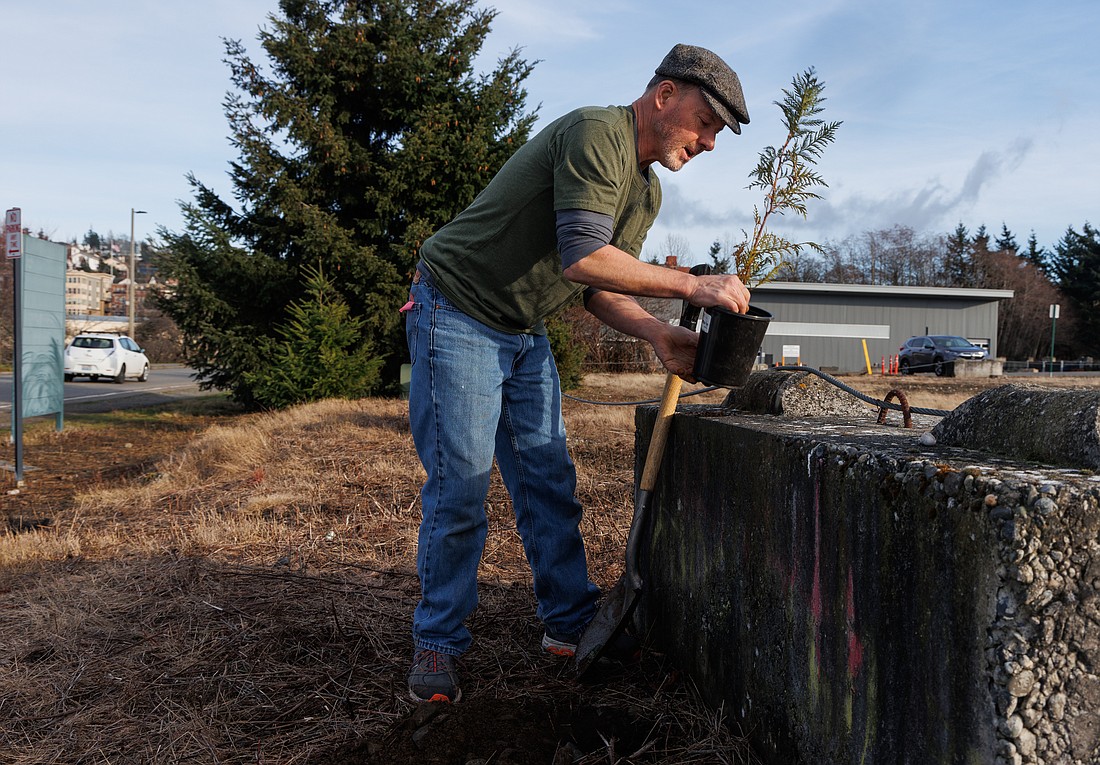 ---
---
Matt Christman's secret service team operates in the dead of night, completing covert missions, skirting Bellingham's public ordinance laws and narrowly avoiding run-ins with local police. 
"When I was a Boy Scout troop leader, there were some older guys in the troop that were very bright and great kids," Christman, 59, said. "We started this thing we called the secret service, where the guys could come to our secret meetings, and we'd plan some clandestine good deed."
These "good deeds" were acts of kindness, ranging from installing birdhouses on the lawns of retirement homes to collecting donations and planting trees. 
"We're kind of shortchanging ourselves on what's necessary for continued human existence." — Matt Christman
"We snuck around in the middle of the night to some of the nursing homes in the area," Christman recalled. "We often saw people sitting outside in the sunshine, and we put the bird feeders in there so they could watch the birds fly around when they were sitting out in the sun."
Christman's guerrilla-planting style sometimes ended in confrontations with unhappy locals and neighborhood police officers. 
"We never stopped to ask for permission," said Kyle Willett, one of Christman's former Boy Scouts. "I'm sure there's condos there by now, but there was one incident near the Fairhaven Village Green on the way to Boulevard Park. Matt grabbed a group of us to plant trees one weekend, and one of the guys living in a condo over there came out and he started yelling at Matt." 
Willett criticized the man for caring more about his view than the environment, and the team kept planting. 
Over the years, Christman made the transition from performing good deeds to conscious environmentalism.
"The environment needs some help right now; how can we get smarter about that?" he asked. "As I got older, I realized, 'Wow, we're kind of shortchanging ourselves on what's necessary for continued human existence,' and I thought, 'Hey, I can help by getting some trees back in the ground.'"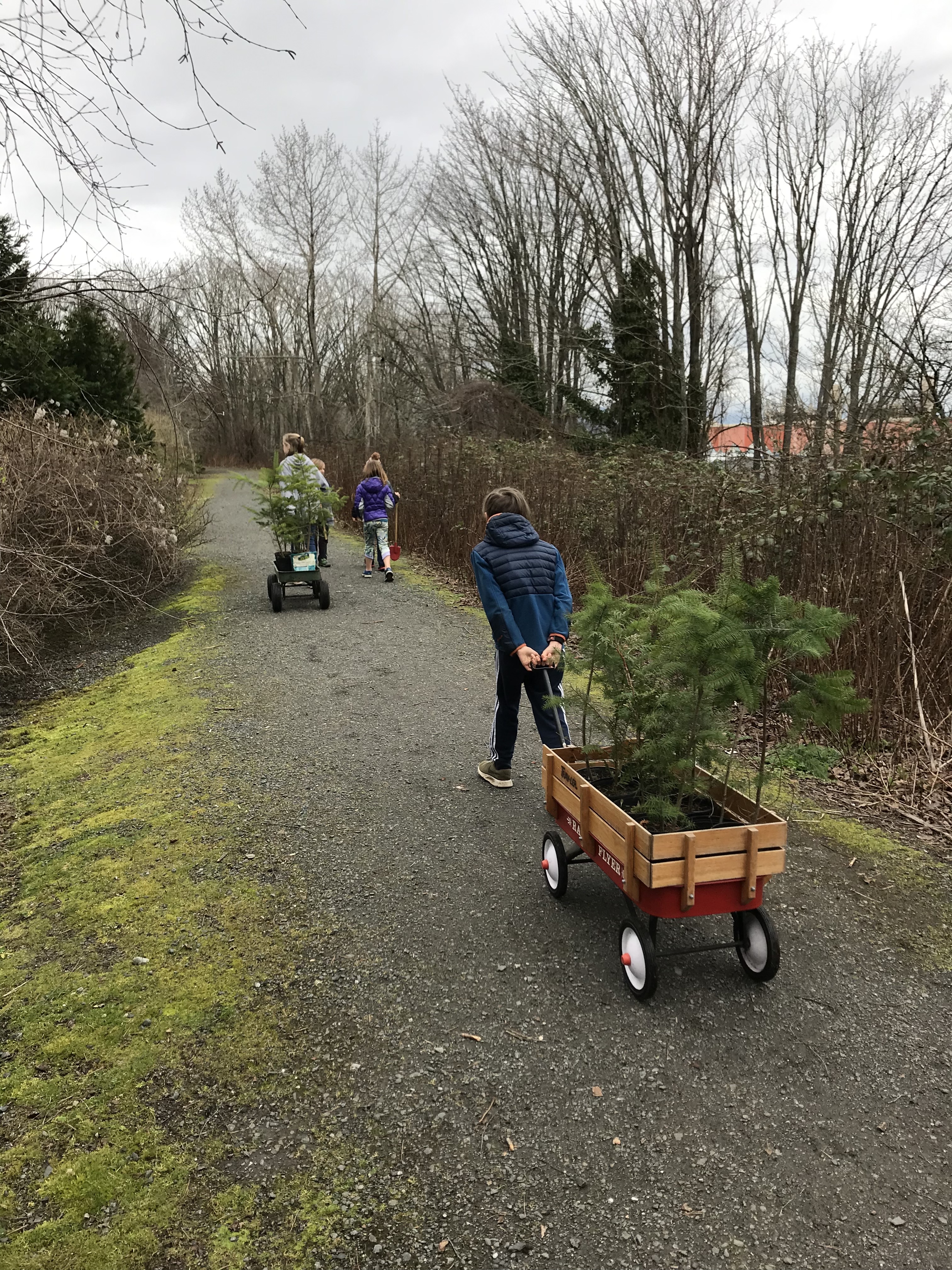 The self-described "investment broker for the universe" has been planting native trees around Bellingham for decades without permits, and continues to plant in empty lots, abandoned construction sites, forested areas and contaminated lands. 
Many areas across Bellingham have been targeted for industrial use, or were overlooked and impoverished for years that are ripe for planting, Christman says. Along the waterfront and around old factories are particularly good zones for reforesting. 
"If we can get into those areas now and front load everything with native trees, by the time these lands are [slated for development], these trees are established, and they're off to the races," he said.
"Democracy is great, but it can slow down the process of what really needs to happen yesterday." — Matt Christman
Typically, planting trees in the city requires permits, which can take time to acquire. Planting a tree in a right-of-way or a "street tree" requires extra documentation, and the city's Parks Department can require the planter to relocate or replace the tree at any time, according to Bellingham Municipal Code 13.40.060.
"The street tree planting permit is fairly easy to fill out, easy to process, is online and is free," said Steve Janiszewski, Bellingham's Park Operations Manager. 
Janiszewski says it usually takes about a week to review permits, and last year, the city issued 86. 
"Democracy is great, but it can slow down the process of what really needs to happen yesterday," Christman said. "I'm a big advocate for democracy, but I feel like we're a little behind the times as far as working out some of our problems. We're realizing that carbon dioxide is a big thing a little late in the game."
Currently, there are no penalties for planting a tree without a permit, though Janiszewski says it's important for locals to work with the city to ensure each tree is in an appropriate location. 
"If it's a bad choice of location or tree species, we may ask you to replant it, possibly," Janiszewski said. "We want to make sure we get the right tree in the right place, so we'd probably coordinate with the person who did the illegal planting, but in most cases, I would say, we want more trees."
Planting trees in the right place is an art, Christman says; unobtrusive places are key, where tall firs and deep roots won't interfere with power lines or utilities, as well as places where trees historically aren't. 
Trees are considered "critical infrastructure" in communities by the Tree Equity Score Project, a national project that tracks the correlation between income levels and tree populations. The project notes despite their importance, trees are often sparse in low-income and minority communities. According to the project, Whatcom trees are generally equal in distribution around the community, but Michael Feerer, director of the Whatcom Million Trees Project, says otherwise. 
"We have to ensure that we're not just planting trees where the well-off people are, but we're planting trees where the not-so-well-off people are," he said. "They're looking at it with a much broader brush … There's actually a lot of variability to it. The City of Bellingham produced [a map] in the first phase of their tree canopy assessment … and it actually [shows] an enormous difference in a lot of different neighborhoods."
Communities across the country are experiencing increasingly warm temperatures in the summer, and Whatcom is no exception. During the summer of 2021, Bellingham residents experienced a significant heat wave, though some neighborhoods felt the effects of extreme temperature more than others. 
Neighborhoods with few trees and a lot of pavement can run 8 degrees warmer on average than in communities that have access to shade, according to researchers at Portland State University, who mapped "urban heat islands."
"Shading ground that's otherwise exposed during the summer months when surface temperatures go through the roof, that will help keep things a little cooler as global temperatures rise," Christman said. "It's offsetting the carbon footprint in places where they haven't done that in the past, and that's huge."
Christman has always involved young adults in his guerrilla planting, and says planting can serve as a solution to some of their anxieties. 
Rates of anxiety and depression in children, teens and young adults have skyrocketed in recent years as a result of living through climate disasters and an international pandemic, according to a 2021 study from researchers at the University of Bath.
"There are a lot of kids out there, pre-teens, that have the shit-colored glasses on right now," he said. "When you can get them out there involved in the planting, kids are invested in the community and they're invested in the community's future and their fellow man's future. If you can give them something they can do, like 'Hey guys, let's go save the planet right now,' and I swear, they come back feeling better about things."
Several members of Christman's former secret service have carried his passion for guerrilla planting into adulthood. 
"Matt has always been so focused on reforestation, and that's had a huge impact on me," Willett said. "He taught me that you just got to plant whether people agree with what you're planting or not. You just have to keep planting trees."
Seven years ago, Willett moved to a village in Malawi, where he now works for a construction company focused on green building practices, and started his own tree planting program known locally as "Mitengo Ndi Moyo," or "Trees Are Life." 
"Matt is the whole reason I have a tree program in Africa now," Willett said. "It's all because of Matt."
While sitting in the Firehouse Performing Arts Center, a cafe Christman previously owned in Fairhaven, in mid-December, he greeted several regulars, and asked them about the trees they planted together. One patron told him the grand fir seedlings they planted near 14th Street were already over 9 feet tall.  
"There's a tree over on Mill Avenue [in Happy Valley] and it's a grand fir, too," Christman told the man, who lounged in front of the fireplace with a newspaper and a coffee. "It was just an empty tree well, and it's been empty forever. The city's not getting around to planting anything so I just popped it in."