Restaurants
Review: A'Town Bistro
Classic dishes made with care
February 12, 2022 at 5:00 a.m.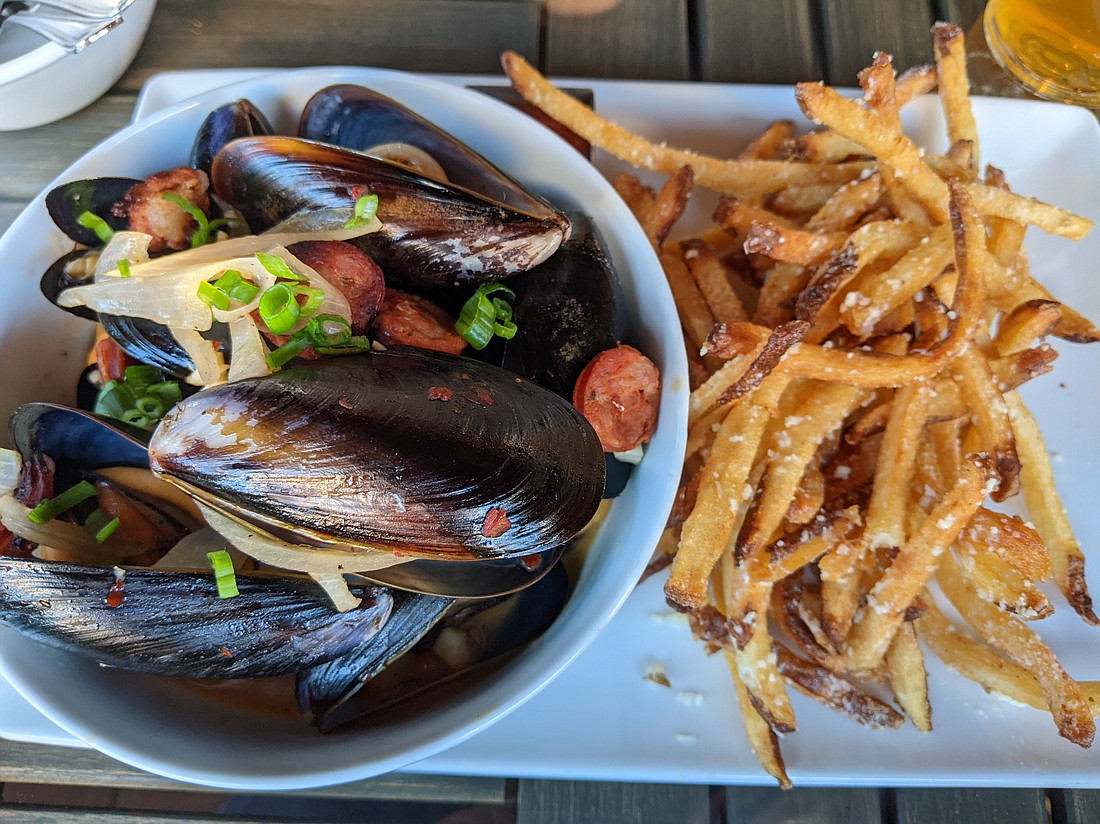 ---
---
When I first reviewed A'Town Bistro back in 2012, it had just opened in downtown Anacortes with a small but ambitious menu of bistro classics, made with care from seasonal, locally sourced ingredients. After 10 years, unsurprisingly, a few things have changed, but the central concept of well-made, comforting food has stayed strong.
During the pandemic, A'Town has pivoted again and again. For a time they offered a takeout "Supper Club," which changed from week to week. Shortly after the lockdown began we brought home a container of beef barley soup, a green salad, oxtail stroganoff, freshly baked bread, and a chocolate Guinness cupcake, which was out of this world. It was enough for dinner for two even after putting the soup in the freezer for later.
While the restaurant remained closed to dining, they continued to sell wine, cocktails to go, and fresh bakery items through their website. Then once things started to open up, they constructed a large and quite elegant sidewalk gazebo with heaters for outside dining. They have smartly paced themselves, giving their staff regular breaks, then gradually easing back into longer hours. As a result, the restaurant still feels fresh and energized even after the last two years.
A'Town has always had a robust cocktail program, and that hasn't changed at all. A mix of classic and original cocktails, there's always something interesting to sip, like the Optometrist, a strong but mellow cocktail of blended scotch, Amaro Montenegro, and Amer replica, a bitter orange liqueur ($13). Diners will find a small but interesting wine list, a great selection of beer, a few non-alcoholic cocktails, and excellent Batdorf & Bronson coffee.
The small plates menu includes classics that have been offered since the restaurant first opened, like the Scotch egg and a truly excellent French onion soup. There is just one salad on the menu, called A Goat Named Poppy ($13), with lettuce, goat cheese, kiwi, apricots and hazelnuts, in a poppyseed dressing (I will not be ordering this one due to multiple allergens, but it sounds amazing).
Most importantly, the small plates menu now always seems to include toast, which sounds light but is in fact a substantial appetizer: one thick slice of topped toast, carefully cut in half, will easily take the edge off the appetites of two people (for one person it might be a full meal by itself). On a visit last fall it was a fat piece of house-baked sourdough thickly spread with a duck liver and white bean mousse, topped with duck meat, carrot butter and maple thyme syrup.
On a more recent night, the toppings were whipped goat cheese, Brussels sprouts slaw, shoestring potatoes, pickled onions and shaved Bayonne ham ($16). The challenge of eating it without dumping most of the toppings in your lap is well worth the effort.
Mains tend to be meat- or seafood-heavy, or both. Paella is a regular feature, available in a generous single serving ($29) or a larger one to share ($49). Recently it included mussels, clams, chorizo, several big chunks of tender pork belly, and a pile of what was possibly the best fried calamari I've ever eaten in my life. Curry aioli for dipping or mixing in was a nice final touch.
A pile of tender short ribs ($40), served in a blazingly hot cast iron pan, comes with a second pan full of potatoes and sunchokes covered in melted cheese, while the same dish last summer was accompanied by a sort of hot caprese salad made with wonderful heirloom tomatoes. Chimichurri and aioli give options for dipping each bite.
Every bistro needs a good burger, and A'Town's wild boar burger, now also available with bison meat, continues to be solid. Butterkäse cheese, pickled shallots, a brioche bun and garlic aioli all serve to gild the lily ($23).
And for slightly smaller appetites, there are moules frites, which have been a standby on the menu since the restaurant first opened. They remain one of my favorite things here, with plump mussels in a rich chorizo-studded broth that is so good you may want to drink it all, with crispy truffle fries ($24).
Desserts change seasonally as well. At our last dinner there I had trouble choosing between the pear bombolini (sourdough donuts with ricotta, honey and pears, $9) and the flourless chocolate cake with salted caramel mousse ($12). Chocolate won out, but I am seriously considering going back just for the bombolini.
Both the food and the service are friendly, reliable and comforting. Anacortes is a great town to visit for many reasons, but dinner at A'Town is one of the best.
A'Town Bistro is open from 5 p.m. to 9 p.m. Tuesday through Saturday at 418 Commercial Ave., Anacortes. Reservations are highly recommended. You can also order online for takeout or curbside orders. For details, go to atownbistro.com.