Environment
Council hears $700K plan for Post Point construction outreach
Public anxiety regarding 'contaminants of emerging concern' won't go ignored
August 1, 2022 at 5:48 p.m.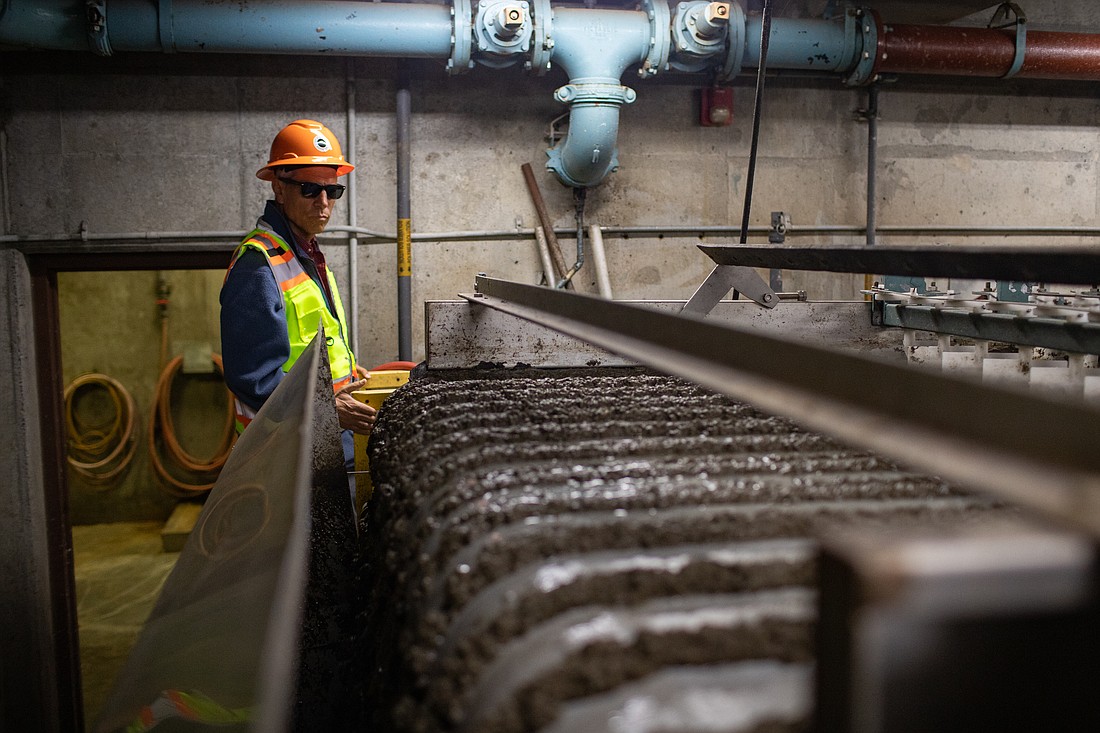 ---
---
The price tag on Bellingham's impending Post Point Wastewater Treatment Plant construction has grown. Construction, currently priced at about $220 million for the project, is only part of the cost, Bellingham City Council members learned during a Monday meeting. 
The cost for consultation and community outreach services will add another $700,000 to the bill over the next two years, according to a presentation from project managers at Brown and Caldwell, a Seattle-based environmental consultant.
Though the $700,000 price tag may be a sticker shock to council members and the community, Bellingham Public Works Director Eric Johnston said it will pay for more than just outreach and promotional efforts. 
"That seems like a lot of money, but there's more to it than just the community engagement," Johnston told city council members during Monday's committee of the whole meeting. "It's also the engineering studies that come with the evaluation of the [biosolid] options that the council has asked to look at." 
The engineering studies, Johnston said, are for "end-use products" related to biosolids, the product produced by the future incinerators at Post Point. Currently, council members have no plans for biosolids once construction is finished, but will have a plan in place by early 2024. 
Concerns around the use of biosolids in agriculture and gardening, though, have grown over the years in Bellingham as knowledge of PFAs, perfluoralkyl and polyfluoralkyl substances, grows. 
Also known as forever chemicals, PFAs are manufactured chemicals that come from everyday products, like cleaning solutions or over-the-counter medications, and are found in biosolids even after incineration. Recently, the Environmental Protection Agency (EPA) set new health advisories for PFA's presence in drinking water: 0.02 parts per trillion. 
"It did not go without notice that several weeks ago the EPA set a new health advisory," Johnston said. "They're communicating that regular consumption of PFA compounds is something that needs to be brought to a halt. Fortunately, we don't eat biosolids." 
Johnston told the council the city plans to elevate health concerns for biosolids beyond PFAs and include other sources of toxins and chemicals. City employees will pay close attention to these "contaminants of emerging concern," as the Post Point project moves forward. 
The two-year outreach proposal presentation involves three phases, according to the Brown and Caldwell presentation. The first phase will involve general outreach and increasing awareness as to why the aging facility needs to be replaced. The second phase, set to begin in early 2023, will be related to biosolid "end-use products," and the third phase, slated for late 2023, will be a "synthesis" of community input. 
"Part of this process will be educating ourselves, educating the community, educating those involved in the decision-making process, including the council, as to what those contaminants of emerging concern are, what the health threats are, what the regulatory environments are, where these contaminants come from, how we can limit our exposure and how to educate ourselves," Johnston told council members. 
The two-year outreach timeline coincides with design and construction plans. 
"We anticipate the design being completed [at the] end of 2023, early 2024," said Mike Thorstenson, a project manager at Brown and Caldwell. "The bulk of construction would be starting around early 2024." 
Council members still have several decisions to make regarding Post Point construction, though. Questions of sewage rate hikes, contractors and biosolid end-use remain unanswered.