Transportation
Alaska Air beefs up flights from Paine Field
Carrier builds back Everett service after pandemic lull
April 19, 2022 at 5:00 a.m.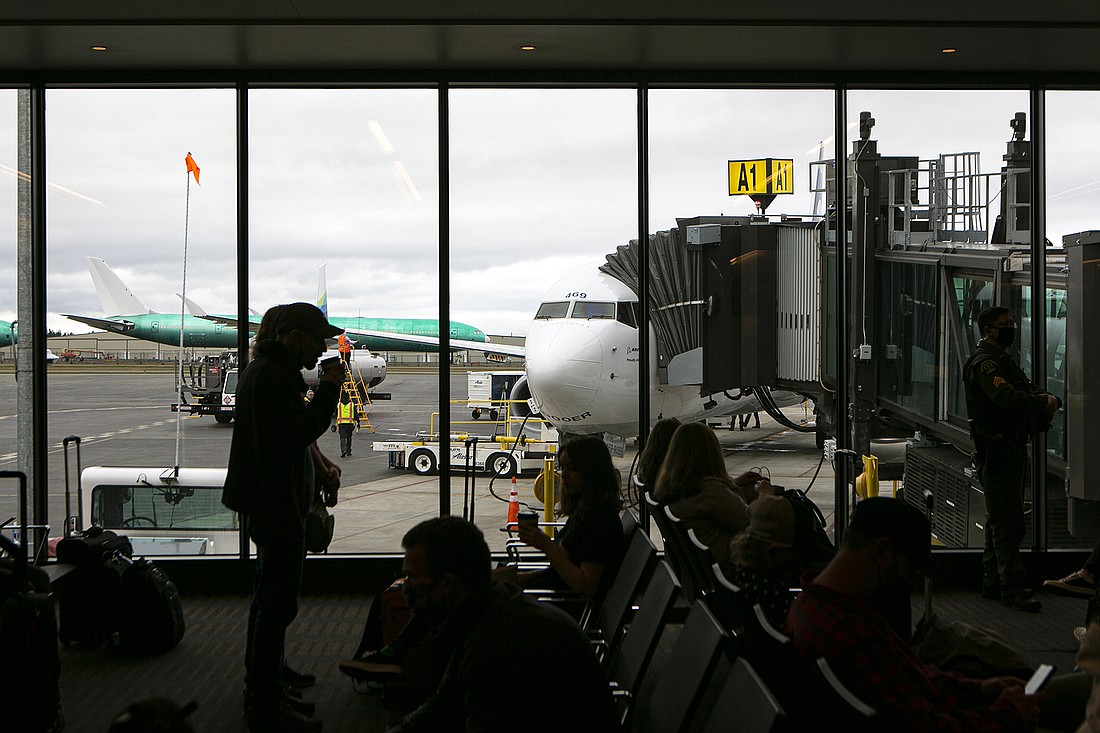 ---
By Janice Podsada, Everett Herald
---
EVERETT — Alaska Airlines will beef up the flight schedule at Everett's Paine Field this spring, restoring service to pre-pandemic levels.
On June 17, the Seattle-based carrier will begin offering 18 daily departures from Everett, the carrier's full allotment when the passenger terminal opened in March 2019.
Alaska hopes to continue to boost service at Paine Field, said Brett Catlin, vice president of network and alliances at parent Alaska Air Group.
"Our long-term goal is to have more than 18 daily flights at Paine Field," Catlin told The Daily Herald.
Alaska Airlines and sibling regional carrier Horizon Air are the sole airline tenants that serve Paine Field, which is about 25 miles north of downtown Seattle and more convenient than Seattle-Tacoma International Airport for many who live in the northern part of the metropolitan area. United Airlines ended service at the Snohomish County-owned airport in October.
With the COVID-19 pandemic appearing to wane and restrictions lifting around the country, air travel is bouncing back. On Monday, nearly 2.2 million passengers passed through Transportation Security Administration checkpoints nationwide, compared to about 2.5 million the same day in 2019.
Alaska and Horizon jets are full when they depart the gates at the Everett terminal, Catlin said.
Demand for flights to and from Everett is increasing, but Alaska faces a ceiling at Seattle-Tacoma International Airport, where demand is expected to outstrip terminal and runway capacity in the next decade or so.
Alaska Airlines' Sea-Tac cap of 400 daily departures is approaching, Catlin said.
"When Sea-Tac is tapped out — and we expect that to happen in 2025 — then Paine Field becomes our place to grow," Catlin said.
Built and operated by privately held Propeller Airports, the terminal opened with two jet bridges and a third gate that boards from the pavement.
In the first year of operation, the terminal served 1 million travelers. A new report says that in the next two decades, those numbers could quadruple.
By 2040, Paine Field's annual passenger count could swell to 4.3 million passengers, according to a Snohomish County report that's part of an effort to draft a new long-term plan for the airport.
State officials are also eyeing Paine Field to relieve the impending crunch at Sea-Tac. Last year, the Everett airport made a commission's short list of metropolitan Seattle airports that are good candidates for expansion in the next 20 years.
From Everett, Alaska Airlines currently serves Boise, Las Vegas, Orange County, Palm Springs, Phoenix, San Diego, Spokane and Tucson.
On May 19, it will resume service to San Francisco, one of Alaska's key hubs, with four daily flights. Alaska previously offered two daily San Francisco flights but suspended service last year due to a lack of demand.
But with business travel showing signs of recovery, Alaska is returning San Francisco to the Everett schedule. The Bay Area is considered a business destination for most travelers, Catlin said.
"We know there's a market for these flights," said Catlin. "Think about all the tech companies north of Seattle that are building up in places like Kirkland. We think that added frequency to San Francisco will do well."
Air travel has rebounded significantly from the dark, early days of the COVID-19 pandemic, when the skies seemed void of passenger planes.
In May 2020, the number of Paine Field departures fell to less than three daily flights, from a high of 24. With so little traffic, passenger terminal operations were suspended for 10 weeks while unrelated repairs were made to the ramp. It reopened in August 2020.
When United Airlines exited the terminal, it left a gaping hole for many travelers. United Airlines operated up to six daily flights, including flights to its Denver hub — a gateway to the Midwest and East Coast.
At this point, Alaska doesn't plan to fill that gap until the passenger terminal expands, Catlin said.
With more room, Alaska might add flights to Denver, Chicago or Salt Lake City. For now, the focus is on West Coast destinations, Catlin said.
Longer-range service from Paine Field could also be on the table, including flights from Everett to Hawaii.
Demand for leisure flights from Paine could result in an increase in 737 service, which Alaska launched for the first time earlier this year. Alaska's 737s seat 178 people, more than twice the capacity of the Embraer jets used by Horizon Air.
Like other airlines, Alaska is struggling with a pilot shortage.
While there have been numerous Alaska cancellations recently at Sea-Tac due to the shortage, service from Paine Field hasn't been affected because most flights from Everett are operated by regional Horizon Air, which has a separate pool of pilots who are under a different contract. Alaska pilots have been operating without a labor contract for three years.