Theater
'Hedwig and the Angry Inch' rocks Bellingham Theatre Guild
Powerful musical transforms local stage
September 28, 2023 at 5:00 a.m.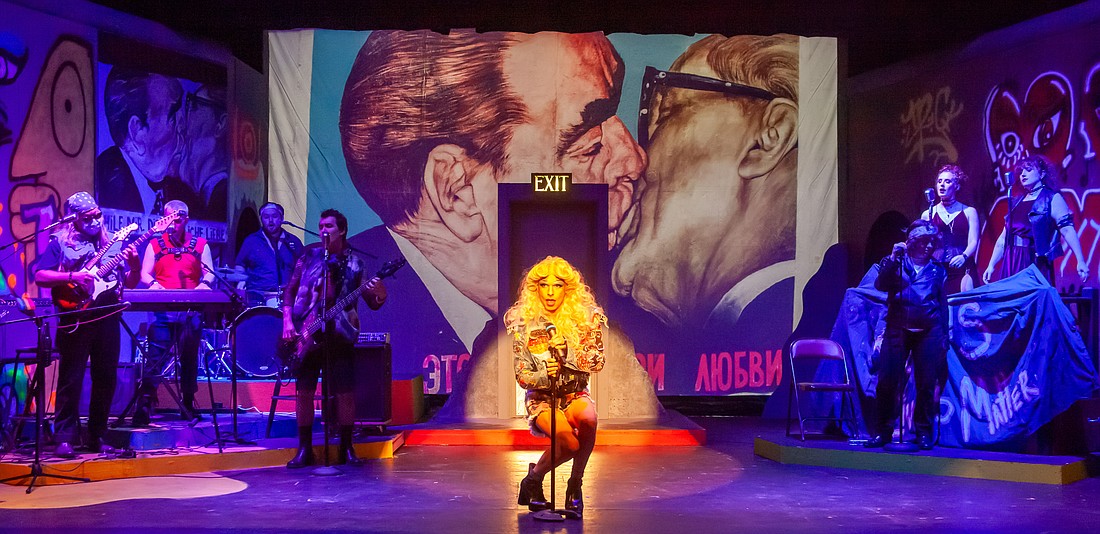 ---
---
In the rock musical "Hedwig and the Angry Inch" showing at the Bellingham Theatre Guild, actor and musician Quinn Krivanek fiercely inhabits the titular role of the troubled but talented Hedwig Robinson, giving a spellbinding performance that shouldn't be missed. 
The plot stays true to the storyline of the Tony Award-winning musical John Cameron Mitchell wrote with composer Stephen Trask and first produced in 1998 — before Mitchell directed and starred in a 2001 feature film version of it — but is set in Bellingham, where Hedwig relays the information that she and her traveling band have settled into a short residency. 
Through the 90-minute running time — there's no intermission — Hedwig tells her tragic tale directly to the audience through song and dialogue, bringing wry comedy and plenty of raunchy anecdotes into the mix. (A warning on the playbill lets people know the show contains adult language, sexually suggestive matter, references to abuse and strobe lights, so consider yourself notified.)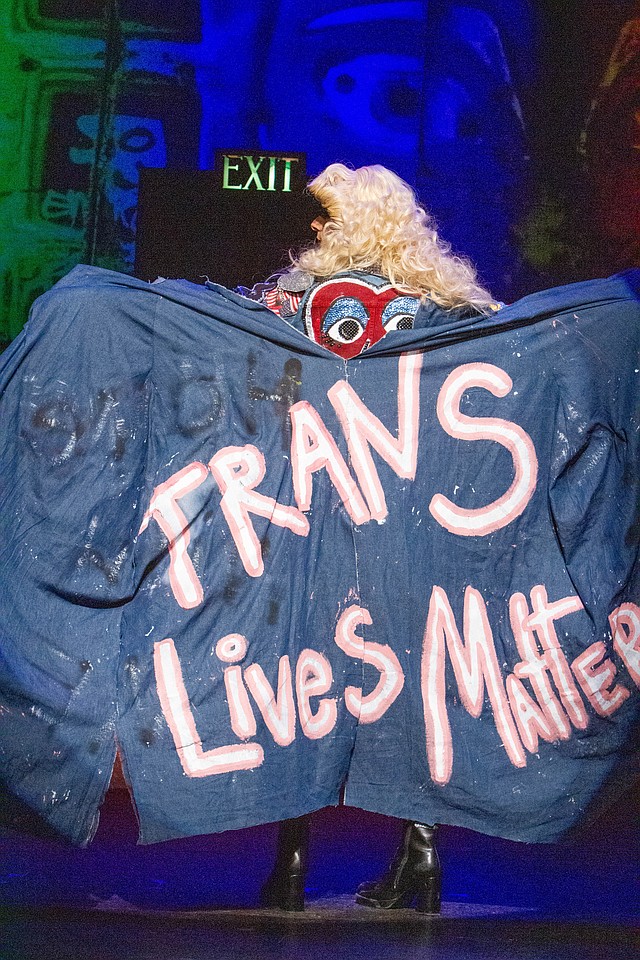 The opening scene sees Hedwig donning a cape-like garment with the words "Trans Lives Matter" on the back, which drew loud applause during the Sunday matinee. 
It's an apropos sentiment. Hedwig is described as a being a performer from East Berlin who unwillingly underwent an operation to transition from a self-described "slip of a girly-boy" to Hedwig in order to become an American soldier's wife and escape from an oppressive city and an emotionally absent mother. 
But the botched surgery leaves Hedwig without having a true identity, and even as she flutters her long eyelashes, flips her long blond hair and gyrates against the mic stand, she translates her pain through raw vocals and stories that sometimes feel voyeuristic while you're hearing them. 
In past interviews, Mitchell said Hedwig isn't meant to be a trans woman, but rather is a genderqueer character who goes by feminine pronouns.
"Part of the tragedy of Hedwig's life is that they were denied the opportunity to choose for themselves, and in doing so, they couldn't find an identity that made them feel whole," Director Joe Urdiales said in his notes in the program. 
He also wrote that Hedwig isn't meant to be held up as a representation of trans-ness, but rather as a symbol of how trauma that happens in one's youth is apt to echo throughout their life.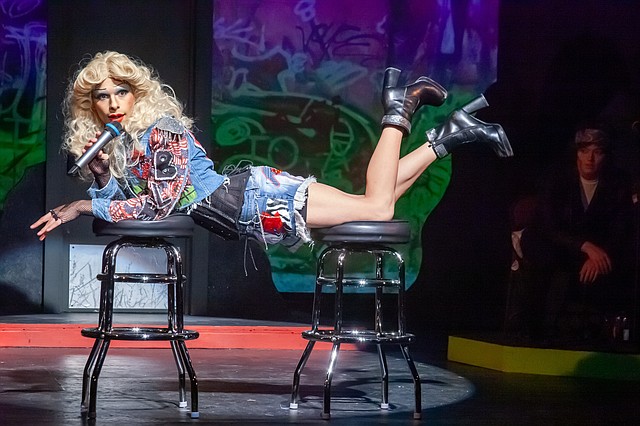 One thing that is glaringly obvious about Hedwig is that despite failed romances, career missteps and issues of parental abandonment, she is supremely talented. This means someone needs to be cast who is up to the task of being onstage for an hour-and-a-half, laying themselves bare before the crowd while still holding their attention. 
Krivanek is more than up to the task. 
Wearing high-heeled boots and dressed in a series of dazzling (and daring) costumes, he struts, sings, elicits tears and manages to make people laugh with Hedwig without laughing at her. 
It's a tall order. But with the help of the Angry Inch band made up of local musicians including TJ Anderson, David Lyon, Toby Bruce, Simeon Billick, Willow Rae and Erin Melanie  — as well as the marvelous Carly Fear, who plays Hedwig's browbeaten husband, Yitzhak — the production has become an electrifying one. 
Props should also be given to the canny crew who transformed the Bellingham Theatre Guild into a sometimes startling smorgasbord of sound and elaborate backdrops — and a place where Hedwig might someday find the happiness she so richly deserves. 
"This seems way beyond what you'd expect to find at a community theater," an audience member said on the way out the door. Similar sentiments could be heard from throughout the crowd, many of whom seemed dazed to come out of the theater and find it was still daytime. Like Hedwig, they'd been transformed. 
"Hedwig and the Angry Inch" plays Sept. 28–Oct. 1 and Oct. 5–8 at the Bellingham Theatre Guild, 1600 H St. Tickets are $8–$18. Info: bellinghamtheatreguild.com.