Music
Yaniv Attar celebrates 10 years with Bellingham Symphony Orchestra
Conductor depends on community to elevate the listening experience
September 22, 2023 at 5:00 a.m.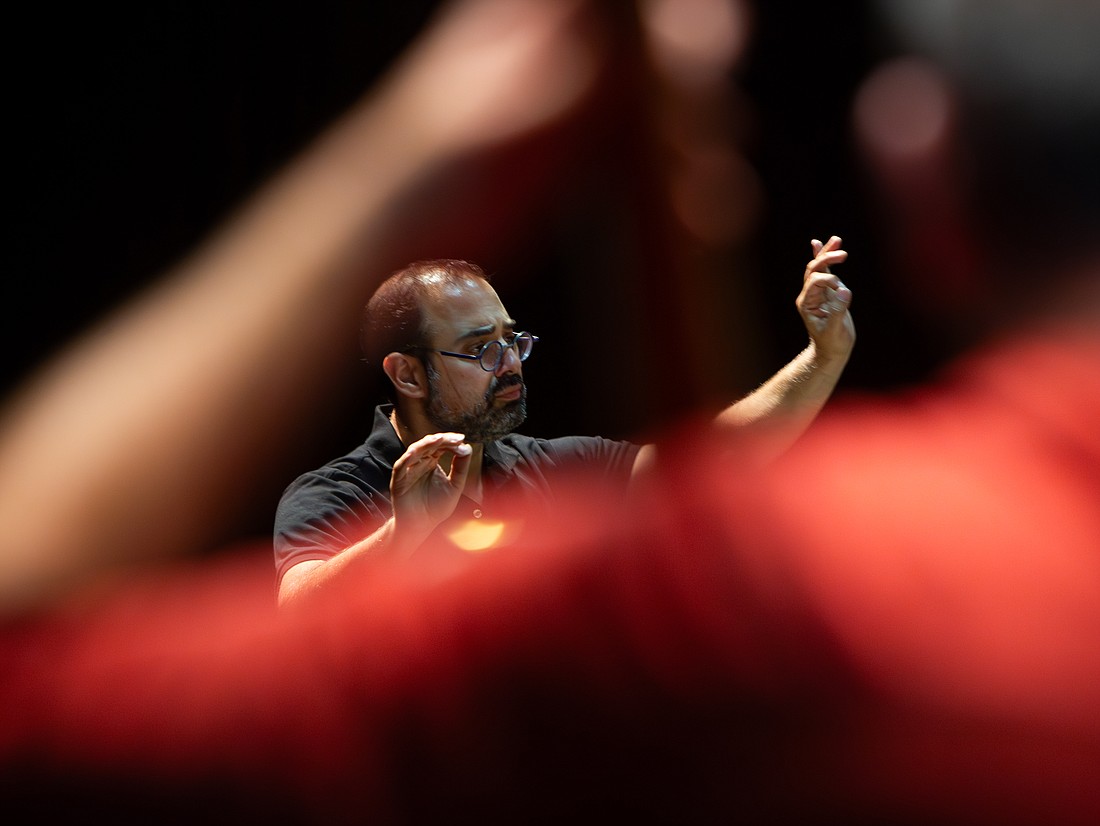 ---
---
During a Bellingham Symphony Orchestra rehearsal at the Mount Baker Theatre, Music Director Yaniv Attar directed his nearly 100 players to "pick it up a notch!" during a rendition of composer Modest Mussorgsky's "Pictures at an Exhibition."
Attar drew his musicians to a full crescendo with almost Bernstein-esque, come-hither arm movements, then quickly dropped his hands as the musicians literally crashed to the cymbals of percussionist Kay Reilly.
Attar, who is celebrating 10 years in his role, grew up in Israel, and said he discovered classical music totally by chance at an early age.
"My mom bought me a guitar, thinking I will play a few songs with friends around the fire pit," he said, "but in my first lesson I heard my guitar teacher play some Bach, and I was hypnotized."
A few years later, his sister was studying film and she had to analyze the soundtrack to "Clockwork Orange," which features Beethoven's Symphony No. 9. 
"That is a piece I was obsessed about for a long time," said Attar, an accomplished classical guitarist. "It infused the love of orchestral music in me." 
When Attar, now 44, saw the job posting for the position in Bellingham 10 years ago, he didn't even know where the Whatcom County city was. 
His wife, Meredith Goldberg Attar, who works with Bellingham Family Partnership Program, did extensive research and reported it sounded like paradise.
"We were never proven otherwise," Attar said.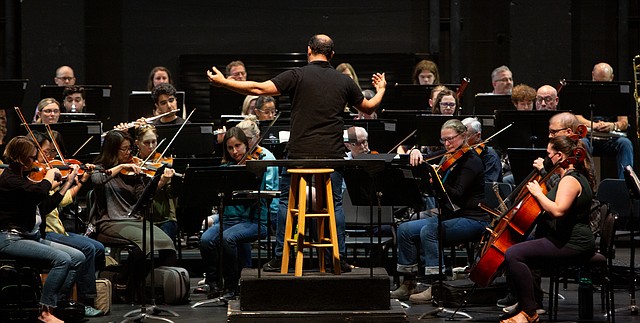 Scott Henderson was executive director of the Whatcom Symphony Orchestra (WSO), now Bellingham Symphony Orchestra (BSO), and worked with the board and board president Bruce Cox to lead a search process for a new music director to replace Maestro Roger Briggs. 
A committee made up of orchestra musicians, staff, and the community was convened in 2011. The search took two years of weekly effort, securing, interviewing and evaluating more than 120 international candidates, Henderson said. It culminated in the naming of four qualified finalists who went through auditions.
"At the close of that season, with orchestra and audience input, the committee and board's decision was decisive," he said. "We engaged Yaniv Attar as music director to begin his first WSO season in September 2013." 
His impression of Attar then, Henderson said, was of an immensely talented and accomplished conductor who embodied all of the qualities most desired for the orchestra — impeccable musicianship, professionalism, a collaborative spirit and enthusiasm for the WSO's mission and potential.
Gail Ridenour, who has been co-principal oboe for eight years and was executive director for more than five years with the BSO, said her first recollection of working with Attar speaks to why he was a great choice. 
"He knew everyone's name at my first rehearsal with the BSO, even the new people like myself," she said. "Some conductors will refer to you by your position or instrument in the orchestra, but Yaniv takes the time to learn everyone's name and get to know them." 
Garland Richmond, who's on the BSO board, said one of his favorite memories of Attar was when he demonstrated his feeling of kinship with the music community here by bringing his newborn daughter onstage at the beginning of a concert and introducing her as a prospective future member of the orchestra.
"Yaniv is, most importantly," Richmond said, "a very fine musician, but he also brings to his work an element that is all too often absent in orchestra conductors — warmth, compassion and humor."
Ken Bronstein, who's been a member of the orchestra since the mid-1990s, played in the audition season, and remembers that not only was Attar very clear in his conducting, he had a great sense of humor in rehearsals.
"To this day," Bronstein said, "we do laugh a lot during rehearsals, but we also manage to get a lot of work done!"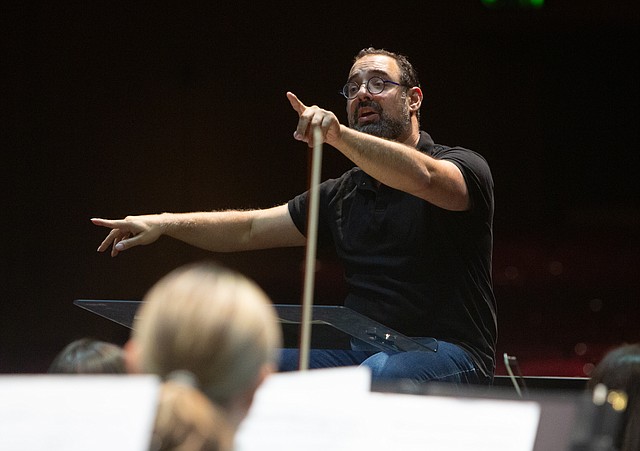 Mark Lindenbaum, who was on the board when Attar was hired, said he stood out for his warmth and facility at conveying musical ideas.
"As a tuba player in an orchestra, we tubists end up listening to the rest of the orchestra play a lot, and in rehearsal that includes the conductor talking at length to other sections," he said. "More than any conductor I've played for, I've found those conversations between Yaniv and other sections interesting. There is always something to learn from his approach, with musical ideas that can be applied more broadly." 
Kay Reilly, who has been a percussionist in the orchestra since 2006, agrees.
"He pushes us from where we're at, and he appreciates the work we put in," she said.
Attar said the BSO's Harmony From Discord series, which features music that transcends oppression by composers from all over the world, is the highlight of his career.
Reilly said the series is "powerful, innovative, and an incredible way to highlight composers who were marginalized, ignored, unseen and/or harmed."
Attar said he has been able to discover an amazing amount of works that deserve attention on the concert stage, and that people love discovering this music with them.
"It makes our programming relevant, challenging, exciting and inspiring," he said. "I am lucky to live in a community that embraces the concept like they do here. It defines us as an orchestra."
Attar said if he is able to influence the group he is conducting, get them to sound better, elevate their sound, and enable them to express themselves and be inspired, he is gratified. 
"It is all about that moment and making magic with 90 humans together," he said. "When things work well and the connection with the orchestra is at its best, it really feels like I am floating — or flying."
The Bellingham Symphony Orchestra kicks off its 48th season at 3 p.m. Sunday, Oct. 1 at the Mount Baker Theatre, with a concert titled "The French Connection." For more info, go to bellinghamsymphony.org.