The A-List
Amy's picks: Storytelling, murder, art and comedy
A curated selection of happenings in Whatcom and Skagit counties
September 21, 2023 at 5:00 a.m.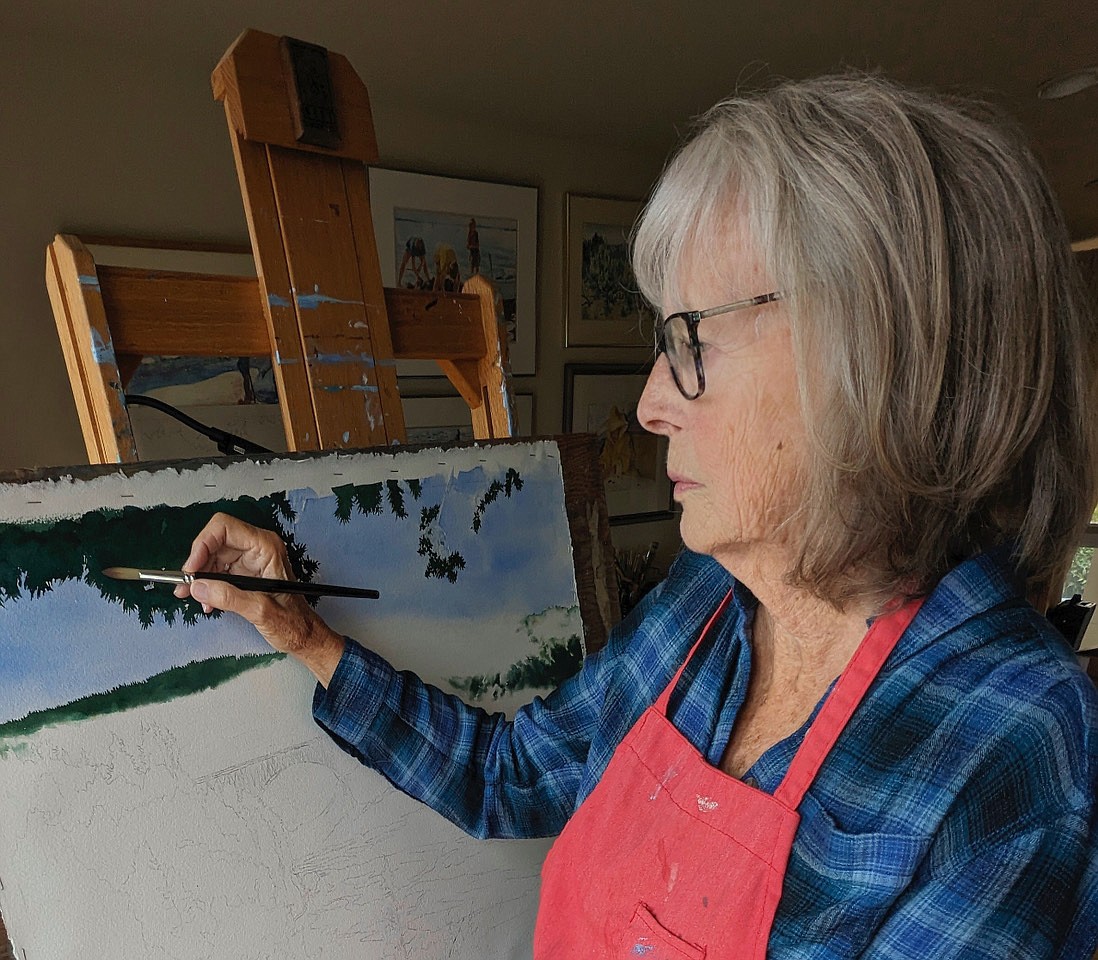 ---
---
AMY'S PICKS 
Bellingham Story Hour
7 p.m. Tuesday, Sept. 26, New Prospect Theatre
For nearly as long as I've been writing about theater in Bellingham and beyond, Kamarie Chapman and Krissa Woiwod have been part of the action. They've both been onstage, worked behind the scenes, penned plays and led multiple community collaborations. 
Their latest shared experience, Bellingham Story Hour, takes place on the fourth Tuesday of every month. Started last December, the event gives voice to people's true stories. Participants put their names in the hat for a chance to tell their own 5- to 10-minute story based around that month's theme. September's is "birthday," which means there will be cupcakes.
Heads up: Attendees are welcome to just show up to listen to the true-life tales, and those who want a chance to make their way onstage should follow the guidelines on the Bellingham Story Hour website (basically, don't be a jerk). Entry is $5.53. Info: bellinghamstoryhour.com.
Lyn Rackley, Joseph Kinnebrew Exhibit
Sept. 26–Oct. 1, Studio One, 4294 Birch Bay Lynden Road, Blaine
From 11 a.m. to 5:30 p.m., view Rackley's paintings and Kinnebrew's drawings, prints and authored books at a studio that is not often open to the public. 
Kinnebrew, an award-winning artist with commissioned sculpture and collected works in major museums and libraries, said he will be showing drawings, digital collage and giclees. Rackley, a retired art professor and illustrator with more than 20 years of professional experience, will be exhibiting recent watercolors and acrylics — most with a sea-related theme. 
"Studio One is a humble, nontraditional place where I continue to work," 80-year-old Kinnebrew said. "It is rarely open but I have decided to occasionally partner with another artist. Since the gallery options here in Blaine are largely nonexistent, I want to give them some exposure. Lyn has considerable experience in the arts, so I decided to begin with her." Info: josephkinnebrew.com.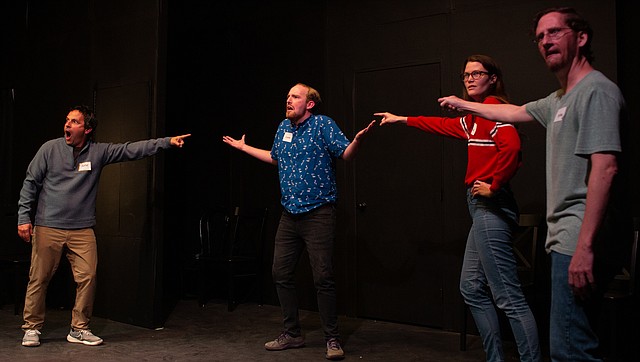 Hellingham
Sept. 29–Oct. 1, The Upfront Theatre, 207 Prospect St.
As a former cast member at The Upfront, I was once killed onstage twice in one night during performances of this perennially popular improvised murder mystery. The following evening, I was the cold-blooded killer. All in all, it was a fun weekend. 
The shows take place twice a night on Fridays and Saturdays from late September through October — and once on Halloween proper — and they will all have wildly different outcomes. After getting suggestions from the audience for their character, each performer then finds out if they will witness, kill or be killed. Nobody knows whodunnit until the end of the night, when the murderer is uncovered.
Lest you think you'll be attending a gore-fest, be aware there are plenty of laughs to be found in the sleepy town of Hellingham, and blood will not be shed. Tickets are $10–$16, and should be purchased in advance if you want to ensure you'll have a seat. Info: theupfront.com.
Alfred Hitchcock's 'Blackmail'
7:30 p.m. Friday, Sept. 29, Mount Baker Theatre, 104 N. Commercial St.
Those who are interested in time traveling will want to make plans to attend this one-night-only event, which features the 1929 black-and-white silent film set to a live score performed by the MBT's resident organist, Dennis James. 
Although the Mighty Wurlitzer organ James plays on occasion has been at the theater for many decades, it was converted to digital in 2013, and infrared laser beams now read the electronic signals instead of the original electrical wiring. 
All this is to say the sound will be supreme as moviegoers watch the tale of a woman who kills a man in self-defense and is then creeped out by a mysterious man who knows her secret. Made by the master of suspense, expect to be a little freaked out at the same time you're being entertained. Tickets are $10.75–$25.75 (not 1929 prices, but still decent). Info: mountbakertheatre.com.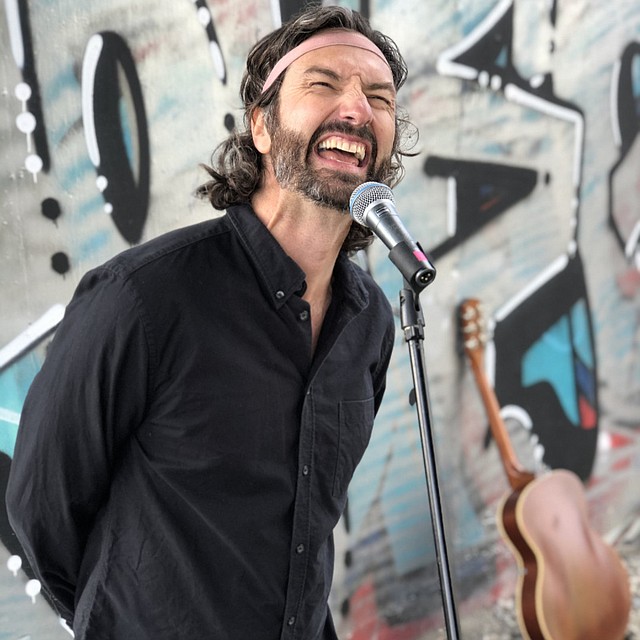 Citizen Hurricane
7:30 p.m. Saturday, Sept. 30, Lincoln Theatre, Mount Vernon
Comedians and musicians David Milchard and Ken Lawson — also known simply as David and Ken — will return to the Lincoln to present "Citizen Hurricane: The World's Greatest Improvised Rock & Roll Comedy Act … in the World!" 
While I'm unsure of their self-described global stature, the premise of the show is sure to elicit applause. In the improvised comedy show and concert, David and Ken will take audience suggestions and combine people's stories with spontaneous songs accompanied by their own guitars. 
Will those in attendance hear rock music? Yes, they will — as well as other genres ranging from jazz to reggae and even country (if the performers are forced to). If you want, feel free to sing along to your new favorite songs. Tickets are $24. Info: lincolntheatre.org.
Shoot the Trails
6–10 p.m. Saturday, Sept. 30, Fishermen's Pavilion, Squalicum Harbor
Bellingham residents are, by and large, an outdoorsy bunch. But many people combine their love for hiking, biking, kayaking or one of the other myriad activities available in our corner of the world with creative pursuits. 
This Whatcom Mountain Bike Coalition event offers one example of how these activities collide. The coalition's annual fundraiser, Shoot the Trails, highlights local mountain bike videos and photographs, and even offers a competition for kids. At this year's event, voting for photos and videos will take place in person, so come early to check out what's up and mark off your favorites. The top three videos and photos will win cash prizes, plus a swag bucket. 
Per usual for Bellingham, fare from food trucks, local breweries and wineries will be available for purchase. A raffle will also take place, but you must be present to win. Entry is $30 (free for children under 12). Info: wmbcmtb.org.
Skagit Farm to Pint Fest
2–6 p.m. Saturday, Sept. 30, La Conner Marina
I love it when you can support something while having a heck of a good time while doing so. Such is the case with this Genuine Skagit Valley event, which celebrates the valley's sustainable agricultural heritage as well as its craft beer scene. 
Both of those entities will be well-represented at this food-and-drink affair. Breweries will pair up with local chefs, producers or restaurants to offer bite-sized samples of their fare alongside beer samples. For those that are still hungry or thirsty, food will also be available in the Farmers Market area, as will additional drink tickets.
I recently ran into Shannon Fox, co-owner of Evolve Chocolate + Cafe in Fairhaven and Persimmon Bow along with her wife, Chef Christy Fox. Shannon reported Chef Fox will be slinging bites at the event, which should pique the interest of anyone who's ever eaten her food. Tickets to the 21-and-older event are $60–$85. Info: skagitfarmtopint.com.
ALL LISTINGS 
Friday, Sept. 22
Skagit County Fairgrounds Fall Garage Sale
9 a.m. to 4 p.m., 501 Taylor St., Mount Vernon
More than 170 vendors will take part in this two-day sale, which will also include food, live music, and a car show on Saturday. Info: skagitcounty.net/garagesale. 
Summer Farmers Market
3–7 p.m., Rome Grange, 2821 Mount Baker Highway
In keeping with their mission to promote agricultural-community interest, the Rome Grange will be hosting its final market of the season today. Info: romegrangewhatcomcounty@gmail.com. 
'Set Adrift'
6 p.m., Village Books, 1200 11th St.
Award-winning author Sarah Conover shares stories from "Set Adrift: A Mystery and a Memoir — My Family's Disappearance in the Bermuda Triangle." The youngest of two orphans, Conover grew up never knowing her parents and grandparents, who were lost in the infamous area. Please register in advance. Info: villagebooks.com.  
'Hedwig and the Angry Inch'
7 p.m., Bellingham Theatre Guild, 1600 H St.
John Cameron's Mitchell's Tony Award-winning play about Hedwig Schmidt, an East German rock goddess, opens tonight and continues through Oct. 8. Hedwig's story is dazzlingly performed by Hedwig in the form of a rock gig/stand-up comedy routine backed by the hard-rocking band, the Angry Inch. Tickets are $8–$18. Info: bellinghamtheatreguild.com. 
Welcome Back Students Shows
7:30 p.m. and 9:30 p.m., The Upfront Theatre, 207 Prospect St.
If you have a favorite game from the improv comedy show "Whose Line is it Anyway," there's a good chance you'll see it during these two performances. The shows are all ages and open to anyone. (You don't have to be a student to attend.) Tickets are $8 for students, $16 general. Info: theupfront.com. 
'Southern Fried Funeral'
7:30 p.m., The Claire Theatre, 655 Front St., Lynden
Attend this "dysfunctional family comedy," which continues at various dates through Oct. 1. The plot follows the Frye family, who reunites when the patriarch dies and the rest of his family is left to pick up the pieces — if they don't kill each other first. Tickets are $13–$15. Info: theclaire.org. 
Saturday, Sept. 23
Out of the Darkness Walk
10 a.m., Bellingham High School, 2020 Cornwall Ave.
Join the hundreds of thousands of people who are walking in towns across the United States to draw attention to the fight for suicide prevention at this fourth annual event, which will include a Mental Health and Awareness Fair. Registration is free for all ages and open to the public. Info: supporting.afsp.org.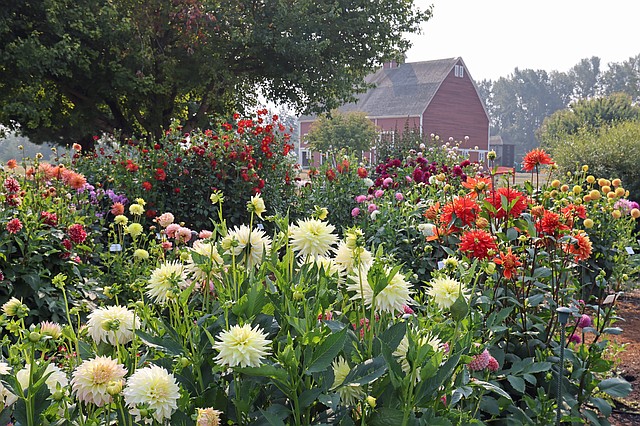 Dahlia Day
10 a.m. to noon, Hovander Homestead Park, Ferndale
WSU Whatcom Master Gardeners will host this annual event. Visitors can stroll through the dahlia garden and check out more than 75 dahlia varieties and an expanding seedling garden. Master Gardeners will answer questions, demonstrate how to divide tubers, exhibit the many colors and forms of dahlias, and offer help to visitors selecting a bouquet to take home. Entry is free. Info: whatcommgf.org. 
Bellingham Farmers Market
10 a.m. to 2 p.m., Depot Market Square, 1100 Railroad Ave.
Approximately 90 vendors from Whatcom and Skagit counties are on site at this weekly market, which continues every Saturday through Dec. 16. Info: bellinghamfarmers.org. 
Morrison Artworks Summer Sendoff
10 a.m. to 4 p.m., 1200 40th St.
Peruse works by longtime glass artist Christopher Morrison at this one-day event. If you're unaware of his work, check out the hanging sculpture in Fairhaven at Village Books, and be amazed. Info: morrisonartworks.com. 
Cooking for Kids BBQ Competition
11 a.m. to 5 p.m., Camp Korey, Mount Vernon
Thirty-six barbecue trucks, carnival games, an exotic car show, a beer garden, live music and a poker run will be part of this event. Try BBQ samples and learn more about local organizations and partners of Camp Korey at the kid-friendly Carnival Row. Info: campkorey.org. 
Bellingham Old Town Art Stroll
Noon to 5 p.m., throughout historic Old Town
Peruse open studios and galleries as part of this monthly event, which takes place on the fourth Saturday of every month throughout the year. From Bay Street Village to the Pickford Studios and pop-up street artists, the event is designed to showcase independent artists in the historic district. Info: meloygallery.com.  
Drinking for Dogs
1–6 p.m., Lost Giants Cider Company, 1200 Meador Ave.
Happy Tails Happy Homes — a no-kill, nonprofit animal welfare organization dedicated to protecting and serving the well-being of animals — hosts this event featuring live music by Original Jim, a silent auction, visits with adoptable canines and plenty of local beer. Info: happytailshappyhomes.org. 
Poetry Reading
4 p.m., Village Books, 1200 11th St.
Local poet Victoria McCallum will read from her new collection, "I Dreamed the Ocean Froze," which contains 30 poems encompassing subjects such as childhood, family, young adulthood, romantic relationships, goddesses, political angst and transcendence. Info: villagebooks.com. 
Dudestock
7 p.m., Lincoln Theatre, Mount Vernon
Celebrate the 25th anniversary of "The Big Lebowski" movie by showing up in your favorite character's costume, quaffing White Russians and exploring Big Screen Bowling before the flick starts at 8 p.m. Tickets are $15; participation bags can be purchased for an additional $10. Info: lincolntheatre.org. 
Drag Prov
7:30 p.m. and 9:30 p.m., The Upfront Theatre, 207 Prospect St.
Drag performers and improvisers in drag will take the stage to compete in hilariously epic lip-synch battles, wildly funny improv games and more. Each show will feature a different cast. Tickets are $20–$25. Info: theupfront.com. 
Sunday, Sept. 24
Valley Made Market
10 a.m. to 4 p.m., Riverwalk Plaza, Mount Vernon
Find creative and curious goods at the final monthly pop-up market of the season, which takes place outdoors and features handmade goods, live music and community camaraderie. Info: mountvernondowntown.org. 
Bellingham Chamber Music Society
3 p.m., Hotel Leo Crystal Ballroom, 1224 Cornwall Ave.
This longtime ensemble will kick off its new season with "Elegance," featuring works by French organist and composer Fernande Decruck, and 19th century British composer Samuel Coleridge Taylor. Soprano Heather Dudenbostel will also sing popular works by 1950s composer, Vernon Duke and Franz Schubert's "Shepherd on a Rock." Tickets are $10–$40. Info: musicinbellingham.com. 
'The Golden Gate'
4 p.m., Village Books, 1200 11th St.
Bestselling nonfiction author Amy Chua will read from her debut fiction novel. The book takes place against the backdrop of a polarized, wartime America shaped by immigration, wealth, groundbreaking forensic advances and bitter class and racial conflict. Info: villagebooks.com. 
The Gateway Show
7:30 p.m., The Blue Room, 202 E. Holly St.
Billy Anderson will host this 21-and-older show featuring stand-up comics who tell their best jokes, then go to an undisclosed location to get "way too high" and come back to attempt to tell you more. Tickets are $20–$30. Info: blueroombham.com. 
Monday, Sept. 25
Monday Night Makers Market
5–8 p.m., Farmstrong Brewing Co., Mount Vernon
Check out creative works by a variety of vendors, including candles, paintings, jewelry, essential oils and more. The market will take place indoors, and Rooted Kitchen will be open for your dining needs. Info: farmstrongbrewing.com. 
Guffawingham
8:30 p.m., Boots Bar and Lounge, 1263 Barkley Blvd.
This weekly stand-up comedy show has returned from the ashes, and can be attended every Monday. Each show will feature a host, and people can show up early to sign up for a slot on the roster. Info: Facebook.com/guffawingham. 
Tuesday, Sept. 26
Lindy at the Leo
6:30–8 p.m., Leopold Crystal Ballroom, 1224 Cornwall Ave.
B'ham Hop and Pace Trumpet host a weekly "Lindy at the Leo" swing dance at Hotel Leo. Show up at 6:30 p.m. for a drop-in beginner lesson; no partner or experience is necessary. General admission is $8-$10. Info: bhamhop.com. 
Modern Square Dance
7 p.m., Ten Mile Grange, 6950 Hannegan Road, Lynden
Singles, couples and families are welcome at this event, which teaches beginners how to square dance. First two lessons are free, and no partner is required. Info: 360-733-4487. 
Thursday, Sept. 28
Nature of Writing
7 p.m., Village Books, 1200 11th St.
As part of this collaborative reading series with the North Cascades Institute, several speakers and editors Elizabeth Bradfield and Derek Sheffield will be reading from "Cascadia Field Guide" and discussing the meaning behind this book — which highlights diverse voices from around the region. Info: villagebooks.com.  
'Box of Squirrels'
7 p.m., New Prospect Theatre, 207 Prospect St.
Vermont-based actor, writer and storyteller Dennis McSorley brings his third solo work to Bellingham for shows Thursday and Saturday. The play paints the picture of a young man and how he became a teacher. Tickets are $15. Info: newprospecttheatre.org. 
Friday, Sept. 29
To Whom It May Concern
8 p.m., New Prospect Theatre, 207 Prospect St.
Jayne Entwistle brings the inaugural live presentation of this event onstage tonight. The live show features people reading their letters — real letters they've written or received — as well as letters from the Whatcom Museum archives. A musician accompanies the letters, proving an evening of Bellingham history and stories. Entry is $15. Info: readyourletter.com. 
Saturday, Sept. 30
B-Town Fall Fest
10 a.m. to 3 p.m., Skagit River Park, Burlington
Enjoy the crisp autumn air at this two-day annual harvest festival, which will include a kids zone, pumpkin slingshots, zucchini-car making, a fun run, a makers market, food vendors, entertainment and more. Entry is free and open to all. Info: Burlington-chamber.com. 
Lend Us Your Ears
2 p.m., Bellingham Theatre Guild, 1600 H St.
This play-reading series kicks off with Lauren Gunderson's "The Half-Life of Marie Curie." Directed by Shawn Fuller, the storyline follows the travails of Marie Curie, hounded by the press over an affair gone wrong, and the sanctuary offered by suffragette Hertha Ayrton. The reading will be performed by local actors and contains science talk, adult language and adult situations. Entry is pay-what-you-will. Info: bellinghamtheatreguild.com. 
Subdued Famous Gala
7 p.m., The Underground, 211 E. Chestnut St.
Bellingham Burlesque Show hosts this night of games, dress-up, sexy performances, comedy and prizes. Another event takes place Saturday, Oct. 28. Tickets are $25. Info: bellinghamburlesqueshow.godaddysites.com. 
Contra Dance
7:30 p.m., Fairhaven Library, 1117 12th St.
Bellingham County Dance Society will host this bimonthly event. No partner is needed, and all dances will be taught. Tonight's caller is Amy Carroll from Seattle, and live music will be provided by the band Sunrise. Suggested donation is $12–$15. Info: bellinghamcountrydance.org. 
When Worlds Collide
9 p.m., The Blue Room, 202 E. Holly St.
Bellingham's best drag artists will take part in this bingo and variety show — with the bingo taking place in between dance numbers. Performers include Feather Fatale, Little Bo Peeps, MX, Rikki Sensation, Axe Andros and Sage Valentine. Tickets are $12. Info: blueroombham.com. 
Sunday, Oct. 1
Bellingham Symphony Orchestra
3 p.m., Mount Baker Theatre, 104 N. Commercial St.
"The French Connection" will be the theme kicking off the BSO's 48th season. The musical journey to France will highlight works from composers Lili Boulanger, Astor Piazzolla and Modest Mussorgsky. Tickets are $15–$52. Info: mountbakertheatre.com. 
The Salty Siblings' Harvest Hootenanny
4–6 p.m., New Prospect Theatre, 207 Prospect St.
Celebrate the fall season with a crop of performers including burlesque by Hexy Lexi, drag by Nyxie Starlite, magic by D.R. Schreiber, Hillia the Hula Hoop Extraordinaire, Paper La Shay, and music by Hot Damn Scandal, The Clam Slam Jammers and more. The event is recommended for audiences ages 18 and older. Tickets are $25–$30 ($45 for VIPs). Info: newprospecttheatre.org. 
Before heading out to attend in-person happenings, check with individual venues to make sure the event is still taking place as scheduled.
The A-List appears weekly. To submit an event for consideration, email calendar@cascadiadaily.com.