Lifestyle
When couches bloom in neighborhoods: Creative solutions to furniture dumps
Students hope to make it easier to place free items with 'Couchella'
September 18, 2023 at 11:21 a.m.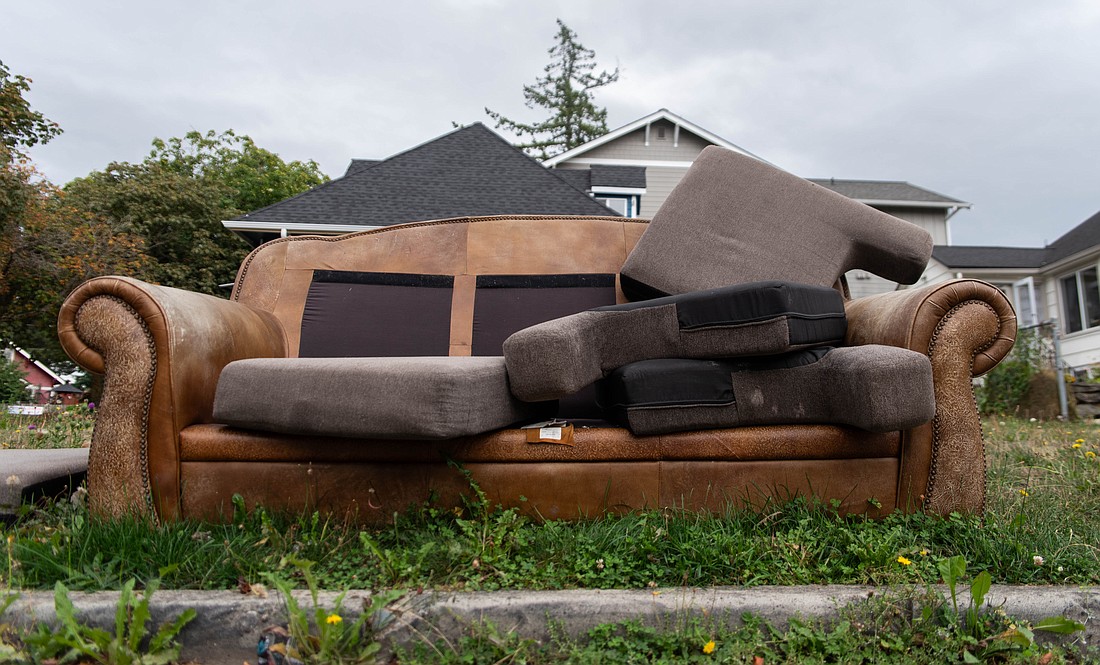 ---
---
An invasive species blooms along Bellingham sidewalks, across neighborhood yards and in dumpsters every year. It isn't alive — save for potential bacteria growth. But it is noxious, eliciting disgust from homeowners, as well as being costly to remove and a potential hazard to pedestrians and commuters.
Discarded furniture pieces are a blight with a twice-per-year boom-bust cycle. Multiple organizations are working together to address the root cause of June and September dumps.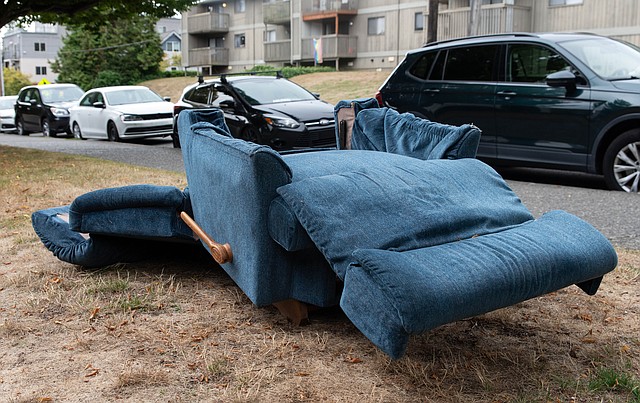 I once contributed to the September bloom, heading into my junior year at Western Washington University.
Having just moved into a new house on Forest Street (an upgrade from the black mold-infested sophomore-year digs), my roommates and I felt empowered to say goodbye to our floral couch, which we left in our front yard with a "free" sign taped to the cushions. To our credit, we blasted the "free couch" post across Facebook groups, including our neighborhood's "Buy Nothing." Luckily, someone picked it up within 24 hours.
Turns out, putting something in your yard with a "free" sign violates several ordinances.
In 2022, the City of Bellingham created the Sanitation and Solid Waste (SSW) group, in part to address illegal dumping. Discarded furniture contributed to the 356 tons of waste the group removed from Bellingham during its first year of operation, according to a July staff report. 
"Removal of the furniture takes time and resources away from other important services, such as street maintenance and cleaning natural areas," Bellingham Public Works Solid Waste Manager Sean O'Neill said in an email.
Students combat illegal dumping
Two years ago, then-student Amber Olsen noticed the regular eyesores, too: mattresses splayed over sidewalks, armchair carcasses further ripped apart by people headed home from the bars, formerly functional desks turned soggy and bloated from rain.
Olsen, now a recent Western grad, envisioned a solution. 
For a capstone class, Olsen, 21, and three classmates pitched a plan to the university's Sustainability, Equity and Justice Fund (SEJF): collect reusable furniture from students for free, then give it away in an effort to reduce landfill waste and illegal disposal.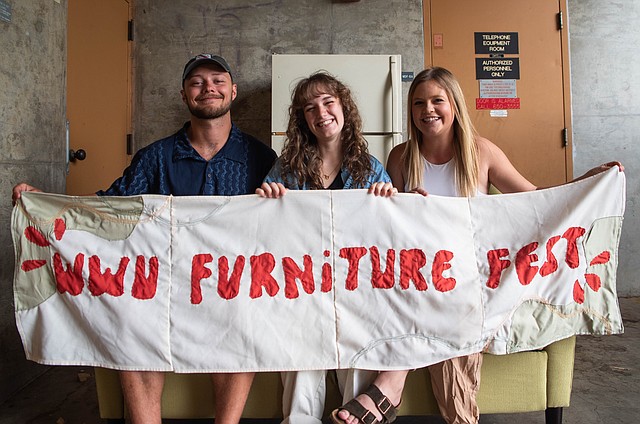 "Obviously, students are a big part of this because we're the ones moving in and out. We're the ones that don't have the cars to bring it somewhere else," Olsen said. "So we just set it on the side of the road as an unfortunate alternative."
For its first year, the project was awarded a $2,349 SEJF grant. Using the Furniture Fest Instagram account, the four classmates coordinated with students to pick up large items using rented U-Hauls. They also scoured "free" listings on Facebook and Craigslist, saving decent pieces from a front-lawn fate.
Sanitary Service Company, the city's garbage contractor, will pick up a couch for $45, but even that can strain a student already saddled with moving costs.
"For students that don't have vehicles, we are really trying to advocate that we can pick up your furniture" for free, Olsen said.
Often, the furniture is in excellent condition and "still has a lot of life," said founding member Nikita Presler, 21. One time, the team found an almost "brand new" wicker Pier 1 Imports dresser that retailed for more than $600.
The team cleaned and stored each furniture piece, and by September 2022, WWU Furniture Fest's "Main Event" transpired in the parking lot behind Miller Hall. All but three of the 86 collected furniture items were picked up.
"This is an issue that can be solved," founding member Thane Davis, 24, said. "It's a loop that can be closed very easily with a lot of work and dedication." 
'Couchella' frenzy helps close the loop
The group reapplied for the grant, and was awarded $22,498 to use between June 2023 and September 2024. The loftier sum included paying student employees to help with collection events and "Couchella," the group's rebranded end-of-summer event on Friday, Sept. 15.
A waffle station, live music and more than 100 pieces of free furniture in good condition attracted a crowd of 150 students in the first 25 minutes. Hordes of 20-somethings sat atop couches and desks, staking their claim in Western's commuter parking lot.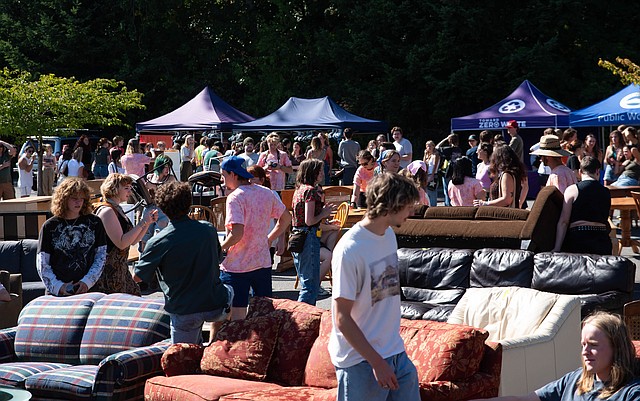 Western senior Jack Martinez was drawn to the possibility of "nice furniture for free."
"There's so many people who can hardly afford tuition, food, clothing. This is very enabling for a lot of people to not have to worry about a chair or a desk for the year, or many years moving forward," said Martinez, 21. 
By the end of the event, Presler said just four items remained. Any furniture left over gets donated to local thrift stores.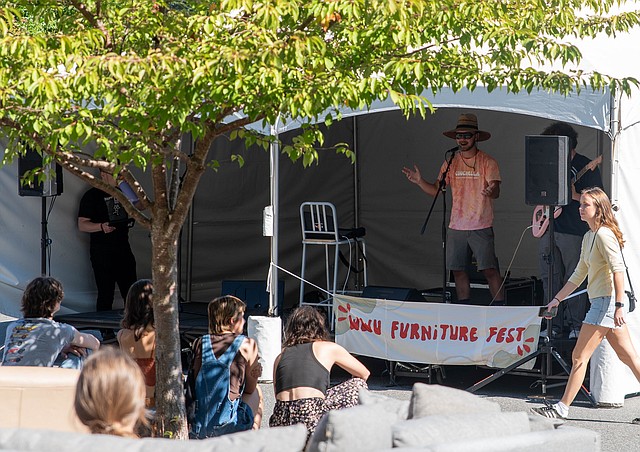 Furniture Fest's future
The university has several initiatives to combat furniture waste. Western works with the city's Public Works Department to increase waste pick up at the end of June and September, and partners with the city to make yard signs that read "Pack it in and pack it out," according to Western Community Relations Director Chris Roselli. 
Western also promotes York neighborhood's Dumpster Day, a June event to dump household items too large for a pickup truck. 
And now, the student-led, university-backed Furniture Fest, which isn't an institutionalized program — yet.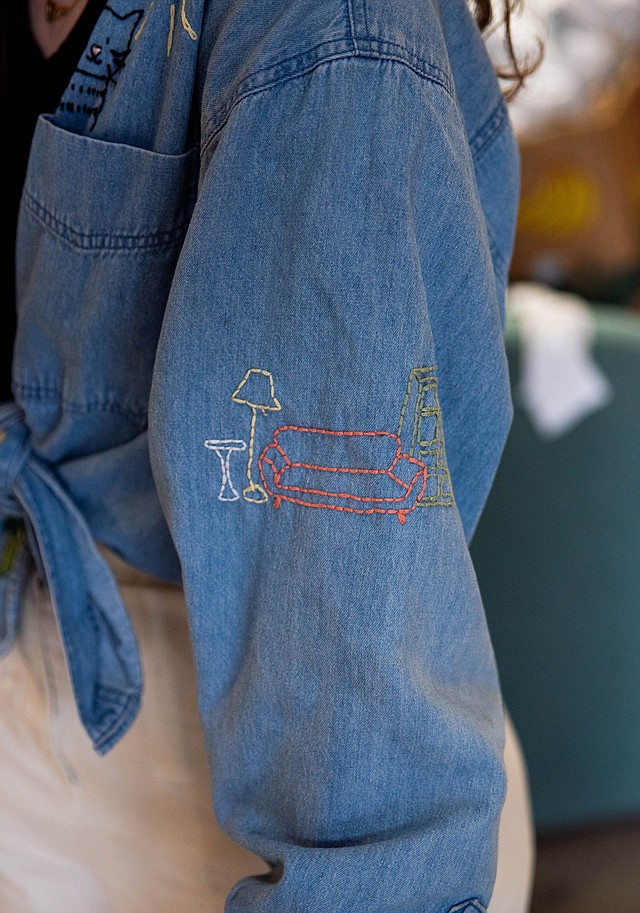 Presler said funding was ensured for one more year through the SEJF grant, but Furniture Fest's long-term future likely depends on the university's ability to take it over. 
The founding members, now graduated, have been in conversation with the Community Relations office to encourage that, Davis said. They've also passed the torch to two lowerclassmen, who will take over operations and organize next summer's event. 
Furniture Fest's founders hope the project lives on because they believe in its barrier-breaking, sustainable mission.
And it's a mission anyone can get behind (angry neighbors, I'm looking at you).
For more moving-out resources, visit cob.org/services/environment/moving-out-resources.