Community
Therapeutic center empowers riders for 30 years
Bellingham nonprofit offers adaptive horse riding lessons for people with disabilities
September 17, 2023 at 5:00 a.m.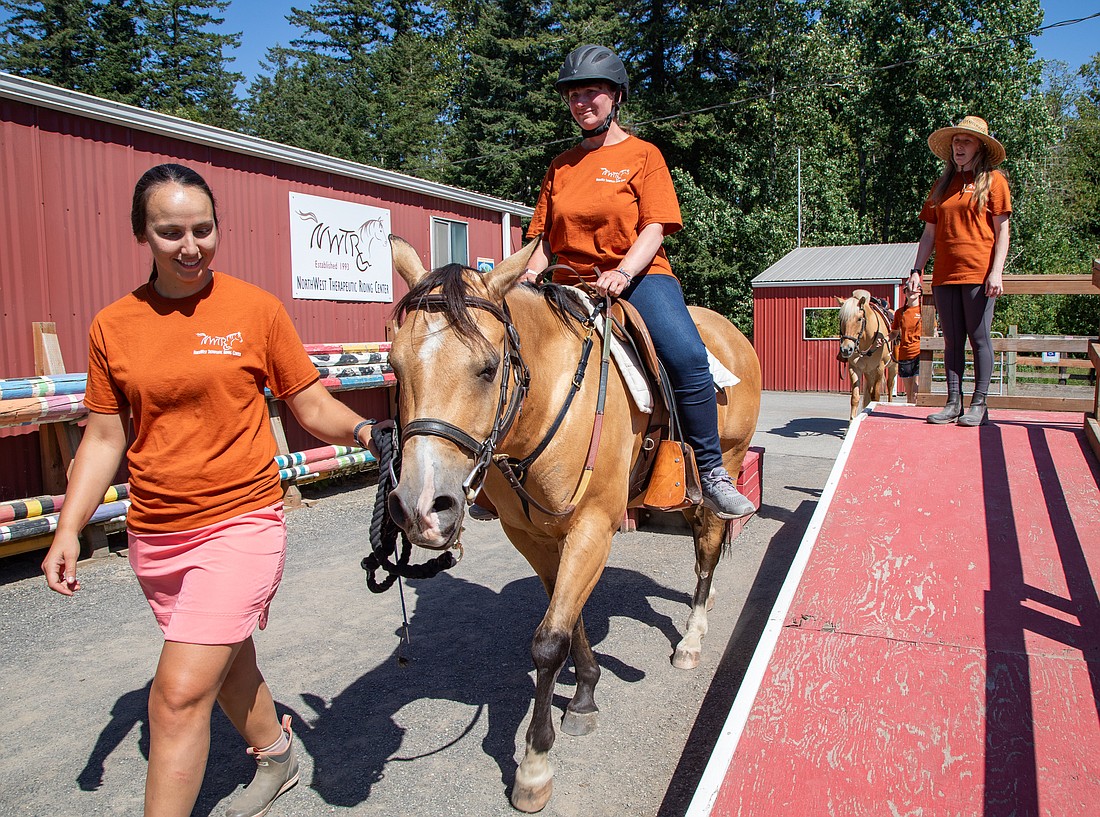 ---
---
A group of moms chat away under grape vines on a mid-August afternoon 20 minutes northeast of downtown Bellingham. One brings cookies for the volunteers, another picks up a carton of eggs to bring home. They are catching up — like they do every week — in the shade, as they try to stay out of the sweltering heat.
Meanwhile, their daughters groom and tack their horses in the cross-tie area. Horses snort as the women tighten their billets, connecting the girth to the saddle.
Not every rider does this process alone — it depends on their age and capabilities — but these students are independent, said Sierra Oliver, a volunteer certified instructor who has worked at Northwest Therapeutic Riding Center (NWTRC) for eight years. 
The organization pairs people with disabilities with horses, teaching adaptive riding and horsemanship.
But riding at NWTRC is more than just learning horsemanship. The program, students' parents said, has changed their children's lives.
[ Read more: Meet the horses at Bellingham's center for adaptive riding ]
Established in 1993 with one horse, two riders and a couple of volunteers, the center has grown over three decades. The nonprofit now serves 35 riders — ages ranging from 4 to 73 — a week, nearly a dozen volunteers daily, 100 volunteers annually and seven horses. It is celebrating its 30th anniversary with Bits & Bites, a fundraising event Saturday, Sept. 30 at Baker Creek Place.
"We have a number of students who ride here who might not have a visible disability that you could see, but one of the reasons they ride here is because they don't want to ride in a barn where it's competitive because that is what makes them anxious," Program Director Hilary Groh said.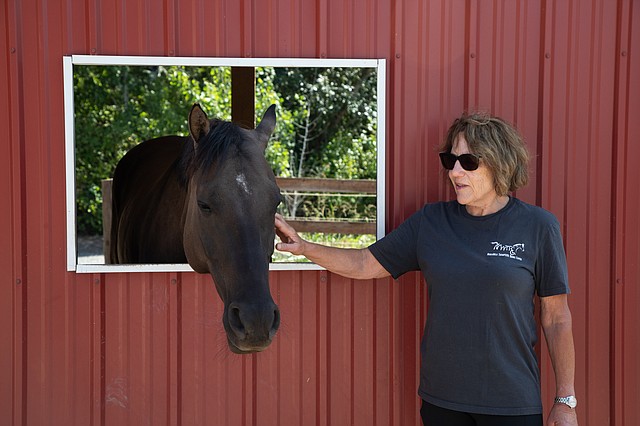 Groh, who started at NWTRC 12 years ago, said she enjoys the challenge of figuring out how someone with different mobility or teaching needs can be accommodated through the adaptive aspects of the 5-acre ranch. 
Most everything was built by Executive Director Julia Bozzo's husband, Mike, including the landscape fabric under 15,000 square feet of the land to minimize mud in winter.
In addition to the Bozzos' house, the land is home to the cross-tie area, a barn, an indoor classroom, a covered arena and hilly woods for the horses to roam freely year-round.
Mike Bozzo also built the thing that separates NWTRC from an able-bodied center: the ramp used to mount horses.
Mounting and riding
After walking around the arena with her horse Vincent, Alissa Lee walks up the ramp with Oliver, the instructor leading the day's first lesson. The ramp, Bozzo said, allows for riders with mobility issues to easily mount the horses — the starting height is better for horses' backs.
"Pay attention," Oliver reminds Alissa, 37, who secures herself into the center of the saddle and sits up straight, looking ahead.
"Walk on," Alissa instructs Vincent, a Trakehner quarter horse, and they head for the arena with leader Nota Tsitsiragos.
Leaders help as necessary depending on the rider's age and capability but are pretty hands-off for Alissa and her lesson counterpart, Rachel Brown, 39, who have been riding at NWTRC together for 10 years.
Once Rachel mounts too — on Henry, a registered Norwegian Fjord — the students gather around a whiteboard where Oliver maps out the lesson plan.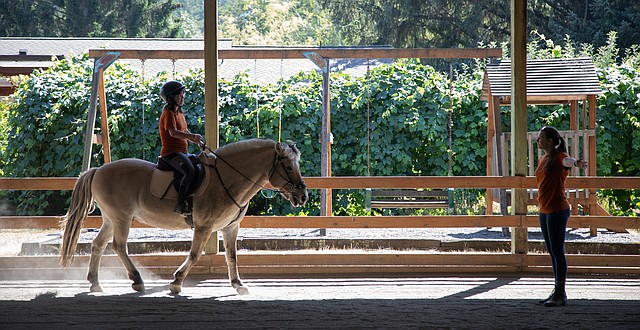 This year's summer session focused on how many routes they could make with the same obstacles, to work the minds of the riders and the horses. 
Lessons are offered in afternoons four days a week, three seasons a year, spring through fall.
Prospective participants must do a site visit to meet the staff and get a tour. If the person is a good fit for the program, they are paired with a horse that works with their age, body size and personality.
"If you're kind to them, they're kind to you," Groh said about horses, who match a rider's energy, heart rate, emotions and even stiffness.
As Alissa and Rachel begin the pattern, their moms, under the grapevines, are eager to talk about the center.
How riding changes lives
Vicki Brown, Rachel's mom, said that in 1998, a pediatrician recommended horseback riding for her daughter and referred them to NWTRC. At the time, Rachel walked stiffly, so she started by just walking then 7-year-old horse Kleng (now 32).
"Being high-functioning autistic, and having her little quirks, she had a hard time in school," Brown said. "People would harass her. So she'd come to a lesson kind of with her cup full, and would take offense to any criticism."
In the last 25 years, Rachel has been more social, empathetic, accepting and relaxed. Plus, her posture is perfect — not always at home, but always on her horse, Brown said laughing. 
"With riding, she's able to take criticism, which I think is hard for a lot of people, but even harder for people with disabilities because you think everybody's against you," Brown said.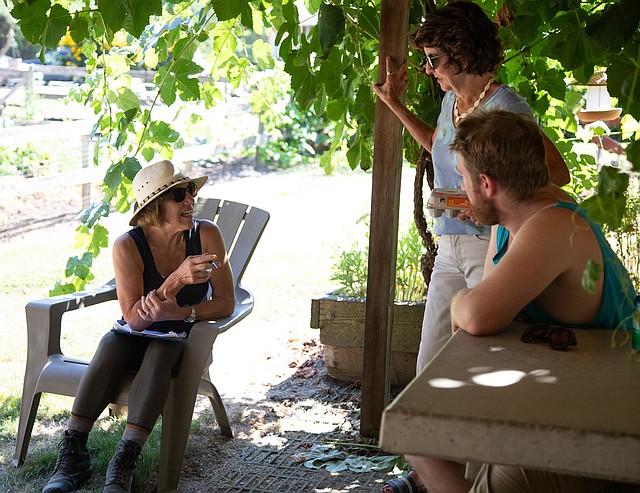 Alissa's mom, Susan Pogreba, learned of the center through Western Washington University's student newspaper, The Front.
"[Alissa] wasn't ever really a horse person, but she's willing to try new things. You have to kind of work her into it because she's on the spectrum also," Pogreba said. "It's changed our lives, and I'm not kidding when I say that. She is totally a different person from riding."
She said Alissa is calmer, has better posture and enjoys connecting with the horses and the staff. 
"The one thing about autistic kids is they're not stupid," Pogreba said, adding that the way the patterns regularly change is fulfilling for her daughter to figure out.
After the lesson, Alissa and Rachel dismount. Meanwhile, two other students tack up their horses and it all begins again.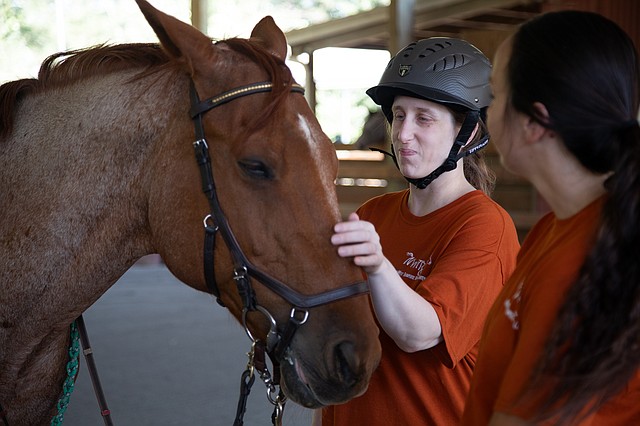 Under the grapes now is Karen Bell, the mother of Yvonne "Yvie" Bell, who has been riding for a little more than 10 years.
Back in Michigan, Bell said, Yvie was part of a 4-H program for disabled people. Yvie is sensory-defensive, and riding helps her with her movements, including being more relaxed after years of keeping her arms tight at her sides. 
"He's my good boy," Yvie said to Ole, a red dun Norwegian Fjord quarter horse. "He's got the longest tail."
Yvie has ridden nearly every horse at NWTRC.
"It just does something really unique for the kids," Bell said. "I mean, they can be in baseball, track and field, swimming or whatever, but riding itself — I think a big part of it is the interaction with another living being," Bell said.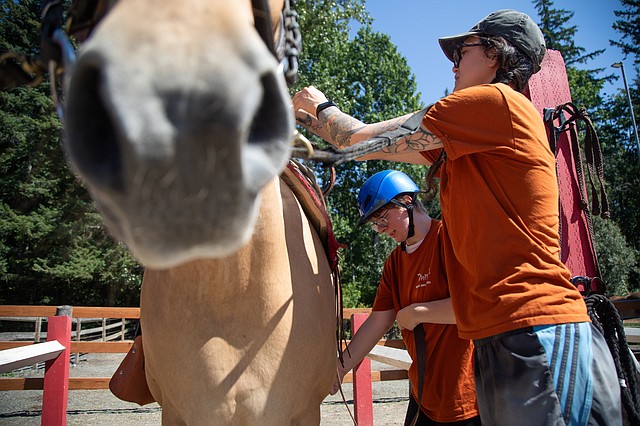 Alongside Yvie and Ole are Michelle Tremblay and her horse, Leonardo, who Bozzo reminds everyone "looks like Spirit," a well-known movie character.
The new lesson is led by Groh, who is "patient and fun," Michelle said. Groh has the students place their hands on their hips and she asks them questions, which they answer by raising their hands. The hands-free technique helps a rider develop an independent seat, Bozzo said, which means your body parts move independently of each other. 
"Eyes up!" Groh reminds the students.
Michelle, who said she likes the covered arena, looks straight ahead, raising one hand as she holds in a giggle.
Now 45, Michelle came to NWTRC first as a teenager, but returned after her mom, Cozette Cichy, retired last year.
"There's so little to do for older people with challenges," Cichy said. "Up until they're 21, there's a lot out there, and then after that, it's like, 'See ya later.'"
"I have learning challenges. I also have a hard time with stress and anxiety," Michelle said. "Anyone can ride a horse if they want to at NWTRC. I look forward to every Tuesday because that is my day to ride."
For more information visit nwtrc.org or call 360-966-2124. The riding center is located at 1884 Kelly Road.