Community
Legendary sportscaster Scholten remembered for passion, professionalism
Hundreds gather to celebrate 'voice of Whatcom County sports'
September 17, 2023 at 10:24 p.m.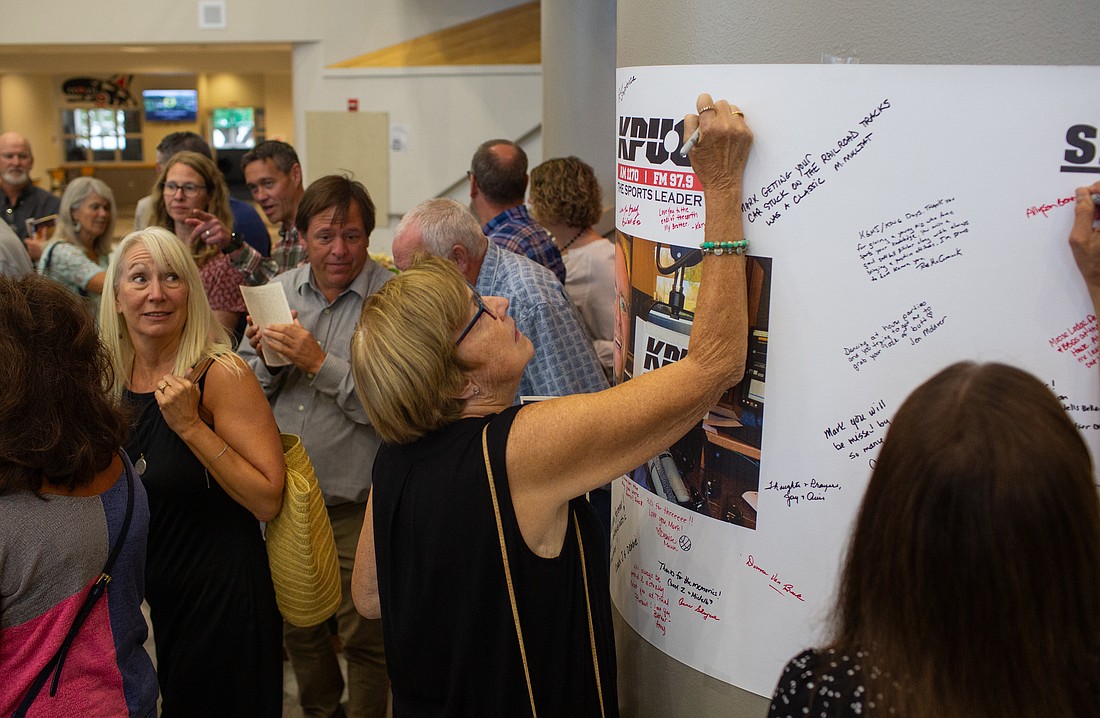 ---
---
Mark Scholten only loved one thing more than Whatcom County sports and Dick's Drive-ins: the final day of state high school basketball tournaments in Yakima.
"He lived for championship Saturday," said Randy Farmer, who shared the broadcast table with Scholten at the tournament for the last two years. "That was his Super Bowl. That was his Christmas. That was his shining moment."
In 2021, Scholten lost his voice the morning of the title games, so Farmer had to call all three state championship games played by local teams. One year later, Scholten checked Farmer (and his bags) persistently. 
"He was convinced I poisoned him and made him sick [in 2021]," Farmer said with a laugh. "He was convinced. But that was Mark."
Scholten, the longtime "voice of Whatcom County sports," was remembered by hundreds Sunday, Sept. 17 in the Performing Arts Center of his alma mater — Bellingham High School.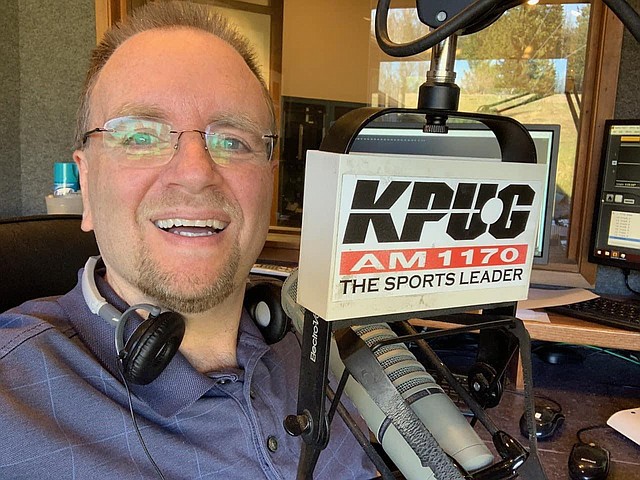 A legendary local sportscaster who worked for KPUG 1170 AM for 31 years, Scholten, 54, died of natural causes in his apartment on Aug. 14. He was known for tirelessly broadcasting high school and college sporting events in Whatcom County and hosting his talk show titled "The Zone" five days a week.
The ceremony was officiated by Rick Todd, who worked with Scholten and knew him for 30 years. He advised the crowd — immediate family, local coaches, friends, co-workers and community members — that a rollercoaster of emotions was to be expected.
"One of the things that I love so much about Mark is he had such an incredible sense of humor," Todd said in his introduction. "So I'm going to tell you, it's OK to laugh today. It's OK to cry. I miss him. I miss him so much. And today, we're here to honor him."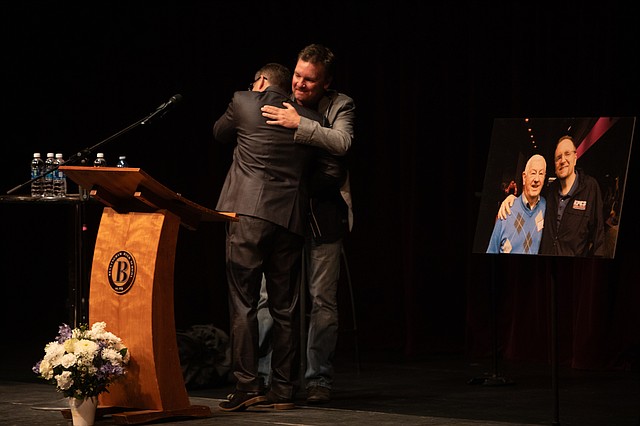 Michael Scholten, Mark's brother, thanked the administrators at Bellingham High School — from which Scholten graduated in 1987 — who voted unanimously to put his brother's initials on every Bellingham football player's helmet for the 2023–24 season.
"Mark was more than my big brother, he was also my best friend," Michael said. "That was a blessing I never took for granted. I hit the sibling jackpot."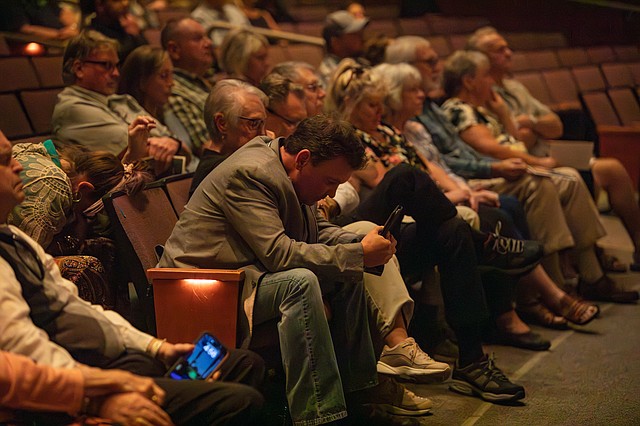 Among fond memories and stories, multiple speakers recalled how Scholten, despite receiving offers from markets larger than Whatcom County, refused to leave his home turf.
"I am doing what I want to do in the place that I want to do it," Scholten would say when asked about it.
Brad Jackson, former Western Washington University men's basketball coach and current Sehome High School boys basketball coach, remembered seeing tears in Scholten's eyes when the Vikings won the NCAA Division II National Championship on March 24, 2012. Scholten was hired by KPUG in 1992 soon after graduating from Western.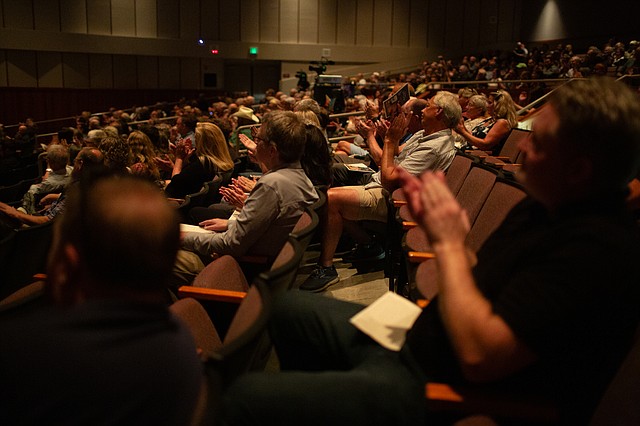 He treated every player, coach and fan with the same level of respect, said Dan Kaemingk, who coached Lynden Christian football for 30 years and later joined Scholten in the broadcast booth.
Fellow broadcaster Doug Lange, who hosted "The Zone" with Scholten until 2017, recounted interviewing Jake Locker, who played football at Ferndale High School and the University of Washington before being drafted into the NFL in 2011. Locker told Scholten his childhood dream was not to play for the Huskies or in the NFL, but for the Ferndale Golden Eagles.
"Mark was the same way. His dream wasn't to call pro sports. It wasn't to be the hot-take national broadcaster. It was to call state title games in the [Tacoma] Dome, the Yakima [Valley] SunDome, and every other place local teams were playing," Lange said. "All to become the voice of Whatcom County sports. Dang it, big fella, you did it. For over 30 years."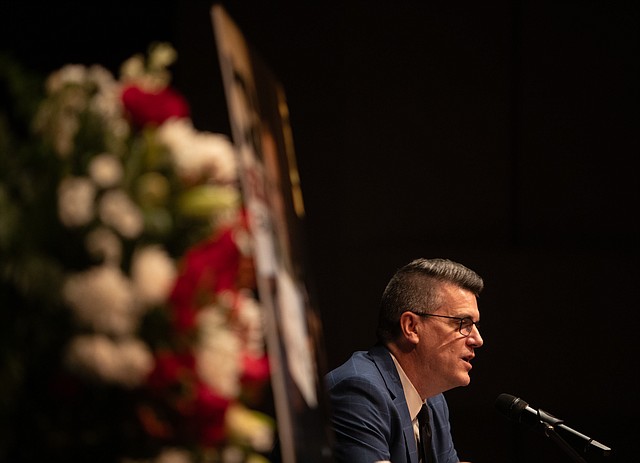 Todd, who originally received the items from Scholten's family, donated two jackets that Scholten wore to hundreds of local games to Bellingham High School's trophy case and Cascade Radio Group, which operates the KPUG radio station.
Scholten was also an avid reader. His family left many of his former books in the high school cafeteria for attendees to keep and read for themselves — an action that allowed his admirers to also have a small piece of Scholten with them.
"Whether we like it or not, Mark is just part of us," an emotional Todd said. "His voice will forever be in my mind."