Lifestyle
Ferndale quintuplets are 1 in 55 million
The 'Freels five' returned to Whatcom County after Arizona birth
September 16, 2023 at 5:00 a.m.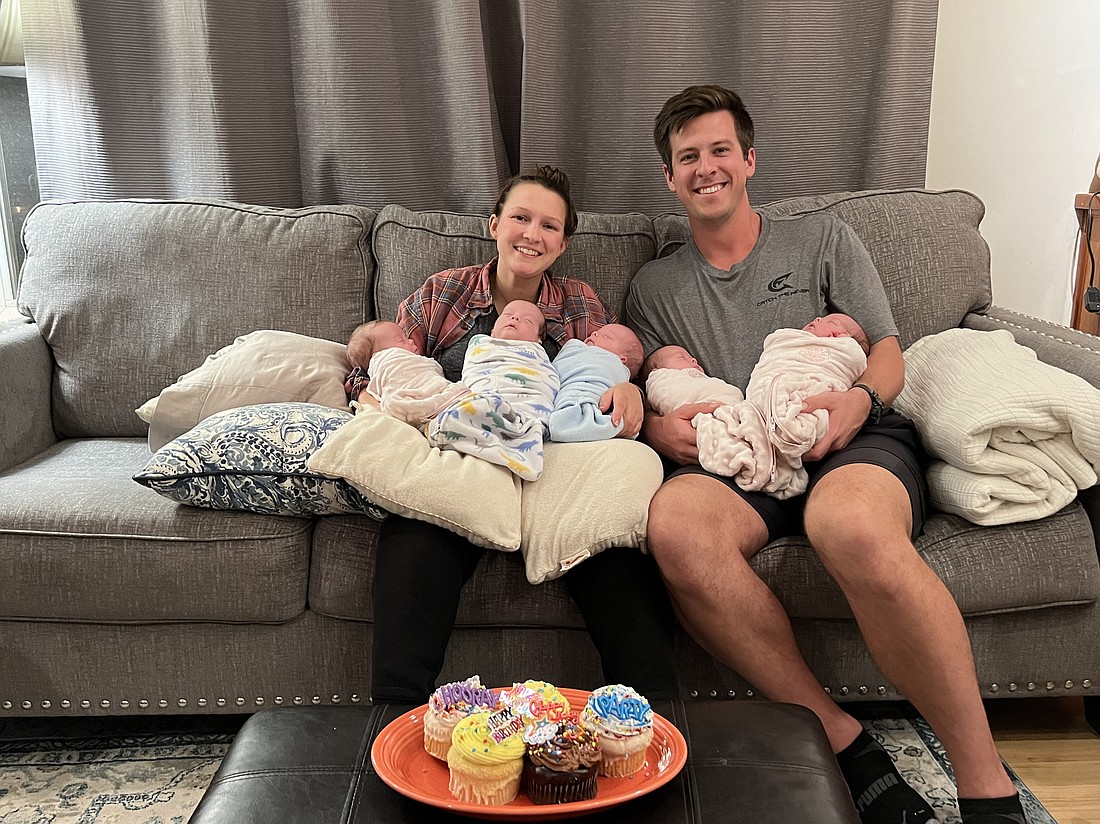 ---
---
On Sept. 1, Ferndale residents Stephanie and Graham Freels took their infant quintuplets to the shores of Birch Bay to soak up a little Vitamin D. 
"It was funny because people would walk by, wait a second, and then notice how many car seats were in the strollers," Stephanie, 27, said during a recent telephone interview. "They'd ask 'Are these all in the same family?' And we'd say, 'Yep, they're all ours!'" 
It was an auspicious outing, as Sept. 1 was the original due date of the five babies, who were born prematurely by emergency caesarean section June 4 at Dignity Health St. Joseph's Hospital and Medical Center in Phoenix. Dr. John Elliott, a perinatologist specializing in multiple pregnancies, was the surgeon.
Leading up to the pregnancy, Stephanie had undergone fertility treatments due to pituitary surgery that left her unable to ovulate. When the couple found out she was pregnant just before Christmas last year, they said they were overjoyed.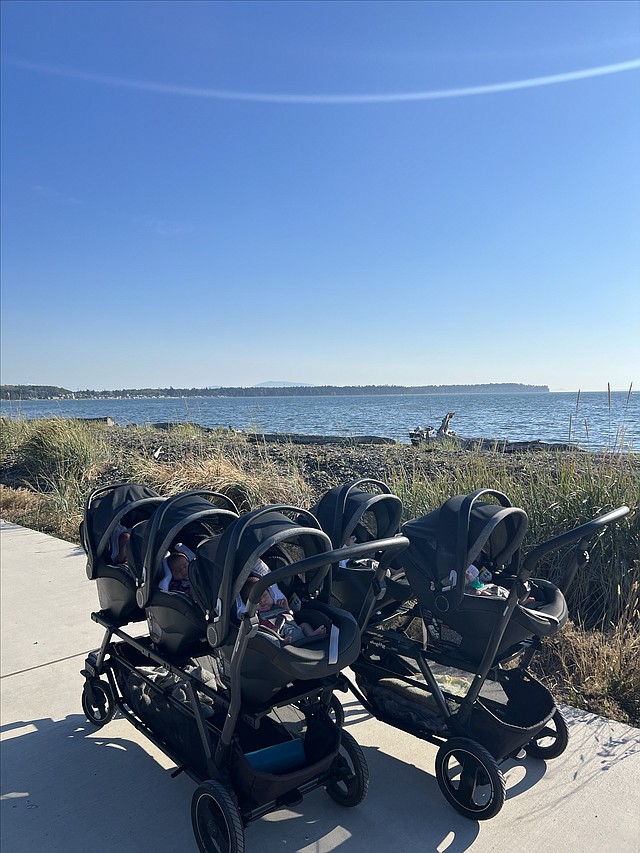 The Freels decided to relocate to Arizona when Stephanie was 16 weeks along for specialty medical care. They had already sold their wedding photography business, Freels Photography, but Graham was able to continue working remotely, doing digital marketing for a few businesses.  
They were hoping to make it to 34 weeks before Stephanie gave birth, but the babies were delivered at just 27 weeks.
Stephanie and Graham were aware the pregnancy was still a risky one. Of the more than 3.6 million births recorded in the United States in 2020, only 29 were quintuplets or higher-order multiples, according to the Centers for Disease Control and Prevention.
Worldwide, "it's one in 55 million," Graham said. "So, it's pretty rare." 
From the beginning, the couple said, Dr. Elliott made it clear he wanted to help them because he wanted their pregnancy to succeed. 
While pregnant, Dr. Elliott wanted Stephanie to consume 4,000 calories a day to nourish herself and the fetuses. She said she had to wake up in the middle of the night during her pregnancy and drink protein shakes to meet the goal.
"He was our hope in that pregnancy," Graham said.  
In the delivery room, the doctor made a point to show the parents the four girls and one boy before transferring the newborns to the hospital's Nursery Intensive Care Unit (NyICU).
"One got taken away too soon, and he brought it back," Stephanie said. "You don't get to hold them right away in that situation, so at least you get to see them for a little bit before, which is really cool." 
Adelyn, Eliana, Linnea, Fisher and Harper Freels spent 11 weeks in NyICU, with each baby being monitored by a neonatal team. Stephanie and Graham were with them as much as possible, and after the children were released from the hospital, they took the babies to see the doctor who had delivered them. 
"His face lit up," Stephanie said. "It was amazing."
Graham and Stephanie returned to Whatcom County on Aug. 27 as a family of seven, flying with the five babies. Stephanie said the infants did great on the plane, and staff on the Allegiant flight were incredibly helpful.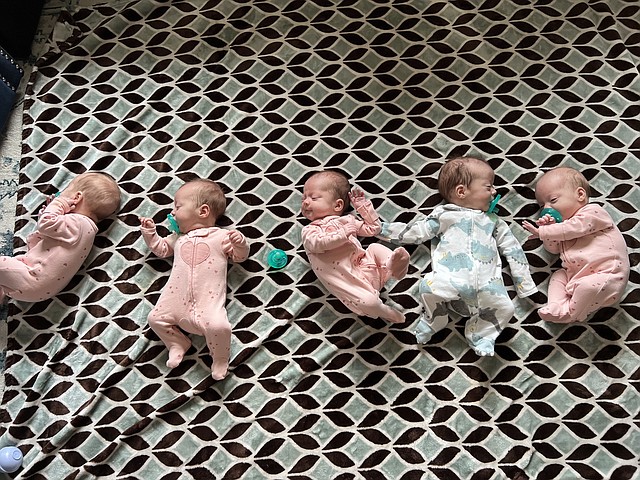 As the fraternal quintuplets adjust to "regular" life, Graham and Stephanie are focusing their immediate future on being the best parents they can be during the quintuplets' first year of life. 
Since returning to Ferndale, the Freels have had multiple family members and friends reach out and help, as well as members of their church. A number of people have donated diapers. 
Stephanie's sister and brother-in-law, Alisha and Jacob Allen, have also started a GoFundMe to offset the costs of medical care the Freels accumulated during the pregnancy and birth. 
"The support has been a little bit unfathomable," Stephanie said. "So many people have been so generous. It's a rare situation, but for some reason in my head I don't think it is. People reach out and want to help, and it's been amazing how kind everybody has been. It's been incredible and wild."
Thanks to the schedule the babies were on in the NyICU, the couple reports they typically sleep around five hours in the middle of the night, allowing the new parents to get some shut-eye. 
Stephanie said a typical day involves lots and lots of feeding, changing diapers, plenty of snuggles and doing a couple loads of laundry. At this point, they're staying put, but may need larger living accommodations in the future. 
The infants' personalities are slowly emerging: Adelyn, the oldest by two minutes, has been dubbed Sleeping Beauty and Fisher, the only boy, is "feisty." Linnea is "chill," Harper requires plenty of snuggling and Eliana makes the highest-pitched cry.
Stephanie said she and Graham have wanted to be parents for a long time, and being a mother is almost indescribable. 
"I'm excited to be a part of their lives forever," she said. "When they become a little older, with stronger personalities, I will probably have more of a favorite thing about being a mother." 
As for having more children, Graham and Stephanie aren't sure if they will. They always wanted to have a lot of kids, and have even discussed adoption, but want to give the "Freels five" their full attention right now. 
"It would be kind of cool to have more," Stephanie said. "But I don't think I'd do five at a time again."