Football
Ferndale holds off Glacier Peak in new stadium debut
Golden Eagles edge Grizzles 22-16 via late fumble recovery
September 15, 2023 at 11:43 p.m.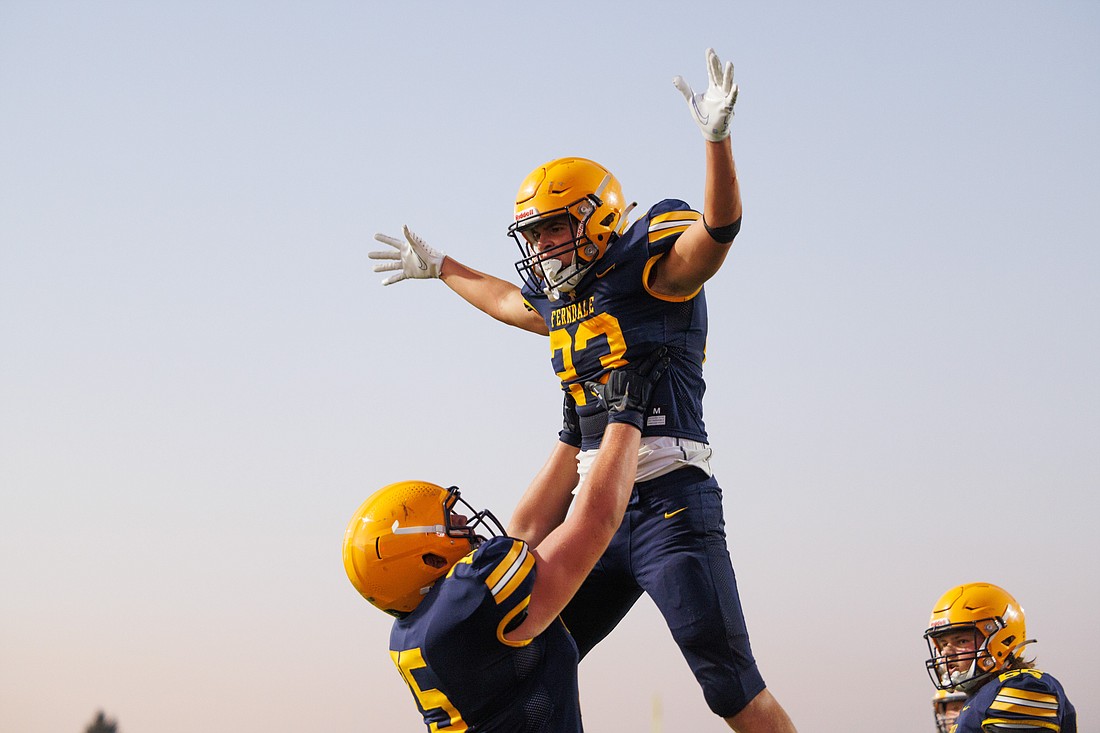 ---
---
FERNDALE — Ferndale's Aydin O'Tool recovered a fumble forced by Jacob Gandy with less than 90 seconds left in the game to seal the Golden Eagles' 22-16 win over Glacier Peak in their first-ever game in their new stadium Friday, Sept. 15 at Ferndale High School.
[ Read more: 'It kind of gives you chills': Ferndale debuts new stadium ]
Ferndale running backs Phoenyx Finkbonner and Talan Bungard combined for 226 yards rushing while the Golden Eagles' defense held Glacier Peak's star rusher, senior Chrisvin Bonshe, to just 5 yards on seven carries. 
Bonshe "was a concern" coming into the game Ferndale coach Jamie Plenkovich said, but he was pleased with how the Golden Eagles managed to shut him down.
"Overall, if we can take away the run game, we were going to feel pretty good about our chances," Plenkovich said.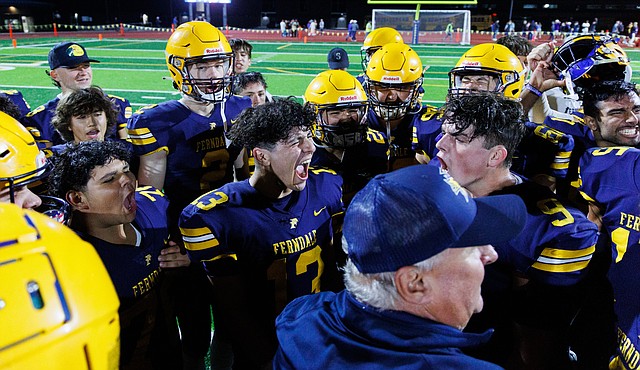 The win, which was especially meaningful for Ferndale after playing home games at Blaine High School the last two seasons, added yet another notch in the win column for a Golden Eagles team that has set no limits on themselves.
"I mean, I see no reason why our expectations shouldn't be the same as last year," said Ferndale senior quarterback Bishop Ootsey, who finished 2-of-3 passing for 51 yards. "Obviously we lost, like, three big [Division I] guys, right? But I don't see [with] how many returners we do have, not expecting ourselves [to be good] and pushing our young guys to come up and be having those same expectations as last year."
Ferndale (3-0) led the entire game, but Glacier Peak (1-2) began to threaten its six-point lead late in the fourth quarter when the Grizzlies recovered a fumbled snap on the Golden Eagles' 49-yard line.
A few plays later, Gandy stripped Glacier Peak quarterback Lucas Entler on a short run, and O'Tool's recovery meant Ferndale could kneel the game out.
Despite the game coming down the wire, Ferndale did its best to stay calm.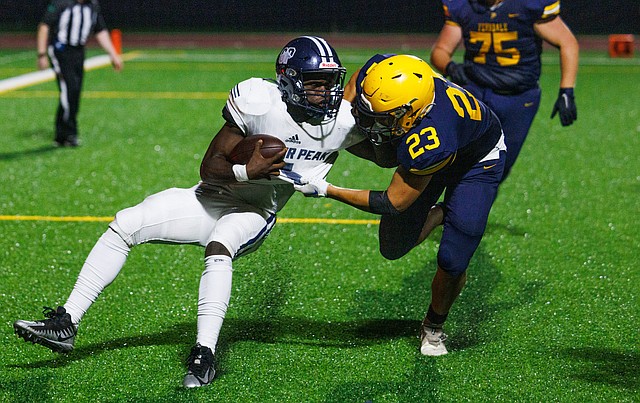 "We just know we've got to stay composed, you know, throughout anything," Ferndale senior wingback and defensive back Conner Walcker said. "So, good play, bad play, we just stay the same."
Walcker tallied one catch for 32 yards and four rushes for 41 yards for Ferndale in the win.
The game's final points came on a 36-yard field goal by Glacier Peak with 11:30 to play in the fourth quarter. Both defenses went back and forth from there, not letting the opposing offenses stack any momentum. 
Perhaps Ferndale's biggest advantage came at its own expense. Two of the Golden Eagles' long drives ended in a turnover on downs inside Glacier Peak's 2-yard line — one of which resulted in a safety — and a Finkbonner punt late in the third quarter pinned the Grizzlies at their own 1-yard line. Glacier Peak's starting field position, on multiple occasions, was brutally difficult to climb out of.
Glacier Peak was led by Entler who completed 9-of-15 passes for 203 yards, two touchdowns and an interception. Senior wide receiver Benjamin Williams caught four passes for 119 yards and a touchdown, including a 67-yard score on the second play of the third quarter.
"I'm really proud [of the fact] we faced a lot of adversity in that game, especially in the second half, and [we held up] and got the win over a good football team," Plenkovich said.
Ferndale will go back on the road and begin its league schedule at Arlington (3-0) for its next game, which will be at 7 p.m. on Friday, Sept. 22.