Football
Sehome sophomore QB already establishing himself in record books
Nolan Wright broke Whatcom County records in 2022; tied 6-touchdown pass record this season
September 14, 2023 at 5:00 a.m.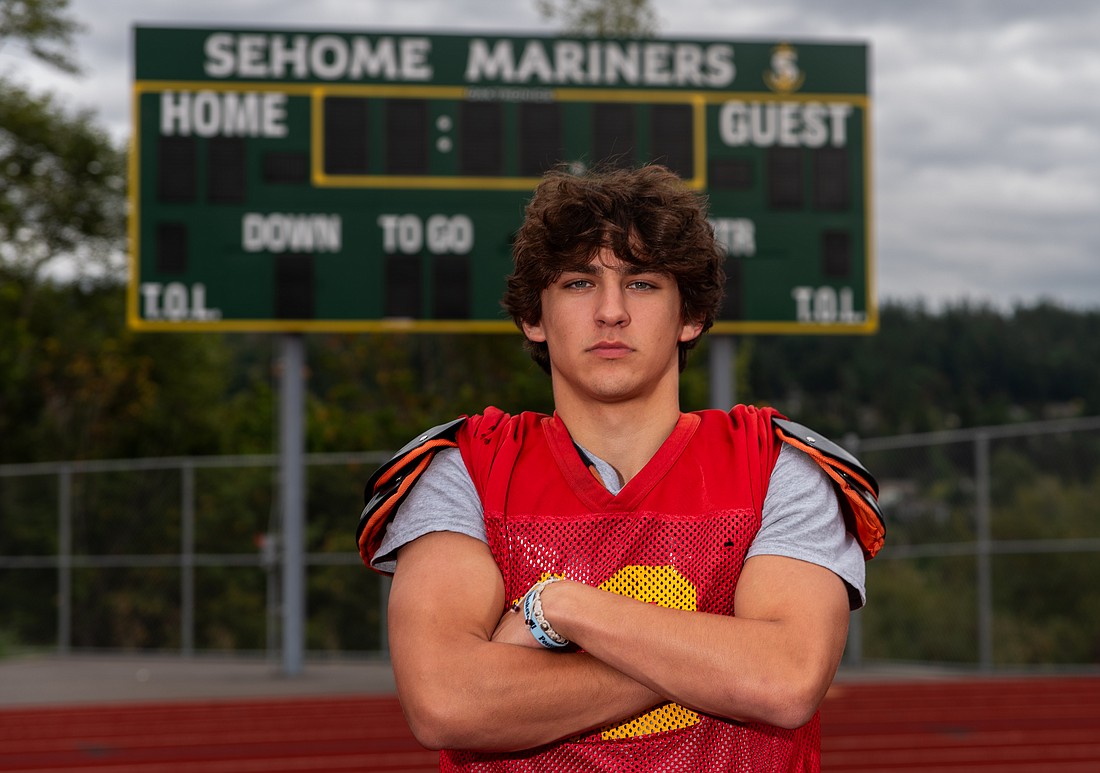 ---
---
When Nolan Wright began playing football in fifth grade, he only imagined taking the field as a member of Sehome's football team.
Once Wright became the team's ball boy as an eighth grader, it began to feel a bit more real.
A year later, Wright became the starting quarterback for the Mariners, breaking multiple Whatcom County records, including most pass attempts (146), completions (92), passing yards (1,205), and touchdowns (13) by a freshman, according to Whatcom Preps. 
In his second game of the season on Sept. 8, the sophomore tied an all-time county record, according to Whatcom Preps, with six touchdown passes and no interceptions in a 44-6 win over Blaine. 
"I guess I didn't really think about how many touchdowns I had thrown till after the game," Wright said. "The coaches put me in the position to do that … it's a cool stat. I'm proud of myself for that, but [it's] not unexpected, I guess."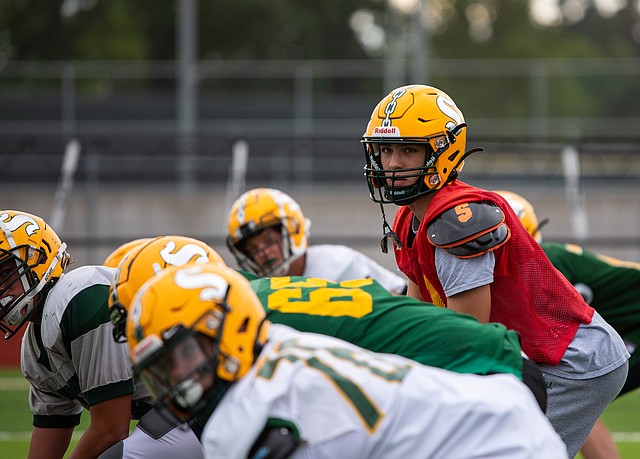 First-year Sehome coach Brian Young credits Wright's success to natural leadership skills and a strong mental grasp of football strategy.
Wright had all the necessary physical and mental tools as a freshman, Young said, he just needed to polish his mechanics.
"We just work on getting the little details," Young added. "Making sure his rollouts are right, making sure he understands how to move his body when he's throwing the football, how to read certain coverages and, you know, putting things in his hands." 
The last Whatcom County player to toss six scores in a game was former Sehome quarterback Jacob Kaepernick in 2019, according to Whatcom Preps — someone Wright has known for many years.
"He's a really good player and it's cool to be up there with him, especially another guy from Sehome," Wright added.
Sehome is now 2-0 in non-league games and has outscored its opponents 79-18 through two weeks.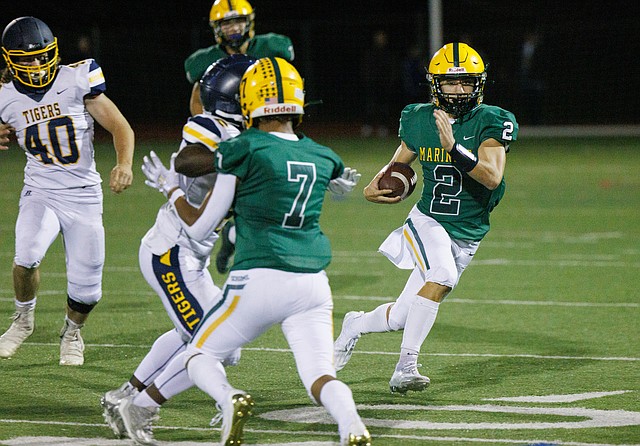 But being the football team's field general is only one of Wright's academic and athletic accomplishments. He's a multi-sport competitor and works hard to achieve top grades.
He earned significant playing time as a point guard on Sehome's boys basketball team, which reached the 2A state tournament last season, and he maintains a 4.0 GPA in the classroom.
Being a diligent student is just as important to Wright as excelling as an athlete, he said.
"I've always been pretty school-focused," he added. "In anything that I'm doing, I try to put in as much effort as I can. My parents obviously stress school a bunch, and so it's just a focus that they always say school comes first."
Wright's work in the classroom has translated to the field, namely in his study habits.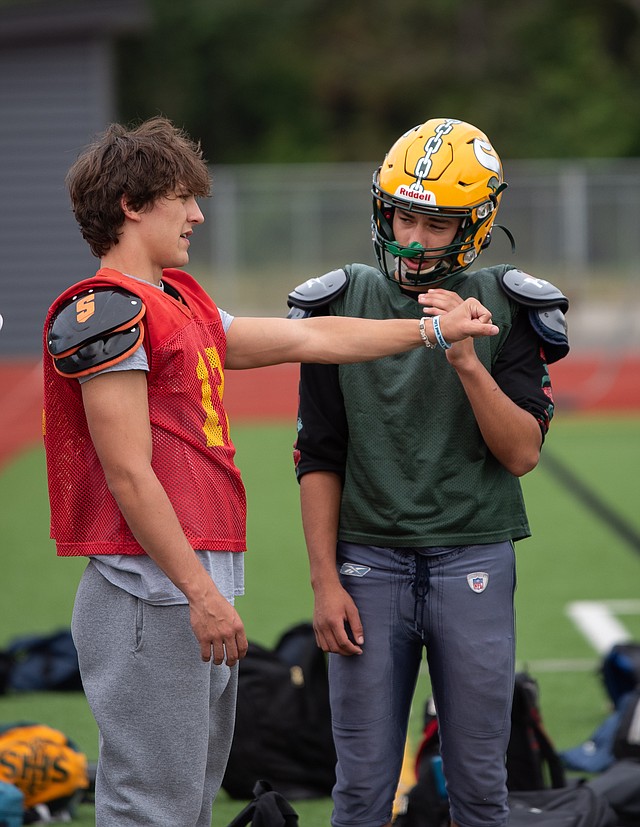 The mental side of the game seems to come easy for Wright, Young said, and the youthful quarterback now has a hand in the team's offensive game plan each week. 
"Before every game, I'll go to him and say, 'Hey, give me your top five plays. What are you comfortable with?'" Young said. "So [he's] really smart, and I'd watched him play [before being hired], but I wasn't really aware of how cerebral he is with the game." 
'Obviously, there was pressure'
As a child, soccer and basketball were Wright's primary sports. 
Wright was hesitant to retire his soccer cleats for a set of shoulder pads and a helmet. But, once he did, he said he never looked back.
As the freshman quarterback, he was tasked with leading the senior-heavy Mariners in games. Similarly, he was thrust into a starting role with the basketball team as a freshman once senior veteran Dane Dominguez went down with an injury.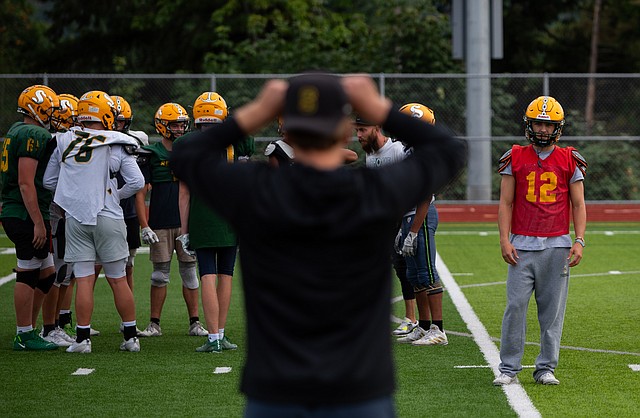 "Obviously, there was pressure because, when you're starting as a freshman, people are going to say things and you're going to have expectations to be good enough," Wright said. "But once I got into both seasons it started to ease out because I knew that [my teammates] around me were going to support me."
Wright and his football teammates faced off-the-field issues last season, as the team forfeited what would be a key game against Sedro-Woolley on Sept. 16, 2022, due to allegations of bullying and hazing within the team. 
The forfeit wound up costing Sehome a playoff spot at the end of the season and the former coach resigned.
With a new coaching staff and fresh season, Wright said it's something the team has tried to put in the past.
"People are going to say what they want to say or think what they want to think about us but, yeah, we've got each other's backs, so it doesn't matter," Wright added. "I don't think it affected us as much as people might've thought, but we're just trying to move past it and work on building a new reputation for our team."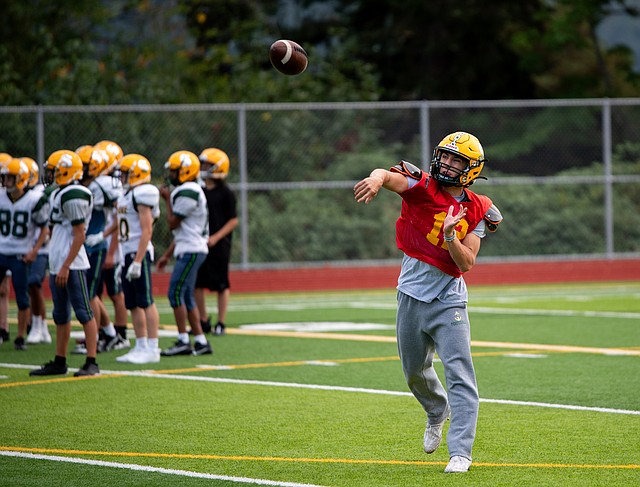 Wright has a unique opportunity to be a four-year starter in football, a three-year starter in basketball and said he intends to join the track team this spring — all of which puts him in a prime position to have a prolific high school athletic career.
While basketball was Wright's focus entering high school, football has gradually become his top priority.
When he was younger, Wright said he got to "see it all up close, especially being on the sideline and everything. I was super excited for the next year and then the years after that. Now that I'm in it, it's cool to see, or cool to look back on."