Outdoors
Tofino: A trip to Canada's Surf City
Tucked away town isn't without tourism-related issues
September 12, 2023 at 5:00 a.m.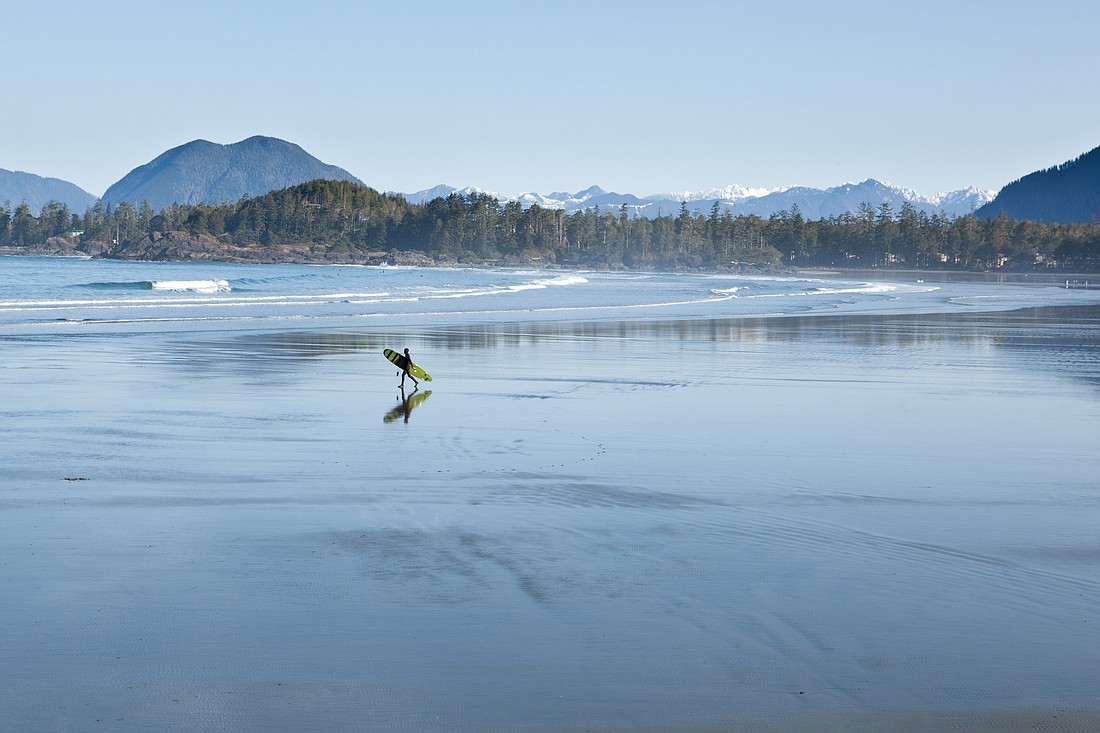 ---
---
TOFINO, British Columbia — We found paradise where a sign gamely proclaims Tofino as the Pacific terminus of the Trans-Canada Highway.
Nice try. 
Victoria to the south boasts the official signpost for the end of the long and winding Canadian road. Not that such trivia mattered.
A friend who I'll call Surfer Girl and I were in a state of bliss from a week of bathing in jumbled rainforests, hikes on wild and secluded beaches covered in chunks of driftwood, swimming in an aquamarine lake and riding water taxis through 10-car-pileup gorgeous Clayoquot Sound.
Yet, a nagging feeling persisted behind the velvety curtain. Had we arrived on the West Coast of Vancouver Island too late to experience its purity?
The question is something most Tofinians must grapple with in all its complexity. A world-class, nature-oriented destination that attracts about 750,000 visitors annually is delicately trying to find the balance among varied stakeholders for continued sustainability at a time when climate change and other forces are threatening it.
Ryan Crawford, founder of Tofino Surf Co., noticed the tug-and-pull of increased visitation in the past five years.
"We're running out of water," he said. "We're running out of eggs at the grocery store. There is no place to park."
The edge of the world got a taste of the alternative this summer when a wildfire east of Port Alberni closed the only road to Tofino for 17 days. Detours on gravel logging roads or limited Highway 4 openings all summer made the trek to the Esowista Peninsula a logistical nightmare. 
Tofino lost an estimated $30 million, according to the local chamber of commerce.
"Summer didn't really start because no one could get here," Crawford said. "It is visitors that make Tofino Tofino."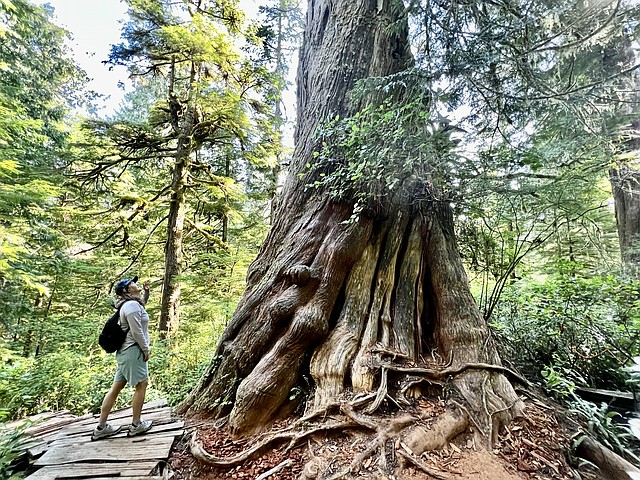 Tourism is a modern prescription to fuel an economy for the 2,000 or so year-round residents of a village named for Spanish naval officer Vincente Tofiño.
Like much of the New World, European explorers dramatically changed a landscape populated by Indigenous people for thousands of years.
Colonizers arrived in the 1800s with the intent of extracting resources from the land and sea as First Nations people saw their way of life rapidly diminish with each fallen tree.
Locals eventually realized the ramifications of timber harvesting and overfishing. Pacific Rim National Park was established in 1971 with the help of Tofino's first physician, Howard McDiarmid.
The slow transformation to ecotourism can be traced to surfers discovering the pristine beach breaks in the 1960s. 
Decades later, Canada's Surf City has a laid-back vibe, a trendy taco truck (Tacofinos) and assorted surf shops. 
Surfer Girl chose the frigid Pacific Northwest waters for her wave-riding debut although she works in San Diego and vacations on Kauai in Hawaii.
As the author of a surf book (Surfing: Mastering Waves From Basic to Intermediate), I stood back and observed the lesson from Crawford. Surfer Girl confidently marched into the churning waves, laid flat on her stomach and paddled into the frothy foam near shore.
Over and over, she marshaled the ocean's forces and eventually tried standing. I bet she'll be paddling to the lineup and starting to ride the curl in the coming year.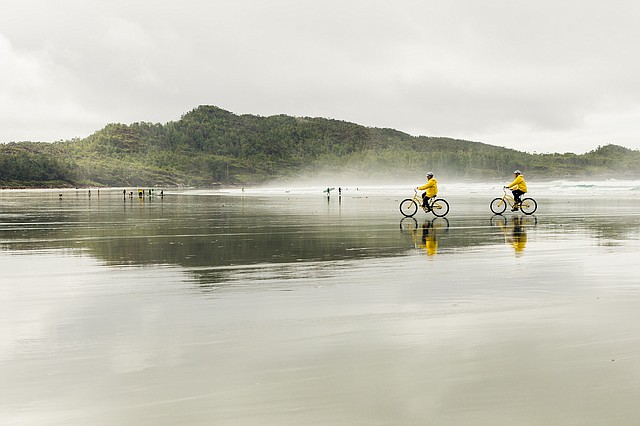 We didn't come to Tofino solely for surfing.
Clayoquot Sound, which resembles parts of the South Island of New Zealand, is a UNESCO Biosphere Reserve. It is the largest area of ancient temperate rainforest remaining on Vancouver Island, filled with spectacular red cedar, western hemlock and Sitka spruce. Last year, a member of the Ancient Forest Alliance found what might be Canada's largest tree on a nearby island. 
Tourists are funneled to Meares Island by a 10-minute water taxi to walk the Big Tree Trail, a rickety wooden boardwalk maintained by Tla-o-qui-aht people. 
The trail passes cedars as broad as fire trucks, trees with moss drapery hanging down and young ones growing out of nurse logs.  
We hiked the 2.6-mile loop, which involved clambering over and under blowdowns and cautiously negotiating slippery roots and muddy bogs.
We have the First Nations people to thank for mounting protests in the 1980s and early 1990s to stop timber companies from clearcutting their ancestral home and destroying their sacred old-growth cedars.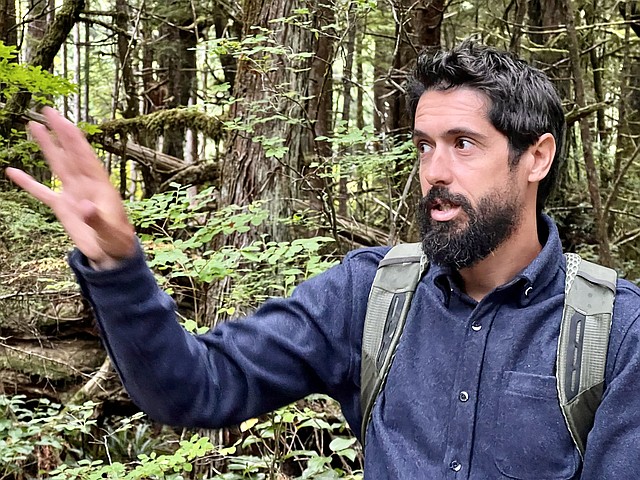 Forty-eight hours later, we found ourselves in a rainforest in Pacific Rim National Park Preserve with nature guide Liam Oogle.
The coastal ecologist has lived on Vancouver Island for two decades, where he launched Long Beach Nature Tours. Oogle, a surfer, sailor and mountaineering guide, hopes his customers fall in love with Tofino and its environs enough to help preserve it.
He talked of the stresses as we breathed in the arboreal splendor of immense root buttressing, spiny moss-covered trees and thick berry brambles covering the bedrock floor.
Fancy hotels and big tourism operators promote as much business as possible. However, the limitations have become evident this year because of drought conditions.
Oogle said the region once got about 24 inches of rain in the dry season. Tofino received 1.6 inches in the past six months. 
"It means all of the berries never came out," Oogle said. "That will affect the bears, which rely on that as a food source."
He worried salmon wouldn't swim upriver to spawn without substantial rain in September. A decline in salmon — once famously plentiful — also will impact wildlife.
"Bears could have a pretty hard go this year," Oogle said.
Tofino is under strict Stage 3 water restrictions, prohibiting all outdoor use of water. In July, Tofino Mayor Dan Law told residents that the community was "subsisting on fog and dew."
It sounds more like the American Southwest than one of Canada's wettest places, where 118 inches of annual rainfall is normal.
Charles McDiarmid, managing director of the boutique Wickaninnish Inn on Chesterman Beach, remains bullish about the health of the tourist industry. He promotes digging a reservoir to collect the winter rain to help Tofino through future summer droughts.
Others say it is time to limit growth and visitors.
"We're at a teetering point where we could go one way or the other," Oogle said.
---
If you go
Tofino is a three-hour drive from the ferry terminal in Nanaimo, B.C. on beautiful Highway 4 through forests and past lakes. It has an airport.
One-stop shopping
Tourism Tofino has everything on its website to plan a trip. The Visitor Centre is located at 1426 Pacific Rim Highway. Phone: 1-888-720-3414. 
Where to stay
The luxurious Wickaninnish Inn is the area's high-end accommodation with prices ranging from $500 to $1,700 per night and a four-night minimum during summer. Rates and minimums change for other seasons. The inn opened in 1996 as the vision of Charles McDiarmid, the oldest son of Dr. Howard McDiarmid, who moved to Tofino in 1955 to help start Tofino General Hospital. The family built the inn on their property on Chesterman Beach. Phone: 250-725-3100.
Cedar Nest at Emerald Forest is a secluded AirBnB cabin centrally located at 1326 Pacific Rim Highway. Sabine and Albert are longtime Tofinians who love sharing the area.
Where to eat
Big Daddy's Fish Fry in the Tofino village has fresh treasures from the sea. The fish and chips and chowder were as satisfying as it gets. Open 11:30 a.m. to 8:30 p.m. daily with outdoor seating at 411 Campbell St. Phone: 250-725-4415 or bigdaddysfishfry@gmail.com.
Tacofino is perhaps the most trendy spot with its surfer vibe. The lines often are long — very long — with tourists and locals vying for the tasty fusion fare. The concept has expanded to Vancouver but the original taco truck is from Tofino. Open 11 a.m. to 7 p.m. daily at 1184 Pacific Rim Highway. Phone: 250-726-8288 or tofino@tacofino.com.
Wolf in the Fog is the town's nod to high-concept dining for urbanites at 150 Fourth St. Phone: 250.725.9653 or info@wolfinthefog.com.
What to do
Tofino offers guide services for every imaginable activity, from surfing lessons to kayak trips around Clayoquot Sound to bear and orca viewing. Guides can be booked through the tourist center or online. It is impossible to recommend one service over another. We enjoyed everyone we used.
Meares Island Water Taxi: Vince Payette gives tourists a quick tour on the short ride to the Big Tree Trail. He doesn't have a set schedule so visitors call him when they are ready to go and again when they want to get picked up from the island. The trip to the Big Tree Trail is $35 roundtrip for adults. Payette also takes tourists to other islands and destinations. The service is located at 50 Olson Road on the dock. Phone: 250-726-8219 or vincepayette@yahoo.ca.
Keltsmaht Enterprises Water Taxi Service: Skookum John, an Ahousaht Nation member, offers tours throughout Clayoquot Sound. John caters to visitors interested in First Nations culture or whale watching, among many other ecotourism services. Contact Marcie John to book an outing. Phone: 250-709-5490 or keltsmahtenterprise@hotmail.com.
Tofino Surf Co.: Surf guide Ryan Crawford provides beginner boards, wetsuits and expert instruction to get would-be surfers into the Tofino waves. Phone: 250-266-2536.
Long Beach Nature Tours: Liam Oogle, a surfer, sailor and mountain guide, has built a small company, at 390 Main St., to help tourists see the wonders of Tofino and the surrounding area. He offers many types of trips, from all-day rainforest hikes to backpacking and wildlife viewing. Phone: 250-725-3320 or info@longbeachnaturetours.com. 
Elliott Almond's outdoor column appears monthly. Email: elliottalmond4@gmail.com.