Restaurants
Review: Graham's Bar & Restaurant in Glacier
Under new ownership, an eccentric menu shines at historic restaurant
September 11, 2023 at 12:56 p.m.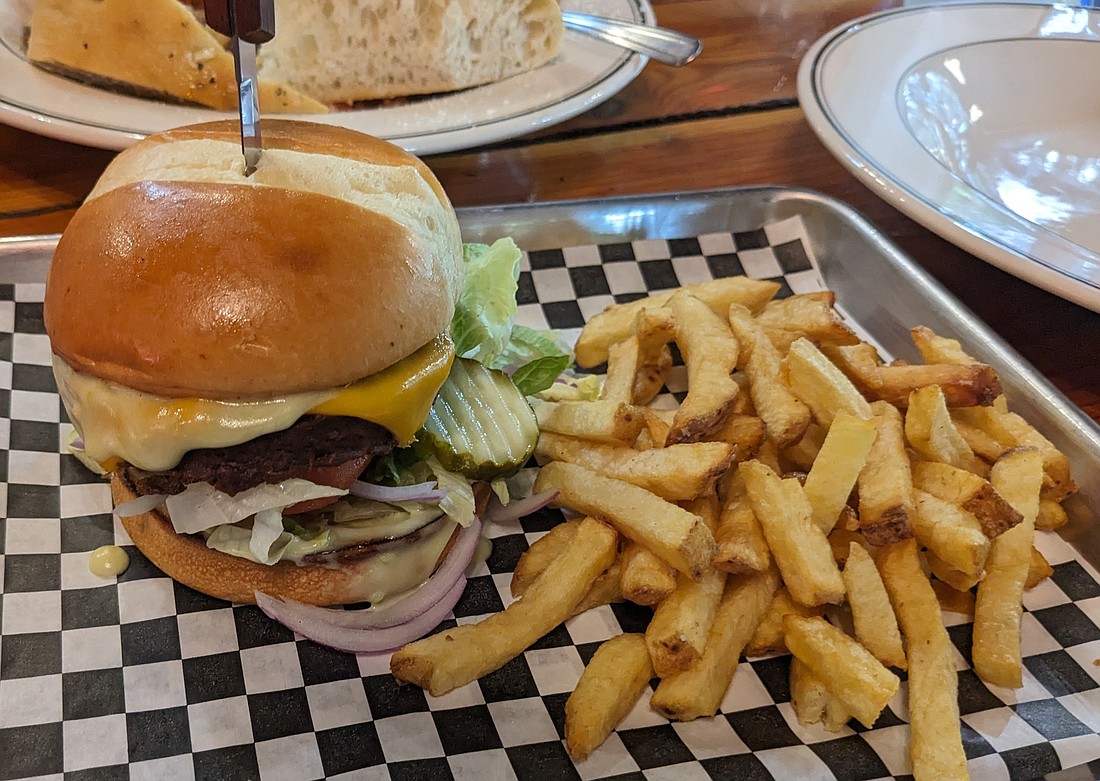 ---
---
Graham's historic restaurant in beautiful and slightly far-flung Glacier has been a staple of the mountain town for a hair over 50 years. Locals have always loved it because if you don't love it, there aren't really many other options.
It is also popular because of the area's beauty — including hundreds of miles of pristine trails surrounding Graham's — and the convenience on the way up to or down from Mt. Baker Ski Area.
After being closed for several years, Graham's reopened about a month ago under new ownership Knut Christianson and Joelle Adams — along with Chef James Pitzer of former StrEAT Food truck fame. I was given the responsibility of seeing how Graham's new and highly eccentric menu held up. A word of warning: If you read on, you may find your car keys materializing in your hand in an effort to start the drive up.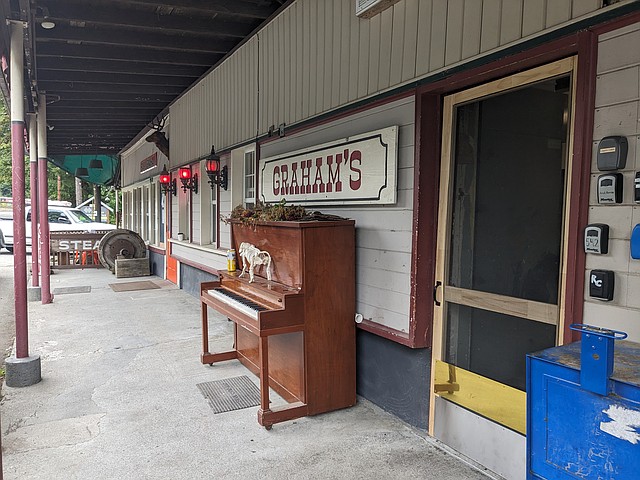 From the outside in, it is made readily apparent this location is beloved by skiers and snowboarders. The outside is adorned with ski company stickers and art. Entering, you find gorgeous dark wood and towering ceilings, echoing with a surprisingly robust crowd for a Monday night.
Gazing at the menu, you will likely take your first steps into madness as you attempt to decide what to eat.
The menu appears to be triumvirate — takes on classic bar food (burgers and variations of fries), diner staples (steak, salmon and pot pie), and a vaguely Asian-inspired collection of dishes (katsu sandwich, rice bowl and poke). These options make the all-important decision of what to eat feel a bit more daunting than it should be, but my expectation is that several of these items may be cut in the coming months. 
Our party proceeded to order a ludicrous quantity of food. Starting with fried cheese curds ($12) and saku poke wontons ($14), we knew we were in for a treat. The cheese curds retained some of the squeakiness you would expect from a fresh cheese curd despite being battered crispy and served piping hot. The poke was stellar — surprisingly so, for being the only item on the menu from my examination to use any of the ingredients in it — and it was an incredibly generous portion. This is a must-order if you are a fan of raw fish.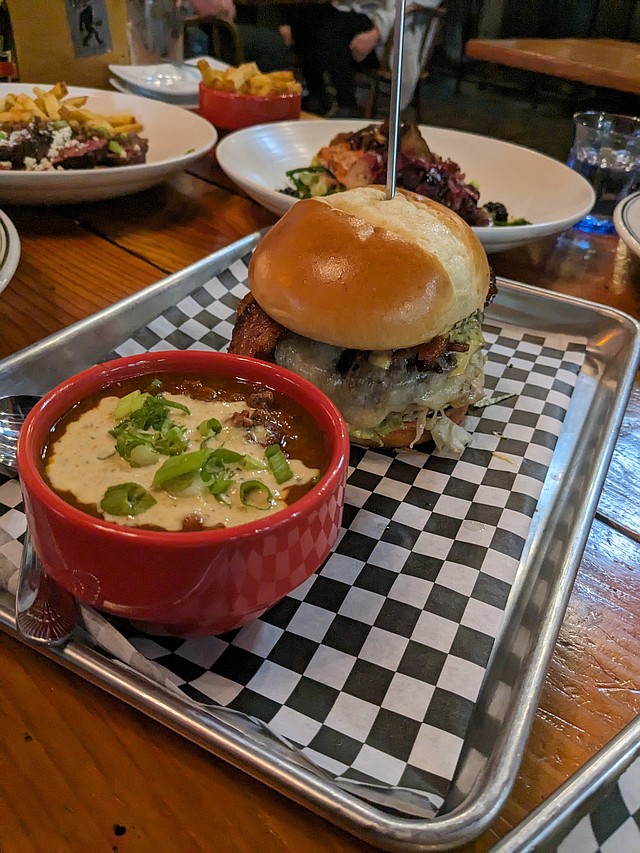 Next, we plowed through three separate burgers. The Tex ($23), a bison burger topped with bacon, was a good burger, but I often find that bison comes out dry, and with a patty as thick as this one, it was pretty noticeable. My one other complaint? It's a picture-perfect burger, but far too tall and consequently challenging to eat. 
The same issue was seen in the Stefanie ($19), a 100% vegan burger. Getting a solid bite requires you to unhinge your jaw. Once again, a good burger, but one that falls apart due to the angular forces your mouth applies when opened to its extremities.
Finally, the last of the sandwiches was by far my favorite. Robin's Midnight Tokyo Drift ($19) is a pork Katsu burger, loaded with kewpie mayo, teriyaki sauce and a delightful Asian slaw. While also too tall, I couldn't complain because I was too busy stuffing my face and literally pumping my fist in the air. It's that good. The menu recommends you try this atop a bed of rice, omitting the bread, and I have no doubt it would be absolutely spectacular.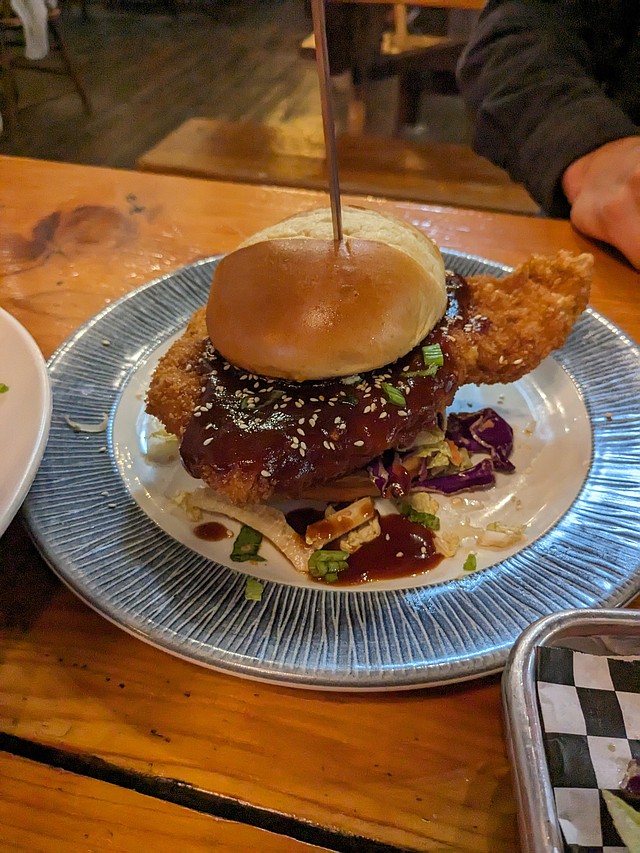 Alongside these sandwiches, we got a trio of sides to cover our bases — fries ($8), salad ($11) and a cup of venison beer chili ($14). 
The fries are crispy and obviously made in-house. They can also be ordered poutine-style, which I have no doubt Graham's would excel in. The salad was light and fresh, no mere afterthought on this menu but rather an intentional interlude for the heavy food it is served alongside. 
The venison beer chili is another standout I highly recommend — especially for a paltry $2 upcharge over fries or a salad. It's incredibly hearty and rich in flavor, clearly not something thrown together. You can order chili cheese fries (something I wish I had done, but with three more dishes to try, I had to pace myself). 
Finally, a trio of refined and adult plates. The Clark Gable, a flat iron steak served with a tasty mushroom duxelle, tips the wallet at $32, but is a very good steak. I did find myself wishing the plate had a little bit more food on it, but in this case, it should be understood that the primary cost is the meat, not the sides.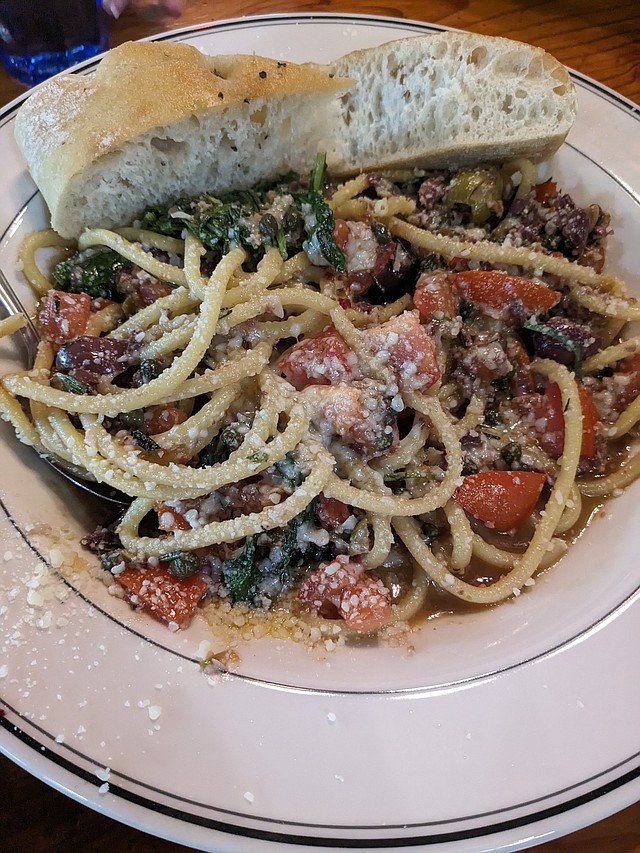 Up next was the sockeye salmon ($29) — the only dish to elicit overt negativity from my dining partners this evening. The piece of salmon itself was large, with a creative and umami mixture of shiitake mushroom, sea asparagus and blackberry atop it. Where the dish lost me is the overlapping flavors drowning out the flavor of salmon. Even taking a bite of salmon devoid of any other ingredients, the only flavors I got were black pepper and berry. In an area renowned for the quality of its salmon, drowning it in other flavors seems like a sin. 
The pasta fresca ($27) changes day to day — it was puttanesca on the date of our visit — and was another standout dish. If you've never tried freshly made pasta, you owe it to yourself to rectify that. It's toothsome and firm, and the puttanesca is vinegary and savory, equal parts refreshing and filling. 
On this date, dessert wasn't available, as the staff was still tightening the menu, they said. No worries there, as we were stuffed after polishing off most everything we'd been served. 
Graham's Bar & Restaurant did not disappoint. If you head up to ski the pristine snows of Mount Baker this winter, a stop in here for dinner on the drive back should be part of your itinerary. 
I can understand the draw to so many of these remote locals — with a captive audience, many restaurateurs would make the decision to deliver subpar, soulless food. It's apparent the new chef and staff take pride in their work. 
My future order (and there will be future orders) is an easy one: the poke, a Midnight Tokyo Drift, sub the fries for chili. This is not a spot to be missed.


Graham's is open from noon to 9 p.m. Monday–Thursday, and noon to 10 p.m. Friday–Saturday at 9989 Mt. Baker Highway, Glacier. Info: grahamsglacier.com.