News in Brief
News in Brief, Sept. 8 – 14, 2023
Lake Whatcom Boulevard to close Sept. 18–22 for culvert repair
September 8, 2023 at 2:17 p.m.
|
Updated September 12, 2023 at 6:27 p.m.
---
---
News in Brief is published online every Friday, and updated throughout the week with bite-sized news from across Whatcom and Skagit counties. Read a roundup of the week's news in print the following Friday.
Tuesday, Sept. 12
Lake Whatcom Boulevard to close Sept. 18–22 for culvert repair

Whatcom County Public Works Department will close Lake Whatcom Boulevard just south of Lake Louise Road between Monday, Sept. 18 and Friday, Sept. 22 to replace a failing culvert.
The culvert is causing severe erosion of the road shoulder, and county staff will work to repair it next week.
The closure will be in effect 24 hours per day, and will apply to all traffic, including emergency vehicles and school buses.
Monday, Sept. 11
North Cascades trails, camps reopen after Sourdough Fire closure

Several recreational and camping areas in North Cascades National Park reopened Monday, Sept. 11 as the Sourdough Fire experiences a "slowing event."
Cooler temperatures, higher humidities and moisture in the area have helped contain the spread of the fire, currently estimated at 6,280 acres, according to a Monday news release from the national park.
That means park officials were able to reopen Diablo Lake, Thunder Point and Hidden Cove boat-in camps, as well as the Happy Panther and Ross Dam trails and the Ross Lake Resort.
Ross Lake itself is open for day use only, and walk-in campsites 64-73 at Colonial Creek South Campground are available on a first-come, first-served basis.
Several closures related to the fire remain in effect, the national park announced. Those include the Ross Lake boat-in camps and overnight use of the lake, as well as at Colonial Creek North and the remaining parts of Colonial Creek South.
Fire restrictions — including bans on campfires, wood ignition, briquettes, or fuel in fire pits, fire pans and barbecue grills — remain in all portions of the North Cascades National Park Service Complex.
Saturday, Sept. 9
Airplane hangar fire causes $25–35K in damage

No one was injured when a privately owned airplane hangar near the Bellingham International Airport caught fire Saturday, Sept. 9, according to the Bellingham Fire Department.
The fire department was alerted to a call at 1:43 p.m. Saturday, reporting smoke coming out of a hangar on the 2000 block of Bakerview Road.
The hangar, a 30-by-60-foot metal frame building with access to the airport, had light black smoke coming out of two sides when fire crews arrived, said Dustin Michaelis, fire captain for the Bellingham Fire Department.
Crews attacked the interior of the building and found heavy black smoke down to the floor, before locating the fire near the middle of the building.
The suspected cause of the fire was a charging lithium-ion battery, Michaelis said, adding the charger and battery were different brands.
"We're getting those (causes of fires) more and more," Michaelis said. "They are happening more often than they used to."
The fire was contained to the area where the battery was being charged. It burned up an electric scooter, a work-bench space and cabinets. An airplane inside the building was unburned. The rest of the building suffered smoke damage.
Michaelis estimates there was between $25,000–35,000 in damage.
Friday, Sept. 8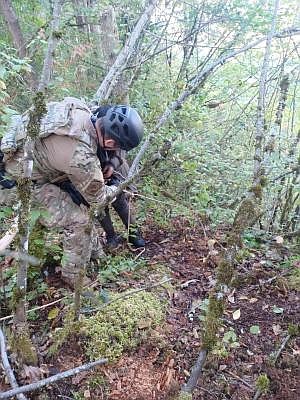 Blaine Border Patrol rescues 3 immigrants stranded by human smugglers

Blaine Sector Border Patrol agents rescued three undocumented immigrants stranded in the mountains near Sumas on Friday, Sept. 1, according to a news release from U.S. Customs and Border Protection.
Agents received a distress call from a woman who said she and two other people had been abandoned by a human smuggler in the mountains.
The agents used GPS coordinates and photos sent from the woman's phone to find their location.
The border patrol's special operations unit performed a technical rope rescue on the sheer face of a cliff at around 7:30 a.m. Friday to save the three people.
All three were medically cleared and determined to be undocumented immigrants from Mexico.
"Human smugglers are callous individuals who do not value human life," Blaine Sector Chief Patrol Agent Rosario Vasquez said in the news release. "They put these individual's lives in danger by abandoning them in the mountains."
State Route 539 in Lynden to close Sept. 18, reopen Sept. 21

A section of state Route 539, also known as Guide Meridian, will close at 7 p.m. Monday, Sept. 18 for construction on the Duffner Ditch fish passage project, according to the Washington State Department of Transportation (WSDOT).
The road will reopen at 7 p.m. Thursday, Sept. 21.
Detours around the closed section of road going north will take drivers along Birch Bay Lynden Road to Berthusen Road to West Main Street. Going south, travelers will take Main Street to 19th Street before rejoining state Route 539.
The southbound detour will also be used for pedestrians.
"This project will open an estimated 6 miles of habitat for native fish by replacing the existing fish barrier with a new fish-passable box culvert," according to a WSDOT news release.
Highways that cross streams often hinder fish migration; improving fish passages is something the WSDOT has been working on for decades, according to the project overview.
The fish passage project has been in the works since August, and is set to finish construction in the winter.