Faces in the Crowd
Janet Oakley: Author and historian
CDN's weekly community profile
September 8, 2023 at 5:00 a.m.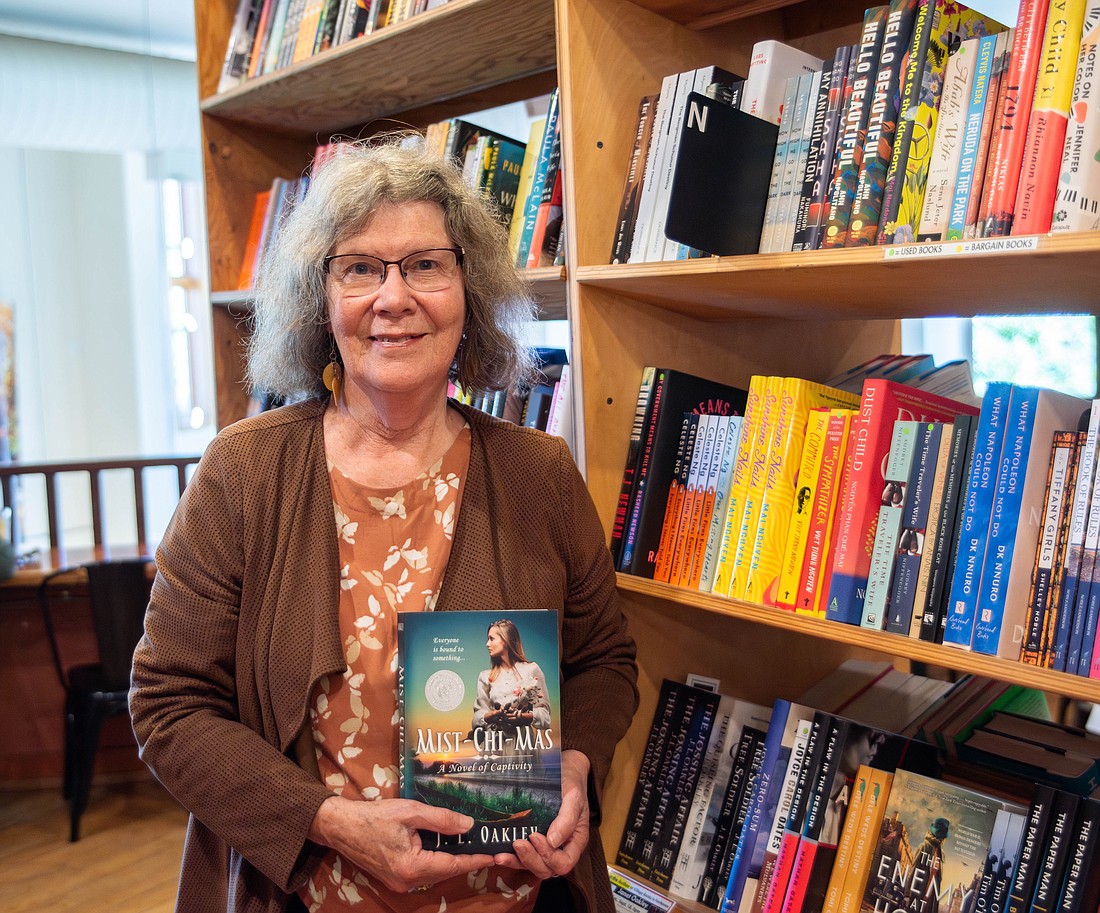 ---
---
Janet Oakley (she/hers)
Age: 77
City: Bellingham
Lived here for: 46 years
Originally from: Washington, D.C.
Notable: Author of historical novels and mysteries, historian, gardener, weaver, bird-lover and teacher.
You're an acclaimed author of historical fiction. What novel was most challenging to plan and write, and why?
Actually, I think my latest one, because I'm starting from scratch. All of them are a challenge, but this one's called 'The Brisling Code' (prequel to 'The Jøssing Affair'). It's set in Bergen, Norway, and I didn't really know a lot about it. Because this is my third project doing Norway in World War II, I found that a lot of historians were open to talking to me. So this time around, I got help from experts on U-boats, and some of the museums there — I actually got to see them when I went to Norway. 
I had just a grain of an idea from the original novel, 'The Jøssing Affair,' and I was sort of going back and picking up and going forward. [As for most challenging], I think the latest one because I was going into it fresh, going into something that I really need to get down deep into, but ['The Jøssing Affair'] because it was the first and it was huge. I wrote it by hand. I didn't have a computer. So it's in four notebooks. 
Do you have a favorite bit of Whatcom County history?
My mom always talked about the CC boys, meaning the Civilian Conservation [Corps] boys … I started investigating [if they] were here in Whatcom County, and boy, were they here. They were at Camp Glacier … I ended up writing a novel about it ['Tree Soldier']. I really cared deeply about trying to find out where all the projects were located. They did the Austin Warming Hut; they did all the campgrounds. I'm very proud to have worked with Mike Impero — he's a local historian — and together, we worked to get a statue at the Glacier Ranger Station, the CC worker statue.
What would be your response to someone who finds history lessons boring?
I might say that they're not teaching it right. You look at a date as like a clothespin — something that you need to pin down. You need to know a particular date. And then from there, try to relate something that might be present day to something that happened a long time ago … It's important to talk about how people deal with the history they're involved in. That's always been my approach.
Tell me about the demonstrations you do at Bellingham Public Schools' Gordon Carter Conservation Site and San Juan Island National Historical Park.
At the conservation site, it was all about pioneers. Adults handled the Dutch oven, but the kids made the biscuits and did the butter. And then for 22 years, I was out to San Juan Island National [Historical] Park. And that's another place of interest for me. I wrote the Pig War curriculum for the national park … There, I did Ms. Libby, which was 1860s schooling. I started developing her character at the conservation site. Kids learned how to do McGuffey's cursive and stuff. It's been a blast … The curriculum I develop — I always say I don't teach Mickey Mouse history. I try to find out the real facts.
What do you think history can teach us about our current society, or where humankind is headed?
Well, it's really kind of alarming that some states are starting to get rid of real history. I always say history hurts. My family's been here since 1638, so they surely have participated in things that may have been harmful to others … Bad things also have good things — I love to say, look for the helpers, because there have been helpers in history that do try to make things better for all Americans. 
Definitely me writing about World War II history — a bunch of us are alarmed. Because we see certain beats. So it's important that you really teach history. History doesn't repeat itself, it rhymes, and there's a lot of rhyming going on right now.
Janet Oakley will be at Village Books in Fairhaven from 6–7 p.m. Saturday, Sept. 16 to talk about and share in the launch of her newest book, "The Brisling Code."
"Faces in the Crowd" is published online and in print Fridays. Have a suggestion for a "Faces in the Crowd" subject? Email us at newstips@cascadiadaily.com.