Visual Art
'Re Building' celebrates MoNA's permanent collection
From landscapes to myths, exhibition highlights Northwest masters
September 4, 2023 at 5:00 a.m.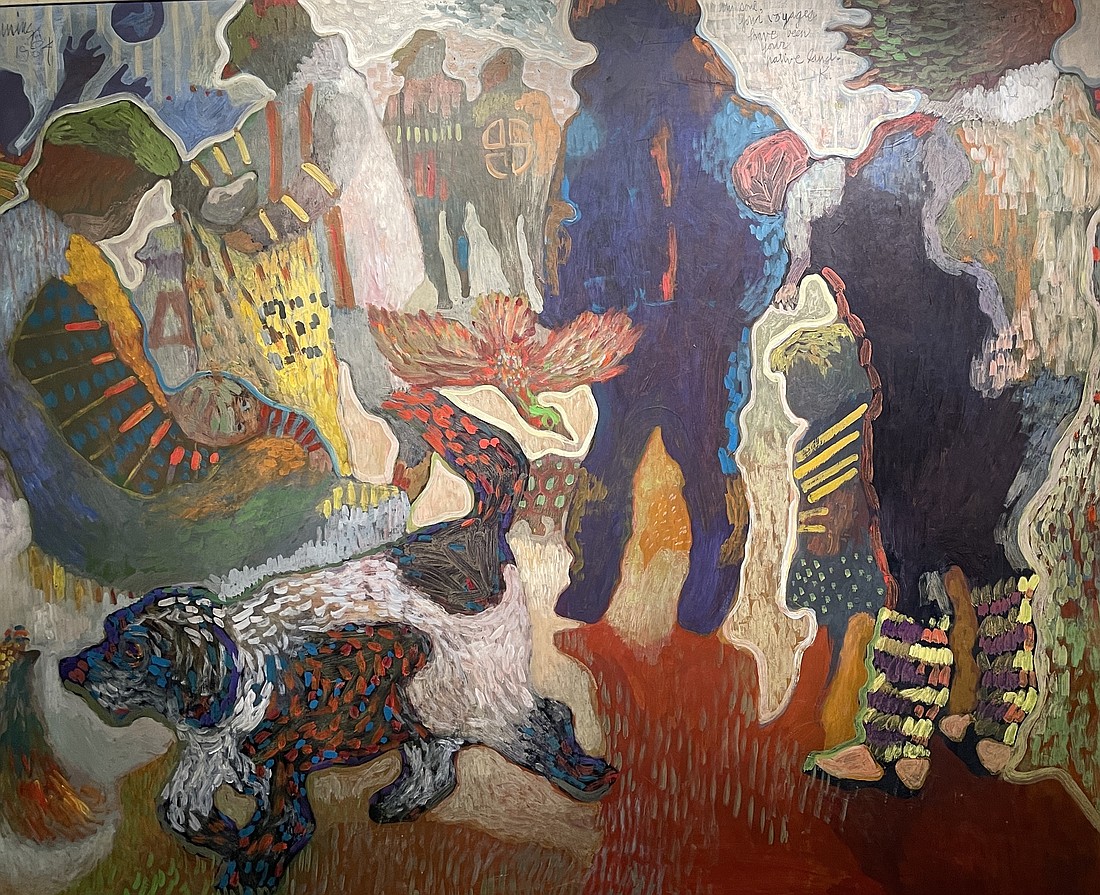 ---
---
At La Conner's Museum of Northwest Art (MoNA), the exhibition "Re Building: Celebrating the Role of the Permanent Collection" acts as a historical marker. 
Among the works on display is one from the late artist Charles Laurens Heald (1940–2019). His wife, Dana, donated his immense landscape painting, "In the Rockies" (1986-1987), to the venue. By its sheer size — 6 feet high by 65 feet wide — it eclipses the legendary landscape paintings of 19th-century Thomas Moran and Albert Bierstadt. The peaks, lakes and vegetation are convincingly realistic. (I wish I knew the point of view.) 
The show is virtually a "Who's-Who" of great 20th-century Northwest art, especially from those who had a connection to the Skagit Valley. Visitors will find works by stylistic pioneer Mark Tobey, and so many who followed — Morris Graves, Guy Anderson, Kenneth Callahan (the big four "mystic painters") and others up to the time of William Cumming and Michael Spafford. 
Helmi Juvonen was close to the "big four." Her lovely "Birds" (1950, tempera on paper) is delicate and peaceful. And there's a watercolor by her of Graves' house in La Conner plus an untitled landscape with church (c. 1935) by Graves himself. 
By the 1950s, Tobey was delving deeply into a new form of expression which he called "white writing." In it, the entire painted surface is inscribed with repetitive marks. Tobey believed he had to complete a painting all at once, in spite of how much effort it took. His "Untitled, 1955" (gouache on paper) is a perfect example of this process. See how different it is from the small oil which Tobey had painted in 1919, a portrait of "Reverend Richard Marmaduke Doubs."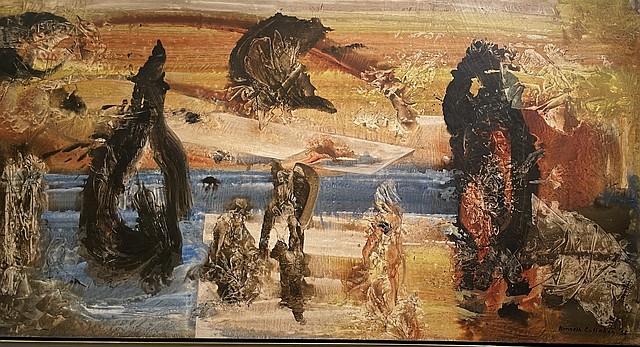 Anderson's cosmic circle, "Seed and Cosmos," (1976, oil on paper on board) repeats a theme of his sweeping canvases you'll find in the lobby of Mount Vernon City Hall, in McIntyre Hall and in the Performing Arts Center at Western Washington University. 
I was delighted to see Callahan's work still has the power to intrigue and bewilder as I contemplated his work, "On the Shore," (1965, oil on paper). It's totally abstract, I thought — and then looked again and found blessing hands, an angel, a meditating sage and a ghostly figure. 
The long-lived La Conner resident Clayton James is remembered here with a serene masterpiece, "Yellow Night" (acrylic on canvas, 1961), as is Paul Horiuchi, a follower of Tobey's who made collage his signature style ("The Eye Beholds Autumn," 1962). 
William Ivey is less well-known than the other Skagit "greats," but was a painter of beauty and delicacy, influenced by his teachers at the California School of Fine Arts, Clyfford Still, Mark Rothko, and by his contemporary, Richard Diebenkorn. His "Untitled, 1982" is a lovely abstract in blue, yellow, red and green. 
The talented but tragic Jay Steensma left us his "Stop and Go Stop and Go Stop and Go" (oil on canvas, 1990). It's a terrifying nightmare of scribbled paint. Truly, he "specialized in moments of acute and resounding alienation," as described in the show. 
One of my favorites is Cumming's gnomic and arresting "Return to Odysseus: Tribute to Nikos Kazanikas [sic], 1984." Figures stand, sit or mind their own business at the market. A dog trots confidently across stage left, followed by a bird, a small child and mother. No one notices a darkly dressed man who has arrived. It can only be Odysseus, home after many years. The bloodshed is inevitable. 
Another iconic project by Cumming is on permanent display in the upstairs gallery — the mural which he was commissioned to paint for the National Youth Administration in 1941 depicting farm life in the Skagit Valley. Lost in a hay loft for 70 years, it has been carefully restored.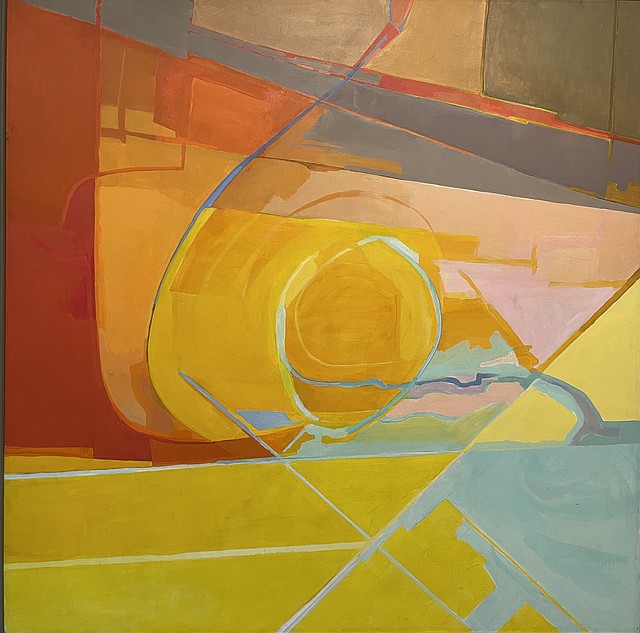 Michael Spafford's looming "Minotaur 1," (1988, oil and acrylic) tells a scary story. Witness the awful might of the beast, his sexual potency and final destruction. An influential art professor at the University of Washington for many years, Spafford's figurative work based on classical myths ignited more than one controversy. (Visit the second floor to see Spafford's "Thirteen Ways of Looking at a Blackbird," along with Margaret Davidson's illuminating commentary.) 
Perhaps the most beautiful work in the exhibit is that by Margaret Tomkins ("Untitled," 1985, oil on canvas). It was painted during a period when she had moved beyond the artistic influence of both Salvador Dalí and the Mark Tobey followers — whose pretensions and politics she deplored — and reached a level of serenity. For many of the last years of her life, she lived on Lopez Island. 
"Re Building: Celebrating the Role of the Permanent Collection in Building up MoNA's Significance, Past and Present," and "Margaret Davidson: Leading with Drawing" show from noon to 5 p.m. Sunday–Monday and 10 a.m. to 5 p.m. Tuesday–Saturday through Oct. 1 in La Conner at 121 S. First St. Admission is free. Info: monamuseum.org.