Community
Bellingham teen creates food-based card game
Cookdown start of entrepreneurial journey for Squalicum senior
September 1, 2023 at 5:00 a.m.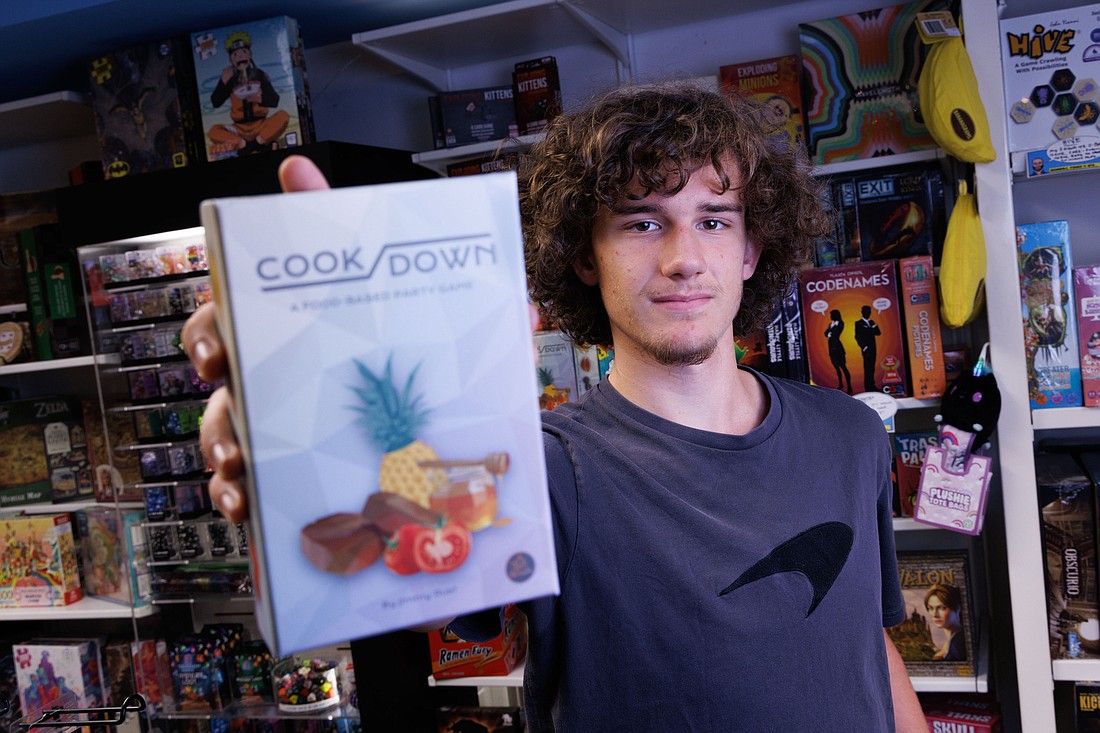 ---
---
Jimmy Rust is only 17 years old, but the Squalicum High School senior has already embarked on what he calls an "entrepreneurial journey."
He's off to a good start. The card game Rust created, Cookdown, is currently on shelves at Bellingham locales including The Comics Place, Fairhaven Toy Garden, Oddities, Cosmic Games and Pair o' Dice Games. 
After a couple of years of development — including designing each card himself and working with a company in China to produce the "food-based party game" — 1,600 completed copies of Cookdown landed in Bellingham on May 24. Rust said 1,500 still remain in his family's garage, and he'd like to get them sold. The game sells for $20.
"Maybe five years ago I started thinking about how I could make money making stuff," Rust said. "I started with stickers; that was OK. I gave up on that. But then I started trying to make games because they're fun and I've played them a lot." 
In Cookdown, each card contains an ingredient like butter, maple syrup, chicken nuggets, bacon, beans, cheese, hot sauce, etc. Additional cards inform players what kind of meals they'll be making, such as breakfast, lunch, dinner or snacks.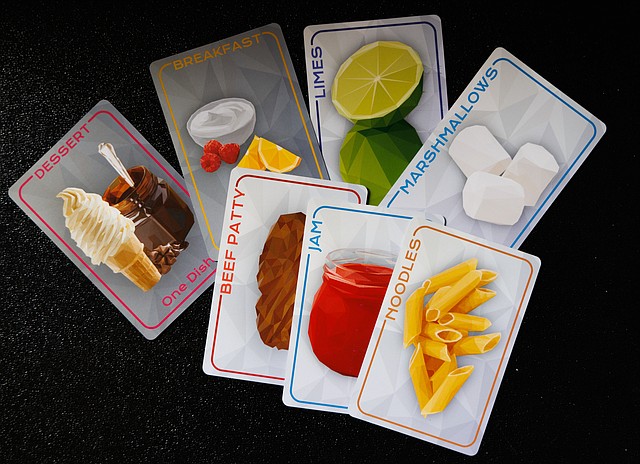 Rust explained two people pick a certain number of cards to make a meal, and everyone else votes on whose meal is better. Those "making" the meals are encouraged to get creative when they're explaining why theirs is the superior one. 
"They have to sell it," Rust said. "The other person says their thing and there's arguing and debating. Everyone who's not playing gets to vote." 
The concept for the game was fine-tuned during many bouts Rust played with his brothers, as well as with high school friends during lunch hour. Rust has played Cookdown hundreds of times and said he's still discovering meals people are creating that he hadn't thought of before.
"There are so many combinations that every game is different and new," Rust said. "It's always fun to see how people think about food. It's always a different experience and it's fun to learn what people like and don't like with food." 
Getting the game in stores was part of Rust's ambitious marketing plan.
Braden Breniser, a staff member at The Comics Place, said they're always glad when they can direct customers to games, comics, jewelry, stickers and other products created by people who call Bellingham or Whatcom County home. 
"Anything local here, especially stuff like [Cookdown] that we're really excited for, it's always cool to have," they said. "People always come in and ask if there's anything local — especially when stuff like that catches their eye anyway. 'Oh, it's a local artist!' they say. Then they get even more excited about it." 
Rust hopes that momentum continues. As he enters his final year of high school, he said the success of Cookdown will factor into whether he'll enter college directly after graduating, or take time to focus on selling the game and possibly creating a new version. 
Meanwhile, he'll be taking Running Start classes at Whatcom Community College, running for the Squalicum High School cross country team and figuring out more ways to get Cookdown seen and sold. Eventually, he hopes to make enough of a profit to purchase his own car. 
Having the support of his parents has been helpful in getting the game off the ground, Rust said. They provided some of the funding, which is another reason he's anxious to sell the initial run of games. 
When asked what advice he's given to other teenage entrepreneurs who might think high school is too young to start thinking outside of the box, he had a ready answer. 
"Well, it's really good to start now because you don't have to pay for rent or like car insurance or gas," Rust said. "You have more free time."
Cookdown can also be ordered online at Rust's website, trihedragames.com.