Safety
Resuming police foot patrols downtown part of city's renewed safety plan
A new report refocuses safety goals amid crime, behavioral health complaints
October 27, 2023 at 5:05 a.m.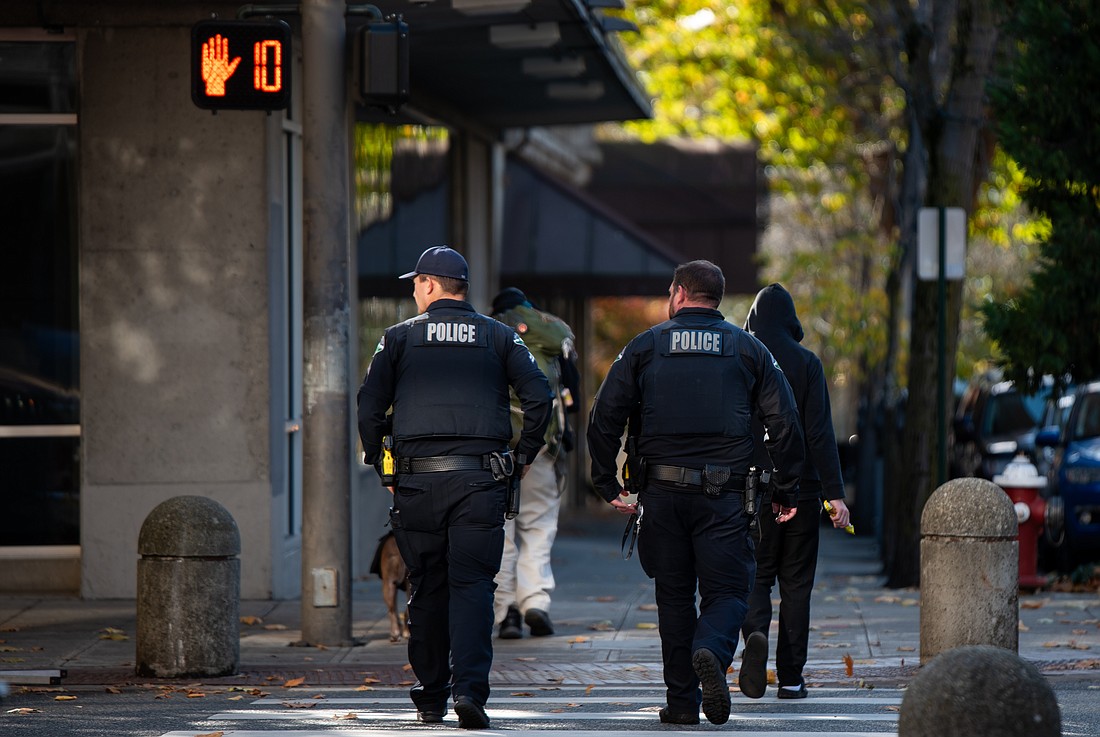 ---
---
Bellingham city officials want the public to know they've heard the complaints about downtown safety, and they've been actively addressing it for months.  
In July, the city resumed daily police foot patrols in downtown Bellingham, and in October, published a formal safety plan to curb crime and address the behavioral health needs of homeless people. But city leaders say downtown concerns go back years.  
"We saw an increase in a lot of different social problems that manifest in our downtown post-pandemic and we have heard from downtown merchants and the public about the concerns," Mayor Seth Fleetwood said in an interview this week with Cascadia Daily News. "So in the last couple of years, we've been responsive to voices that we've heard about conditions downtown." 
Fleetwood called increasing police presence downtown the "highest immediate need" at an Oct. 16 city council meeting. Foot patrols, which previously operated as regular assignments, stopped prior to COVID-19 due to police department staffing issues. 
Now the patrols are only being done on a voluntary, overtime basis because of continued staffing limitations, Bellingham Police Lt. Claudia Murphy said. They're staffed by two officers to prevent and handle criminal activity, funded through the department's overtime budget. 
The foot patrols are in addition to the $380,000 the city allocated this year to pay for private security downtown through Risk Management Solutions, and the $318,000 the city funded for the Downtown Bellingham Partnership's Safety Ambassador programs, according to the city's website. 
The city's new nine-page Downtown Safety Strategy outlines other progress made in the past two years and future plans to address public safety concerns in Bellingham's downtown core. 
Fleetwood said the city has received complaints from the public about drug use and safety issues. City council member Lisa Anderson said in an Oct. 16 committee meeting that in the previous two weeks, she had spoken to roughly 15 people about their concerns about downtown.  
Downtown businesses are complaining, too.  
The Downtown Bellingham Partnership's March survey of businesses found most reported safety as their main concern this year, executive director Alice Clark told city council in October. The partnership also gathered 1,300 signatures on a letter earlier this year to ask the city for increased security personnel, downtown cleanup and illegal drug prevention in Bellingham, Clark said.  
Clark presented community testimonials from downtown business owners and a parent to city council on Oct. 16. Vik Rajagopal, the CEO of Faithlife, said that their downtown office was "repeatedly burglarized" in 2021-2022 and had employees "verbally accosted and/or assaulted" near the building.  
Fleetwood said the Mayor's Downtown Safety Workgroup, created earlier this year to allow downtown businesses to interface with city staff, decided the "piecemeal" work the city was doing could be combined into a formal strategy. 
Clark said the strategy is a good step forward in addressing these issues. 
"It goes a long way for the community and the business community [to] be able to understand what has happened and what might be coming next," she said. 
Beyond foot patrols, the report points to the drug-use ban and efforts to recruit more police officers as part of the ongoing strategy. 
The strategy also references the city's support for building a new jail (Prop 4, Whatcom County Jail/services tax on the November ballot) to "provide consequences for criminal activity and connect people with the resources to address behavioral health needs." 
On the issue of behavioral health, the report highlighted efforts already taking place: the work of mental health and drug courts "to divert low-level offenders from jail into necessary treatment," the GRACE and LEAD programs that provide people with wraparound support and case management services, safety ambassadors and support for the Opportunity Council's Homeless Outreach Team.  
Homelessness has increased 27% this year from 2022, according to the June Whatcom County point-in-time count. Lighthouse Mission Ministries Base Camp is consistently reporting full occupancy. 
Another element is "Crime Prevention Through Environmental Design" efforts to make downtown spaces clean and appealing.  
According to the city's website, the city already has contracts with the Downtown Bellingham Partnership for cleaning and landscaping and graffiti removal.  
Clark said the partnership is currently working to add lights to and clean up an alleyway on the 1300 to 1400 block between Railroad Avenue and Cornwall Avenue, where people often gather. Clark called the alley "an easy [place] for someone to go through and sell drugs." 
Clark said cleanup and beautification efforts are mostly a "psychological thing" to convey to the community that the space is being cared for. The fact that projects like this could push people to other parts of the city is the "dilemma," Clark said. "If we go down that logic, does that mean we don't do it?"   
"What we need to do is try to lean on ... the things that we can influence that will change the perception of safety while longer-term solutions are being worked on," she said.   
Fleetwood said the "stickier part" about this work is it takes longer to address the systemic issues that result in homelessness, than it does to clean up parts of the city. 
"People want immediate fixes to these thornier issues that require a number of things including reaching broad agreements around what the appropriate course is and then being able to secure the finances to build them, and they take time."  
He said part of the solution is more federal support, noted in the strategy as one of the "next steps" to respond to homelessness and behavioral health needs downtown. Fleetwood said he remains "hopeful" that they can make progress and have a federal partner to help the city in addressing the larger issues.   
"We'll see progress over time, but it's not immediate," he said. "We're working on all of those things."