Community
Where to find trick-or-treat fun for Halloween 2023
Family fun options happening early in Whatcom, Skagit counties
October 26, 2023 at 12:06 p.m.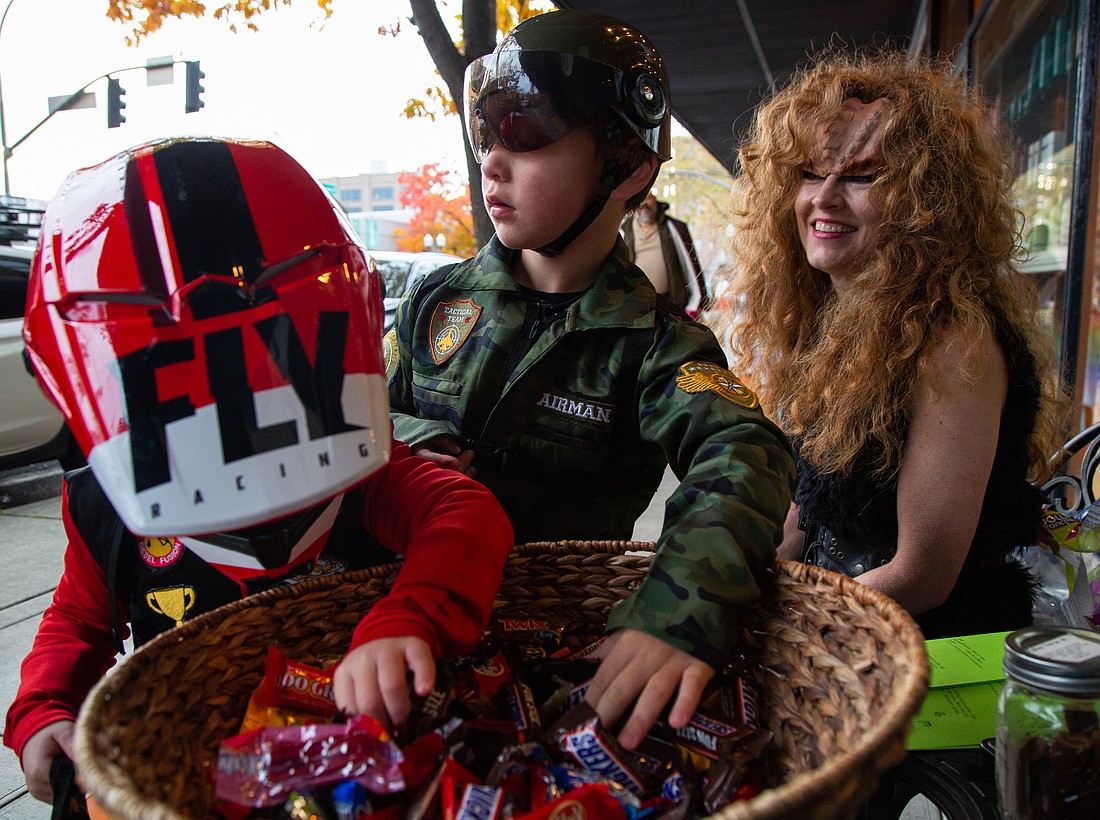 ---
---
Halloween fun starts early in some area locations. Here is a list of trick-or-treat options for families from Birch Bay to Anacortes, with some happening the weekend before and more scheduled for Tuesday, Oct. 31.
Saturday, Oct. 28
From 3–5 p.m. in Birch Bay, Trick-or-Treat on the Berm will feature stops along the pathway adjacent to the beach. Local businesses, organizations and community groups will be set up to disperse goods, and there will be more treats and family-friendly activities at the Birch Bay Vogt Community Library property on Birch Bay Drive. 
During that same Saturday time frame, Downtown Trick or Treat in Ferndale will return. Costumed kids are encouraged to start at Fourth and Main streets, and work their way east toward the riverwalk, where a bunch of businesses will be passing out candy. When kids have gotten their fill, steer them to Pioneer Park for Whatcom Frightmare's Haunted Barn, where "light scares" will be dispersed through 7 p.m. 
That same night, family-friendly Trunk-or-Treat events happen from 4–8 p.m. in the parking lot at Bellis Fair mall, and from 5-7 p.m. in Sudden Valley at 8 Barn View Court. Both events feature people decorating their car trunks with seasonal bling.
Tuesday, Oct. 31
On Halloween proper there will be a smorgasbord of happenings, including Downtown Bellingham Trick-or-Treat. At the annual event from 4–6 p.m., more than 100 businesses will open their doors to costumed kids throughout the urban corridor. Maps will be available to point the way, and attendees can also expect surprises. 
From 3–6 p.m., the "Fear"Haven Village Trick-or-Treat in historic Fairhaven will include a free souvenir photo booth at 1106 Harris Ave. It's a longtime tradition, so have your mini-vampires and werewolves ready to bare their fearsome fangs.
Barkley BOO-levard Trick-or-Treat happens from 4–6 p.m. in Barkley Village. Head to the gazebo for a free trick-or-treat bag and the first treat of the night, drop by a photo booth and then continue through the village to 23 different stops. The event happens rain or shine, so bring an umbrella if needed. 
From 4–7 p.m., the Cordata Place Trick-or-Treat event hosted by Christ the King church takes place throughout the business park, creating a safe, well-lit event with plenty of free parking and restrooms. 
The Great Lynden Trick or "Dutch Treat" kicks off at 2 p.m. and continues through 5 p.m., and youth ages 13 and younger are invited to participate. Look for the pumpkin-orange cones located in front of participating locales, and use caution when crossing the streets. 
From 4–5:30 p.m., the Downtown Sedro-Woolley Trick-or-Treat will start by the bowling alley and continue through downtown. A Trunk-and-Treat event will be taking place simultaneously in the lot by the Masonic Lodge at the corner of Warner and Metcalf streets.
The Mount Vernon Trick-or-Treat event happens from 4–6 p.m. along First Street. Organized by the Mount Vernon Downtown Association, the event purports to offer a "fun and safe" alternative to neighborhood trick-or-treating. 
Also from 4–6 p.m. will be the Downtown Anacortes Trick-or-Treat. BYOB (bring your own bag), and have a horror-ific time dropping by the participating merchants.