Profiles
Rearview reflections: Longtime WTA bus driver finds purpose in the front seat
After 33 years, Jeff James is an inspiration to his family, co-workers, passengers
October 22, 2023 at 5:00 a.m.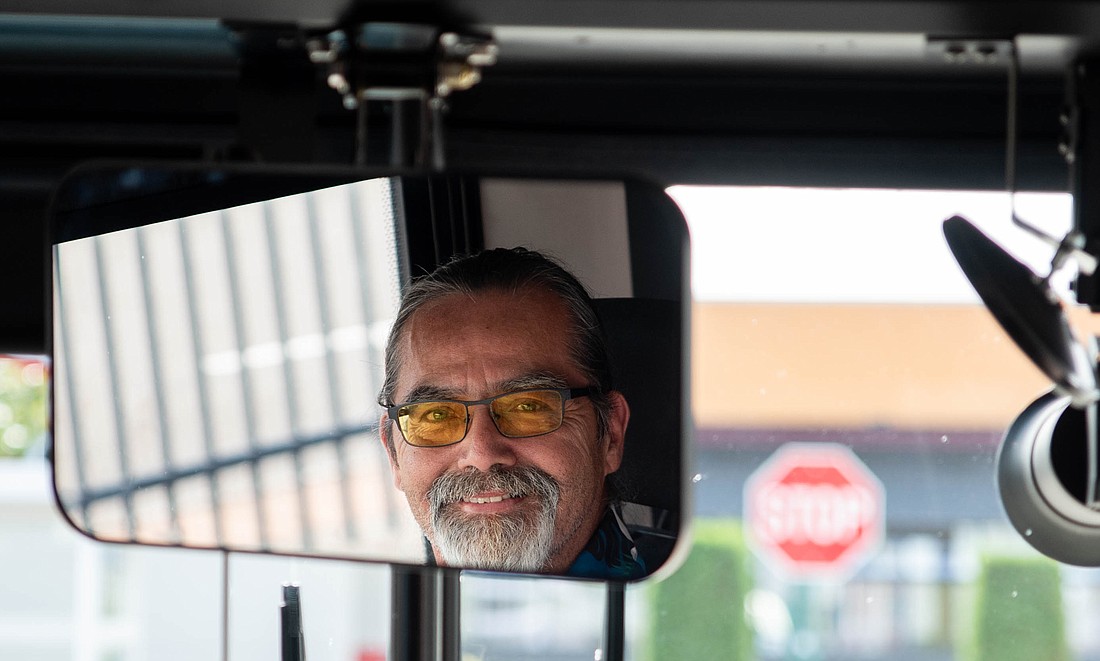 ---
---
Glancing in the rearview mirror from the driver's seat of a Whatcom Transportation Authority bus, Jeff James often finds himself humbled by what reflects back. 
Filling the 35-some seats behind him are people who check just about every demographic box. For some of his riders, the bus is a convenience — the way they get to and from work. For others, it's a pastime or social hour. Kids on the bus may view it as a classroom, where they get a crash course in sociology. For a handful of elderly passengers, it's freedom. And for a few less fortunate, the bus provides a couple of hours of shelter from the elements. 
"I get to see things firsthand. I get to see things from a perspective most people don't get to see things," Jeff said.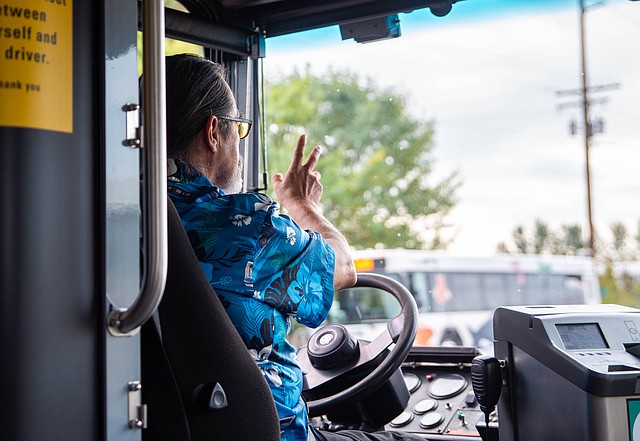 Wearing a blue Hawaiian shirt with WTA buses dotting the fabric, Jeff gestured to an empty bus at the Cordata Station on a late summer day. "Step into my office," he said, plopping himself into a seat onboard. 
The 63-year-old Lummi tribal member had just finished his morning shift, which went something like: wake up at 5:30 a.m., make coffee, eat a slice of wheat toast ("trying to watch my figure"), then flash his warm smile to passengers for the next four hours along Route 26 to Lynden. His afternoon shift, Route 3, takes him to the Bellingham airport and back. After driving 33 years for WTA, Jeff just about gets his pick of the routes. 
When Jeff describes his work, it's sometimes beautiful, sometimes ugly, never mundane and always good for the spirit. 
Public transit lends itself to random acts of kindness. He frequently sees riders help others with the $1 fare. If someone can't pay, they need only to ask Jeff for a ride and they are welcome to take a seat. 
"There's chances to serve your community in so many different ways," he said, noting that he's influenced by the teachings of his Lummi elders, which prioritize compassion and kindness.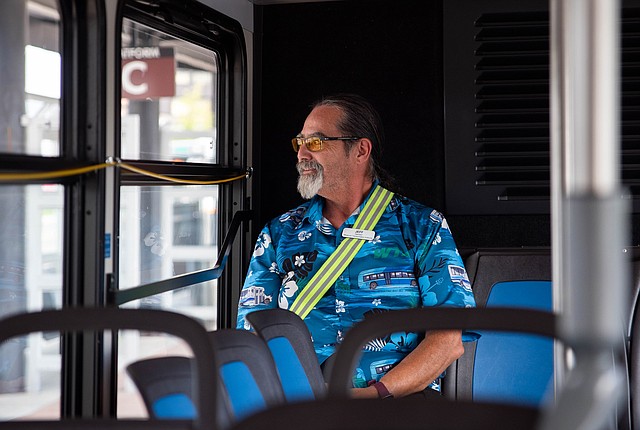 Jeff found that same kindness aboard the bus as a child. Though the bus fare was only 10 cents at the time, sometimes his family couldn't even afford that. Every day, he perched in his favorite back left corner to skip school and avoid hardships at home, watching moments unfold in the seats in front of him and life whiz by the windows.
"It was how I helped myself perceive life in a positive way," he recalled.
The bus was his escape — one time almost literally, when Jeff tried to use the 40-foot vehicle as a "getaway car" after stealing a candy bar from a drugstore as a child. 
His fond childhood memories on the bus didn't inspire his future career, though. Jeff worked a few different jobs in his 20s, planting trees and a stint as a commercial fisherman. When he applied for the "transit operator" job, he was vying for two positions and hoped he'd get the other one working at the Lummi Island Ferry dock.  
"I didn't have any idea what a transit operator was," Jeff said, chuckling. After rounds of interviews, he realized he'd be swapping the back left corner of the bus for the driver's seat. 
Three decades later, Jeff's life is intrinsically linked to the bus. 
"This has been pretty much my first home for a long while," he said. 
He met his second wife, Katie, when she hopped on as a passenger — they've now been married for 20 years. His son, Matt James, recalled riding as a kid, in what was a different experience than most others his age.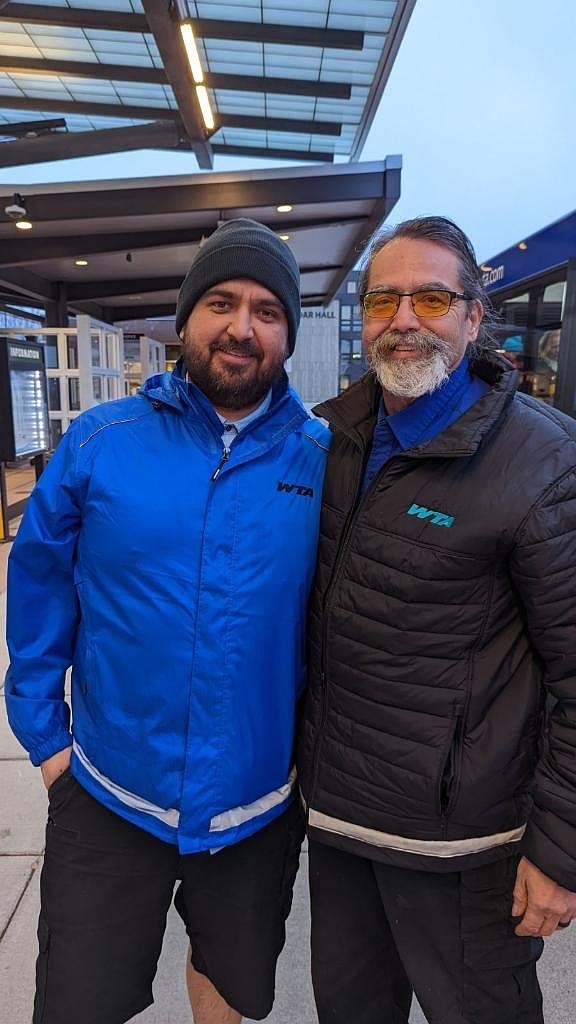 "I remember jumping on the buses, taking them to school, hearing all the bus drivers communicate with my dad while he was working, saying, 'Hey, Jeff, I got your boy. I'll make sure he gets to school,'" Matt, 36, said. 
Now, Matt's own kids love to chase buses looking for both dad and grandpa — last year, Matt followed in Jeff's footsteps and landed a job as a WTA bus driver. Matt's nephew, Jeff James III, also recently applied. 
"I'm so proud of him," Jeff said of Matt. "People say, 'He's got big shoes to fill.' Well, have you seen his shoes?" 
"I have my own shoes to fill," Matt said. 
He's already rivaled his dad in the yearly "Bus Roadeo," where transit operators from across the state gather to compete in exercises that test a driver's road skills through 13 different obstacles. Matt was the first new driver to win four trophies in the event, which included two "Rookie of the Year" accolades. 
Jeff said he's been crowned champion four or five times now, and this year, only beat his son by 10 points, taking second place. Jeff has also been named employee of the quarter and employee of the year, served as a union executive officer and mentored trainees. His most rewarding moments, though, are born out of helping others. 
"There's a lot of goodness that I'm trying to do here in my position," Jeff said.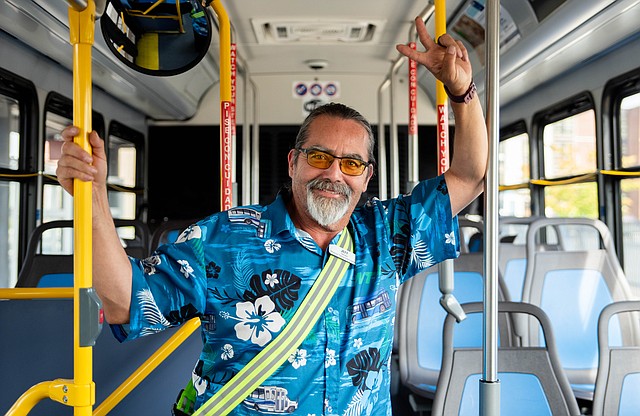 WTA paratransit driver Athena Bell met Jeff about 10 years ago, when she was standing in the winter cold waiting for her bus at Cordata Station. At the time, she worked as a forensics toxicologist at Whatcom Occupational Health. Jeff welcomed her onto his bus to warm up while she waited. 
"Honestly, I think that was about the first time in my life I had somebody extend that type of kindness without any provocation or anything, and it kind of left a lasting impression on me — part of the reason I wanted to join WTA in the first place," Bell, 49, said. 
As a trans woman of color, Bell said Jeff's compassion was foreign to her. She ended up using Jeff as a reference when she applied to be a WTA bus driver nine years ago. 
"I traded in my scrubs for a bus driver uniform, and I couldn't be happier," she said.
Now four years from retirement, Jeff is beginning to slow down and envision his life on two feet instead of four wheels. He wants to be a steward of the environment, even after he's left a job that heralds the same goal. 
Jeff finds peace outdoors, where his culture teaches him that man and nature are intertwined. 
All it takes is a glance in the rearview mirror for Jeff to see his bus through the same connected lens, as "one big, giant picture of community, where there are people struggling, people doing well, and everything in between all that."