The A-List
Amy's picks: Exhibit and market closures, teen revolt, pumpkins and a haunted lab
A curated selection of happenings in Whatcom and Skagit counties
October 19, 2023 at 5:00 a.m.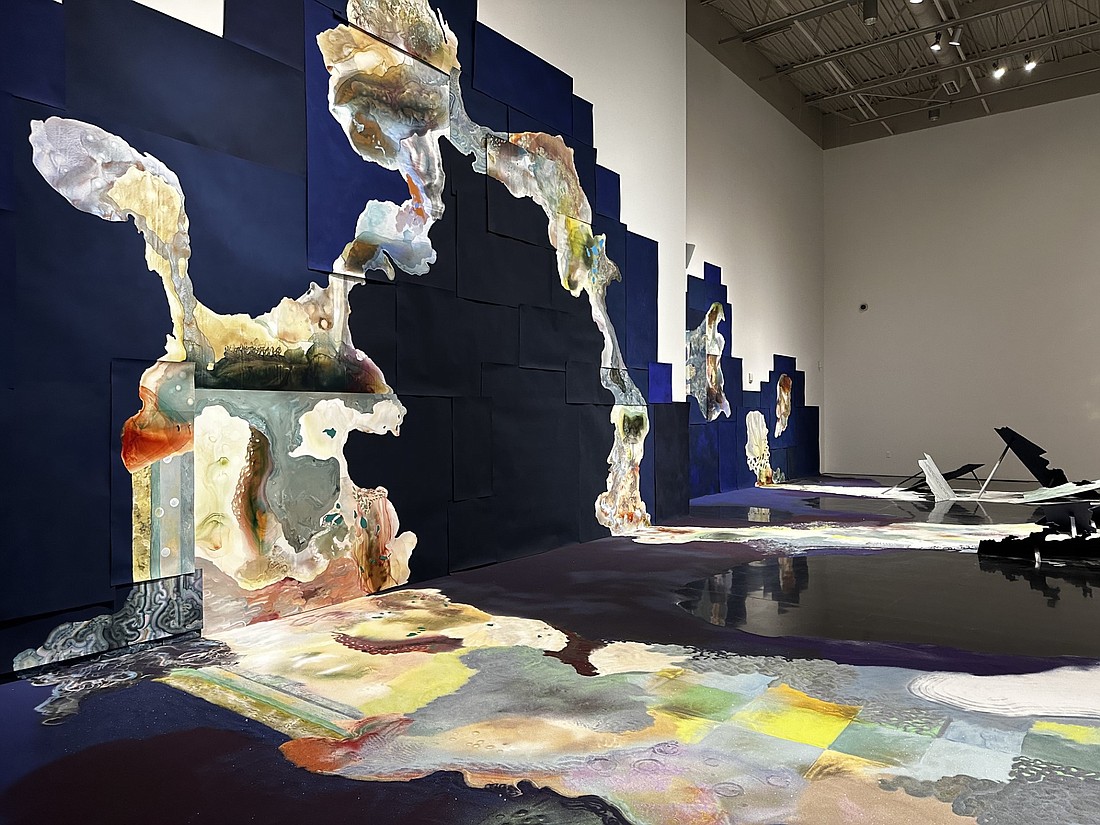 ---
---
AMY'S LIST 
Last week of Whatcom Museum Exhibits
Oct. 20–29, Lightcatcher Building, 250 Flora St.
If you haven't yet had a chance to see (and hear) Oregon-based artist Susan Murrell's "Sift/Shift" installation, I'd suggest making plans to immerse yourself in the multimedia spectacle, which the artist spent eight days in June building from a white-walled box into a winding, abstract landscape that meanders from the floor to the ceiling.
Devote some time to taking in the nature-based exhibition of sight and sound, then meander into the conjoining show, "Coastal Views: California and the Pacific Northwest." Featuring scenes from the 1800s to the present, the intriguing works act as a sort of historical roadmap. 
Don't miss looking in the smaller room in the main gallery space to take in the photographs Iranian-born artist Mina Afshari shot as part of her "Let it Shine" exhibition. The lush photos of produce and flowers sourced from a farmers market near her Carmel, California, apartment resemble Renaissance paintings and pack an emotional wallop. Info: whatcommuseum.org. 
Haunted Lab Experience
4–7 p.m. Friday, Oct. 27, Spark Museum of Electrical Invention, 1312 Bay St.
I listed this event in my recent Halloween roundup, but it's worth mentioning again as it's geared toward elementary- and middle-school-aged youth who may learn a thing or two from the resident mad scientists such as Dr. FranklinStein. They will be leading science experiments, talking about peculiar phenomena and doling out a bit of spooky fun. 
With a mere $5 price tag ($3 for members), the event will be open-house style, with raffles prizes drawn at 5 p.m., 6 p.m. and 7 p.m. Costumes will be welcome, and there will be plenty of other things to look at during your drop-in visit. Info: sparkmuseum.org.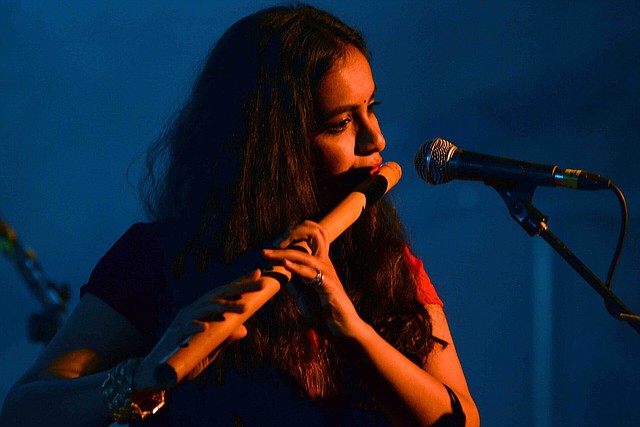 Lyric and Spirit
7:30 p.m. Friday, Oct. 27, McIntyre Hall, Mount Vernon
Whatcom and Skagit counties have produced plenty of amazing musicians over the years, but I think it's critical to hear a variety of voices from other countries when contemplating the broader milieu of world music. 
This event will give listeners a chance to do just that. Described as an "international celebration of women's voices," the concert will feature singer, arts educator and activist Lenna Bahule, who hails from Mozambique. Joining her on the triple bill will be Brazilian singer and violinist Luísa Lacerda and Bangalore, India-born flutist and singer Varijashree Venugopal. 
The gig will feature solo sets by each performer, a collaborative set with the trio, and a flute solo by Venugopal. With only eight stops on this inaugural U.S. tour, we're lucky to have this level of global talent make a stop in Skagit County. Tickets are $33–$43. Info: mcintyrehall.org. 
'The Revolting Teens of Sherwood'
7 p.m. Oct. 27–28, Mount Baker High School, 4936 Deming Road
I love seeing what teen actors get up to when given the chance to shine onstage. So does director Allison Ross, who's excited to present this different take on the tale of the hero who steals from the rich to give to the poor. 
"This version has the sword-fighting, adventures and camaraderie that we expect from any Robin Hood tale," she told me. "It also playfully engages contemporary conversations around money, gender, power and what it means to live as neighbors in our world today. These teens of Sherwood are not revolting in character, but are in the act of revolt." 
Ross also said students have been excited to learn more about stage combat and playing characters with big personalities. They've also found meaning in the storytelling and are looking forward to sharing the show with the community at large. Shows take place through Nov. 5, and tickets will be $5–$7 at the door. Info: mtbaker.wednet.edu. 
Crave a Beer, Carve a Pumpkin
Noon to 8 p.m., Saturday, Oct. 28, Stones Throw Brewing Co.
This daylong event will serve a couple of purposes. Those who choose to put their creative marks on orange orbs will be entered into contests for prizes in both youth and adult categories, and the pumpkins will also light up the night during the annual trick-or-treating event taking place Tuesday, Oct. 31 throughout historic Fairhaven.
Here's how things will work: Carving tools and pumpkins will be provided by Skagit Valley's Ebb & Flow Herb Farm, and the contestants — the pumpkins — will be on display through Halloween. People can vote on their favorites, and winners will be announced on Nov. 1. Adult prizes are beer-related, and youth prizes include a Toy Garden gift certificate, Acme Ice Cream gift card and extra Halloween candy. Entry to the event is free, beer is not. Info: stonesthrowbrewery.com. 
'The Rocky Horror Picture Show'
9 p.m., Saturday, Oct. 28, Mount Baker Theatre; and 7:30 p.m. and 11:59 p.m., Lincoln Theatre
I was first introduced to the weird, wonderful world of this 1975 musical comedy horror film when I was a high school student from Idaho taking a two-week acting course at Western Washington University and temporarily living on campus. 
Wearing costumes sourced from the university's drama department, we made our way to the now-shuttered Sehome Cinema 3 to be part of the spectacle surrounding the story of a young couple who end up at a strange castle on a stormy night and meet a host of odd characters. It was a revelation. People were singing along, throwing food, getting up to dance and generally having a great time. 
Forty-eight years after its first showing, the cult classic is still going strong, as evidenced by its runs at the MBT and the Lincoln — which will also include a midnight screening, as was meant to be. In Bellingham, a shadow cast of local actors will be performing in front of the screen. If you're up for doing the "Time Warp," get tickets now. Info: mountbakertheatre.com, lincolntheatre.org. 
Farmers Market Farewells
Anacortes, Kendall, Deming, Mount Vernon, Birchwood, Oct. 28–29
It's always bittersweet when farmers markets shutter for the season, but it's also a great excuse to drop by to chat with growers and stock up on produce such as winter squash, garlic, onions, pumpkins and more — as well as the last of fall flowers, honey, local crafts and assorted sundries. 
While the Bellingham Farmers Market will be going strong through the third Saturday in December, Saturday, Oct. 28 will see the closure of the Twin Sisters markets in Deming and Kendall, as well as the popular Anacortes Farmers Market. On Sunday, the final Birchwood Market will take place in front of Northwest Pawn on Birchwood Avenue, and the Skagit Valley Farmers Market in the Vinery at Christianson's Nursery in Mount Vernon will bid farewell. 
But don't fret, holiday markets are on the horizon, and I'll keep you in the know. Info: christiansonsnursery.com, anacortesfarmersmarket.org, twinsistersmarkets.com. 
ALL EVENTS
Thursday, Oct. 19
Doctober
Through Oct. 26, Pickford Film Center, 1318 Bay St.
More than 30 documentaries from the region and around the world will be shown during this perennially popular film festival. There will also be special guests, filmmaker Q&As, community panels and parties. Info: pickfordfilmcenter.org. 
'The Crucible'
7 p.m., Blaine High School, 1055 H St.
The 1953 play by American playwright Arthur Miller concludes this weekend at the high school's Black Box Theater through Saturday. The plot is a dramatized story of the Salem Witch Trials that took place in Massachusetts in the 1690s. Tickets will be $10 at the door. Info: blainesd.org. 
Friday, Oct. 20
Whatcom Frightmare Haunted House
5–9 p.m., Pioneer Park, 2004 Cherry St., Ferndale
Both "light scares" (lights on, monsters dancing) and "full scares" (lights out, anything goes) will be offered at this annual event, which takes place at various times through Oct. 29. Entry is $8 per person or $30 for a group of four. Children under 5 will be scared for free. The venue is wheelchair accessible. Info: whatcomfrightmare.com. 
Wildhaven Writers Book Launch
6 p.m., Village Books, 1200 11th St.
Be among the first to get your hands on "Women's Bodies, Women's Words" at this event with co-authors Nancy Canyon, Leslie Wharton and Suzanne Harris. The members of the longtime writing group wrote the book in response to Roe v. Wade being overturned and the personal essays and poetry are an urgent call to protect reproductive rights. Attendees will also be able to register to vote at the event. Advance registration is requested. Info: villagebooks.com. 
'Enigma'
6:30 p.m. and 9 p.m., New Prospect Theatre, 207 Prospect St.
Through Saturday, Cabaret Atelier will present "Enigma: A Sensual Cabaret Dance Showcase." In this captivating display of dance mastery, you'll witness a blend of both burgeoning talents and seasoned professionals, culminating in a seamless performance that transcends the ordinary. Tickets are $22–$28. Info: newprospecttheatre.org. 
Scream Fair Haunted House
7–10 p.m., NW Washington Fairgrounds, 1775 Front St., Lynden
"Horror High" will be the theme of this annual haunted house taking place tonight and tomorrow and Oct. 27–28. Use Gate 2 to find your way to the hallowed halls of hell. Entry is $10–$12, $5 for a return trip. Parental discretion is advised. Info: screamfairhaunt.com. 
Hellingham
7:30 p.m. and 9:30 p.m., The Upfront Theatre, 207 Prospect St.
This perennially popular improvised murder mystery returns to Bellingham with two shows every Friday and Saturday through October, and one show on Halloween proper. Each night's show involves audience participation, and the output of each night's mystery is always different. Tickets are $10–$16. Info: theupfront.com. 
Mikhail Voskresensky
7:30 p.m. Friday, Oct. 20, Performing Arts Center Concert Hall, WWU
Watching this 88-year-old concert pianist perform might change your life. The celebrated musician escaped from Russia last year after its invasion of Ukraine, and is sharing his talents — and his story — while touring the U.S. Tonight's performance will include works by Mozart, Beethoven, Tchaikovsky and Liszt. Tickets are $20–$49. Info: tickets.wwu.edu. 
'Hay Fever'
7:30 p.m., Performing Arts Center, WWU
This play by Noël Coward shows on various dates through Oct. 28 at the PAC's intimate DUG Theater. The production — a cross between high farce and a comedy of manners — is set in the 1920s in an English country house, where four members of the eccentric Bliss family have each invited a guest to spend the weekend. Tickets are $9–$16. Info: tickets.wwu.edu. 
Southside Comedy Hour
8 p.m., Corner Taphouse, 1125 Finnegan Way
The second iteration of this monthly stand-up comedy show features Lucy Tollefsen and Adam Tiller and stars Rachel Aflleje. Nikki Kilpatrick of Venus Productions will host the event. All are accomplished comedians who perform regularly throughout venues in Washington and beyond. Tickets are $15–$20. Info: eventbrite.com. 
Saturday, Oct. 21
Pancake Breakfast
8–10 a.m., Lynden Community/Senior Center, 401 Grover St.
All ages are welcome at this monthly event featuring a menu of pancakes, eggs, sausage, coffee and orange juice. Entry is $6 general, or $3 for kids ages 5 and younger. Info: lyndencommunitycenter.org. 
Dockside Market
10 a.m. to 2 p.m., Squalicum Harbor, Gate 5
Local fisherfolk will be selling their fresh and frozen wares at this twice-monthly market. Visit the dock early to find the best selection of seafood options. Details and participating vendors and products are posted 24 hours ahead of sale days. Info: bellinghamseafeast.org. 
Fall Festival
10 a.m. to 4 p.m., Birch Bay Activity Center, 7511 Gemini St., Blaine
Celebrate the spirit of the season with music, games and more, including a kids carnival, s'mores, vendors, and food and drink. Entry is free to the community appreciation event being hosted by Birch Bay Park and Recreation District 2. Info: birchbaychamber.com. 
Bellingham ComiCon
10 a.m. to 5 p.m., Ferndale Events Center
Known as Northwest Washington's premier comic book convention, the popular event features well-known illustrators such as Randy Emberlin ("Amazing Spider-Man"), James Lloyd ("Futurama"), Jesikah Sundin ("Legacy") and Chris Warner ("Black Cross"). Artists Alley, exhibitors, events, vendors and more will be part of the day's highlights. Cosplay costumes are encouraged. Tickets are $10. Info: bellinghamcomicon.com. 
Rockhound Recycling Rendezvous
10 a.m. to 5 p.m., Pioneer Pavilion, 2007 Cherry St., Ferndale
At this annual event, Mount Baker Rock and Gem Club members swap or sell their found items, and invite the public to come purchase them — as well as learn more about what they do. Activities for kids, educational displays, door prizes and more are part of the rock-solid lineup. Entry is free. Info: mtbakerrockclub.org. 
Greenhouse Market
11 a.m. to 4 p.m., Azusa Garden Centre, 14904 state Route 20, Mount Vernon
Creative Avenue Northwest will host this "magical and spooktacular" indoor and outdoor market featuring handmade works by artists, crafters and more. Attendees are also encouraged to shop for plants. Entry is free and family- and pet-friendly (all pets must be leashed). Info: creativeavenuenw.com. 
Helen Loggie Museum Opening
Noon to 4 p.m., The Loggie, 1308 E St.
Peruse an extensive collection of drawings and etchings by local artist Helen Loggie (1895–1976) at this open house. The former Territorial Courthouse where the works are being displayed is now the Helen Loggie Museum of Art. Entry is free. Info: theloggie.org. 
Social Fabric Fashion Show
2–4 p.m., Bay Street Village, 301 W. Holly St.
Couturier Renee Sherrer will host this live event featuring live models descending a staircase wearing fall-focused jackets, coats and hats she designed and made, as well as hats crafted by well-known Seattle and Bellingham-based milliners. Entry is free. Info: socialfabricart.com. 
Skagit Drag Show, Fall Edition
6 p.m. Lincoln Theatre, Mount Vernon
Tickets are $25, and a portion of the proceeds and additional donations will support an LGBTQ+ scholarship for a Skagit Valley College student, as well as other area nonprofits known to provide inclusivity and diversity. Info: lincolntheatre.org. 
Skagit Symphony
7:30 p.m., McIntyre Hall, Mount Vernon
"Second Chances" will be the theme of this season-opening concert featuring Mary Howe's tone poem "Starts," a celebration of Rachmaninoff's 150th birthday and Mussorgsky's legendary "Pictures at an Exhibition." Tickets are $10–$50. Info: mcintyrehall.org. 
Sunday, Oct. 22
31st annual Wild Mushroom Show
11 a.m. to 5 p.m., Viking Union Multipurpose Room, WWU
After four years, the Northwest Mushroomers Association's annual Wild Mushroom Show returns. The event will feature mushroom-related book sales, a children's table, info about dyeing fibers with fungi, local vendors, mushroom identification and displays, and presentations by professional mycologists. Entry is $5–$10 (kids 12 and under can attend for free). Info: northwestmushroomers.org.
Anniversary Halloween Party
6–8 p.m., The Majestic, 1027 N. Forest St.
The Salsa Collective will host this Halloween-themed salsa dance party. A costume contest, food to share, decorations and music will all be part of the festivities. The fun will kick off with a half-hour intro lesson. No experience, partner, special clothes or shoes are required. Entry is free, but donations of $7–$10 will be accepted. Info: 614-349-8226. 
Monday, Oct. 23
Guffawingham
8:30 p.m., Boots Bar and Lounge, 1263 Barkley Blvd.
This weekly stand-up comedy show has returned from the ashes and can be attended every Monday. Each show will feature a host, and people can show up early to sign up for a slot on the roster. Info: Facebook.com/guffawingham. 
Thursday, Oct. 26
'The Weir'
7:30 p.m., New Prospect Theatre, 207 Prospect St.
Conor McPherson's "hauntingly evocative" play will be presented by the Sojourner Theatre Cooperative through Sunday, and again Nov. 2–5. The tale begins on a windy night in a pub in a small Irish town. When a pretty young woman who has just moved into a suspected haunted house joins a gathering of locals, things take a turn for the terrifying. Tickets are $15. Info: newprospecttheatre.org. 
Beach Comedy
8:30 p.m., Beach Cat Brewing Company, 7876 Birch Bay Drive
This monthly stand-up comedy event is back, so if you want to try your hand at making people laugh, sign up on-site before the show starts. Timmy Booth will headline the free event. The space is ADA-accessible. Info: beachcatbrewing.com. 
Scary Stories to Improvise in the Dark
9:30 p.m., The Upfront Theatre, 207 Prospect St.
This late-night event will feature performers improvising horror shorts inspired by audience members, so come prepared with your own terrifying tale. Tickets are $10. Info: theupfront.com. 
Friday, Oct. 27
Fall Festival
6–8 p.m., Cordata Presbyterian Church, 400 Meadowbrook Court
All ages are welcome at this family-friendly event featuring games, prizes, candy, crafts and a cardboard box maze. Costumes are encouraged. Entry is free. Info: cordatachurch.org. 
The Nightmare on Maple
6–11 p.m., Boundary Bay Brewery, 1107 Railroad Ave.
This fundraising event put on by Bellingham Arts Academy for Youth (BAAY) at Boundary's "fear garden" is all ages until 9 p.m., then will be 21+ and feature more mature content. During the early time frame on Friday, Saturday and Tuesday, Zombie Dancers will also be performing at the nearby BAAY Theatre. Admission is $5 for kids ages 12 and under, $10 general. Info: baay.org. 
'Misery'
7 p.m., Blaine High School, 1055 H St.
Blaine Community Theater opens this play based on Stephen King's novel of the same name this weekend, with additional showings happening Nov. 3–5 at the school's Black Box Theater. The story follows bestselling author Paul Sheldon, who wrecks his car during a winter storm and is "rescued" by his biggest fan, Annie Wilkes. Tickets are $14–$17. Info: blainecommunitytheater.com. 
Circus of Doom
7 p.m., Cirque Lab, 1401 6th St.
Bellingham Circus Guild revives its Beastly Frightful Unspeakably Spooky Circus of Doom, with various performances happening through Oct. 31. Deanna Fleysher hosts the shows, which will offer both family-friendly and cabaret shows featuring more risqué content. VIP tables are also available. General admission tickets are $20–$30. Info: bellinghamcircusguild.com. 
Saturday, Oct. 28
Fall Family Activity Day
10 a.m. to 4 p.m., Whatcom Museum's Lightcatcher Building and Old City Hall
Stop by for a celebration of all of Halloween's creepy crawly creatures at this daylong event. Start at the Lightcatcher to meet dogs and puppies from the Alternative Humane Society and make braided dog toys and fun animal masks, then head to Old City Hall at noon to make bat launchers, spiders and more. The basement will host an escape room in the old Bellingham jail. Entry is $3. Info: whatcommuseum.org. 
Bellingham Old Town Art Stroll
Noon to 5 p.m., historic Old Town
Support local artists at this monthly event, which takes place on the fourth Saturday of the month at a variety of venues throughout downtown. Participants typically take place at studios in Bay Street Village, Pickford Art Studios, Bay Street Studios and beyond. Entry is free to participate and attend. Info: rebecca@rebeccameloy.com. 
Boo at Bloedel
2:30–5 p.m., Bloedel Donovan Community Building, 2214 Electric Ave.
Children in preschool through second grade are invited to this annual candy-free event. Kids can wear costumes, make crafts and win prizes playing games at the booths. From 2:30–3:30 p.m., organizers will offer a sensory-friendly experience. Limited number of headphones will be available for families to use. Suggested donation is $3. Info: cob.org. 
Bassoon Apocalypse VI
7 p.m., Performing Arts Center Concert Hall, WWU
Western Washington University's Bassoon Studio presents "Hollow Bassoon" — a night full of arrangements of video game and cartoon music and games. Come dressed in costume for a contest taking place during the show. Entry is free and open to the public. Info: cfpa.wwu.edu.  
Subdued Famous Gala
7 p.m., The Underground, 211 E. Chestnut St.
Bellingham Burlesque Show invites people to this event featuring costume contests, performances, drink specials and much more. Attendees can win a variety of prizes. Tickets are $25. Info: bellinghamburlesqueshow.godaddysites.com. 
Risque Renegades
9 p.m., The Blue Room, 202 E. Holly St.
"Wet Dreams on Elm Street" will be the theme of this nouveau-burlesque cabaret show. The woman-owned, identity-inclusive, body-positive dance troupe aims to defy cultural former and empower freedom of thought and expression. Tickets are $25–$30; bring extra cash for dancers. Info: blueroombham.com. 
Before heading out to attend in-person happenings, check with individual venues to make sure the event is still taking place as scheduled.
The A-List appears weekly. To submit an event for consideration, email calendar@cascadiadaily.com.