Parks & Rec
Chanterelle Trail extension set to open by early November
New path features lookout over Lake Whatcom
October 17, 2023 at 2:46 p.m.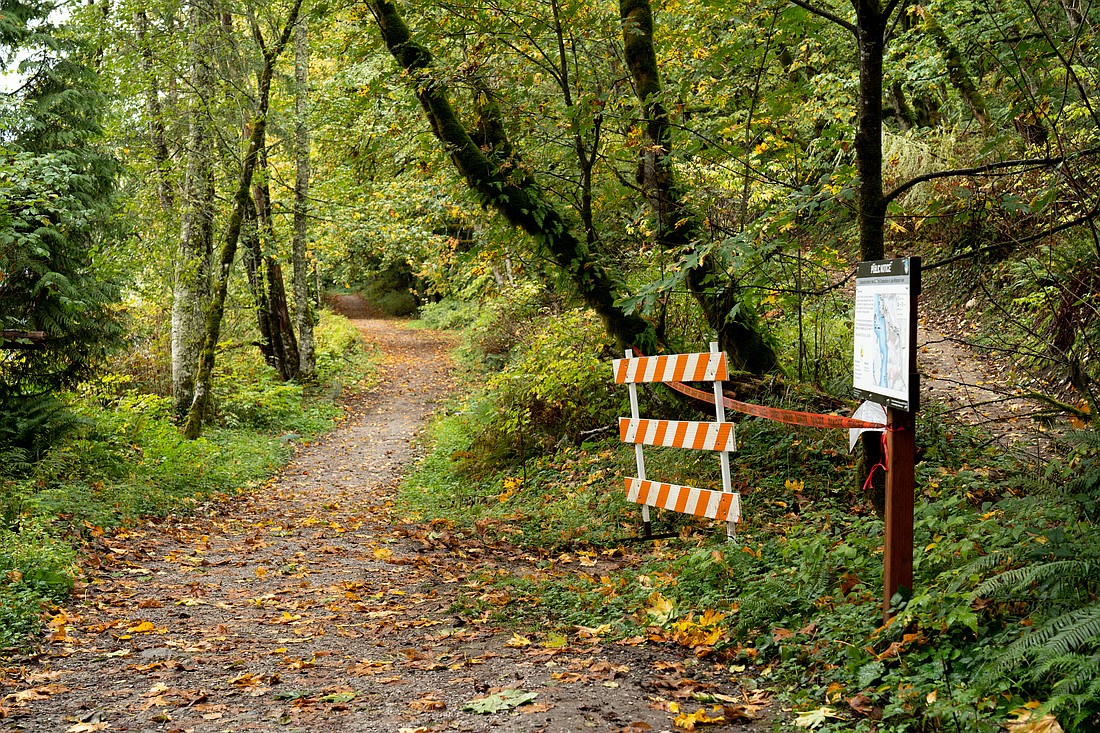 ---
---
Hikers visiting Lake Whatcom Park will soon have a new way down from the top of the popular Chanterelle Trail.  
After more than a year of construction, trail builders expect to finish the new path by late October or early November, Whatcom County Parks Supervisor Asa Deane said.  
The new 4.25-mile trail will descend 2,000 feet from the current terminus of the Chanterelle Trail to the lakeside Hertz Trail, which hikers can follow back to the parking lot. The full loop involves about 12 miles of hiking and will be open for foot traffic only, Deane said.  
The new path also includes an out-and-back spur that takes hikers to a viewpoint about halfway up the trail.   
"Our trail crew out there saw it as an opportunity and ran it by us, and we were all about it," Deane said. "It's probably only a quarter mile out and a quarter mile back that leads to a gorgeous overlook that overlooks all of Lake Whatcom. It is going to be a real attraction, I think, for the trail."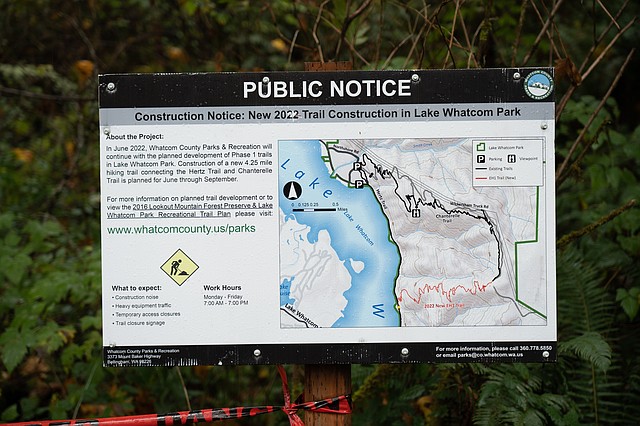 Northwest Trails, Inc. won the contract to construct the new trail in 2021 with a bid of $274,647. Deane expects the total cost to come out to around $300,000. He attributed most of the discrepancy to rate changes and additional quantities of work that negotiators did not predict during the bidding process. 
Whatcom County Parks plans to refer to the newly constructed section as a continuation of the Chanterelle Trail. The path features more moderate grades closer to the lake but gets steeper as it climbs higher. In some places, trail builders had to construct staircases to manage the pitch, Deane said.  
To build the extension, Whatcom County Parks and Recreation put up signs to restrict access to the popular Surfin' Turf mountain biking trail in June 2023. The user-built trail followed a similar, if steeper, path to the planned hiking route and would conflict with its construction. Surfin' Turf had been officially closed since 2015, but riders had enjoyed it anyway. Many expressed dismay over its loss.   
Barriers currently block hikers from accessing the new trail. Whatcom County will notify the public of the trail's opening by posting to its website and social media accounts. No plans for a ribbon-cutting ceremony currently exist.
"Right now, we are just trying to get it open as soon as possible, so we're going to prioritize that first," Deane said.
The completion of this project marks the first among several other planned improvements to Lake Whatcom Park, including the construction of new public restrooms, additional parking spaces and stormwater treatment infrastructure.