Community
Bellingham historian and visionary gets street named after him
'The community is different and better' because of Brian Griffin
October 16, 2023 at 5:11 p.m.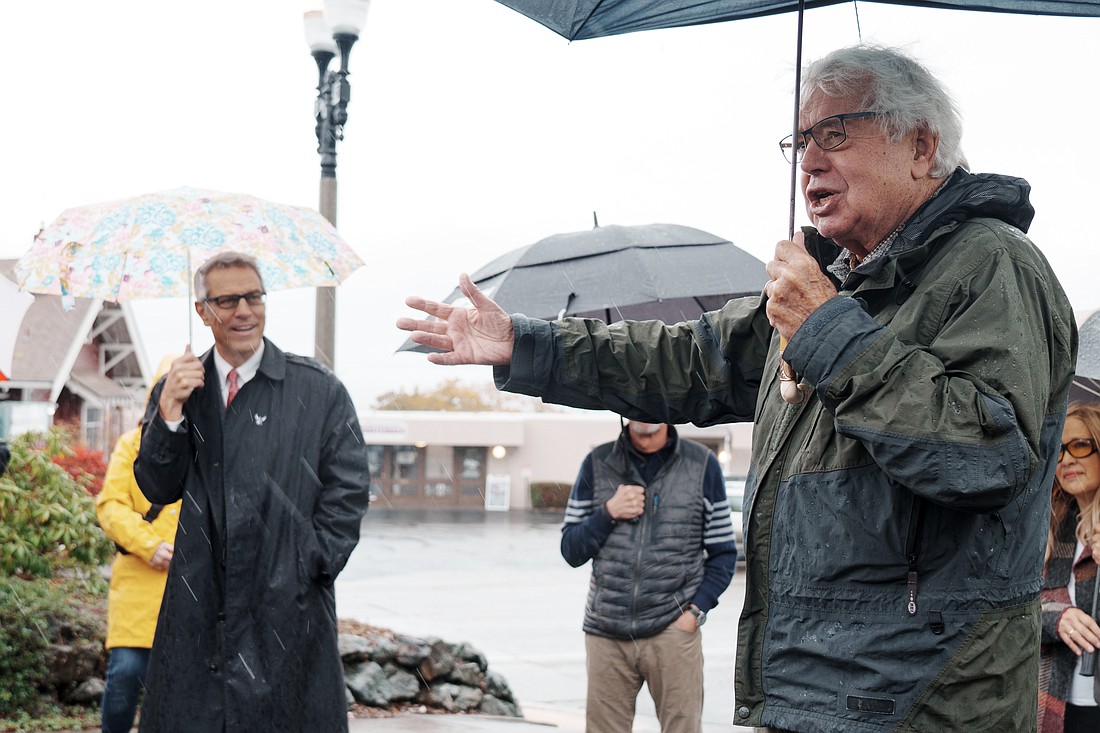 ---
---
The approximately 40 people who gathered Monday, Oct. 16 in front of Fairhaven Library to celebrate the unveiling of Brian Griffin Lane weren't deterred by the steady sideways rain and strong wind that threatened to blow umbrellas out of their hands.  
In fact, most were all smiles as Bellingham Mayor Seth Fleetwood talked about historian, author, Rotarian and community visionary Brian Griffin's many contributions to the city where he was born. A few feet away, Griffin, 90, looked on. 
Bellingham resident Michael Bradburn had urged the mayor to honor his accomplished friend with a street naming — something that isn't typically done until after someone has passed away. As of Monday, though, the previously unnamed lane parallel to 12th Street and near Finnegan Way now bears the wording "Brian Griffin Ln."
"The street is short, but his name will live on a long time," Bradburn said.
Bradburn met Griffin at the Rotary Club of Bellingham in the early 2000s. Griffin has been a member since 1960, and Bradburn said he was amazed at his many accomplishments.  

"Brian has been instrumental in so many amazing aspects of the growth of Bellingham," Fleetwood told the crowd during the event, pointing first to the Beyond Greenways levy that passed in 1997 which allocated $20 million to expand the city's park system. 
"The very first acquisition that we made was the area behind Village Books for $330,000. And then Brian saw that and ran with it. It's an amazing design, which is now the Fairhaven Village Green. Plus he helped with Depot Square, and making Boulevard Park happen. We owe him a huge debt of gratitude," Fleetwood added.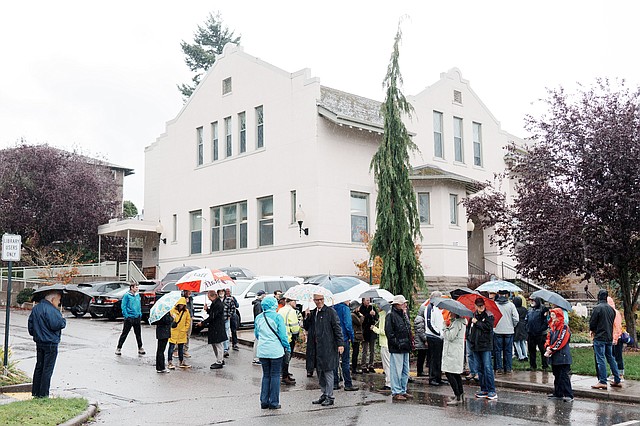 In addition to landmarks Griffin helped establish, Bradburn noted that the retired insurance broker has also written "page-turning" books about historical figures such as J.J. Donovan, narrates the Whatcom Museum's Sunset History Cruises in Bellingham Bay each summer, and is a self-taught maker and player of ukuleles. 
Although the previously-unnamed lane isn't a huge thoroughfare,  Bradburn said it's close to where Griffin lives on South Hill, and is near many of the landmarks he was instrumental in helping create.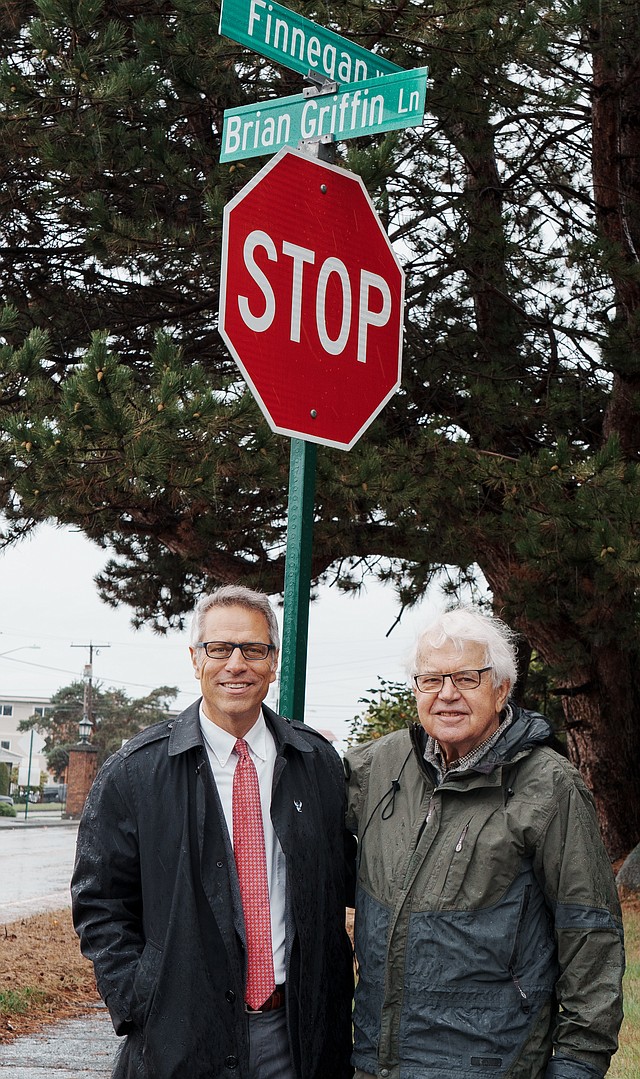 Also on hand at the blustery event was Whatcom Museum research technician and photo archivist Jeff Jewell, who first met Griffin in 1996 when researching the family who had once lived in the house Griffin and his wife, Marya, purchased on 16th Street. 
Since then, Jewell said, they've worked on a number of "rabbit hole questions" over the years, filling in details and missing pieces for each other about Bellingham history. Among many other collaborations, they also worked together on a 2013 exhibition about Donovan's Bellingham legacy that appeared at Whatcom Museum's Old City Hall. 
"Brian Griffin is a history maker," Jewell said. "He lived it firsthand, knows and cares about this place; it's his home. He is what traditional societies refer to as an elder — a person whose lifetime of experience, knowledge and connections provide wisdom for greater society. I have searched him out for wisdom many times."
While Griffin accepted the many congratulations he received from the mayor, friends and longtime admirers, he was humble when accepting praise.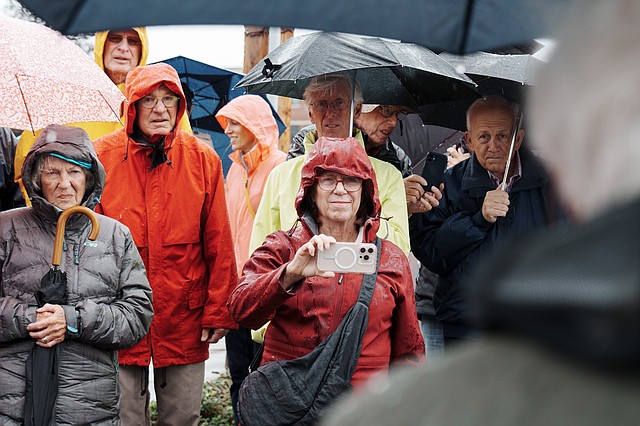 "It's wonderful, I'm really thrilled," he said. "I probably don't deserve it, but I enjoy it. I've lived here all my life, and I've always been interested in why cities develop and how things get done." 
York neighborhood resident Doug Starcher wasn't surprised Griffin was able to draw a crowd, or that he accepted his accolades with such modesty. 
Starcher said he first met Griffin when he was 15 and working at a local gas station where Griffin was a customer. As an adult, he got to know him through the dedication of the downtown Bellingham Parkade, working on the Fairhaven Village Green, and selling bricks to fundraise at what would become the Depot Market Square. 
More recently, Griffin worked with Starcher to get the Rotary Club to contribute $100,000 to the Bellingham Theatre Guild's capital campaign, which helped install an elevator at the theater to make it more accessible to people of all abilities. 
"The community is different and better because of him," Starcher said. "He has an amazing legacy. A street isn't anywhere near important enough for what we owe him."