Softball
Slowpitch softball league's die-hards play rain or shine
Whatcom County's 50 teams continue with 8 teams in fall, winter
October 14, 2023 at 5:00 a.m.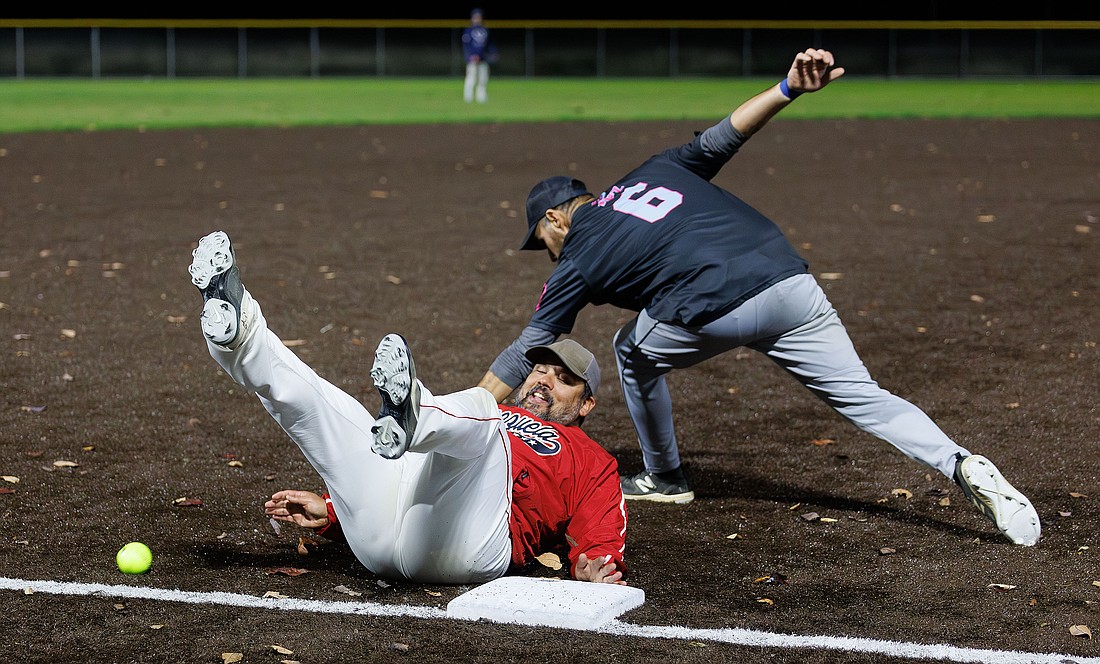 ---
---
Sporadic winds and intermittent downpours aren't enough to dampen the spirits of Whatcom County Softball League members. 
Aided by large dugout heaters and loud music speakers, eight teams gathered at the Lummi Nation Community Park and Ball Fields on a dreary Tuesday evening, with one goal in mind: complete their doubleheader. The teams playing in the fall and winter are the last, year-round players of what is annually, a 50-team summertime league.
"The people that are signing up to play in the winter, like right now, they're pretty much the die-hard folks," league board member and schedule maker Terry Stach said. "They'll play in anything."
The league, which currently has 48 teams and upwards of 400 players, was known as the Bellingham Men's Slow Pitch Association until 2020, when the league was all men, and had been since its creation in the 1980s. 
Games were moved to Ferndale in 2020, coed was added in 2022 and women's teams were added in 2023. The name was outdated, so Stach — who got involved in organizing the league in 2014 — and the board changed it. The nearly 50-year-old league is now as inclusive as it has ever been.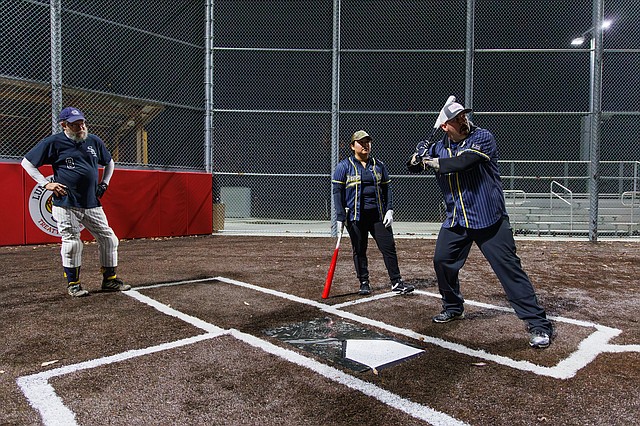 "The coed nights are the wildest nights," Stach, 45, said. "I don't play coed; I just hear the stories. And they can get a little competitive."
Currently, the eight fall and winter teams play once a week on Tuesdays. In the summer, games are played at the four Phillips 66 Baseball Fields in Ferndale, and there are games every evening during the week. Games moved to the Lummi Nation fields for the fall season since they have turf infields.
With nearly 50 teams and varying skill levels, divisions are created based on experience, and they play on different nights.
Players come from all walks of life, largely ranging from 18 to those in their 50s. There are teams of refinery workers, Customs and Border Patrol workers and various other businesses. It's a melting pot, Stach said. Games generally run from 6:30–10:45 p.m.
In summer, Mondays are the bottom-tier divisions, Tuesdays are the second highest, Wednesdays make up the middle range and Thursdays are the elite tier, or Division I. Friday is all coed.
"If you're new, I would highly suggest Monday night or Wednesday," Stach said. "Thursday or Tuesday will make you cry."
Stach encourages those wanting to join a team to visit the league's Facebook page, request to join and introduce themselves. With more than 800 group members, it's not uncommon for last-minute teams to form quickly through Facebook messaging requests and compete only hours later.
Dean Oostra, 50, who has been on the same team, Coastline Equipment, for the last 17 years, has played in the league for 32 straight seasons. He joined the league at 18, soon after finishing his high school baseball career at Lynden High School.
Oostra has played in numerous divisions within the league, and at one point was on three different teams. Although he doesn't play as much as he used to, it's about the love of the game, Oostra said.
"When I was 23, I played 350 games over a three-month span in the summertime," Oostra said. "The only night I wasn't playing was Friday night because I was traveling."
Before the league moved to Ferndale, games were played at Frank Geri Fields in Bellingham — part of the Civic Athletic Complex. 
With a $1,000 team entry fee (about $76 per person for a 13-player team), the league wanted to be able to play on the best fields possible, Stach said.
"I hate to say this … but Ferndale takes better care of the fields," Stach said. "We've been building on that relationship. We're blessed to have, you know, their support as much as we do."
But the close-knit community aspect is what drives the league's numbers, Stach said. When he got involved almost 10 years ago, his main goal was to get as many people playing as possible. They have succeeded in that area, Stach said, in addition to retaining many of the longtime members.
One player from Oostra's team commutes from Concrete, while another comes over from Coupeville. That commitment has come naturally, Oostra said.
"These guys are dedicated, and we love to play, to try to keep our team together and play as competitively as we do," Oostra said.
"It can be a late night, especially some of these guys, they do shift work or [there are] a lot of construction workers," Stach said. "They've got to be up early to go to the job sites the next morning. So, you've got to love playing, right?"