Lifestyle
A creepy compendium of Halloween haunts and jaunts
Scare up freaky fun in Whatcom and Skagit counties
October 12, 2023 at 5:05 a.m.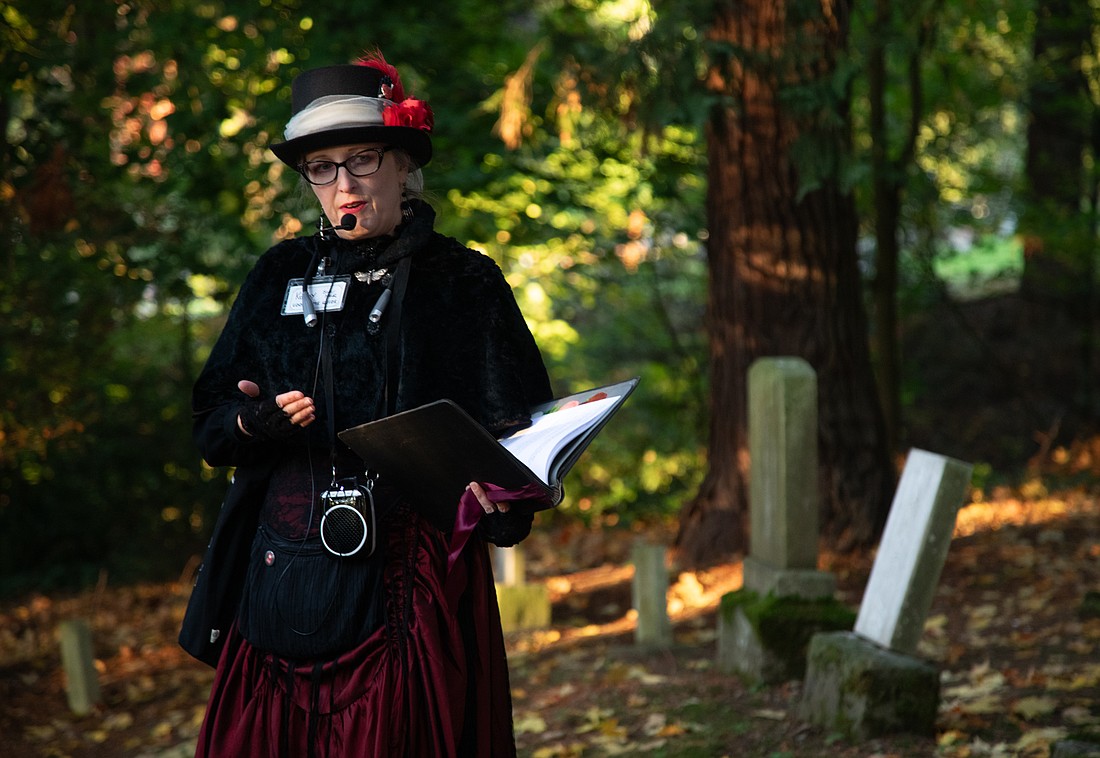 ---
---
It's not a mistake that this roundup of ghost walks, cemetery tours, haunted houses, freaky films and other Halloween-related happenings is published right around Friday the 13th.
The auspicious date seemed like a perfect jumping-off point for people to scare up some fun before the big night.
Movies
Not surprisingly, the first event on the long list is a screening of the 1980 horror flick "Friday the 13th" on Friday, Oct. 13 at the Lincoln Theatre in Mount Vernon. The showing is part of a film series dubbed Tales from the Silver Scream, and includes showings of "Frankenstein" (Oct. 18), "Psycho" (Oct. 25), "78/52: Hitchcock's Shower Scene" (Oct. 26) and "The Rocky Horror Picture Show" (Oct. 28). Info: lincolntheatre.org.  
On Saturday, Oct. 14, head to Western Washington University's Performing Arts Center to watch a free screening of "Knife of Glass," the first feature-length horror film produced by the WWU Film Production Club. Described as "a waking nightmare," the film centers on a student investigating the disappearance of her roommate. Info: wwu.edu.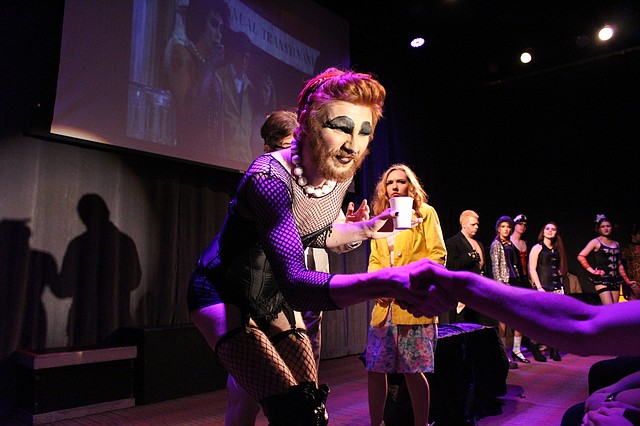 Another film series, Scream King, features movies based on terrifying Stephen King books, including "Christine" (Oct. 17), "Cujo" (Oct. 24), and "Carrie" (Oct. 31) at the Pickford Film Center. The Pickford's other spooky series, Bleedingham — an annual Northwest horror short film festival — happens Oct. 27–29. Info: pickfordfilmcenter.org. 
Other big-screen scares include the bewitching "Hocus Pocus" (Oct. 21) and the camp classic "The Rocky Horror Picture Show" (Oct. 28) at the Mount Baker Theatre, and screenings of Alfred Hitchcock's maniacal masterpiece "The Birds" at Regal Barkley Village (Oct. 22–23). Info: mountbakertheatre.com, regmovies.com. 
Theater productions
Chill-inducing theatrical offerings also are abundant this month. For example, head to the scene of the Salem witch trials when Blaine High School presents showings of "The Crucible" at the school's Black Box Theater Oct. 12–14 and 19–21. Info: blainesd.com. 
Later in October, at the same space, Blaine Community Theater will present showings of "Misery," an adaptation of Stephen King's novel about a novelist and the woman who "saves" him from a winter storm. Never have the words "I'm your biggest fan" carried so much weight. Performances begin Oct. 27 and end Nov. 5. Info: blainecommunitytheater.com. 
If you prefer your scares to come with a serving of hilarity, procure tickets to the improvised murder mystery "Hellingham," which shows every Friday and Saturday night throughout October, and on Halloween proper at Bellingham's Upfront Theatre. Each night's show involves audience participation, a triple body count, and the unveiling of a ruthless killer. Info: theupfront.com. 
As an added bonus to the spooky season, The Upfront will also present Scary Stories to Improvise in the Dark on Oct. 19 and Oct. 26. The late-night events will feature performers improvising horror shorts inspired by audience members, so come prepared with your own terrifying tale. Info: theupfront.com.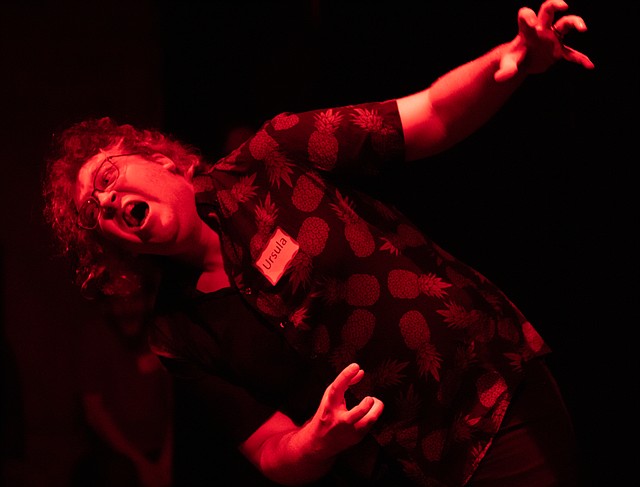 Sunday, Oct. 15 brings an Of Dreams and Nightmares Studio Showcase to the stage at the New Prospect Theatre. O-Pole Studios will host this evening of "spooky and saccharine" entertainment, where instructors and students will debut a variety of body-positive dances from pole dance to chair routines, burlesque and more.
Also at the New Prospect are upcoming showings of Conor McPherson's "The Weir" Oct. 26–29 and Nov. 2–5. The "evocative" play presented by the Sojourner Theatre Cooperative begins on a windy night in a pub in a small Irish town. When a pretty young woman who has just moved into a suspected haunted house joins a gathering of locals, things take a turn for the horrifying. Info: newprospecttheatre.org. 
Walking tours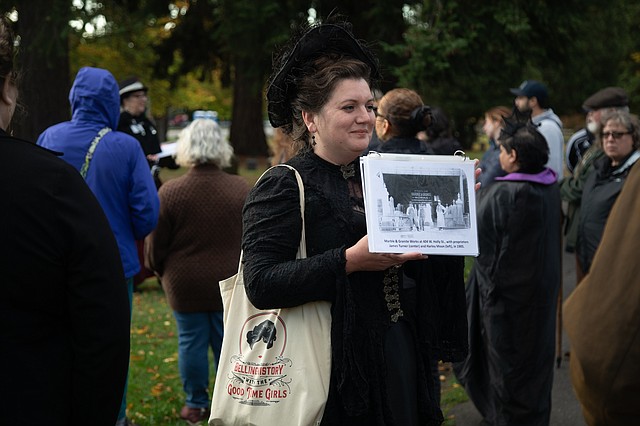 Walking tours with sides of scares — and history — are also on the lineup this month. Every weekend, The Good Time Girls lead costumed "Gore and Lore" tours in downtown Bellingham and historic Fairhaven, bringing the city's dark history to light. (Public tours fill up quickly, but limited private tours are also available.) Their Buried Bellinghistory events are sold out for October, but that doesn't mean you can't wander through Bayview Cemetery on your own looking for headstones of long-dead relatives or prominent city leaders. Info: bellinghistory.com. 
The Concrete Ghost Walk is sold out for its first run on Oct. 14, but space still remains for the Oct. 21 and 28 outings, which begin at 7 p.m. at the 100-year-old Concrete Theatre and continue throughout the historic town center. The two-hour guided walk features historic reenactments and true-life tales of death, violence and hauntings, so it's best to leave the kids at home.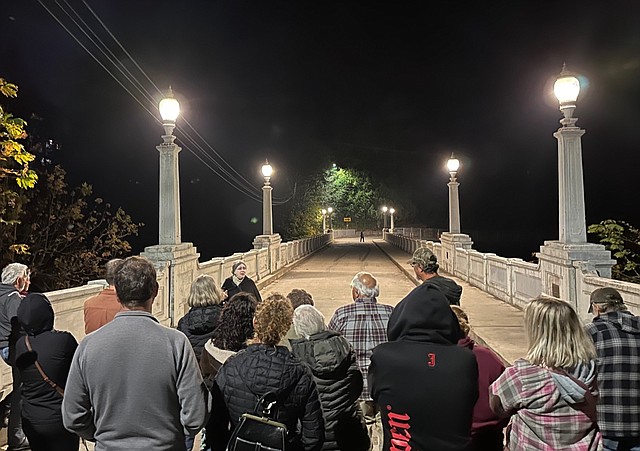 If this aforementioned happening isn't your cup of (poisoned) tea, show up for a free presentation with author Matthew Sullivan. A Nicer Kind of Murder: The Evolution of Crime Fiction can be attended Sunday, Oct. 22 back at the Concrete Theatre. Info: concrete-wa.com. 
The Fairhaven Ghost Tour with paranormal investigator and intuitive psychic Charles Crooks is also a walking tour covering several city blocks in the Fairhaven core. But Crooks' focus is more on ghosts, ghost stories and ghost-hunting as opposed to history. Taking place Saturdays and Sundays Oct. 14–29 and on Halloween night, the one-hour tour includes stories of local ghosts and the guide's own experiences with them. Private outings are also available. Info: bellinghamghosttours.com. 
Haunted houses
If you enjoyed petting goats at the Northwest Washington Fair in August, be aware the livestock barn will be housing horror, not farm animals, as part of the annual Scream Fair Haunted House taking place Oct. 20–21 and 27–28 in Lynden. This year's theme is Horror High, with a tagline of "When the bell rings and the lights go out, evil comes out to play …" Be prepared to be scared even before you enter the abyss, as costumed actors have been known to pop out of nowhere to elicit screams. Info: screamfairhaunt.com.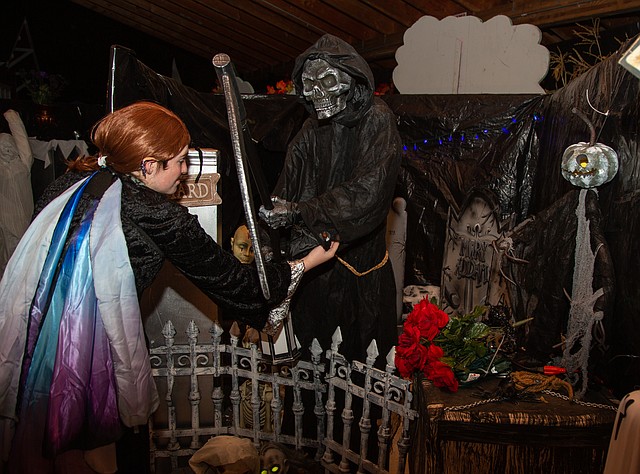 Opening the same weekend, the Whatcom Frightmare Haunted Barn opens its doors Oct. 20–22 and 27–29 in Ferndale at Pioneer Park. "Light scares" take place earlier on three of the five nights, meaning the lights are kept on and monsters will be dancing instead of trying to kill you. There will also be a monster guide for kids who are afraid to come in. The lights will be off for the "full scares," so anything goes. Additionally, expect tarot readings, twisted carnival games and fire dancing. Info: whatcomfrightmare.com. 
The Nightmare on Maple also returns for a run Oct. 27–28 and 31 at Boundary Bay Brewery's Haunted Fear Garden on Railroad Avenue. The Bellingham Arts Academy for Youth (BAAY) fundraising event features scenes filled with ghosts, ghouls and surprises at every turn. Earlier in the night, the event is all-ages, with scarier fare happening after 9 p.m. As part of the undead scene, the Zombie Dancers troupe will also be performing at the nearby BAAY Theatre on State Street. Info: baay.org.
Costume contests, eerie events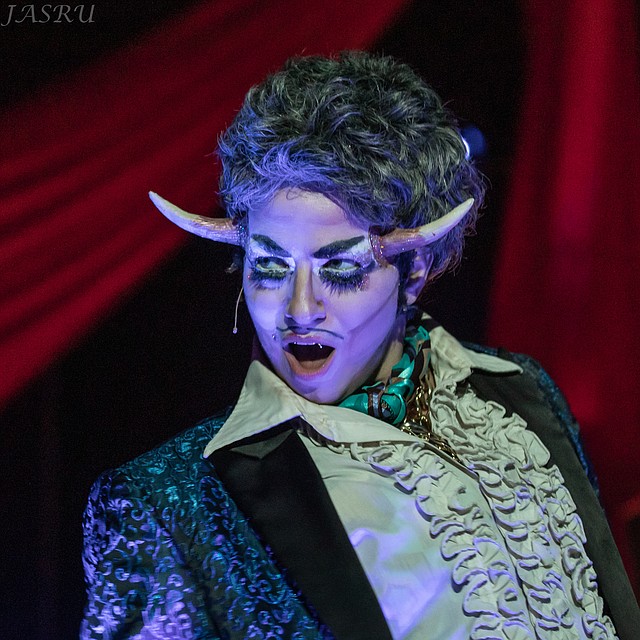 Take a break from the darkness with Wag-O-Ween, happening Saturday, Oct. 21 in Anacortes at Seafarers' Memorial Park. The inaugural event hosted by the NOAH Center will feature "spooky fun" costume contests for both humans and canines, live music and trick-or-treating for the four-legged attendees. Info: thenoahcenter.org. 
On the evening of Oct. 21, the Bellingham Queer Collective will host a Halloween-themed Bellingham Erotic Ball at the Bellingham Cruise Terminal. In addition to drag and burlesque performances, there will be body painters, a costume contest and carnival-style fundraising games. Info: bellinghamqueercollective.org. 
Fast forward a week or so, and another slew of eerie events will be coming your way, such as The Museum of Peculiar Phenomena Friday, Oct. 27 at the Spark Museum of Electrical Invention in downtown Bellingham. The "haunted lab experience" will include interactive events, demonstrations and games dreamed up by mad scientist Dr. FranklinStein. Info: sparkmuseum.org.
You'll want to procure tickets ASAP for the Bellingham Circus Guild's return of the Beastly Frightful Unspeakably Spooky Circus of Doom coming to Fairhaven's Cirque Lab Oct. 27–31. The anticipated event regularly sells out, and you won't want to miss the tricksters, jugglers, beloved weirdos, eerily synchronized dances, and aerial wonderments meant to spook and amaze you. Deanna Fleysher returns to host the show, which emphatically denies being a haunted house. "There will be no zombies with chainsaws jumping out from behind corn," organizers say. "You're safe with us." Info: bellinghamcircusguild.com.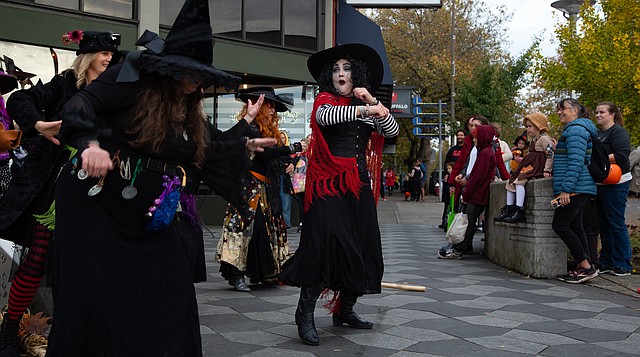 Trick-or-treat events for costumed youth are scheduled everywhere from downtown Bellingham to Fairhaven, Mount Vernon, Anacortes, Sedro-Woolley, Concrete, Ferndale, Birch Bay and beyond, with some occurring Saturday, Oct. 28 and the rest Tuesday, Oct. 31. 
Also on Halloween proper will be the return of Thrillingham after four years being locked away in a crypt. The event features locals who have been learning Michael Jackson's "Thriller" dance and transform into zombies, witches and assorted other creepy characters for a performance at the Kulshan Trackside on the downtown Bellingham waterfront. The event starts at 7 p.m. with special guests performing, culminating with the zombies rising from the undead to steal your soul. Info: facebook.com/thrillingham.
As we get closer to Oct. 31, keep an eye out for even more events for both adults and kids. Around these parts, Halloween is more of a season than a one-day affair, and this creepy compendium confirms it.