Running
Inaugural Lummi Island Loop draws mainland runners
Race raises funds to support Lummi Island Foundation for Education
October 8, 2023 at 4:53 p.m.
|
Updated October 8, 2023 at 8:26 p.m.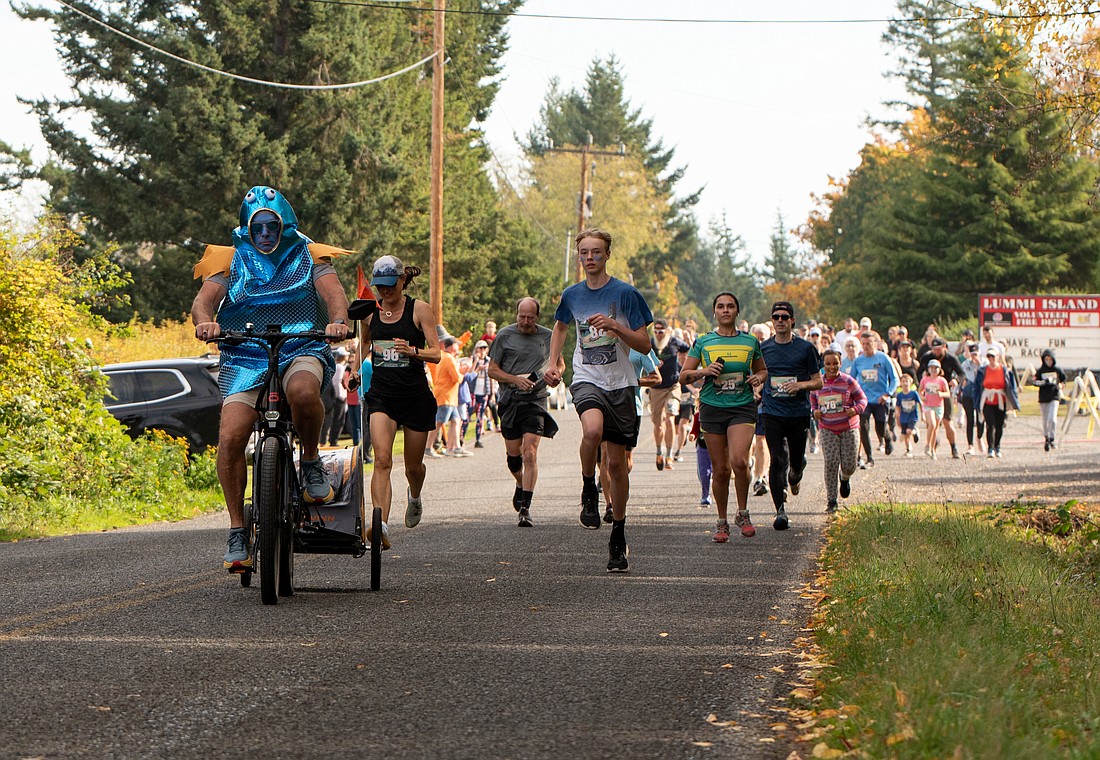 ---
---
The race began with the blare of Fire Engine 38's horn. It was an islander's version of 11 a.m. — a few minutes late, perhaps, but only so that everyone had enough time to finish registering and gather at the start line.  
More than 100 participants lined up for the inaugural running of the Lummi Island Loop on Sunday, Oct. 8. The event offered both 5K and 10K courses, with each starting from the Fire Hall and ending nearby, at The Islander store.  
The longer course traced a clockwise route around the island's northern tip, while the shorter course sampled a portion of Legoe Bay before following a more interior loop. Driftwood forts, sun-faded maritime relics and banks of maple leaves lined both routes.  
Tenzo Kawal, 8, crossed the finish line first. He had ridden the course on his bike and had left his mother, Reena, who was the 5K's first female finisher, minutes behind. The two live in Seattle but enjoy many weekends on the island. They had registered for the race after seeing signs for it all around their neighborhood.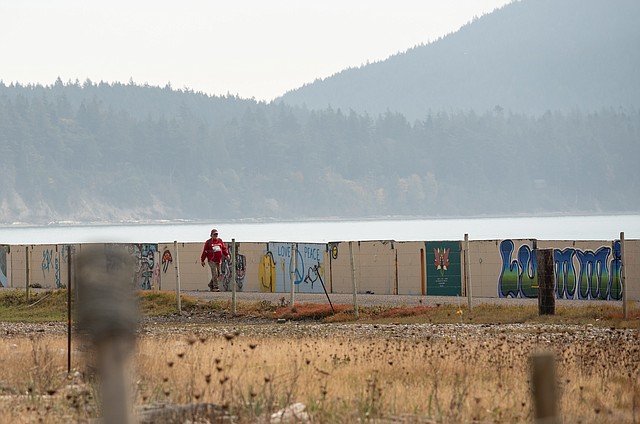 The Lummi Island Foundation for Education (LIFE), an organization that supports and advocates for the on-island Beach Elementary School, organized the race. In past years, LIFE hosted an annual Turkey Trot fundraiser that drew a smaller crowd primarily composed of island residents. 
"It was a bit more of a fun-raiser than a fundraiser," LIFE chair Jennifer Bettis said. 
Last year, a few participants from the mainland expressed interest in tracking their finish times and standardizing the race distance, LIFE board member Olivia Marshall said. Likewise, a local runner with experience organizing larger events approached LIFE and offered to help formalize the race in order to draw a bigger crowd and raise more funds for the school. 
This year's event offered participants a shuttle to and from the ferry dock, with local espresso available beforehand and hot pizza from the Beach Store Cafe ready near the finish. The top two male and female finishers for each distance earned prizes, while other runners found random success in a raffle.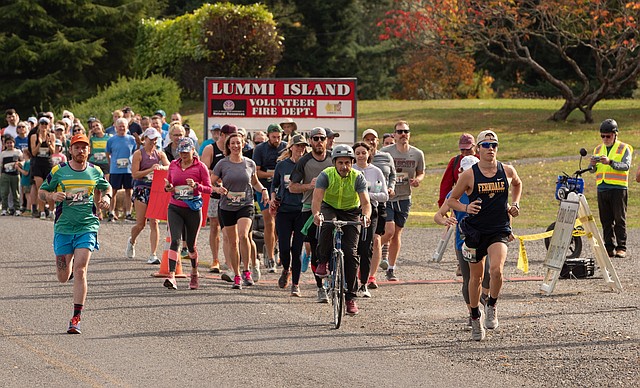 "We hope that folks are able to soak in the fall colors and really enjoy the island experience of riding the ferry," said Sarah Ketchley, vice chair of LIFE. "We really want to invite everyone to enjoy the community because it is a very unique and welcoming community, and we are excited to share that." 
LIFE raises all of its funds through donations, grants and events. The organization has benefitted Beach Elementary School in a number of ways, from funding the purchase of new library books to bolstering its curriculum and offering music education courses. In the future, it hopes to fund an after-school program and possibly a foreign-language instructor.  
Thirty-eight students currently make up the student body of Beach Elementary, with 13 of those students commuting from the mainland.  
Connie Smith, a 5K finisher, traveled to the island from her home in Tulalip. She runs one 5K a month and chose this one because she believes in supporting public education.  
"It was beautiful, and I always love supporting a good cause," she said. 
A previous version of this story misspelled Sarah Ketchley's last name. The story was updated to reflect this change on Oct. 8, 2023 at 8:26 p.m. Cascadia Daily News regrets the error.