The A-List
Amy's picks: Cats in space, cider, knives and art
A curated selection of happenings in Whatcom and Skagit counties
October 5, 2023 at 4:55 a.m.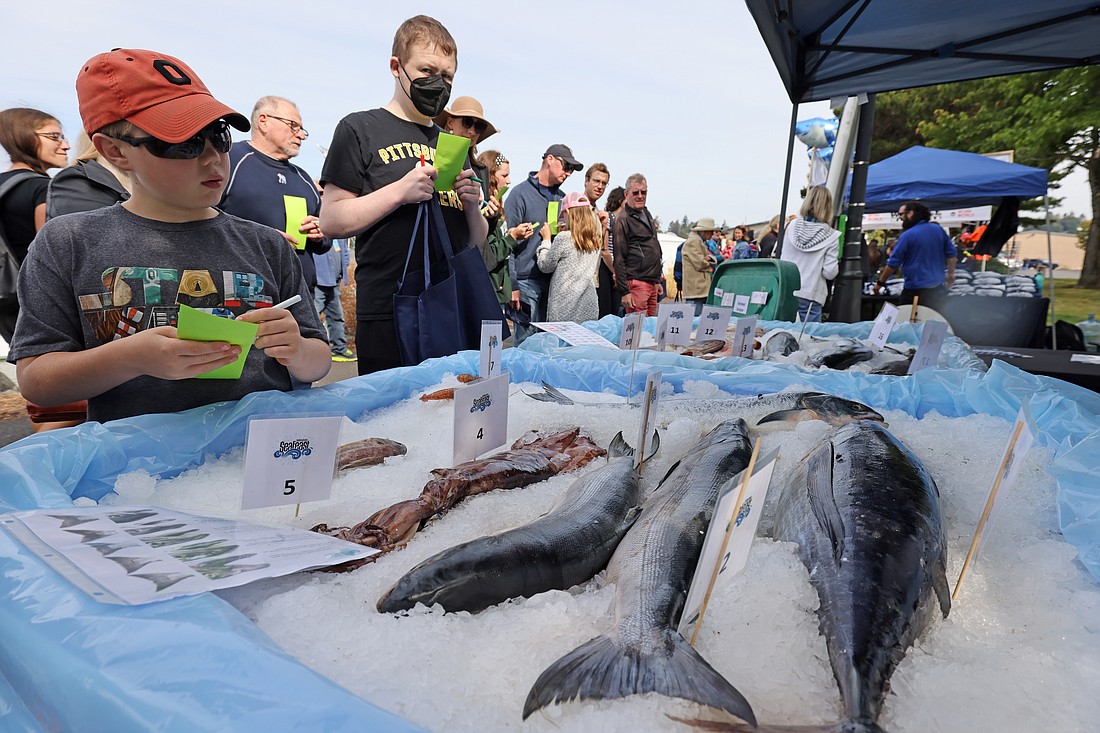 ---
---
AMY'S PICKS 
Bellingham Winter Kickoff
6–9 p.m. Thursday, Oct. 12, Boundary Bay Brewery, 1107 Railroad Ave.
No, winter is not quite here yet. Yes, Mount Baker Experience magazine and the city's most iconic brewery are ready for whatever the season will bring. 
In this annual ramp-up to the coldest time of year, the forces will combine to host an annual benefit party and fundraiser for the Northwest Avalanche Center in the beer garden. 
Attendees can rest assured there will be plenty of craft brews to sip on, as well as a raffle for outdoor gear donated by local business who support winter outdoor recreation, Warren Miller retro movies, and the viewing of Mt. Baker Slush Cup videos. All this for a suggested donation of $5, or more if you're feeling generous. I probably don't have to tell you to dress for the weather, but you really should. Info: bbaybrewery.com. 
'The First Cat in Space'
6 p.m. Friday, Oct. 13, Sehome High School, 2700 Bill McDonald Parkway
Who the heck would poison the Queen of the Moon? Will the heroes find the antidote in time? 
These are a couple of the burning questions that will be answered when bestselling authors and childhood BFFs Mac Barnett and Shawn Harris head to Bellingham to introduce their children's graphic novel, "The First Cat in Space and the Soup of Doom." 
Apparently, Barnett and Harris also add theatrical elements to their tours, including live music, dramatic performances and more. Their collaboration started as an online video series to entertain families during the pandemic. Book one, "The First Cat in Space Ate Pizza," was released last year and has since built a global fanbase. If you go, expect to see costumed attendees and very excited children (and a few adults, I'm guessing). Tickets are $20–$30. Info: villagebooks.com.
'Surge' Opening Day
10 a.m. to 5 p.m., Saturday, Oct. 14, Museum of Northwest Art, La Conner
Art can draw attention to dire calamities, and such is the case with "Surge: Mapping Transition, Displacement, and Agency in Times of Climate Change," which MoNA is presenting in partnership with the Skagit Climate Consortium. 
Curated by Chloe Dye Sherpe, the exhibition is another way to get people to pay attention to climate change and its effects on the Pacific Northwest's coastal communities. Artwork in the group exhibit was created with science in mind, featuring partnerships both with those studying climate change and those interpreting it through a creative lens. 
Additionally, related community engagement events will be happening for the duration of the exhibition, so if you'd like to find out more about climate resiliency and how governmental organizations are responding to the climate crisis, check them out. Info: monamuseum.org. 
Bellingham SeaFeast
11 a.m. to 5 p.m., Oct. 14–15, Squalicum Harbor
When this annual seafood-focused event comes around every year, my significant other likes to tease me by calling it "SeaFest" and waiting to hear me screech "It's SeaFEAST!"
I've always remembered the emphasis because my favorite part of the two-day event is getting to slurp oysters from the half-shell, eat fresh barbecued salmon and check out the fare from the various food trucks that gather near the Fishermen's Pavilion — all of which feature a dish or two that draws upon ingredients sourced from nearby waters. 
I was recently reminded by SeaFeast Program Director Kevin Coleman that, aside from offering copious amounts of seafood, the event is also designed to draw attention to Bellingham's working waterfront and its maritime heritage. Attendees are able to watch fishermen in action, take boat and building tours, sign up for cooking classes and more. Entry is free, but some events require tickets, so now is probably a good time to reserve them. Info: bellinghamseafeast.org.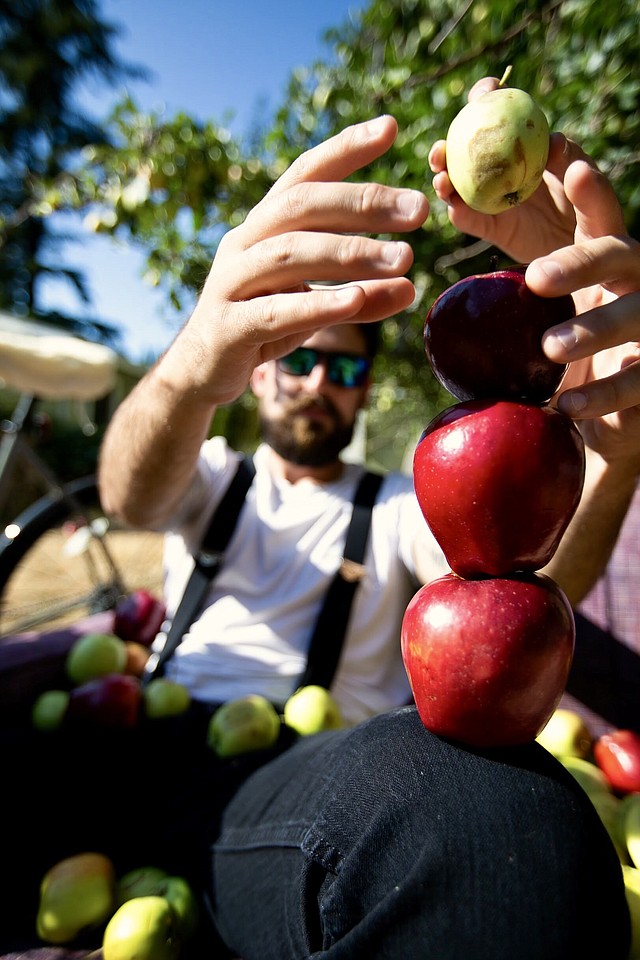 Sippin' on Cider Festival
2–7 p.m. Saturday, Oct. 14, Lost Giants Cider Company, 1200 Meador Ave.
CDN Drink Cascadia contributor Brandon Fralic will likely make mention of this event in his monthly column coming out next week, but I wanted to let readers know about it as soon as possible because early bird ticket prices go up from $30 to $40 on Sunday, Oct. 8 (and prior events have sold out). 
But even if you end up paying full price to attend the cider-tasting fundraiser being hosted by Shifting Gears, rest assured you'll be helping the local nonprofit — which works year-round to organize welcoming recreational experiences for women of all ages and abilities. 
Plus, attendees will be getting the chance to sample tasty ciders (including non-alcoholic options) from nearby cider-makers, listen to live music and choose from an array of offerings from Bellingham-based food trucks that will be part of the event. Each ticket gives you an 8-ounce tasting glass, along with four drink tickets. Info: letsshiftgears.com.
Burnin' in Mount Vernon
7:30 p.m. Saturday, Oct. 14, Lincoln Theatre, 712 S. First St.
Don't worry, nobody is threatening to set fire to this esteemed and historic performance venue. Instead, the heat will be coming from the electrifying guitarists and singers who will be onstage for this sixth-annual concert. 
Eric and Lindsey Heatherly will be returning to Mount Vernon to take part. The musically inclined couple recently released their debut duo record "Neon Neverland," were on the cover of DeVille Magazine, and have been developing a "vintage lifestyle" reality show of all things. 
The city's own Chris Eger will also be slinging his hot rock, blues, country, funk and soul, and is expected to join the Heatherlys for shared time onstage. Eger and Eric Heatherly have been collaborating for more than 20 years, and are sure to create a welcome spectacle. Tickets are $30–$35 general, and $100 for VIP. Prices go up $10 on the day of the show. Info: lincolntheatre.org.
'Knife of Glass'
8 p.m. Saturday, Oct. 14, Performing Arts Center, WWU
In this first full-length feature film premiere by the Film Production Club of Western Washington University, a young student investigates the disappearance of her roommate and soon serials into a web of fear, paranoia and deadly obsession. Horror ensues.
Aside from the seasonal scare factor, it's worth noting the movie was self-financed and produced entirely by cast and crew from Western, took 18 months to produce, and was filmed entirely in Whatcom County. Organizers are offering the screening for free and hope members of the community will attend and lend their support. 
Local actors Leah Shannon, Cora Marchewitz, Natalie Holt and Kua Patten will be featured in the fearsome flick, as will horror film icon Barbara Magnolfi. Come for the chills, stay for the students. Info: wwu.edu. 
ALL LISTINGS 
Thursday, Oct. 5
Doctober
Through Oct. 26, Pickford Film Center, 1318 Bay St.
More than 30 documentaries from the region and around the world will be shown during this perennially popular film festival. There will also be special guests, filmmaker Q&As, community panels and parties. Info: pickfordfilmcenter.org. 
'Hedwig and the Angry Inch'
7 p.m., Bellingham Theatre Guild, 1600 H St.
John Cameron's Mitchell's Tony Award-winning play about Hedwig Schmidt, an East German rock goddess, shows through Sunday. Hedwig's story is dazzlingly performed by Hedwig in the form of a rock gig/stand-up comedy routine backed by the hard-rocking band, the Angry Inch. Tickets are $8–$18. Info: bellinghamtheatreguild.com. 
'Tidal'
7:30 p.m., FireHouse Arts and Events Center, 1314 Harris Ave.
This community dance piece by Kuntz and Company shows through Sunday and features collaborations with photographer Helen Scholtz, poet Jessica Ardis and composer Charles Halka. Eighteen dancers, ages 19-79, and Pam Kuntz dove into Scholtz's photography and Ardis' poetry. Tickets are pay what you can; suggested donation is $20. Advance purchase is recommended. Info: kuntzandco.org.
Sugar Does Broadway
7:30 p.m., New Prospect Theatre, 207 Prospect St.
Thursday through Saturday, Brie Turoff Mueller (Sugar), master of ceremonies Akilah Williams (aka Honey), and assorted dancers and musicians will feature songs selected from Broadway productions, new top-notch choreography and smatterings of both sass and silliness. Tickets start at $30. Additional showings happen Oct. 12–14 at The Underground. Info: sugartheshow.com. 
'The Mousetrap'
7:30 p.m., Anacortes Community Theatre, 618 M. Ave.
Agatha Christie's oft-performed murder mystery continues weekends through Oct. 14. The action takes place at a secluded manor during a snowstorm and includes a surprise finish (once you know, keep it to yourself). Tickets are $25. Info: acttheatre.com. 
Friday, Oct. 6
First Fridays
6–10 p.m., throughout downtown Bellingham
This free event takes place throughout the urban core and features art openings, gallery exhibits, entertainment, food and drink specials at local restaurants and watering holes, and new programming on the first Friday of every month. Info: downtownbellingham.com. 
First Friday Artwalk
6–8 p.m., downtown Anacortes
MoonWater Arts, The Majestic Inn and Spa, Scott Milo Gallery (and the studios above the gallery), Squirrelwerks Studio, The Wishing Rock, and Ink & Wool will be among the venues opening their doors for the monthly event. Entry is free and open to all. Info: anacortesart.com.  
Hellingham
7:30 p.m. and 9:30 p.m., The Upfront Theatre, 207 Prospect St.
This perennially popular improvised murder mystery returns to Bellingham with two shows every Friday and Saturday through October, and one show on Halloween proper. Each night's show involves audience participation, and the output of each night's mystery is always different. Tickets are $10–$16. Info: theupfront.com.
Saturday, Oct. 7
Model Train and Toy Show
9 a.m. to 5 p.m., NW Washington Fairgrounds, Lynden
Lynden Lions Club will host its 38th annual event today and tomorrow, which will feature more than 50,000 square feet of running model train layouts, exhibits and vendors. Entry is $5–$7. Proceeds benefit Lions Club community project. Info: lyndentrainshow.com. 
Bellingham Farmers Market
10 a.m. to 2 p.m., Depot Market Square, 1100 Railroad Ave.
Approximately 90 vendors from Whatcom and Skagit counties are on site at this weekly market, which continues every Saturday through Dec. 16. Info: bellinghamfarmers.org.
Market by the Sea
10 a.m. to 2 p.m., G Street Plaza, Blaine
Head to the harbor for the season-ending of this farmers and craft market. The event takes place annually from May through mid-October. Info: blainechamber.com. 
Dockside Market
10 a.m. to 2 p.m., Squalicum Harbor, Gate 5
Local fishermen will be selling their fresh and frozen wares at this twice-monthly market. Visit the dock early to find the best selection of seafood options. Details and participating vendors and products are posted 24 hours ahead of sale days. Info: bellinghamseafeast.org.
Skagit Valley Festival of Farms
10 a.m to 4 p.m., throughout Skagit County 
During this 25th annual self-guided event taking place at nine farms throughout the county — Bow to Burlington, Mount Vernon, Concrete, Rockport and Sedro-Woolley — visitors can check out everything from a working oyster farm to a winery, tulip bulb farm, dairy farm, apple orchard, pumpkin patches, historic homesteads and beyond. Entry is free; a $25 VIP ticket features a swag bag, access to exclusive farm activities and more. Info: festivaloffamilyfarms.com.
Whatcom Artist Studio Tour
10 a.m. to 5 p.m., throughout Whatcom County
More than 60 area artists will be represented today and tomorrow and again Oct. 14–15 at dozens of studios featuring varied works of art. Demonstrations will take place at select locales, and some venues will have more than one artist on site. Entry to the self-guided tour is free; maps can be found online or in printed brochures. Info: studiotour.net. 
Harbor Harvest Festival
Noon to 6 p.m., downtown Blaine
This inaugural event will feature 50 craft vendors, harbor-focused food vendors (and beyond), live music, a beer garden and participating businesses opening their doors to visitors. Entry is free. Info: blainechamber.com. 
Octoberfest
Noon to 8 p.m., Boundary Bay Brewery, 1107 Railroad Ave.
The wearing of lederhosen and dirndls will be encouraged at this community event, which also celebrates Boundary's 28th anniversary. Contests, craft, live music from bandZandt and the Polkatones, German-inspired food and a selection of locally brewed craft beer will be part of the fun. Entry is free to the all-ages, dog-friendly event. Info: bbaybrewery.com. 
Bob Storms' Dixieland All Stars
2–5 p.m., VFW Hall, 625 N. State St.
Bellingham Traditional Jazz Society hosts this monthly event featuring live music and swing dancing. Nancy Button will be the featured vocalist, and there will also be a Rhythm Belles Chorus Girls performance. All ages are welcome. Entry is $5–$20. Info: bellinghamjazz.com. 
'Stories Left Behind' Opening Reception
3–5 p.m., I.E. Gallery, 5800 Cains Court, Edison
Artist Marc Wenet will be on hand to welcome visitors for his third solo exhibition at the space. The mixed-media assemblages that will be on display reference eras of his life — memories, people and place. An artist talk with Wenet will take place at 3 p.m. Saturday, Oct. 14. Info: ieedison.com. 
The Jeffrey Elvis Show
6:30–9 p.m., Buxton's, 1904 Commercial Ave., Anacortes
Celebrate the songs of Elvis Presley and Celine Dion when Jeffrey Elvis and Jenn Ryan perform a special tribute to the iconic performers. General tickets are $35 and include a glass of wine. VIP tickets are $45. Info: jeffreyelvis.com. 
Sunday, Oct. 8
Skagit Brass Quintet
2 p.m., McIntyre Hall, 2501 E. College Way, Mount Vernon
Head to the hall's Studio Space for the first concert of a chamber music series taking place most months through April. Featuring musicians from the Skagit Symphony, the ensemble is made up of some of Skagit Valley's finest brass players. Its members also perform with A'Town Big Band, The Skagit Community Band, and others. Tickets are $25. Info: mcintyrehall.org. 
Second Sunday Jazz
2 p.m., Anacortes Public Library, 1220 10th St.
Brent Jensen and Friends will make music at this monthly event, which is free and open to all. Jensen has played saxophone in groups including Dave Peck, Doug Miller, Bill Anschell and many others. Info: jazzatthelibrary.com. 
Monday, Oct. 9
'Dying for a Second Chance'
6 p.m., Village Books, 1200 11th St.
Former Blaine resident and Western Washington University graduate Jenn Chapman will read from this psychological thriller focusing on a young mother whose daughter was created during a brutal rape. Supernatural elements and a serial killer case are part of the plot. Please register in advance for this event. Info: villagebooks.com. 
Guffawingham
8:30 p.m., Boots Bar and Lounge, 1263 Barkley Blvd.
This weekly stand-up comedy show has returned from the ashes, and can be attended every Monday. Each show will feature a host, and people can show up early to sign up for a slot on the roster. Info: facebook.com/guffawingham. 
Tuesday, Oct. 10
Wildly Funny
6 p.m., The Upfront Theatre, 207 Prospect St.
Support Wild Whatcom by attending this improv comedy fundraiser taking place for one night only. Improvisers will take inspiration from your favorite memories outdoors to create hopefully hilarious scenes. Tickets are $20 (additional donations are welcome). Money raised will support the nonprofit's scholarship fund and continued investment in community programs for youth and adults. Info: theupfront.com. 
Wednesday, Oct. 11
'All In Due Time'
4 p.m., Village Books, 1200 11th St.
Author and op-ed columnist Kate Troll — sister of fish artist and T-shirt designer Ray Troll — will share her memoir, which conveys the sunnier side of digging into dark family secrets. Please register in advance. Info: villagebooks.com.
Sherlock Holmes Radio Drama
6 p.m., Anacortes Public Library, 1220 10th St.
The Dogs in the Nighttime — the Sherlock Holmes Society of Anacortes — presents "The Adventure of the Blue Carbuncle," which follows the famous duo through London as they attempt to untangle this tale before an innocent man is framed. Entry is free. Info: library.cityofanacortes.org. 
Katt's Meow
8:30 p.m., Katt's Westside Stories, Mount Vernon
Stand-up comics from around the area will converge for this monthly event, and there will also be open mic spots. Entry is free, and food and drink will be plentiful. Info: kattswestsidestories.com. 
Thursday, Oct. 12
'The Crucible'
7 p.m., Blaine High School, 1055 H St.
The 1953 play by American playwright Arthur Miller opens this weekend at the high school's Black Box Theater and continues Oct. 19–21. The plot is a dramatized story of the Salem Witch Trials that took place in Massachusetts in the 1690s. Tickets will be $10 at the door. Info: blainesd.org. 
Dahr Jamail Talk
7 p.m., The Majestic, 1027 N. Forest St.
This award-winning author will discuss the gravity of the climate crisis and share from his recent book, "We are the Middle of Forever: Indigenous Voices from Turtle Island on the Changing Earth." A book signing will follow a Q&A. Suggested donation is $10, but nobody will be turned away due to lack of funds. Info: ddefremery4@gmail.com. 
Wild & Scenic Film Festival
7–9:30 p.m., Lincoln Theatre, Mount Vernon
Skagit Fisheries Enhancement Group hosts this annual event featuring environmental and action films, a raffle and live music. Show up at 6 p.m. for a reception and live much from Whiskey River Mudflats. Admission is $20. Info: lincolntheatre.org. 
'Hero of the Story'
7 p.m., Honey Moon, 1053 N. State St.
The Unsubdued Theatre Collective invites people to present a staged reading of this play by Timothy Albertson, described as being "A story about what it means to be a hero, and the unlikely places they are found." Lounge seating is first come, first served. Entry is free; donations are welcome. Info: honeymoonmeads.com. 
Faculty Recital
7:30 p.m, Performing Arts Center Concert Hall, WWU
Clarinetist Rachel Yoder will be joined by Greg Dixon on synthesizer, Mehrdad Gholami on full, bassoonist Pat Nelson and percussionist Patrick Roulet for a free concert featuring works by Yoder and Charles Halka, Charles Koechlin, Francis Poulenc and William O. Smith. Info: cfpa.wwu.edu. 
Friday, Oct. 13
'Friday the 13th'
7:30 p.m., Lincoln Theatre, Mount Vernon
As part of the Lincoln film series, Tales from the Silver Scream, watch this iconic horror flick on the big screen. The scene is set at a summer camp where counselors are stalked by a brutal killer. Tickets are $8.50–$11. Info: lincolntheatre.org. 
Saturday, Oct. 14
Autumn Market
10 a.m. to 3 p.m., Port of Anacortes Transit Shed Event Center, 100 Commercial Ave.
More than 50 local small businesses will be selling everything from art to jewelry, candles, photography, honey, coffee and more both indoors and outdoors today and Sunday. The market is free and family- and dog-friendly. Info: creativeavenuenw.com. 
Evergreen & Oak
3 p.m., Performing Arts Center Concert Hall, WWU
This chamber music trio dedicated to sharing the music of living composers, particularly women, includes flutist Rose Bishop, pianist Abbie Brewer, and mezzo-soprano and composer Lisa Neher. The program for this tour is a combination of trios, duets, and solos, and promises to be both lyrical and dramatic. Entry is free. Info: cfpa.wwu.edu. 
Concrete Ghost Walk
7 p.m., Concrete Theatre, 45920 Main St., Concrete
This 17th annual walking tour kicks off tonight and continues Oct. 21 and 28 beginning at the 100-year-old theater and continuing through the historic Town Center, pausing to learn about ghostly visitations, local lore and things that go bump in the night. Tickets are $25 and must be purchased in advance online. Info: concrete-wa.com. 
Sunday, Oct. 15 
Musical Sanctuary
4:30 p.m., Lummi Island Congregational Church, 2391 Legoe Bay Road
"Simply Being" will be the focus of this music series. Attendees can join Musical Minister Brendan Van Valkenburgh for an evening of deep relaxation and inner connection as they lead guided meditation interwoven with music and readings. Entry will be by donation at the door. Info: katemusic.com. 
Of Dreams and Nightmares Studio Showcase
6 p.m., The Upfront Theatre, 207 Prospect St.
O-Pole Studios hosts this evening of "spooky and saccharine" entertainment. Instructors and students from the studio will delight the audience with a variety of body-positive dances from pole dance, heels, chair routines, burlesque and more. The show is recommended for ages 18-plus. Tickets are $10. Info: newprospecttheatre.org.  
Vaudevillingham
7 p.m. and 9 p.m., Cirque Lab, 1401 6th St.
The Bellingham Circus Guild presents its monthly community open-stage variety show known to be "uncensored, un-curated, unapologetic and unbelievable." Acts at the early show are family-friendly, while at the 9 p.m. show anything goes. Suggested donation is $10–$20, but give as you are able. Info: bellinghamcircusguild.com.  
Before heading out to attend in-person happenings, check with individual venues to make sure the event is still taking place as scheduled.
The A-List appears weekly. To submit an event for consideration, email calendar@cascadiadaily.com.