Root-to-Leaf
Seasonal eating: Hot and cold broccoli with chili crisp udon noodles
Recipes to reduce food waste
October 4, 2023 at 5:00 a.m.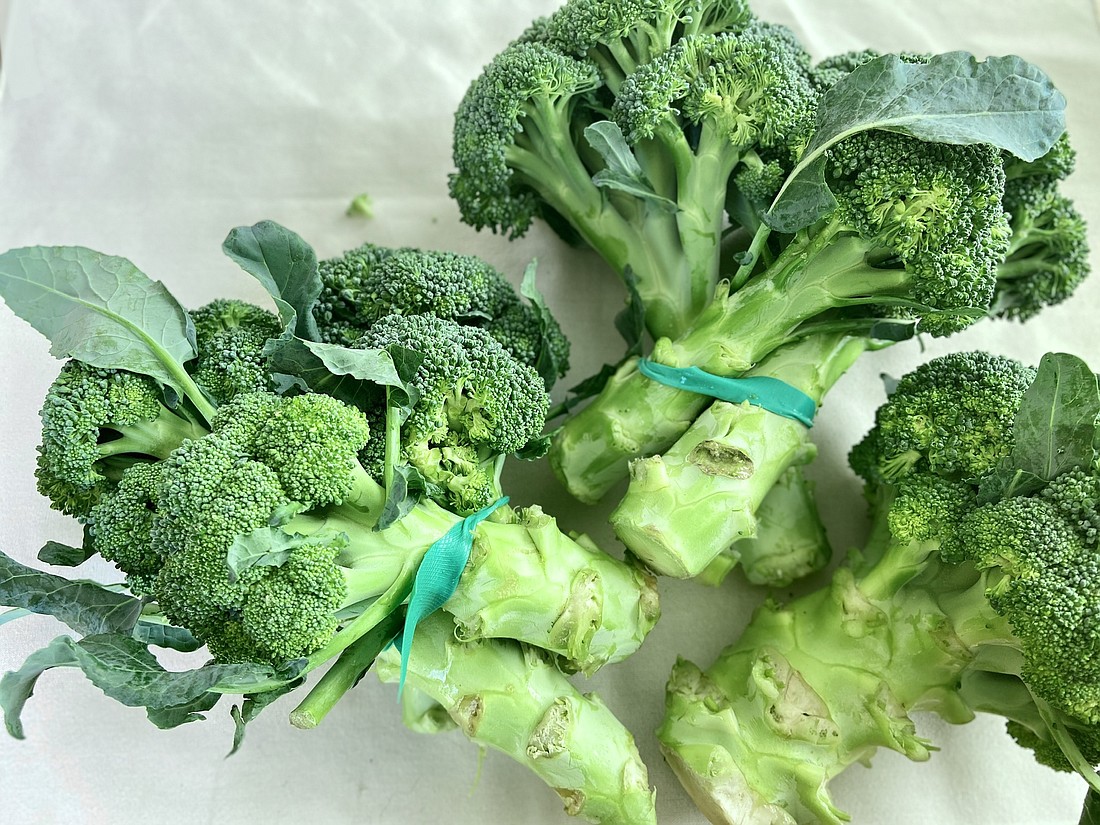 ---
---
Root-to-leaf cooking uses all edible parts of the plant with a focus on seasonal ingredients grown and sold close to home. Broccoli — as with other brassicas — is wholly edible, with tasty florets, stems and leaves. 
Make the most of these tiny tree-like cruciferous and use every element in your cooking. The following recipe combines hot roasted broccoli florets, chilled broccoli stems and tender broccoli leaves with spicy, flavorful chili crisp udon noodles.
Any chili crisp will work with this recipe, but be mindful that different brands vary in spiciness; this recipe calls for quite a lot. If at all possible, get your hands on Bellingham's own Buu Chan chili garlic crisp, often seen at the Saturday farmers market. The depth of flavor is unparalleled.  
Hot and cold broccoli with chili crisp udon noodles  
Roasted broccoli florets 
Broccoli florets from the head of 1-pound broccoli (roughly one large head, or two small heads)
Small amount of neutral oil
1 1/2 teaspoons sesame seeds
Salt to taste  
Chilled broccoli stems 
Trimmed stems from 1-pound broccoli  
1/2 teaspoon whole grain mustard, hot mustard or brown mustard
1 teaspoon unseasoned rice vinegar
1/4 teaspoon white sugar
Pinch of salt  
Noodles and sauce 
4 ounces dried udon noodles (or other chewy noodle such as soba, ramen or whole wheat spaghetti)
2 tablespoons sesame oil
2 tablespoons chili crisp
2 teaspoons soy sauce
2 tablespoons freshly grated ginger
2 large cloves garlic, grated
3/4 teaspoon white or brown sugar (see note)
1 tablespoon rice vinegar
3 or 4 drops fish sauce (optional)
Broccoli leaves
1/4 cup sliced scallions  
Note: 3/4 teaspoon of sugar may seem like a lot, but the caramelized sugar adds another layer of complexity and balance to the dish without being noticeably sweet. Brown sugar intensifies this caramelized note.
Directions
Preheat oven to 425 degrees. 
Prepare broccoli: Wash the entire head, then pinch off the leaves and set aside for later use. Using a paring knife, remove the tough outer layer from the broccoli stem (save these for another use; see pro tips). Cut florets into medium pieces. Slice the stem lengthwise, then slice each half lengthwise again. Cut into 1-inch pieces. 
Move the florets to a baking sheet and drizzle with a small amount of neutral oil. Sprinkle with sesame seeds and a generous pinch of salt, then toss the florets to coat. Roast for 10 minutes until tender-crisp and bright green with some char. Turn off the oven and leave the florets in to keep warm. 
While florets are roasting, start the water boiling for the noodles and prepare the chilled broccoli stems. 
In a medium bowl, combine mustard, rice vinegar and sugar and whisk until smooth. Add the sliced stems and toss to coat. Refrigerate while you prepare the noodles. 
Cook noodles according to package directions. Some packages call for rinsing the noodles in cold water once the noodles are done cooking; this prevents a buildup of starch that can make the noodles stick to one another. I've found you can skip this step if you add the noodles directly to a prepared sauce after draining, leaving a little cooking water with the noodles to help thicken the sauce. (If you're using the same pot to boil the noodles and make the sauce, boil noodles first, reserve 1/4 cup of the cooking water, strain the noodles and rinse with cold water and set aside while you make the sauce.) 
Heat a large saucepan to medium-high heat. Add sesame oil and chili crisp and cook for one minute, stirring often. Once the oil foams and is highly aromatic, lower the temperature to medium-low and add the garlic, ginger, sugar, rice vinegar and fish sauce, if using. (If you used the same pot for the noodles and sauce, add reserved water from the noodles now.) Cook, stirring often, for another two or three minutes until the sauce is heated through. 
Add the noodles and broccoli leaves to the sauce pot and toss to combine. Add broccoli florets and toss to combine again.  
Divide into two bowls. Top the hot noodles with the chilled broccoli stems and sprinkle with sliced scallions. Serves two generous portions. 
Pro tips
To use the tough outer layer of broccoli stems, simmer in broth until very soft, then blend into broccoli cheddar soup or add to broccoli rice casseroles.  
Store ginger root in your freezer. It grates beautifully when frozen. 
For an even saucier dish, feel free to double the sesame oil or add a little chicken broth to loosen it up. 
Use broccoli leaves anywhere you would add spinach, or add them raw to a salad or coleslaw. Make sure to use them soon after plucking or store them in ice water so they don't wilt.  
Top noodles with a poached or fried egg for a heartier meal. 
Hannah Green's Root-to-Leaf column runs the first week of every month.