Profiles
Filmmaker, musician and youth advocate Remy Styrk uplifts Black voices
Styrk will keynote inaugural Healing Centered Engagement Gathering
October 4, 2023 at 3:52 p.m.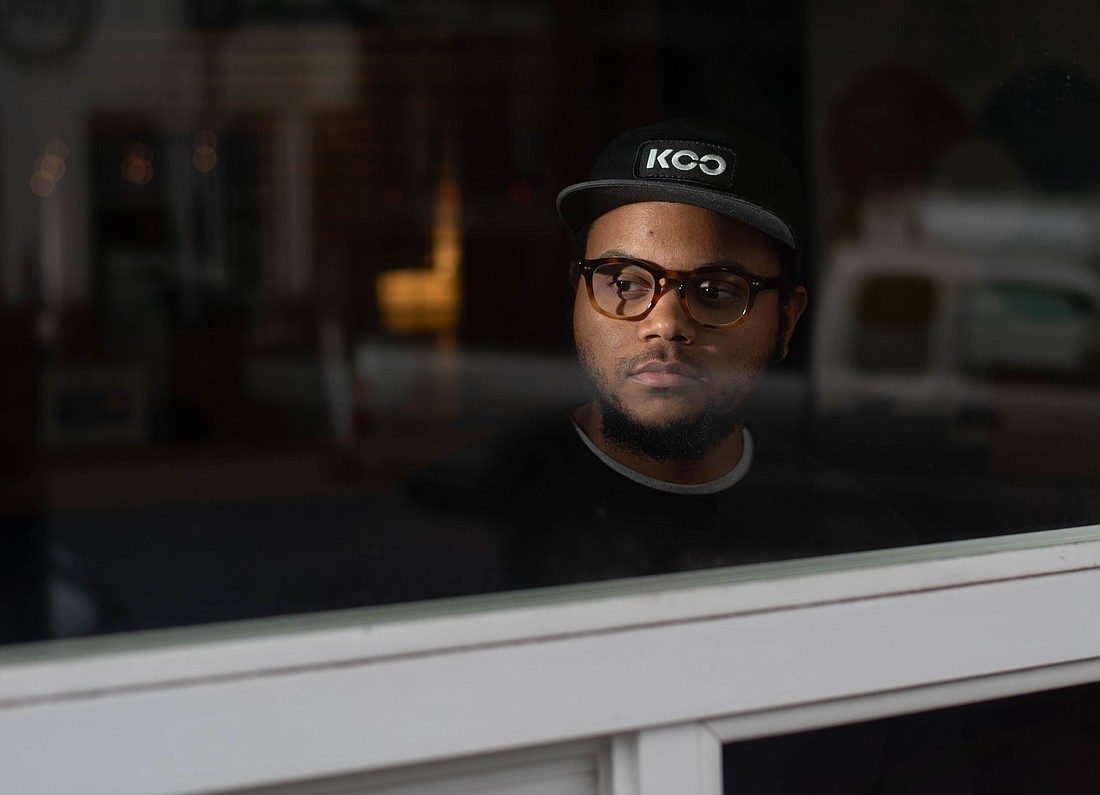 ---
---
Remy Styrk is a true Renaissance man. 
The self-described Black queer trans filmmaker and musician is also an accomplished writer and, for the past six months, has been an associate director at Northwest Youth Services (NWYS). 
Styrk first came to the area from New Jersey in May 2022 to produce a short documentary, "I Am The Hope And The Dream," for Connect Ferndale in advance of Bellingham's Juneteenth celebration. The film was awarded the Whatcom Dispute Resolution Center's Social Justice Award.
On Saturday, Oct. 7, Styrk will be the keynote speaker at NWYS's inaugural Healing Centered Engagement Gathering to talk about the reframing or "reimagining" of how America sees and looks at Black people. 
Uplifting Black voices is something he's passionate about, and he does so in a variety of ways.
"The fact is that we can't change history, we can't change that slavery happened," Styrk, 24, said on a recent afternoon in the multipurpose "healing room" at NWYS's headquarters on State Street. "We can't change that slavery is still brought into the modern day. But we can imagine a world where that no longer exists and so we can act and make progress in the way we interact with people that is not tied to an enslaved mindset." 
Styrk said he has had to work through his own issues concerning growing up Black in America. As the adopted son of white parents, he said he spent much of his childhood in Kansas City trying to blend in and working hard to "match the energy" of his family, neighborhood and schools and acting like he was "supposed to."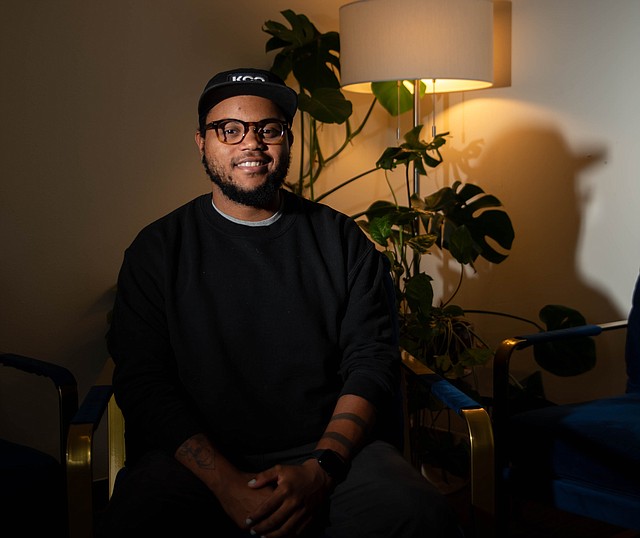 His parents were both supportive when he told them he was transgender when he was around 11 years old — he said he was "99 percent" sure his mother already knew. Years later, after his mother had passed away, Styrk told his dad he felt as if he had missed out on learning about Black culture as a child. He said his dad didn't take the criticism well. 
"He did try to incorporate that and teach as much as he could, but also he was teaching from what the systems of white supremacy told him to teach," Styrk said. "I think it took a lot of my sense of self and I don't think I really recovered until I got into this role." 
Styrk has been developing his skills since he was 13 and studied at the Grammy Museum in Los Angeles with musicians such as Miley Cyrus and Katy Perry — and later in New York City at a studio that does sound design and film schooling for HBO and Showtime.
As the associate director of radical intervention at Northwest Youth Services, Styrk said his main focus is building art-based services for Black and brown youth to build job and life skills for resume-building and college applications. He said the position sums up everything he has been working toward and dreamed of for himself as a kid.
To wit, Styrk has built a 13-week photojournalism course where youth learn the basics of photography and storytelling based on what each student finds to be affirming to their life and their ethnicity. The work of the youth will be showcased at the end of each course as a gallery show for the community at NWYS's on-site location — and hopefully around town at other galleries.
"It's a way to discover themselves outside of a school system, outside of whatever their home life may be, outside of, you know, what Bellingham promotes and the whiteness that is surrounding Bellingham," he said. "It's a way and a space to truly come in and create something they get joy out of, and then to spread the joy they get out of that into the world." 
Styrk has spread his own exultation through documentaries, such as the two-part "I Am The Hope And The Dream," "Before I," and the docuseries "Halogen," which is currently in production.
Watching the films, it appears as if Stryk is able to capture the essence of people's personalities, and of their struggles and humanity. 
"Before I," for example, focuses its lens on NWYS Executive Director Jason McGill and high school student Issac Gammons-Reese. Both are Bellingham residents who have had to deal with what it means to be Black in a predominately white city. Even if their stories aren't always pretty, they are told with respect and beauty. 
In the end credits for "Before I," Styrk is listed as director, writer, producer and director of photography. He also edited and color-graded the eye-catching documentary and was the music composer and sound designer. 
His myriad talents are obvious, and the fact that he gets to share them as a part of his job is something he doesn't take for granted.
"I'm hoping that the film and my keynote speech is, at the base level, a conversation starter," Styrk said.
On Saturday, Styrk's father will be in attendance at the Healing Centered Engagement Gathering to hear his son's keynote address. 
"If I'm going to do this speech about reimagining and about healing and engagement," Styrk said, "then I need to take the first step in rebuilding this relationship with my dad." 
Northwest Youth Services' Healing Centered Engagement Gathering takes place from 8 a.m. to 4:15 p.m. Saturday, Oct. 7 at the Syre Student Center at Whatcom Community College. Entry is free, but donations are accepted. To RSVP and see a full list of speakers and events, go to nwys.org.