Homelessness
How to help homeless people in Whatcom County
Where to volunteer or donate, and who to call if someone is in crisis
November 20, 2023 at 5:00 a.m.
|
Updated November 21, 2023 at 10:30 a.m.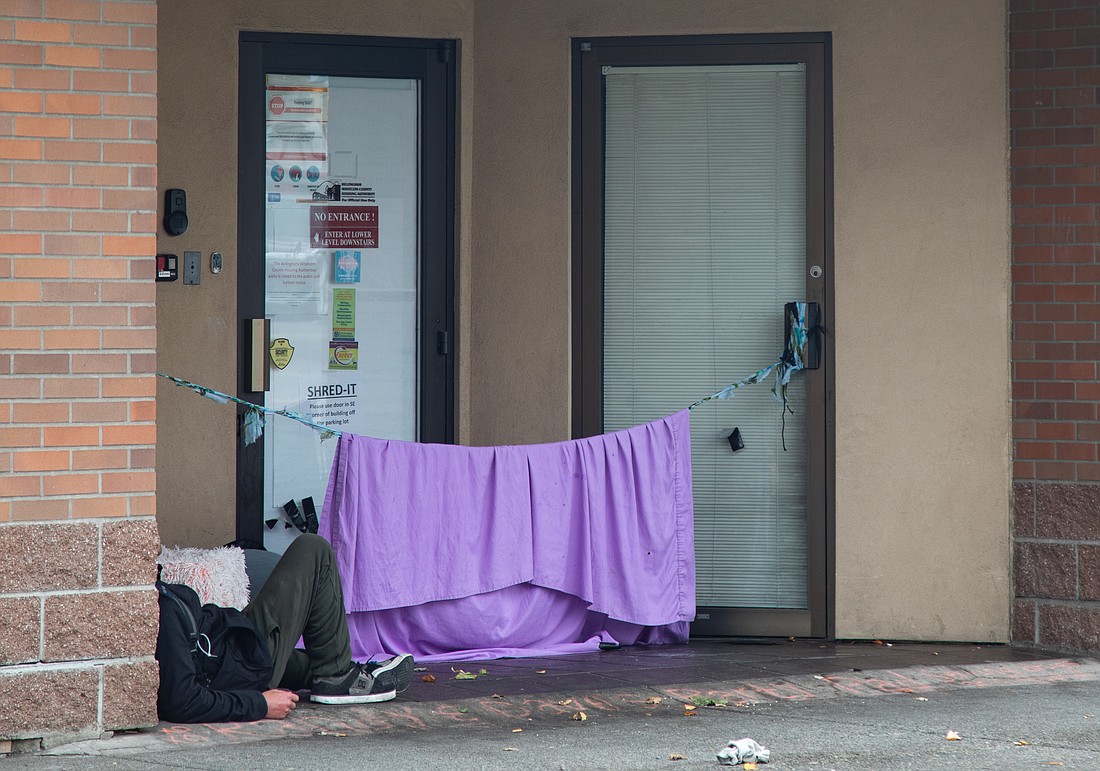 ---
---
Organizations across Whatcom County work to help homeless people get into emergency and permanent housing, and provide needed outreach services. 
Here's a non-exhaustive list of volunteer opportunities, places to donate, and how to directly help when witnessing a medical or behavioral health crisis. 
Who to call  
If you witness a medical emergency, call 911. 
If you're witnessing someone in crisis, call 988, the Suicide and Crisis hotline.
Teri Bryant, director of the Homeless Service Center, said the Homeless Outreach Team is also a "safe bet" to call if you're concerned about someone.
The Homeless Outreach Team is accessible at 360-312-3717 on Monday and Friday from 7 a.m. to 5 p.m. and Tuesday through Thursday from 7 a.m. to 8 p.m. They offer outreach services to people experiencing homelessness.
Bryant said driving around town to give people warm blankets and other goods is fine, but it's important to listen to what a person identifies as their need.
"What people should be prepared for is not always assuming they know what the need is," she said.
Downtown Ambassadors walk around Bellingham to offer business checks, de-escalation of "nuisance behaviors" and assistance to those in need. You can contact them from 8 a.m. to 5 p.m. at 360-220-1156.
In the evening and overnight, Risk Solutions Unlimited security staff patrols downtown. They're unarmed and focus on providing services and building relationships, and are trained in de-escalation. You can call the security patrol team at 800-824-2383.
Carry Narcan
Carrying Narcan, and learning how to use it, is one way to be prepared in case you encounter someone overdosing. Narcan can reverse the effects of an opioid overdose. 
Narcan is available at pharmacies in the county, and accessible for free through Whatcom County's Narcan Leave Behind Program for those who are at-risk or involved bystanders and family members. To learn how to use Narcan, community members can attend a Whatcom County Emergency Medical Services CPR and Narcan training on Wednesday, Dec. 6, or watch resources online.
Volunteer opportunities 
Whatcom County's severe weather and winter shelters are currently looking for volunteers. 
The county's downtown Bellingham shelter is looking for volunteer shifts for 5–9 p.m. and 7–10 a.m. on nights the shelter is open.
The Road2Home winter shelter is looking for volunteers for 1–2 shifts per week, from 6:30 a.m. to 10:30 a.m., or 6 p.m. to 10 p.m. The shelter will be open from Dec. 1 to Feb. 29, 2024 from 7 p.m. to 8 a.m.
The Ferndale Community Services severe weather shelter is looking for volunteers for four-hour shifts for nights the shelter is activated.
"It's going to be cold, we know that resources are scarce," Bryant said. "For people who have nothing to give but their time, that's an amazing way to give. The more volunteers that participate the safer the shelter we have."
More opportunities are available at the Volunteer Center of Whatcom County.
Where to donate money
Hope House, run by Catholic Community Services and Catholic parishes in Bellingham, provides clothing and household items, emergency assistance and a market that can be accessed monthly per family. 
Interfaith Coalition serves families experiencing homelessness in Whatcom County. The coalition provides transitional housing for families. 
Domestic Violence and Sexual Assault Services provides emergency shelter for those fleeing domestic violence. 
Lighthouse Mission runs Base Camp, an emergency shelter for 200 people. The mission also provides to-go meals and showers and medical services on a case-by-case basis. 
Lydia Place provides housing and homeless services for families experiencing homelessness. 
Northwest Youth Services runs an emergency shelter for children aged 13 to 17 and provides other services for homeless and vulnerable youth. 
Opportunity Council's Whatcom Homeless Service Center provides housing services to prevent and end homelessness, landlord mediation and connection to other services.  
Sun Community Service provides emergency and permanent housing for people with chronic behavioral health issues. 
YWCA provides housing and services to homeless women. 
Road2Home runs Gardenview Village, a tiny home community for those 55+ and/or medically fragile, and runs the winter shelter.
HomesNOW! runs two tiny home villages, Unity Village and Swift Haven Village.
Item donations 
Bridge2Services provides services to people sleeping outside, in non-permanent housing or in shelters. The organization is currently looking for weather-resistant gloves, flashlights, headlamps, batteries, toilet paper, hand and foot warmers, baby wipes, socks and hot drink supplies. The organization is also looking for straw bales, firewood, money for propane, tents, 10-by-20 brown or green tarps, and used camping equipment. You can ask to be placed on Bridge2Services' list for regular email updates by emailing services@bridge2services.com. 
Lighthouse Mission accepts food donations at 3333 Squalicum Parkway at St. Luke's Community Health Education Center between 9 a.m. and 4 p.m. Monday through Friday. 
Sun Community Service also accepts donations of household items, old electronics and toiletries.
YWCA accepts donations of sheet sets, blankets, pillows and pillow covers, towels, kitchen supplies, cleaning supplies, laundry soap pods, Ziploc bags, grocery gift cards, gas gift cards and basic medications.