Restaurants
Review: Herb Niemann's Steak & Schnitzel House
Big flavors, portions at Everson steakhouse
November 18, 2023 at 5:00 a.m.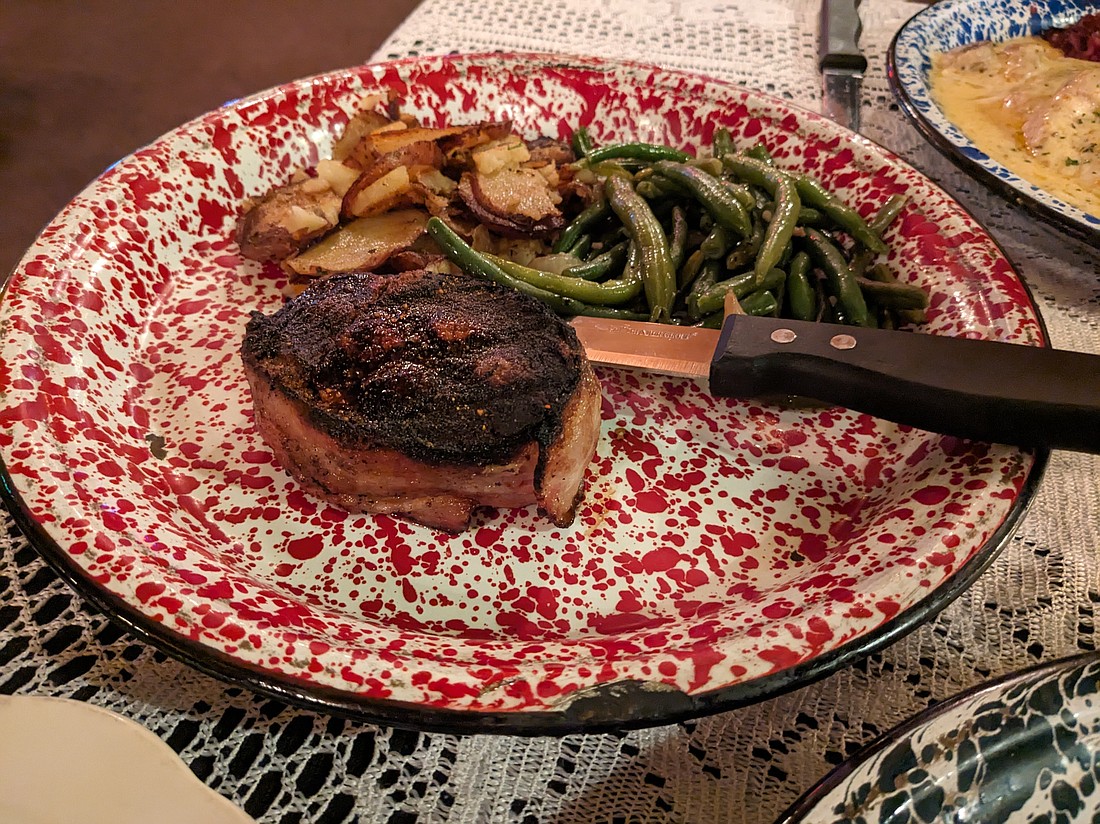 ---
---
Readers of my column may recall my recent $10 steak dinner story. I had a great time covering that, but it did beg the question — what makes a pricier steak actually worth it? 
With that question in mind, I turned to the subject matter experts: Herb Niemann's Steak & Schnitzel House, in Everson. 
First difference? I made reservations. Arriving through the hatchet-handled entry hall, we were swiftly seated at a beautiful two-top, with padded wing chairs and a view of the open flame grill, upon which steaks, burgers and fish cooked away. 
A quick head turn showed heavy carpet, wood-paneled walls, and deer antler chandeliers. The German hunting lodge chic matches the menu, heavy on schnitzel, spaetzle and, of course, steaks.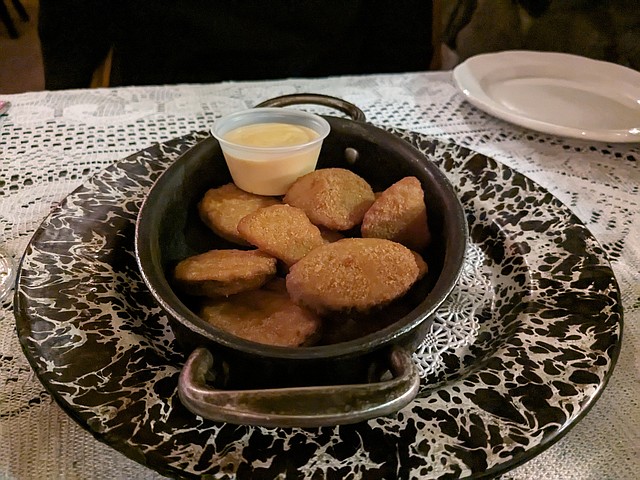 We started off with breaded zucchini ($9) and crab-stuffed mushrooms ($12). The zucchini was clearly fresh-fried in clean oil and was very tasty. I did find myself wishing the breading was seasoned a bit more, but the honey mustard dip sauce was nice.
The crab-stuffed mushrooms were a standout — mushrooms filled with cheese and crab, covered in a bubbling-hot béarnaise sauce. The béarnaise was excellent and will feature again in this review.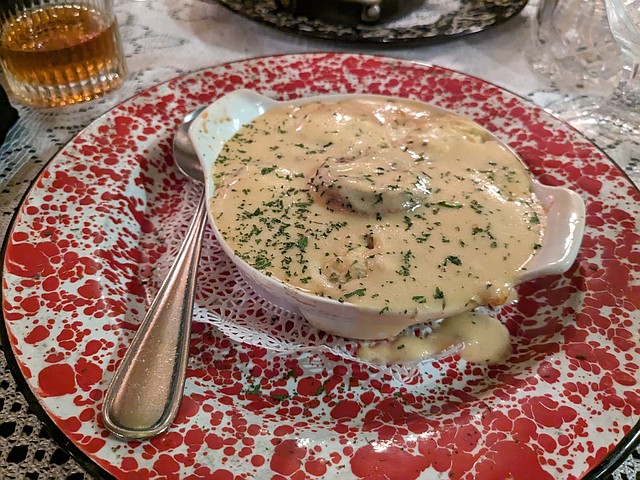 After appetizers came the entree-accompanying salad and soups. The classic Caesar salad and hefty bowls of goulash and salmon chowder were the first indications that portion sizes at Herb Niemann's may not have taken a "shrinkflation" hit. 
The salad was crisp and chilled, with a great Caesar dressing that was light and tangy. The goulash was my personal favorite — richly spiced and loaded with tender beef and vegetables. The salmon chowder came in close behind — creamy, thick and generously appointed with flaked salmon and bacon.
Rotating our salad and soups away, we made some room for the platters with our entrees — filet mignon ($51); a sirloin ($42) served Oscar-style with shrimp, asparagus and béarnaise (add $9); and a mountain of jaeger schnitzel ($30).
Slicing into our steaks, it was quickly confirmed that they were cooked to our preferred doneness and incredibly tender.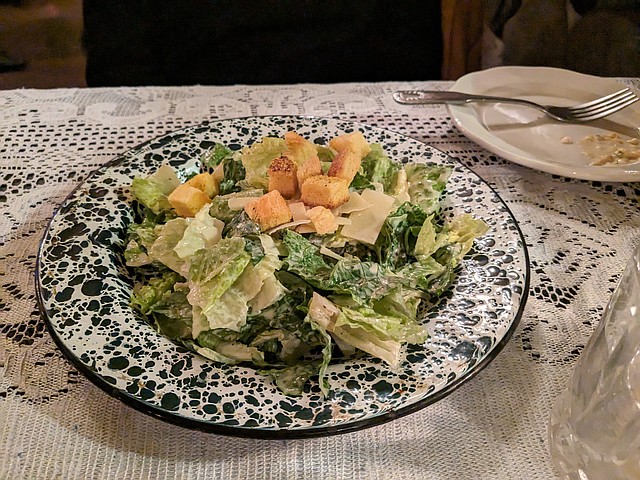 The shrimp and asparagus on my steak were flavorful and easily chewed, and the béarnaise was once again spectacular. They were served alongside delicious German-style fried potatoes and snappy green beans — great sides, and, once again, very generous. 
The Jaeger schnitzel — fresh spaetzle, covered in pork cutlets and a hearty cream and mushroom sauce — was served alongside the same green beans as the steaks, and a mountain of red cabbage sauerkraut. The tender pork and the toothsome spaetzle were great separately, and even better together. The cream sauce was positively swimming in butter (observation, not indictment). 
With the rise in cost for, frankly, everything, I was surprised to discover that the portion sizes were absolutely massive. The size of the plate conceals the quantity of food we were served.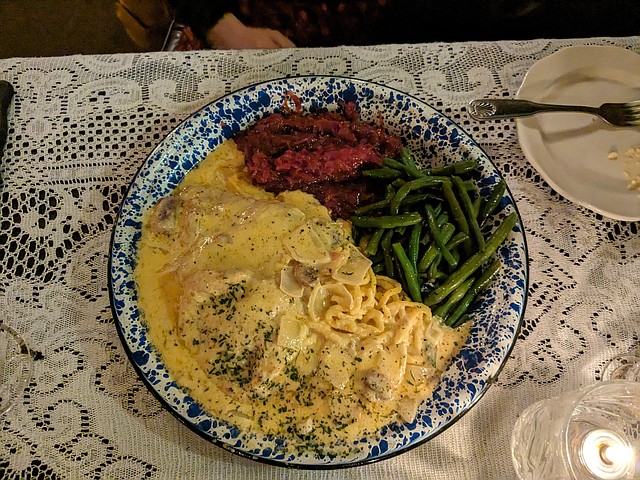 Often, steakhouses price plates to the cut of meat on them, with sides expected to be purchased separately. Here, it's almost a problem how generously they hook you up. For future visits, I can't say I'd want to split an appetizer with fewer than two people if I plan to put a dent in my entree.
Feeling full and content, like Dionysian cultists, we slowly boxed up our prodigious leftovers. 
The experience as a whole was superb, top to bottom. Our server carefully timed the arrival of our courses to not overload the table or have anything sit. We were checked in on with care, recommendations were made as appropriate, and everything was cooked with obvious skill. For a paltry $8, we were able to send the kitchen a round of beers, which we did enthusiastically. 
Now, is this worth five times the $10 steak dinner? I'd heartily say yes — with the caveat that they're very different. Without the knowledge of pain, joy is diminished. So too with meat. 
The joy of the $10 steak dinner is lessened without knowing the cost of the steakhouse sirloin. Likewise, the steakhouse sirloin can not be fully enjoyed before understanding the compromise of the cheap steak. 
This is not to be read as a dig against Herb Niemann's — quite the opposite. They very happily take the throne of the Best Steak in Whatcom County (that I have tried), a seat I think they can hold.  
Herb Niemann's is open from 4–9 p.m. Tuesday, Wednesday, Thursday and Sunday and 4–10 p.m. Friday and Saturday at 203 W. Main St. in Everson. Info: herbniemannssteakhouse.com.