Football
North Kitsap snaps Lynden's back-to-back state title streak
Lions fall to Vikings, 34-28, in 2A state quarterfinal OT thriller
November 18, 2023 at 8:31 p.m.
|
Updated November 18, 2023 at 9:37 p.m.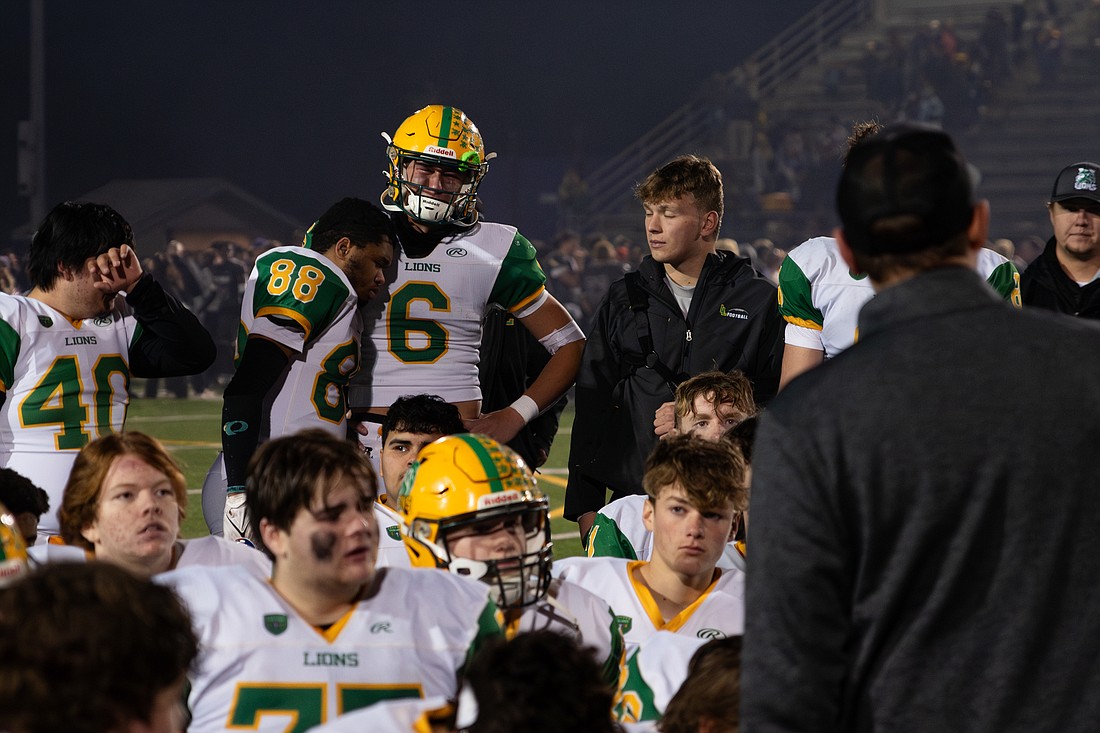 ---
---
POULSBO, Kitsap County — North Kitsap's Alex Hitchings intercepted Lynden quarterback Brant Heppner's pass in the end zone in overtime and the Lions fell to the Vikings in a 34-28 thriller in the 2A state quarterfinals on Saturday, Nov. 18 at North Kitsap High School.
Lynden's reign over Class 2A ended abruptly after winning the last two state championships, losing to the team it defeated in last year's state title match.
"Winning and losing should never define you, but how you handle it [should]," Lynden head coach Blake VanDalen said. "We handle it really well when we win, so we get the opportunity now to handle it really well when we don't win."
The No. 5-seeded Lions (8-3) knocked No. 4 North Kitsap (11-1) out of the state semifinals in 2021, and again defeated the Vikings in the 2022 2A state championship — both of which were decided by seven points or less.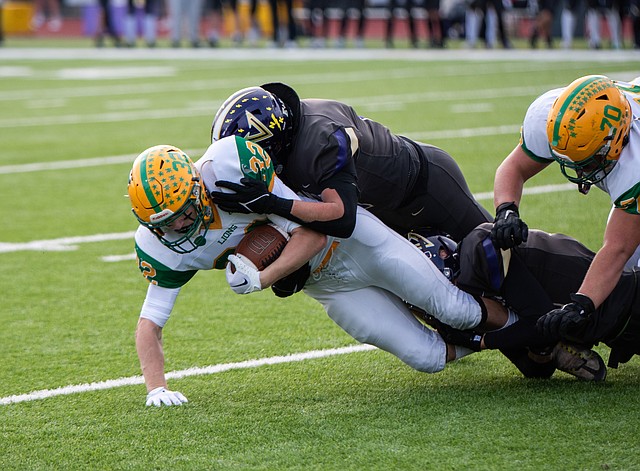 "When things go your way, you don't get to pat yourself on the back — and then point the finger when they don't go your way, right?" VanDalen said. "So, we own it, you know, that was a long struggle for them — two long years."
On Saturday, it was a wire-to-wire quarterback battle.
Heppner finished 15-of-25 passing for 334 yards, three touchdowns and two interceptions. North Kitsap senior quarterback Cole Edwards completed 20-of-29 passes for 219 yards, three TDs and three interceptions.
All three of Heppner's TD passes went for 60 or more yards, and Lynden outgained North Kitsap 413-355. But it all came down to the last play, as Hitchings' game-sealing pick came on the first play of Lynden's only overtime possession.
Edwards' three interceptions all came in the first half, starting with Lynden senior defensive back Zach Welch's pick on the Vikings' first drive of the game.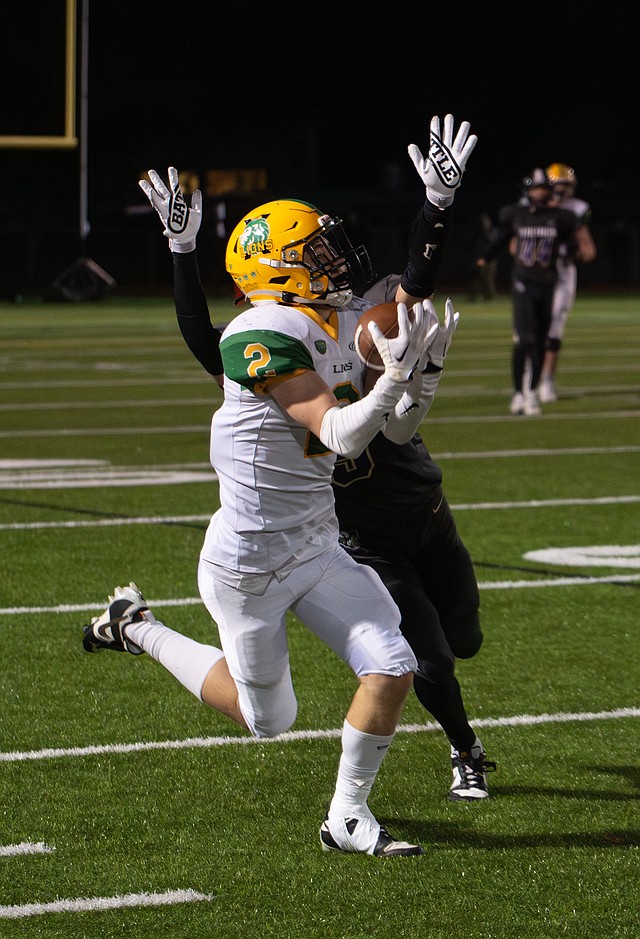 Heppner fumbled on a quarterback keep a few plays later, and North Kitsap capitalized. Edwards found Hitchings for a 5-yard TD reception with 2:48 remaining in the first quarter to put the Vikings up 7-0.
Lynden senior wideout Brady Elsner and Heppner evened the score on a 62-yard catch-and-run TD just over a minute later, evening the score at 7-7. Elsner finished the game with six catches for 125 yards.
Lynden senior Cooper Moore picked off Edwards with 43 seconds remaining in the first quarter, and Heppner plunged into the end zone on a 1-yard TD less than two minutes into the second quarter to give the Lions their first lead of the game, 14-7.
With 4:54 remaining in the first half, Heppner found sophomore speedster Dani Bowler — who caught the ball pinned to his right thigh — for a 74-yard TD to extend Lynden's lead to 21-7. 
The Lions were in full control, and Bowler was on his way to a career-high 170 yards receiving and two TDs on five receptions.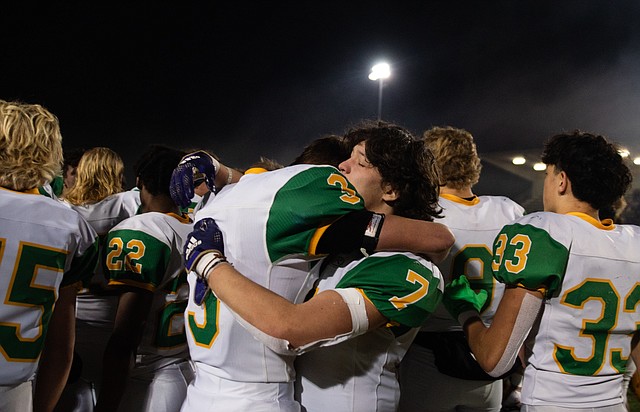 "We've always said that if you're going to beat us, you gotta beat us," VanDalen said. "That's kind of what that was ... I mean, [it was] one of the best high school playoff games you'll see, right?"
Edwards found senior wideout Logan Sloman on a 10-yard TD with 11 seconds remaining in the first half, sending the game to halftime with Lynden leading 21-14.
A blocked punt with 7:20 left in the third quarter gave North Kitsap the ball on Lynden's 27-yard line. Sloman then got his second score on a 9-yard catch to tie the game, 21-21, a minute later.
Heppner threw his third 60-plus-yard TD with 2:25 left in the third quarter on a 65-yard strike —  his second to Bowler, giving Lynden a 28-21 lead.
North Kitsap then converted multiple crucial third downs en route to a drive that was capped off by junior running back Carter Dungy punching in a 6-yard TD run with 9:14 remaining in the game.
Heppner's first interception of the night came three minutes later, giving the Vikings a chance to win it in regulation. Lynden's defense held up, but the Lions weren't able to score and the game was sent to overtime.
"I mean, in every game, there's lots of plays that you wish you could have back," VanDalen said. But, hey, our kids kept swinging and their kids kept swinging."
Dungy, who rushed for a game-high 101 yards on 25 carries, scored his second TD of the game in overtime on a 3-yard run to give North Kitsap its first lead since the opening quarter. The extra point was missed, and Lynden had hope of winning the game with seven points, trailing 34-28.
The very next play, Lynden's first offensive snap of overtime, was the interception to seal the game.
"We thought we were going to drive down and score, and we thought we were going to go for two, but then they missed the extra point," VanDalen said. "So, we're thinking, 'Oh, now we get to kick an extra point to win it.' We didn't see that [next] play going that way."
North Kitsap will face No. 1 Tumwater in the 2A state semifinals on Saturday, Nov. 25. Lynden will graduate 21 seniors ahead of the 2024–25 season.