Faces in the Crowd
Scott Van Diest: Utility worker at Bellingham Public Works
CDN's weekly community profile
November 17, 2023 at 5:00 a.m.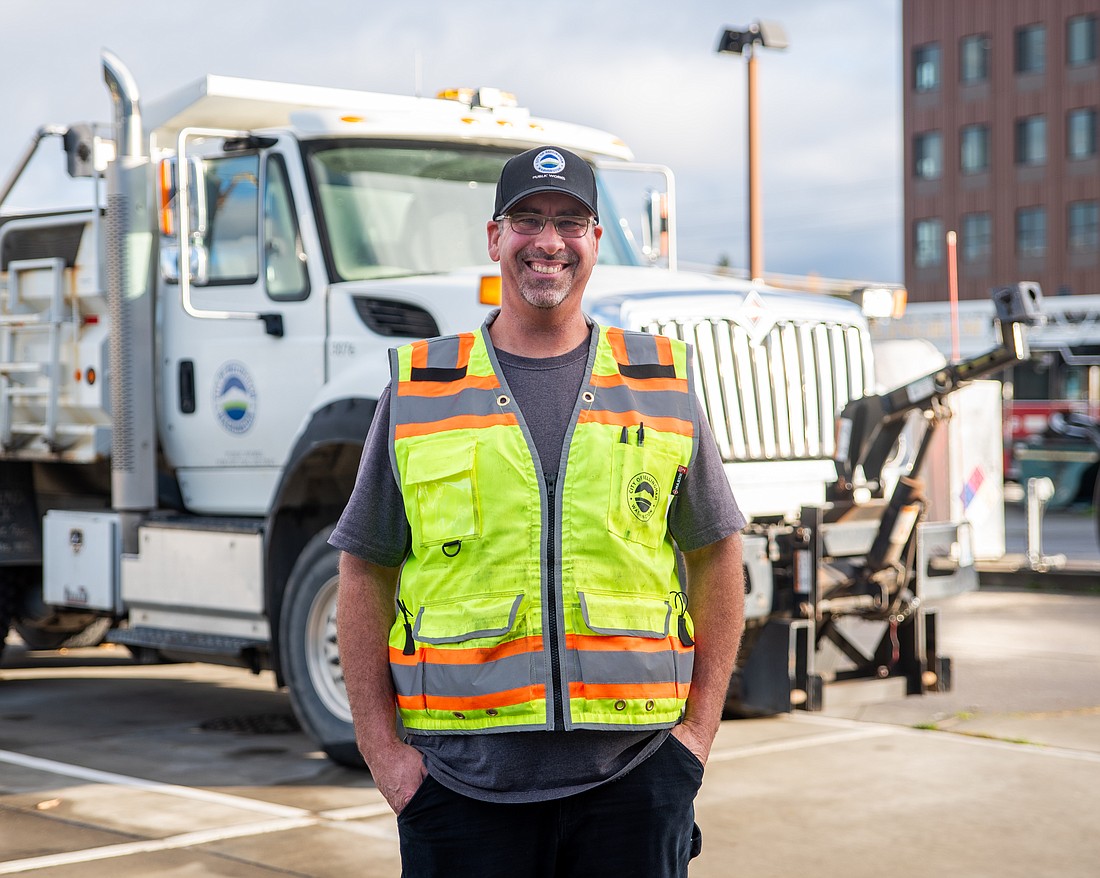 ---
---
Scott Van Diest
Age: 44
City: Lynden
Lived here for: 4 years
Originally from: Lynden (moved back 4 years ago)
Notable: Family man, outdoors lover, utility worker 5 at Bellingham Public Works. 
What does an average day look like as a Bellingham Public Works utility worker?
Besides fixing things that need fixed or emergencies, there is water main flushing, valve exercising and any kind of service requests. Winter time depends on the weather and service requests. [Like] if people haven't put vents in to insulate under their house, we get calls for frozen pipes … helping other divisions with emergencies they may have — snow removal, hand-sanding intersections, clearing storm grates from leaf buildup during large rain events.
What's your favorite part of your job?
I like it all — it's just fun. I enjoy serving the community. I think my favorite is getting a main break fixed quicker than what is expected … Sometimes it's a quick fix, sometimes if a piece of pipe is split and we have to replace a whole piece of pipe, it takes longer. Quick fix would be two, three hours.
What's a memory that sticks out to you?
I think when I saw my first big main break on Roeder Avenue. It was when I had first started. The whole road had sunk from curb to curb. That was a lot of water and did a lot of damage. It was cool to see I would be working and fixing that. That one took a long time to fix.
You recently won the snowplow event and the overall award at the American Public Works Association (APWA) ROADeo competition. What did that entail?
They rotate people going to this event. We attend not only the ROADeo, but there's classes as well, vendors with new products that we look at. 
There's a snowplow event, front loader event, ski steer event and an excavator event. You run through different [obstacle] courses for those. 
I get to go to Colorado next year to compete in the APWA national event for snowplow.
You started at Public Works in 2000 as a seasonal worker. What's kept you there so long?
I enjoy what I do — working with water and just the public in general. I just enjoy serving; serving in whatever I do.
As a kid, what did you think you wanted to be when you grew up?
A farmer like my dad. A raspberry farmer. Being a farmer became harder. It was 'get big or get out.' He had a little hobby farm, then worked for a larger employer as well. He's retired now, but I still have a little garden with raspberries in it.
What do you like to do for fun?
I enjoy time with my wife and kids — I have a boy and two daughters. Being outdoors. Fishing is my favorite thing.
What do you like to catch?
Anything.
Who is your favorite celebrity or character and what do you like about them?
Michael Jordan. Just how good of a player he was, it was fun to watch him. 
I watch a lot of basketball — I was a [Seattle] SuperSonics fan. I don't really have [a team] now since the Sonics left.
"Faces in the Crowd" is published online and in print Fridays. Have a suggestion for a "Faces in the Crowd" subject? Email us at newstips@cascadiadaily.com.