Homelessness
Downtown workers don't feel prepared to handle crisis on their doorsteps
Employees near Bellingham alleys want more services for homelessness and addiction
November 17, 2023 at 5:10 a.m.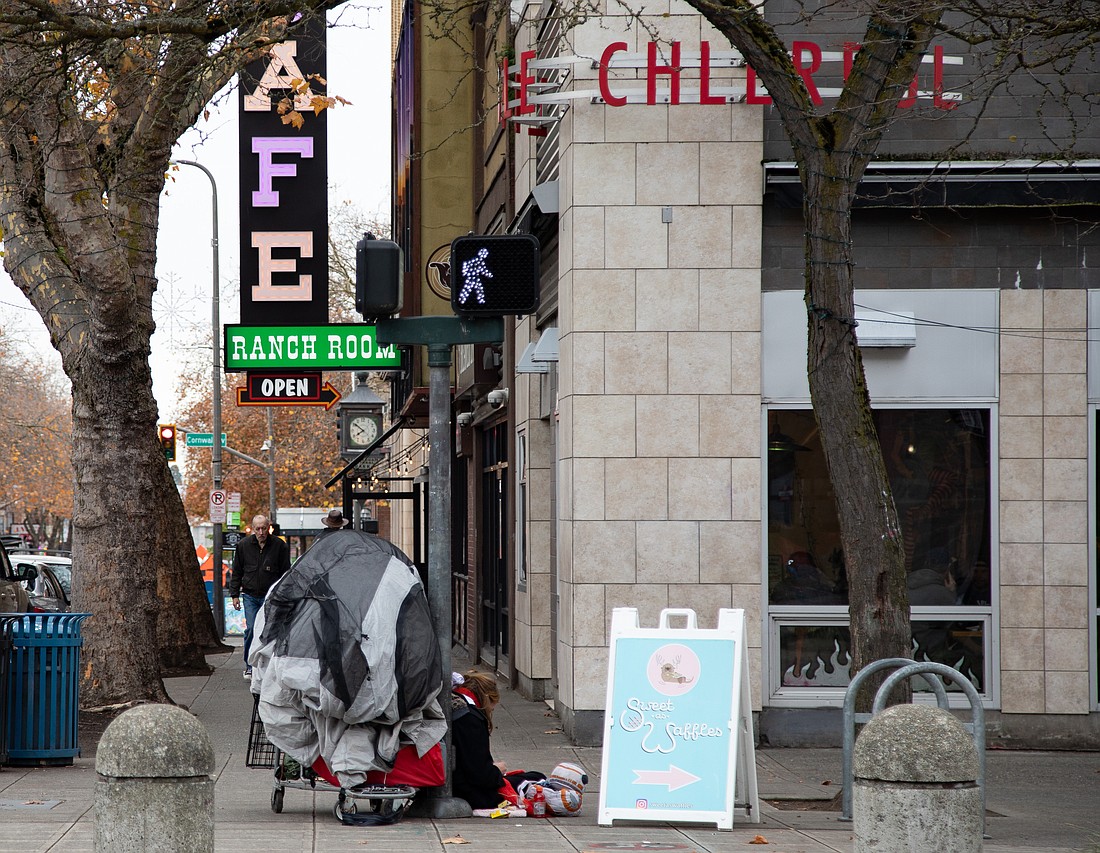 ---
---
Editor's Note: This story is part of an occasional series covering the impact of homelessness in Whatcom County.
In the alley between Railroad and Cornwall avenues, opera music plays from two speakers, balanced on lights about 20 feet up. 
In theory, the classical music is meant to deter loitering and potential crime. It's a tactic that has been used in other cities like Seattle and Portland.
It creates an eerie soundtrack for a place where some of Bellingham's biggest social challenges converge.
People who live on the street and those grappling with addiction gather in the alley, sometimes in groups of 20 or more. But employees who work at the surrounding businesses also need to use the alley for breaks and to take out the trash. 
Complaints from business owners, and from the public on downtown safety more broadly, prompted the city in October to outline its own ongoing strategy: increased police foot patrols and cleanup, as well as addressing the housing and behavioral health shortages to get homeless people off the street.  
Current efforts have focused on that alleyway on the 1300 and 1400 block between Railroad and Cornwall avenues.
Many employees and business owners around the alleyway help people how they can, but also want to feel safe in their workplaces and don't feel prepared to handle the issues on their doorsteps, they told Cascadia Daily News.
Incoming Mayor Kim Lund said she's interested in exploring something like Seattle's Downtown Activation Plan. The plan included short-term stabilization for businesses and more support on frontline responses for people who are unhoused or experiencing addiction, she said.
"What are our short-term tasks, mid-term and long-term goals for vibrancy? ... I think we need to find that balance to continue to move forward," she said in an interview with Cascadia Daily News.
Some of the short-term solutions will help a bit, they said, but better services are essential. 
Little Cheerful Cafe is on the corner of Railroad Avenue and East Holly Street, and manager Rachel Gauthier said she feels like she's watched the homeless population triple over the last few years. The most recent point-in-time count of homelessness in the county reported 1,059 people in Whatcom County — a 27% increase from the year before — but it's likely an undercount.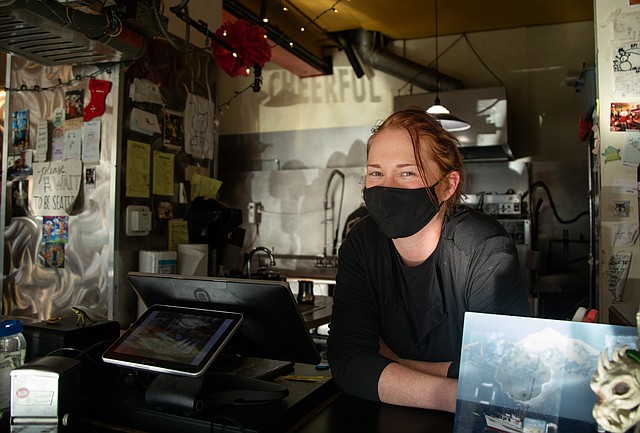 The cafe offered a free coffee program for homeless people for years but had to stop doing the program inside due to issues with drug use in the establishment, Gauthier said.  
"Most of the people, if they just have a snack and a cup of coffee, they're good," she said. "A lot of the houseless people are so sweet and so kind and so generous. There are some people who are more at risk than others … there are some dangerous folks who are not well." 
Horseshoe Cafe & Bar owner Kate Groen said the bar initially saw a rise in business after COVID-19, but experienced a decline again this summer, mirroring a dip in downtown traffic.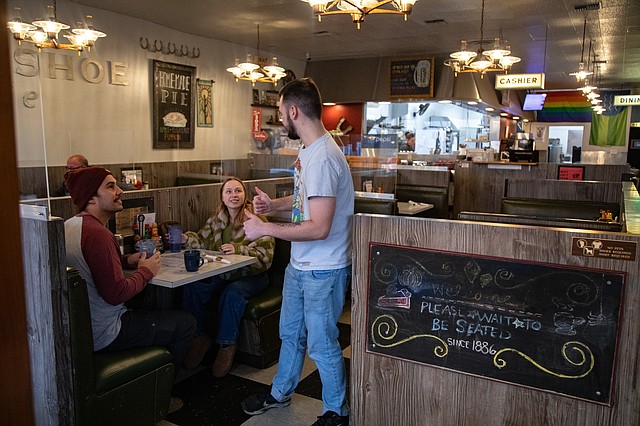 The bar is on the corner of an alley the city is trying to clean up. Groen said it was a problem spot before, but with the fentanyl epidemic and the pandemic, it's gotten worse. 
"There was one day where we had to call for three separate overdoses," she said. 
Groen said she has compassion for people experiencing drug addiction but is also concerned about her servers finding people overdosing in their establishment. 
"I feel so much for these people, but I feel for the secondhand trauma our servers are having to deal with," she said.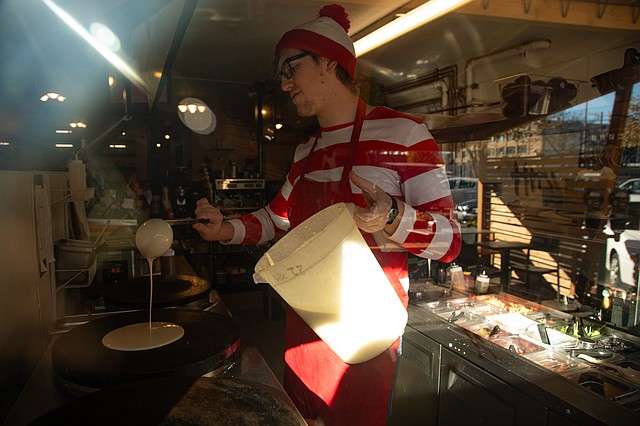 At AB Crepes on Railroad Avenue, employees said they want to help, but also want to feel safe.
Employee Cody Wallace said they frequently give out free water and food to people. 
"I've had homeless people come to the window and say, 'I depend on you to eat,'" said Jojo Louise, another employee. 
"We have good experiences with most people," Louise added. "They're just humans in bad circumstances." 
JJ's In and Out convenience store, located at the corner of the alley on East Holly Street, put up the speakers that play opera to keep people from sleeping and littering. Manager Jake Jiang said the auditory deterrent seemed to work at first, but now people don't seem bothered by it. 
Jiang said business owners can't address the systemic problems that lead to people sleeping in the alley. He said there's a lot of theft from the store, and they don't report most of the incidents as "it happens so frequently we could be constantly bothering the police."
"We try to be as patient as possible, but we're trying to run a business," he said.
Solutions like more lighting in the alley are useful in some ways, downtown workers said. 
Groen said she wants her employees to be able to have a break standing in the alley. More lighting could make it so her staff know what they're walking into, even though she recognized that it doesn't necessarily dissuade people from doing drugs. 
Calling the police has limitations, Groen said, as they may or may not show up due to being understaffed.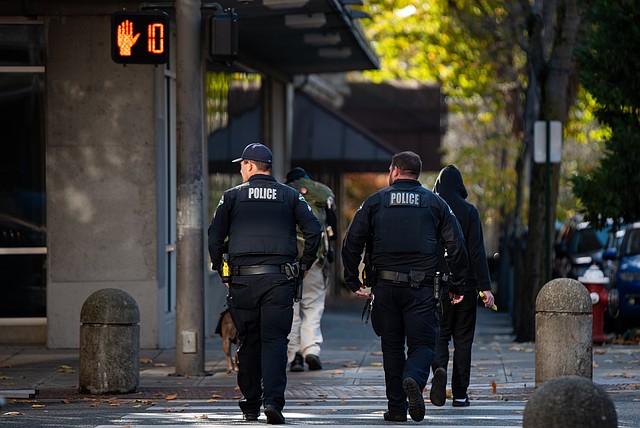 Sixteen police officers are currently in training, with eight people left to hire, Bellingham Police Lt. Jay Hart said at an October council meeting. 
Specialty units, like the bike patrol and drug unit, currently aren't active due to staffing limitations. The resumed foot patrols downtown are conducted on an overtime basis and don't happen consistently.
The problems won't go away until there are more resources to address housing and addiction problems, some employees say. 
Don Bates, an employee at Little Cheerful who runs the cafe's "soup kitchen" (which is now a burrito and coffee program), said he wants the small business community and Little Cheerful to thrive because if it doesn't, he can't feed people every week. Donations from local businesses allow the program to run. 
"Until there are services or a magical way to make [the problem] disappear, there's still hunger and suffering in my streets," Bates said.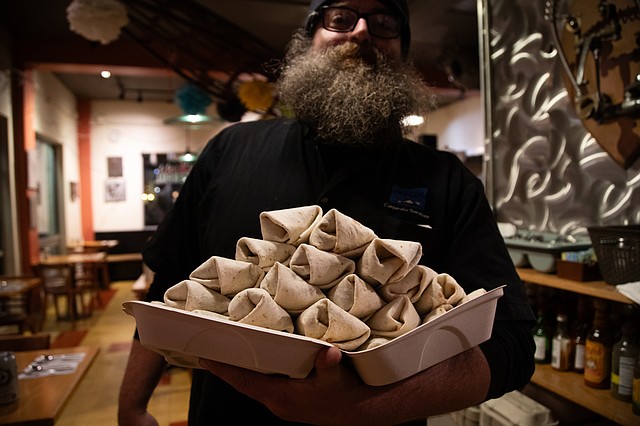 Groen said it's hard to know what the right response is. 
"We want resources [for homeless people] that don't exist," she said. 
Morgan Call, a barista at Avellino Coffeehouse, said there's "unhinged behavior" happening around the cafe, but said they wished there were more resources for people. 
"I really just wish that people would see it as our city government's problem instead of blaming these people for what they're doing," Call said. 
Call said cleanup efforts might make things "temporarily better for businesses," but the people will still be in the area. Call said it would be useful to have someone they could call if an individual is having a mental health crisis. 
"There are some situations we are not prepared to deal with, and it would be great to have help," Call said.