Prep/College
Sports roundup: Wrapping up fall postseason finales
WWU enters season-crossover period as basketball gets going
November 14, 2023 at 4:48 p.m.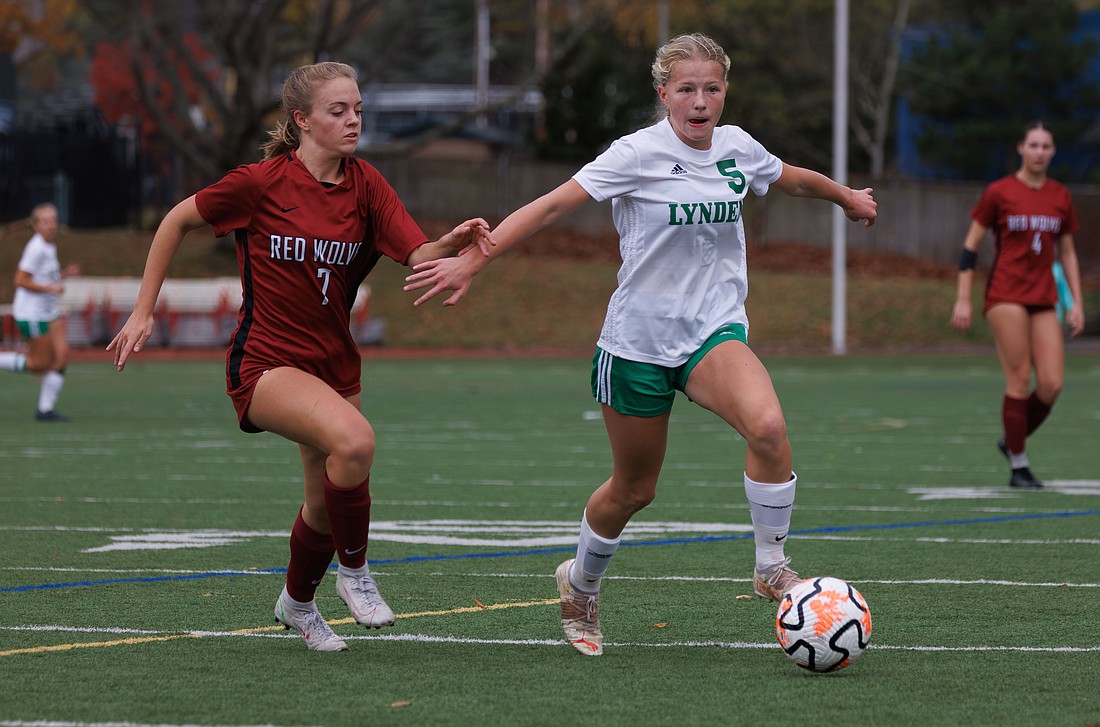 ---
---
All fall prep sports seasons have ended outside of football; local volleyball, girls soccer and swim teams wrapped up their campaigns last week. 
The Western Washington University men's and women's basketball teams have gotten off to hot starts in the fresh 2023–24 season. The men's and women's soccer seasons ended abruptly, but the Vikings volleyball season has at least two games remaining.
For everything prep football-related, see this week's football forecast.
Here's an overview of what else you may have missed from the last week in fall sports.
Prep
Girls soccer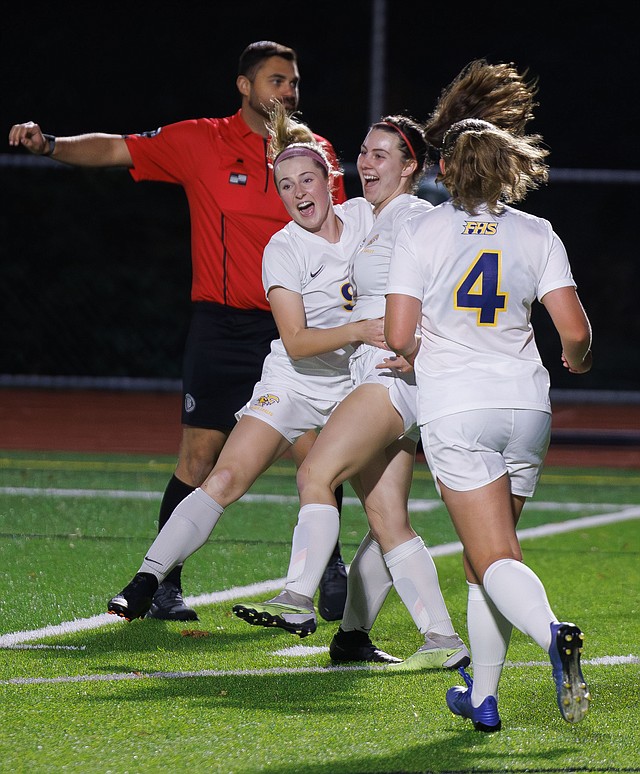 Just a year after two local teams reached state championship matches, no Whatcom County girls soccer teams made it past state quarterfinal rounds.
Ferndale (3A state tournament) and Lynden (2A state tournament) made it the furthest, each reaching quarterfinal matches.
Lynden (15-3-3), for the second year in a row, was the surprise of the season. The Lions began their campaign 3-2-2 before winning 12 of their final 16 games. After being knocked into the 2A District 1 consolation bracket, Lynden won four straight matches to get to state.
But they weren't done there. The Lions received the No. 8 seed in the 2A state tournament and beat No. 9 Selah, 3-1, in the first round on Wednesday, Nov. 8. It was the following game, a 4-0 loss to top-seeded West Valley of Spokane, that ended their season on Saturday, Nov. 11.
Ferndale (15-2-2) made it out of districts by winning two straight, and the Golden Eagles upset No. 6 Stadium, 3-2, in the opening round of the 3A state tournament on Friday, Nov. 10. 
From there, Ferndale seemed to be a shoo-in for the state semifinals after No. 14 Roosevelt also upset No. 3 Seattle Prep in the first round. Roosevelt (13-7-3), however, had other plans. The Rough Riders downed the Golden Eagles 6-1 on Nov. 11, ending Ferndale's season.
Sixth-seeded Sehome, last year's Class 2A state runners-up, lost to No. 11 R.A. Long, 3-1, in the first round of the 2A state tournament on Nov. 8. 
In the 1A state bracket, No. 12 Meridian lost to No. 5 La Center, 3-2, on Nov. 8 and No. 15 Lynden Christian was eliminated by second-seeded Seattle Academy, 7-0, on Nov. 7.
Volleyball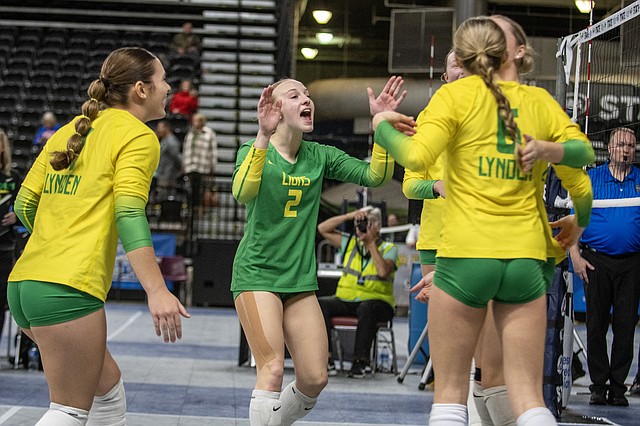 Three local teams made it to state, and all three earned a trophy.
Lynden finished third in Class 2A after a third sweep of league rival Burlington-Edison in its final match of the season. Meridian finished fourth in Class 1A (its second trophy in three seasons) and Nooksack Valley took sixth for their second straight state trophy.
Ferndale, which had its district tournament later than the 1A and 2A teams, was eliminated one match short of its 10th straight trip to the 3A state tournament.
The sixth-seeded Golden Eagles fell to No. 4 Shorecrest in four sets on Nov. 11 to finish their season 11-9 overall. Before 2022, Ferndale had earned a state trophy in three straight seasons dating back to 2018. It has now missed a trophy in consecutive seasons.
WWU
Men's soccer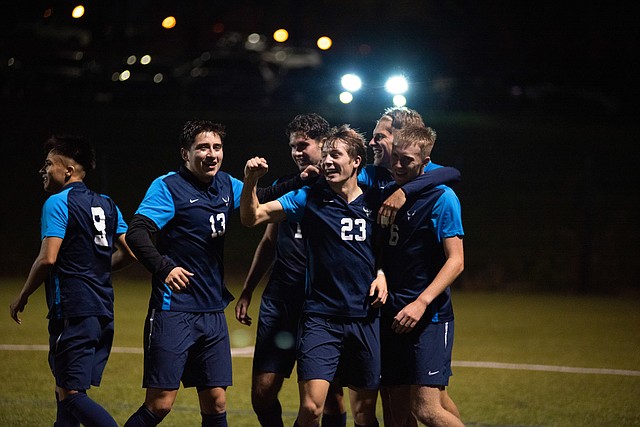 Western men's soccer finished its season on a high note with a 2-0 win over MSU Billings on Nov. 11. 
The Vikings, which went nearly a month without a win in the middle of the season (Oct. 5–Nov. 4) fell short of the NCAA Division II West Regional tournament, finishing their season 6-6-6 overall and 3-4-5 in GNAC matches.
Redshirt freshman Edgar Serrano and junior forward Eric Bunnell netted both of Western's goals in the season-ending win. The Vikings will graduate five seniors ahead of next season.
Volleyball
Western volleyball (11-13, 11-5 GNAC) has won four straight matches dating back to Nov. 2, and the Vikings most recently defeated Saint Martin's in five sets on Nov. 11.
Junior Gabby Kepley and sophomore Devyn Oestreich each tallied 15 kills to lead Western, and Oestreich also notched 20 digs on defense.
Redshirt freshman Delaney Speer finished with seven kills and a team-high 24 digs. Redshirt freshman Caroline Hansen also had 24 assists.
Western has two games remaining on its regular season schedule, both at home. Northwest Nazarene comes to town on Thursday, Nov. 16 before the Vikings host No. 20 nationally ranked Central Washington on Saturday, Nov. 18.
Women's basketball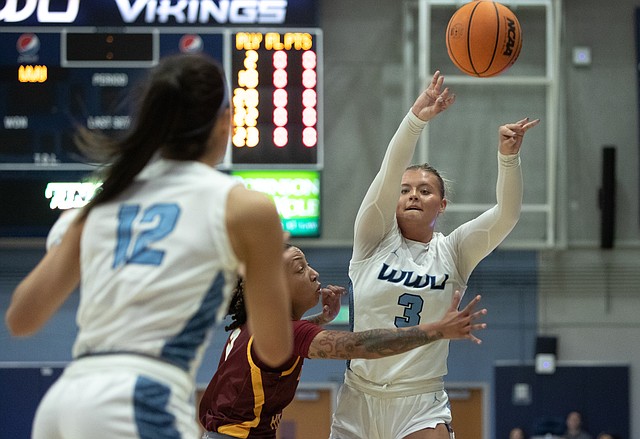 The Vikings began their season with back-to-back wins at home in the WWU Veteran's Day Classic tournament Nov. 10–11.
Western defeated Cal State Dominguez Hills, 70-47, on Friday, Nov. 10 and followed that up with a 76-69 win over Cal State LA on Nov. 11.
Senior forward Brooke Walling led Western in the latter game with a monster effort. Walling finished with 26 points, 13 rebounds, six blocks, two steals and two assists. 
Junior guard Olivia Wikstrom, in her first season with Western after transferring from Utah State, added 14 points, three rebounds and four steals. 
Western's next contest will be the first of a two-game road trip at the 2023 Cougar Shootout in Azusa, California. The Vikings will face Cal State San Marcos on Friday, Nov. 17 and Azusa Pacific on Saturday, Nov. 18.
Men's basketball
It was a successful weekend for Western men's basketball, as the Vikings earned two wins at the 2023 West Region Crossover tournament in Arcata, California.
Western is off to a 4-1 start to its 2023–24 season, and its most recent win was a 95-69 victory over Cal Poly Humboldt on Nov. 11. 
Five players scored in double figures for Western, led by an explosive, career-high 27 points from junior Kai Johnson. The 6-foot-4 guard also added seven assists.
Sophomore forward BJ Kolly (16 points), junior guard Will Wilson (16 points), redshirt freshman Tijan Saine (12 points) and senior forward Jonathan Ned (11 points) rounded out Western's top scorers. Ned also had a game-high five steals. 
The Vikings' next game will be its home opener versus Hawaii Pacific on Nov. 14. From there, Western will head to Seattle for a two-game trip to the 2023 GNAC/PacWest Challenge at the Brougham Pavilion Nov. 17–18.
GNAC women's soccer standings — Nov. 14
| | | |
| --- | --- | --- |
| Women's soccer | League | Overall |
| Team | W-L-T | W-L-T |
| Seattle Pacific | 9-0-5 | 12-3-5 |
| Western Washington | 9-2-3 | 12-5-4 |
| Western Oregon | 5-4-5 | 8-5-6 |
| Simon Fraser | 5-5-4 | 8-5-5 |
| Northwest Nazarene | 4-5-5 | 6-5-7 |
| Montana State Billings | 4-8-2 | 5-9-3 |
| Central Washington | 2-8-4 | 3-12-4 |
| Saint Martin's | 1-7-6 | 3-8-7 |
GNAC volleyball standings — Nov. 14
| | | |
| --- | --- | --- |
| Women's soccer | League | Overall |
| Team | W-L | W-L |
| Seattle Pacific | 14-2 | 20-4 |
| Central Washington | 12-4 | 18-6 |
| Western Washington | 11-5 | 11-13 |
| Simon Fraser | 10-6 | 15-9 |
| Saint Martin's | 9-7 | 16-10 |
| Northwest Nazarene | 7-9 | 11-13 |
| Alaska Anchorage | 7-10 | 15-17 |
| Alaska Fairbanks | 7-10 | 14-17 |
| Western Oregon | 3-13 | 9-15 |
| Montana State Billings | 1-15 | 3-23 |
GNAC men's soccer standings — Nov. 14
| | | |
| --- | --- | --- |
| Women's soccer | League | Overall |
| Team | W-L-T | W-L-T |
| Simon Fraser | 8-2-1 | 11-4-2 |
| Western Oregon | 8-1-3 | 11-3-3 |
| Northwest Nazarene | 3-4-5 | 5-7-6 |
| Western Washington | 3-4-5 | 6-6-6 |
| Seattle Pacific | 3-6-3 | 5-9-4 |
| Saint Martin's | 2-6-3 | 4-8-4 |
| Montana State Billings | 2-6-2 | 5-9-3 |