Football
Nooksack Valley crushes Cascade Christian for first-round victory
Pioneers roll up 358 first-half yards in 59-7 win over Cougars
November 11, 2023 at 8:56 p.m.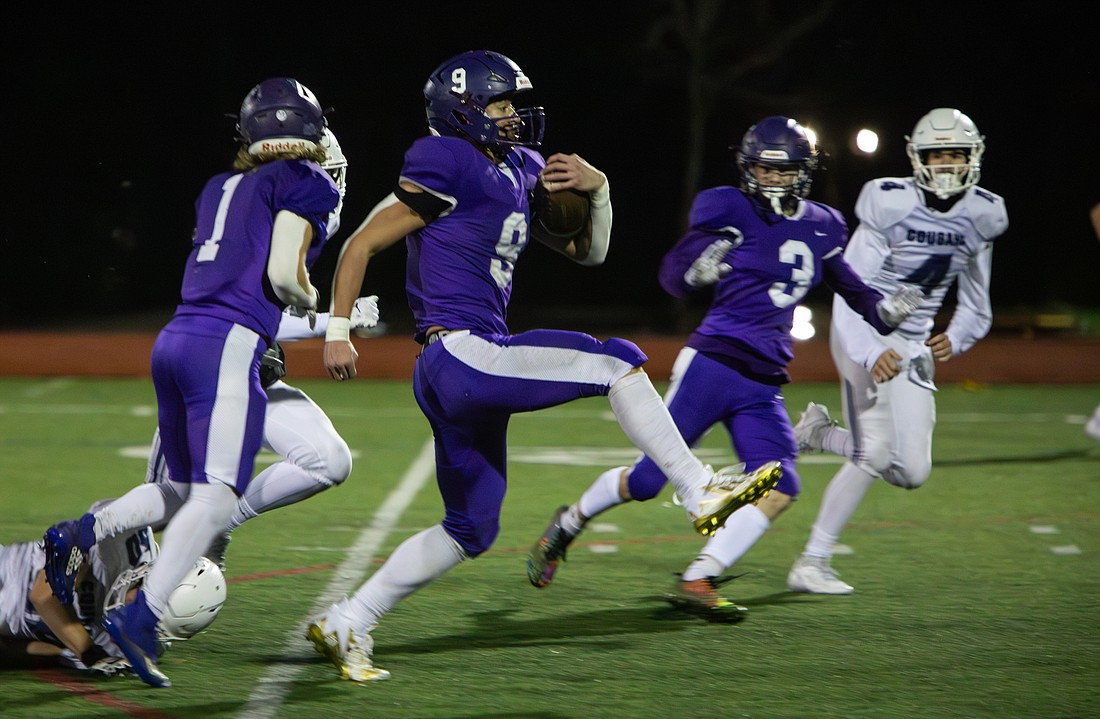 ---
---
Nooksack Valley scored all eight of its touchdowns in the first half, including one on defense, and the Pioneers steamrolled Cascade Christian 59-7 in the first round of the 1A state tournament on Saturday, Nov. 11 at Civic Stadium. 
The No. 6-seeded Pioneers (7-2) were led by junior running back Colton Lentz, who rushed for 108 yards and four touchdowns on just eight carries before starters were replaced late in the second quarter.
Nooksack Valley out-gained No. 11 Cascade Christian (8-3) 358-58 in the game's first two periods — the only two that mattered. The Pioneers had three offensive TDs of 50 or more yards.
"Coach [Craig Bartl] has been pushing us. We take it one game at a time and treat every [opponent] the same," Lentz said. "They're just people in jerseys."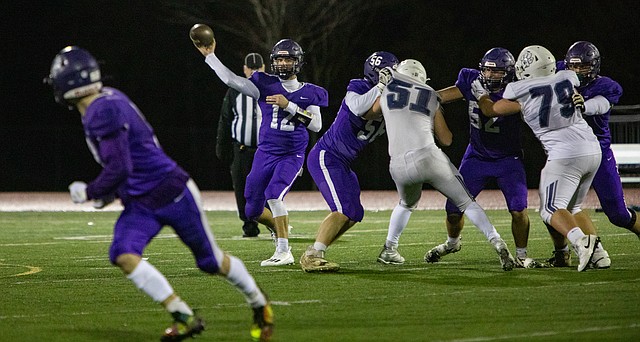 The result was never in doubt for a Pioneers team that has scored 213 points over its last four games.
Lentz scored NV's first four TDs, all on the ground. His third, a 50-yard explosion through the heart of the line of the scrimmage, gave him the Pioneers' all-time school record for rushing touchdowns in a season with 21.
The 6-foot-2, 215-pound rusher added to that total with his fourth of the night just over two minutes later — a 15-yard score that put NV up 28-0 before the first quarter was even over.
NV senior quarterback Joey Brown and Jackson Bennett hooked up on a 71-yard touchdown catch and run with 11:48 remaining in the first half to make it 35-0.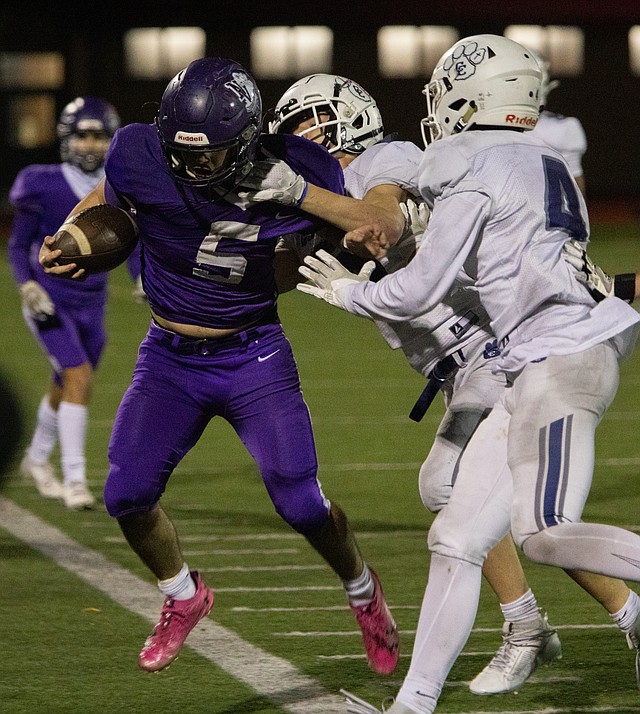 Bennett, who plays cornerback on defense, then extended the lead to 42 for NV when he jumped the route on a Cascade Christian pass and returned it 25 yards for a touchdown 52 seconds later.
NV's defense was aggressive all night, as evidenced by Cascade Christian's low yardage. The Cougars didn't pick up a first down until there was 7:21 remaining in the first half.
"Our energy coming out was crazy," senior lineman and linebacker John Stremler said. "We haven't started a game like that all year. I think we're finally starting to believe that we're the best team in the state."
The Pioneers forced three interceptions from Cascade Christian's quarterbacks, senior Jackson Almond and junior Grant Johnson.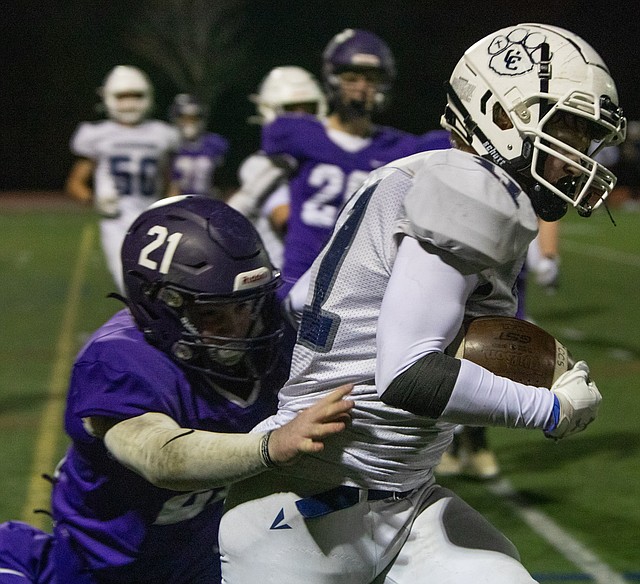 But Stremler, who also had a quarterback sack, impacted both sides of the ball. 
The 6-foot-3, 255-pounder was given the ball on offense — once most of the starters were pulled — with 3:29 remaining in the second quarter, and he rumbled in for a 21-yard rushing TD to make it 56-0. It was his first TD since he played running back in sixth grade, Stremler said.
"We changed it from giving it to [Lentz] to giving it to him," Brown said with a laugh. "It was supposed to be a short-yardage play, but he took it all the way."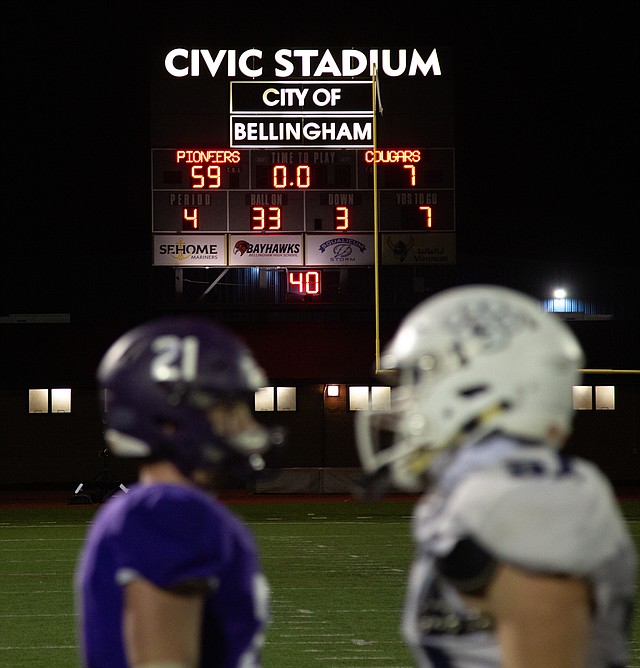 NV's halftime lead was 59-0, and Cascade Christian's only score came with 2:41 left in the game.
Senior running back Skyler Whittern also rushed for 125 yards and a TD on 11 carries, while Brown completed 4-of-5 passes for 121 yards and a score. 
NV now turns its attention to No. 3 Lynden Christian (8-2) for its quarterfinal matchup. The Pioneers lost to the Lyncs, 21-20, in the two teams' regular season meeting on Oct. 6.
"We're looking the best we have all season," Lentz said. "It's going to be a good game."