Volleyball
1A/2A state volleyball Day 2: Lynden falls to Ridgefield in semifinals
Lynden, Meridian to play for 3rd/4th; Nooksack Valley heading to 5th/6th place match
November 11, 2023 at 8:40 a.m.
|
Updated November 11, 2023 at 1:54 p.m.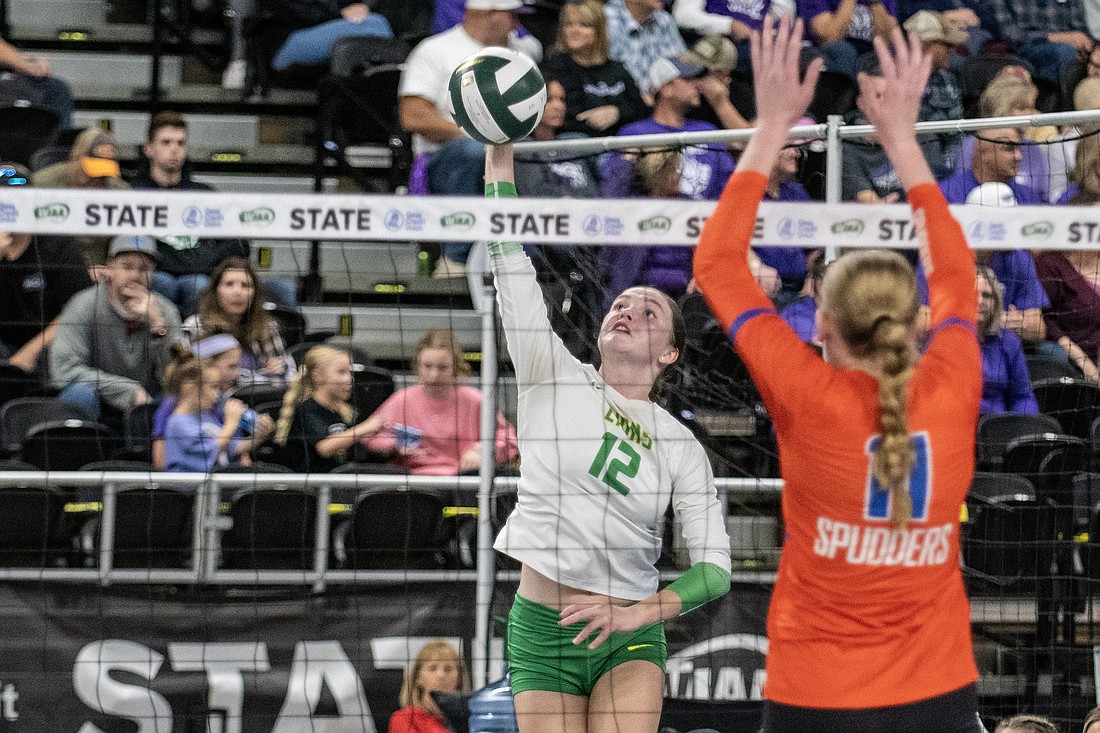 ---
---
Editor's Note: This story will be updated throughout the day until the final match is completed.
YAKIMA — All three Whatcom County volleyball teams have clinched at least a top-four finish in their respective classifications — Meridian and Nooksack Valley in 1A and Lynden in 2A — after morning matches on Saturday, Nov. 11.
No. 4 Meridian started things off at 9 a.m. against top-seeded and three-time defending champion Chelan in a 1A semifinal match, and the Trojans fell to the Mountain Goats in a sweeping loss.
Meridian will still have a chance to match its third-place finish in 2021 when it heads to the third/fourth-place game at 2:30 p.m. 
Lynden and Nooksack Valley both played at 10:45 a.m. The No. 2 Lions lost its 2A semifinal match against No. 6 Ridgefield, and Lynden will still have a shot at third or fourth place at 4:15 p.m.
The No. 5 Pioneers won a loser-out game against No. 9 Lakeside of Nine Mile Falls and Nooksack Valley will now play for fifth/sixth place at 2:30 p.m.
LIVE UPDATES
Lynden's state title dreams dashed in semifinals
Lynden saw its aspirations of a state title come to an end in a four-set loss to Ridgefield in the 2A semifinals Saturday, Nov. 11 at the Yakima Valley SunDome.
The second-seeded Lions were never able to sustain momentum after a first-set win during the 23-25, 25-20, 25-16, 25-20 loss to the sixth-seeded Spudders.
Lynden will now face league rival Burlington-Edison for third/fourth at 4:15 p.m. The Tigers were swept by Columbia River in their semifinal match.
The Lions have already flushed the loss and are ready to vie for a third-place trophy, coach Chris Elsner said.
"We look to the fact that it's a gift we get to play together one more time," Elsner said. "This team just truly loves each other. To be able to take the court again, for each other, with each other, it's a gift."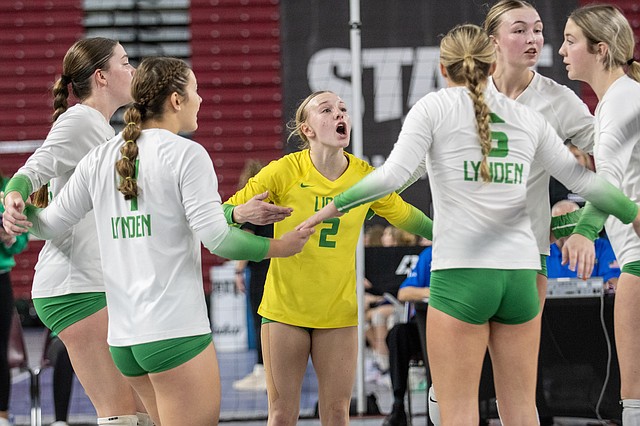 Against Ridgefield, the Lions had no answer for the Spudders' 6-foot-5 Stanford commit Lizzy Andrew.
Andrew, who towered over even Lynden's pair of 6-foot-3 twin towers, Ashley Shumate and Rian Stephen, was a force to be reckoned with, using powerful spikes and torpedo serves to keep the Lions' defense off-kilter.
Andrew finished with a match-high 23 kills and five stuff blocks.
"Lizzy dominated at the net," Elsner said.
The Lions went toe-to-toe for the most part.
Shumate pounded a team-high 17 kills to go with 11 digs and a team-high five blocks. Haylee Koetje contributed nine kills, 14 digs and two blocks, while Grace Rice handed out 38 assists and Mya VanderYacht pitched in a team-high 25 digs.
Now Lynden gets a familiar foe in No. 4 Burlington-Edison — a team the Lions have already beaten twice this season.
"Our focus will be on us and enjoying our last match together," Elsner said. "We're just going to go out, turn it loose and play with joy."
Nooksack Valley sweeps its way to trophy round
Nooksack Valley secured a state trophy after sweeping Lakeside of Nine Mile Falls in a loser-out game of the 1A state tournament on Saturday, Nov. 11 at the Yakima Valley SunDome.
The fifth-seeded Pioneers, who led 14-3 at one point in the final set, survived a frenzied comeback attempt by ninth-seeded Lakeside to win the match 25-21, 25-18, 26-24.
Nooksack Valley will now face No. 3 Cedar Park Christian (Bothell) for fifth/sixth place at 2:30 p.m.
NV coach Katie Emmons said the team felt a little pressure after being given the fifth seed in the tournament — even after finishing second at districts.
"Last year, we were always the underdogs, so it felt great to win because we had a chip on our shoulders," Emmons said. "I told the girls, 'There's some people here that think you shouldn't be here right now.' So that last match felt good to prove that we deserve to be in a medal match."
Now the Pioneers have a chance to finish their exact seed number: fifth.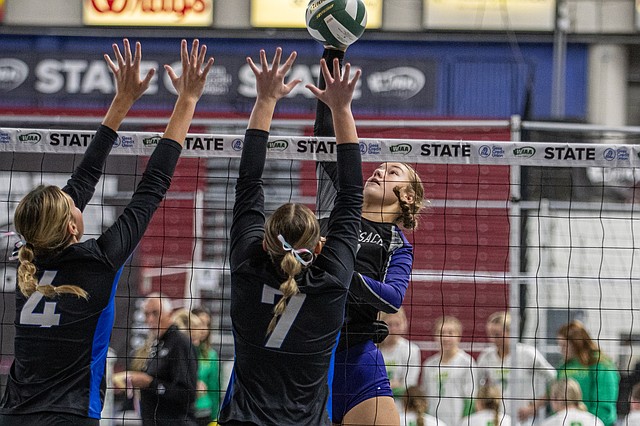 There was little doubt NV was getting to the trophy round once the Lakeside match started. Even though all sets were fairly close, the Pioneers led most of the way in all three and sustained momentum with a staunch front line.
Lainey Kimball led the way with 18 kills, 17 digs and two aces. Tana Hoekema added eight kills, six digs and two aces, and Grace DeHoog smashed in six kills and had five digs.
Avery Juergens and Cailyn Likkel each tallied two aces.
Emmons credited the team's serving and defensive strategies with propelling the team to victory.
"We gave them lines that we could dig their cross-court shots," Emmons said. "We tried to put up a good block against their middles, and we really wanted to get our own middles going so it opened up more options for our pin hitters."
Meridian falls in state semis, will play for third/fourth
Meridian's state title hopes came to an end in a sweeping defeat against top-seeded Chelan in the 1A state semifinals Saturday, Nov. 11 at the Yakima Valley SunDome.
The fourth-seeded Trojans fell (25-15, 25-10, 25-10) to the three-time defending state champion Mountain Goats after going 2-0 during the opening rounds on Friday, Nov. 10.
Meridian will now face No. 7 La Center in the third/fourth-place match at 2:30 p.m. Saturday.
"Chelan serves tough, and we are typically a pretty good ball control team but we struggled this morning," Meridian coach Angie Short said. "They're well-coached and smart players. They're probably going to be state champs."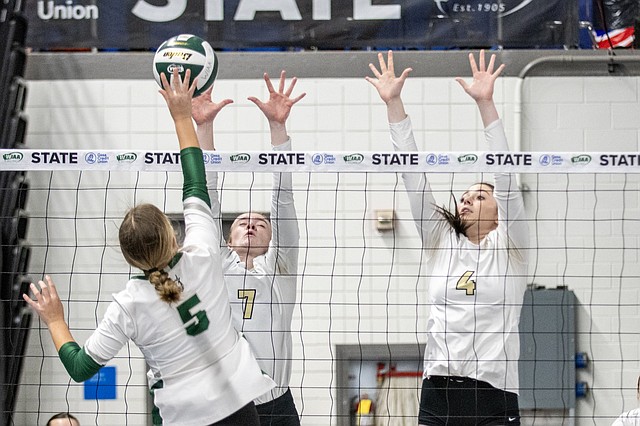 The Trojans never truly threatened the Mountain Goats, who used an impenetrable defense to stifle Meridian's offense all match long.
Senior outside hitter Emry Claeys was the only Trojan in double-digit kills with 12, and she added four digs and a block. Maren Wefer finished with four kills and two digs, while Grace Wells handed out 17 assists and Rylan Bernardy had a team-high 14 digs. Claeys and Eden Bernardy each served 100%.
"We just couldn't get into a rhythm that we normally do," Short said.
Short said she's hopeful the team can bounce back and finish the year with a win against No. 7 La Center, which lost to No. 6 Freeman in their semifinal match. A win in that match would match Meridian's third-place finish in 2021 — the last time the Trojans attended state.
"We have to remember how far we've come this season," Meridian coach Angie Short said. "Being in this spot, it's a dream come true for this squad. We reminded them those games happen, and good teams have to learn how to put bad games behind them."