Volleyball
1A/2A state volleyball Day 1: Lynden sweeps Tumwater to clinch spot in semifinals
Lions waste no time putting away Thunderbirds in quarterfinal round
November 10, 2023 at 12:55 p.m.
|
Updated November 10, 2023 at 9:39 p.m.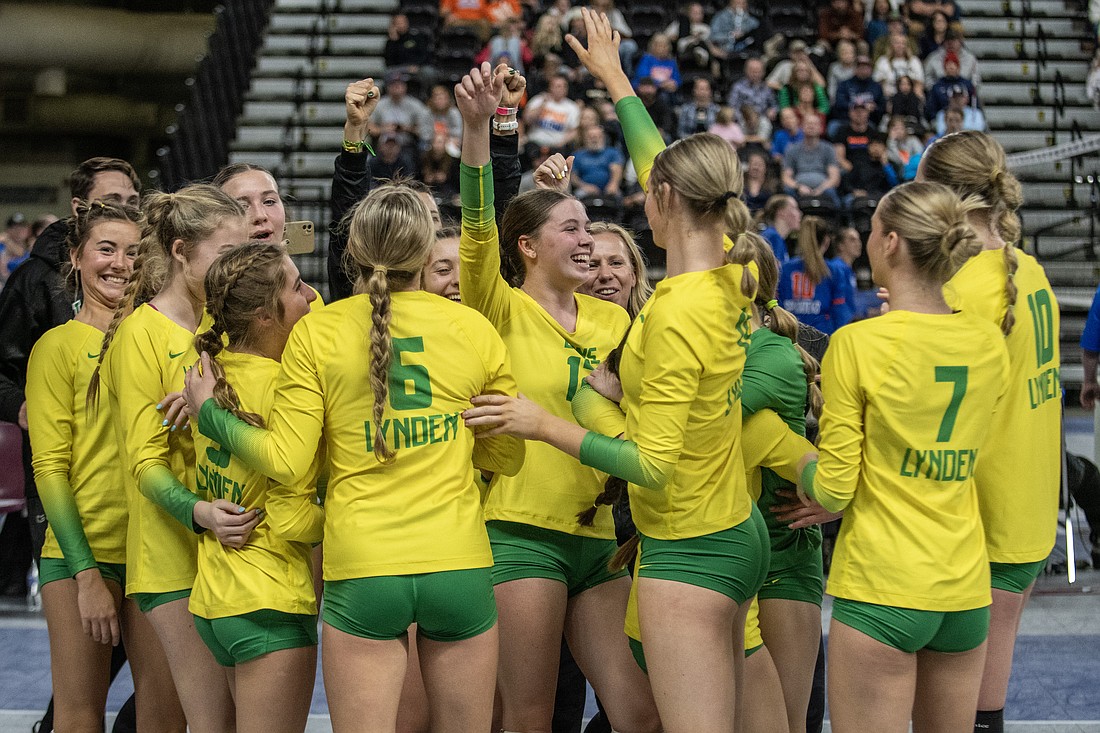 ---
---
Editor's Note: This story will be updated throughout the day until the final match is completed. 
YAKIMA — Meridian and Nooksack Valley each came away with opening-round sweeps in the 1A state tournament Friday, Nov. 10, after defeating King's Way Christian and Bellevue Christian, respectively.
The Trojans and Pioneers faced each other in the quarterfinals at 4:15 p.m., while Lynden, the other Whatcom County team at state, played its first match in the 2A state tourney at 12:45 p.m. against Sammamish. Lynden played Tumwater for its second match of the day at 8 p.m.
Lynden sweeps Tumwater to clinch spot in semifinals
There was no letdown, no momentum change, no chance for Tumwater.
Lynden caught fire, stayed lit and swept Tumwater (25-18, 25-22, 25-15) in the 2A state quarterfinals at the Yakima Valley SunDome Friday.
No. 2 Lynden will now face No. 3 Ellensburg and No. 6 Ridgefield in the semifinals at 10:45 a.m. Saturday, Nov. 11.
The Lions, who started the day off with a sweep of No.15 Sammamish, have now clinched at least a top-four trophy. They placed fifth last season.
"So pumped," Lynden coach Chris Elsner said. "We're just kind of soaking it in. They're prepared. They're ready for this. They came out and took care of business."
The Lions jumped on the seventh-seeded Thunderbirds early, utilizing heat-seeking strikes from Ashley Shumate and Haylee Koetje to neutralize Tumwater's block.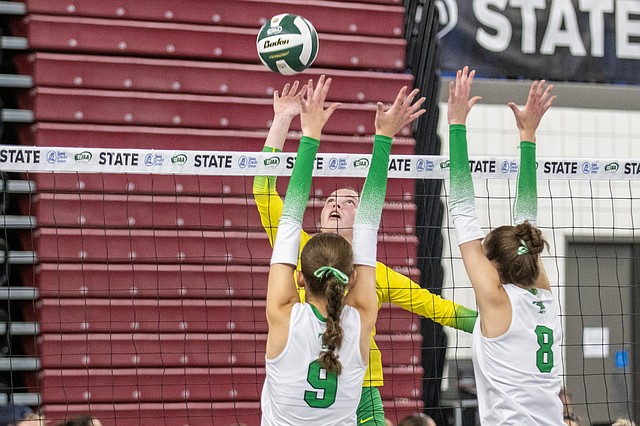 Shumate finished with a team-high 18 kills to go with nine digs, while Koetje smashed nine kills and had a team-high 24 digs. Grace Rice orchestrated the offense with 37 assists and added eight kills and three blocks
"We were relentless," Elsner said. "Wouldn't let a ball drop, we were aggressive on offense. Grace Rice, again, distributed the ball and got our hitters going. We're just passing in a way we can hit so well."
Senior libero Mya VanderYacht, who chipped in seven digs and three assists, said all of Lynden's hitters are capable of doing damage.
"It's kind of surreal," VanderYacht said. "We have really good serving and passing, and once we have that we can just run our offense really well and our hitters can put it away."
Lynden will now get a shot at taking down either Ellensburg or Ridgefield in the semifinal round.
"We're just going to continue to do our thing, stick to what's working and stay aggressive," Elsner said. "One point at a time."
Meridian tops Nooksack Valley, vaults to semifinals
Meridian overcame a 2-1 match deficit by winning two straight sets and defeating league rival Nooksack Valley in the 1A state quarterfinals Friday at the Yakima Valley SunDome.
The No. 4 Trojans will now face top-seeded Chelan in the semifinals at 9 a.m. Saturday, Nov. 11. Fifth-seeded Nooksack Valley takes on No. 9 Lakeside of Nine Mile Falls in the consolation bracket at 10:45 a.m. Saturday. Chelan beat Lakeside in the quarterfinals.
Clinching a spot in the state semifinals — and a top-four state trophy — hadn't set in yet for Meridian coach Angie Short in the minutes following the Trojans' intense victory (25-18,18-25, 22-25, 24-14, 15-9).
It's a little unreal to be quite honest," Short said. "We had some goals at the beginning of the season and we just keep checking the boxes. I'm so proud of these girls."
It was an up-and-down match for the Trojans, who came out firing in a first-set win before the Pioneers gained momentum with back-to-back set victories to take a 2-1 match lead.
"We just talked about getting back to basics, get back to what we did really well in the first set," Short said. "We had some key players come in; Gracie Pap had a really good night. She put the ball down pretty much every time she got it. And that really helped our outsides."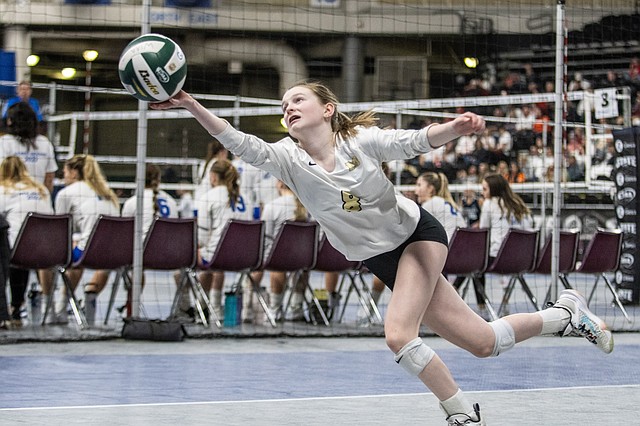 Pap ended with eight kills and a team-high five blocks. Outside hitter Emry Claeys exploded for a match-high 35 kills to go with 13 digs and three aces. Eden Bernardy added nine kills and a match-high five aces.
Meridian will now face three-time defending state champion Chelan.
"Chelan is always solid," Short said. "They're a good program. We're in for another fight, but we're excited."
Meanwhile, Nooksack Valley struggled to stay in rhythm in serve-receive during the fourth and fifth sets.
"Our kryptonite all year has been serve-receive," Nooksack Valley coach Katie Emmons said. "For us to be successful tomorrow, we have got to mentally and physically show up and stay consistent."
Lainey Kimball led the Pioneers' attack with a team-high 26 kills to go with 28 digs. Juliana Gimmaka had a team-high 31 digs, Tana Hoekema tallied 15 kills and six digs, and Grace DeHoog chipped in nine kills.
Now the Pioneers get a mystery team in No. 9 Lakeside.
"I don't know anything about them," Emmons said. "I'm going to go to school tonight and do some scouting, talk to the girls and we'll make a game plan tonight.
Lynden soars past Sammamish in 2A state opener
It went pretty much how Lynden had scripted it. Be sound in serve-receive, take care of the ball and secure a first-round victory over Sammamish in the 2A state tournament Friday at the Yakima Valley SunDome.
"Always fun to come and get your first win in," Lynden coach Chris Elsner said. "To feel the dome again and get into a groove, we did that today."
The second-seeded Lions were in control throughout during their straight-set victory (25-18, 25-19, 25-4), with their only hiccup being an 8-2 late run by the Redhawks in the second set to pull within three. 
But the Lions finished off the second set and came out on fire in the third, ripping off multiple big runs to put the match away.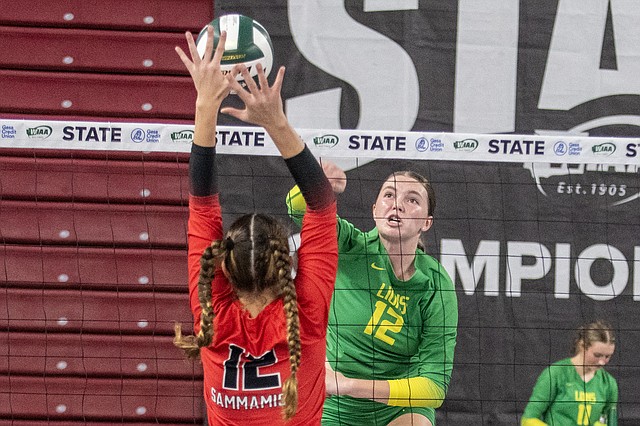 "In the second set, we were still getting all the jitters out," Lynden senior setter Grace Rice said. "All of us were a little bit nervous but also super-duper excited. In the third set, we finally settled in and were able to just be us."
Rice dished out 33 of the Lions' 34 assists while adding five kills, seven digs and two blocks.
Elsner credited the team's serve receive and Rice's passing for igniting the Lions' offense. Ashley Shumate led the way with a team-high 14 kills, Haylee Koetje added nine kills and 11 digs, Rian Stephan chipped in six kills and Mya VanderYacht had a team-high 13 digs.
"Grace Rice did a nice job spreading it around, all of our hitters got some great looks and we had fun," Elsner said.
The Lions will now face No. 7 Tumwater, which finished third in a stacked District 4. The Thunderbirds made quick work of No. 10 Shadle Park in the first round with a sweep.
"They're well-coached, they have a lot of offense, they're scrappy, relentless," Elsner said. "We're excited to play them."
Lynden and Tumwater faceoff in the quarterfinals at 8 p.m. Friday.
Meridian cruises to opening-round sweep of Bellevue Christian
Meridian came out firing, held off a third-set surge by Bellevue Christian and capped off a sweep (25-12, 25-18, 25-21) in the first round of the 1A state tournament Friday at the Yakima Valley SunDome.
There were little first-game nerves for the No. 4 Trojans, who smacked the 13th-seeded Vikings from the get-go.
"The girls were ready," Meridian coach Angie Short said. "We just kind of stayed with our routine, treated it like any other game, and I thought we responded really well. We have a young team, so you never know how the state nerves are going to play out."
The nerves played out well in Meridian's favor.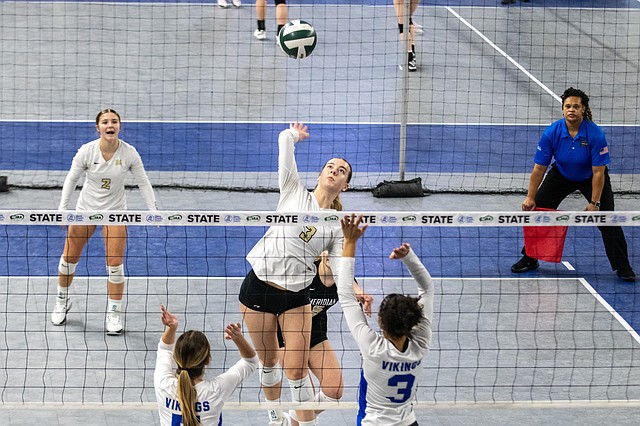 Emry Claeys exploded for a team-high 22 kills, 10 digs and a block, while Gracie Pap added eight kills and two blocks, and Maren Wefer tallied seven kills. Claeys, Wefer and Kinsely Neal all served 100%, while Gracie Wells dished out a team-high 42 assists.
The Trojans' focus coming into a match against an unknown Vikings team was taking care of the ball and making sure their serve-receive passing was consistent so they could get into a rhythm offensively.
"We're a new team, but our chemistry has grown over the season," Claeys said. "It's such a fun group, and I'm just glad I get to win with them at state. We were controlling what we could control, and putting pressure on the other team."
Now Meridian faces a familiar foe in league rival Nooksack Valley in the quarterfinals at 4:15 p.m.
"We know their tendencies," Claeys said. "We just need to keep talking and coming out with a lot of energy."
Nooksack Valley sweeps King's Way Christian in state opener
A sluggish first set did little to slow Nooksack Valley volleyball in the opening round of the 1A state tournament as the No. 5 Pioneers opened with a commanding sweep of No. 12 King's Way Christian Friday at the Yakima Valley SunDome.
After a tight first set, the Pioneers came alive to complete a 25-23, 25-15, 25-14 win and move on to the second round.
Senior Lainey Kimball led the way with a team-high 19 kills and three blocks to go with 14 digs. Tana Hoekema added 10 kills, five digs, two blocks and served 100%. Juliana Gimmaka finished with a team-high 30 digs.
The Pioneers, a mix of seasoned returners along with a handful of sophomores and freshmen, were able to get their first-match nerves out of the way early.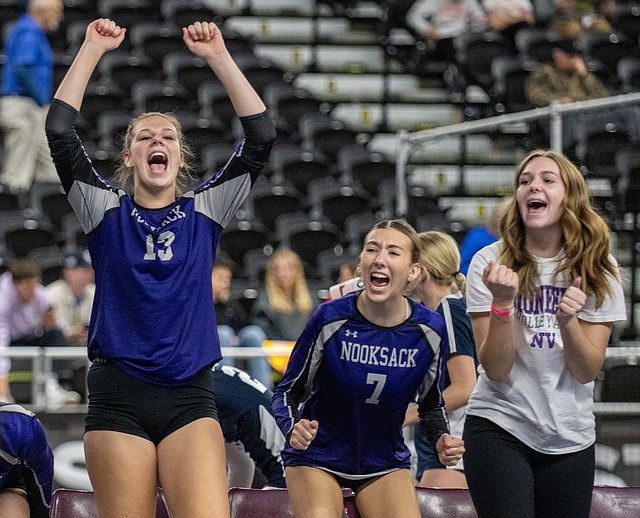 "It's hard because we don't play a lot of these teams," NV coach Katie Emmons said. "When scouting a team, you don't know what to expect. We try to find a defensive system that's going to work. We felt good about our plan."
NV's main goal coming in was to win the serve and serve-receive game. Along with Hoekema, Payton Bartl also served 100% and added a team-high 37 assists.
"We served tough, we did miss more serves than I'd like to see, but our serve-receive was really good," Emmons said.
Freshmen middle Elizabeth De Lange was one of the standouts for Nooksack, tallying eight kills and two blocks. She had some first-game jitters but was able to push them away quickly, she said.
"It felt amazing, and it's kind of like one of my big dreams," De Lange said. "Playing with this team and our seniors, it's a lot of fun.
"The first set, we kind of had our ups and downs. In our second and third sets, our serve and serve-receive were much more consistent, which made everything easier."