Elections
Thursday count seals races; Fleetwood, Chadwick concede
Donnell 'Tank' Tanksley, Kim Lund poised for victory
November 9, 2023 at 5:05 p.m.
|
Updated November 10, 2023 at 5:09 p.m.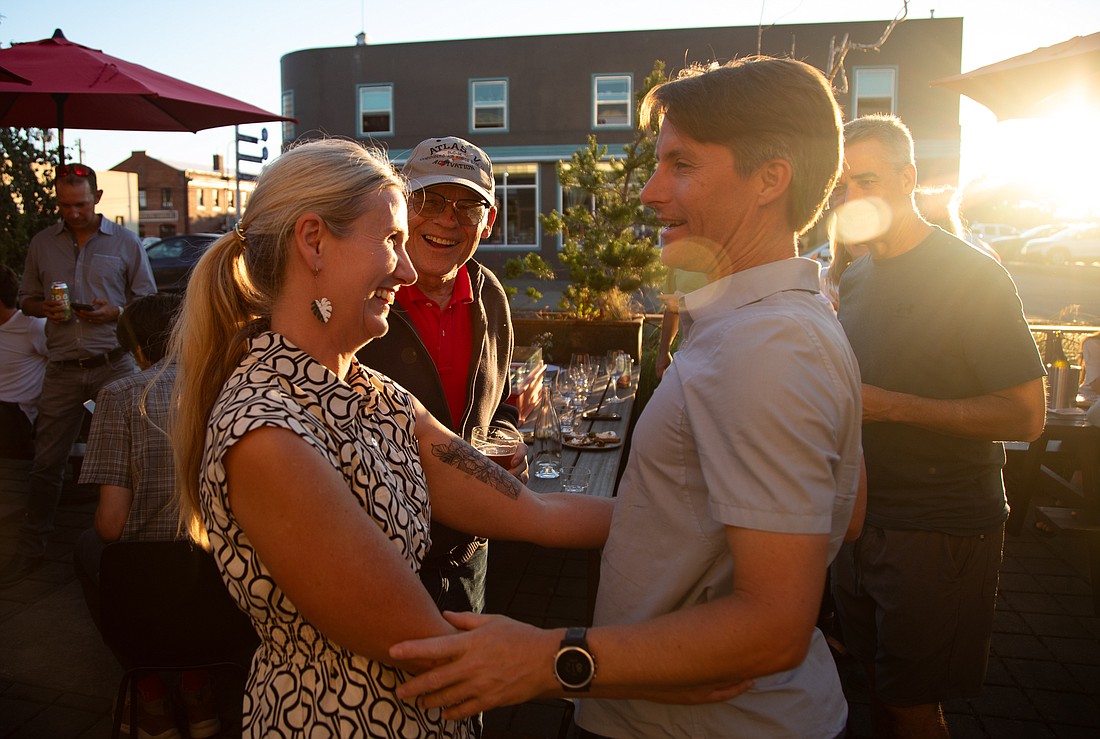 ---
---
With 80,834 ballots counted and an increasingly small number remaining, the Bellingham mayoral race and Whatcom County Sheriff contest appeared settled Thursday evening.
Kim Lund, a nonprofit leader with leadership experience in the tech and engineering industries, is poised to become Bellingham's next mayor, earning 52.9% of the vote as of Thursday evening, Nov. 9. Incumbent Mayor Seth Fleetwood has garnered 46.4% of the vote. 
Fleetwood, a former city council member who has served the past four years as mayor, conceded late Thursday.
"Serving as Mayor has been the honor of a lifetime and I'm grateful to have had this opportunity," Fleetwood said in a statement to Cascadia Daily News. "I will miss the work at City Hall and all the friendships I have made. I congratulate Kim and stand ready to help and assist in the transition."
On Friday, Lund told Cascadia Daily News the result seems definitive now and "it feels great."
"We worked so hard and this outcome is commensurate with the effort that we put into the campaign," Lund said. "It feels wonderful to have realized all of that hard work, and I'm just so grateful to everybody that played a part big and small in the campaign. It really was a grassroots effort."
Her campaign is sending out a letter thanking supporters and Fleetwood for his years of dedicated service. 
The letter also states she will engage with city departments, community leaders, her campaign supporters and the incumbent mayor's campaign, to shape strategic action plans. 
In the sheriff's race, Donnell "Tank" Tanksley still leads Undersheriff Doug Chadwick in a hotly contested contest. An election night ballot count left the Blaine Police chief trailing Chadwick, but Tanksley pulled ahead in a second count on Wednesday. 
By Thursday, Tanksley had earned 51.9% of the vote to Chadwick's 47.9% — a margin almost identical to the previous evening's count.
In a message to supporters Thursday night, Tanksley stopped just short of declaring victory.
"After 3 batches of ballots have been counted, we have a very solid lead of 3,113 votes." Tanksley wrote in an email. "It's looking very likely that we've won and that I will be your next Sheriff."
Tanksley thanked a broad base of community supporters.
"This victory is not just mine; it belongs to all of us who believe in the need for a fresh start and a community-focused approach to public safety," he wrote. 
The sheriff heir-apparent, who would replace the retiring Bill Elfo, promised a cautious transition at Whatcom County's top law-enforcement agency.
"Looking ahead, I want to assure you that I will not rush into making changes," he stated. "Instead, I plan to take a measured and intentional approach to my new responsibilities.
"The first order of business is to ensure a smooth and respectful transition. I will be reaching out to Sheriff Elfo and Undersheriff Chadwick to discuss and plan an orderly transition, recognizing the dedication and talent of the existing team members within the Office. I am committed to meeting every team member within our Office with genuine respect."
Tanksley also emphasized the need to operate the county's current outdated and overcrowded jail facility as efficiently as possible as planning and construction of a new jail proceed over the next five years.
Chadwick conceded Friday afternoon, writing in a post shared to his campaign's Facebook page that it has been an honor to serve and work with the men and women of the sheriff's office. 
"I reached out yesterday and congratulated Sheriff-elect Tanksley. I will now turn my focus to assisting the new Sheriff with the transition process. He is inheriting a well run, well trained and well respected organization," Chadwick wrote in the post. 
In other races, incumbent Satpal Sidhu held onto a strong lead over businessman Dan Purdy for Whatcom County executive. Sidhu had 57.6% of the vote and Purdy  42.8% in Thursday's tally. Purdy registered only a fractional gain after Thursday's count.
The city and county council races have also solidified. 
Bellingham City Council at-large candidate Jace Cotton has a more decisive lead against Russ Whidbee, as of Thursday's count. Cotton leads with 53.6% of the vote. Whidbee has 45.9%. Incumbents Hannah Stone and Dan Hammill will return to their Ward 1 and Ward 3 seats, respectively, both having earned more than 57% of votes in their races. 
In the county council races, progressive Jon Scanlon has maintained a comfortable lead over opponent Hannah Ordos for the at-large seat. Scanlon earned 56.9% of the vote and Ordos had 42.9%, as of Thursday. 
District 5 incumbent Ben Elenbaas has enjoyed a cozy lead over political newcomer Jackie Dexter since election night, earning 61% of the vote. Meanwhile, District 4 incumbent Kathy Kershner will likely lose her seat to the more staunchly conservative Mark Stremler. Stremler has earned 52.4% of the vote. 
Whatcom County residents will see tax increases due to measures in this election, with Prop 4 — the Public Health, Safety, and Justice Sales and Use Tax — passing by a wide margin, at 63.3% yes votes to start the process for a new jail and behavioral health programs.
Bellingham's Greenways 5 is also sailing to victory, with 66.7% of the votes in favor of the levy that will collect $.41 per $1,000 of assessed value.
Voters in Fire District 14 also approved by 60.9% a property-tax increase to fund emergency operations in the rural district. 
Bellingham residents approved two community initiatives to raise the city's minimum wage (passing by 58.5%) and to require landlords to offer relocation assistance in some instances of rent increases (passing by 62%). 
School board races
A few county school board races are still too close to call Thursday, in an election cycle that saw unprecedented interest in the roles that oversee a district's budget and have the power to change school curricula. 
The Ferndale School District 2 seat sees Antonio Machado Catano squeaking by Brent Bode, with 50.65% of the votes to Bode's 49.12%. 
Incumbent Kenneth "Spin" Owsley has a razor-thin lead over challenger Doris Smith for the Lynden School District 5 seat. Owsley had 50.39% of the vote and Smith had 49.21%, as of Thursday. The remainder of the school board races have been decided with wider margins between vying candidates. 
The next scheduled ballot count is at 5 p.m. Nov. 17. The election will be certified Nov. 28.
This story was updated at 8:35 p.m. Nov. 9 to reflect the correct Greenways 5 tax rate per assessed valuation. Cascadia Daily News regrets the error.
This story was updated at 11:10 p.m. Nov. 9 to include statements from Seth Fleetwood and Donnell Tanksley, and at 1:23 p.m. Nov. 10 to include comments from mayor-elect Kim Lund.